ADVERTISEMENT INFO: THIS BLOG POST CONTAINS PAID FOR CONTENT, WHICH MEANS I RECEIVED MONEY TO WRITE IT. ALL OPINIONS ARE MY OWN AND WERE NOT INFLUENCED. PLEASE READ DISCLAIMER.
After publishing my series of individual pixi Vitamin C reviews, a lot of you asked me if I could share my overall thoughts on the collection. Well, of course I can – here is a short rundown of every product, whether or not I still use it and which skin type I think it is best suited for.
The pixi Vitamin C Collection features Vitamin C as in L-Ascorbic Acid as hero ingredient (no surprise given the name), and all products use a mixture of Vitamin C, Vitamin E and Ferulic Acid to keep it stable. All products aim to brighten the skin and to provide antioxidant protection (learn more about the benefits of Vitamin C in skin care here).
My only complaint with the pixi Vitamin C Collection is the packaging. Yes, it ties in perfectly with the brand aesthetic and looks sleek and chic, but L-Ascorbic Acid is notoriously unstable and very reactive when exposed to air and light – you might see why I don't think that see through packaging and dropper bottles are the best way to ensure maximum stability. The stabilization through Vitamin E and Ferulic Acid will surely help, but why take risks? I would have loved to see a pump on the serum and an opaque bottle on the pixi Vitamin C Tonic.
It is also worth noting that if your skin is sensitive to essential oils, please make sure to patch test the products, as they all feature citrus essential oils in their formula.
pixi skincare is widely available online, but if you are located in Germany, the Douglas Online Shop carries the whole line for convenient shopping without the need to pay for international delivery.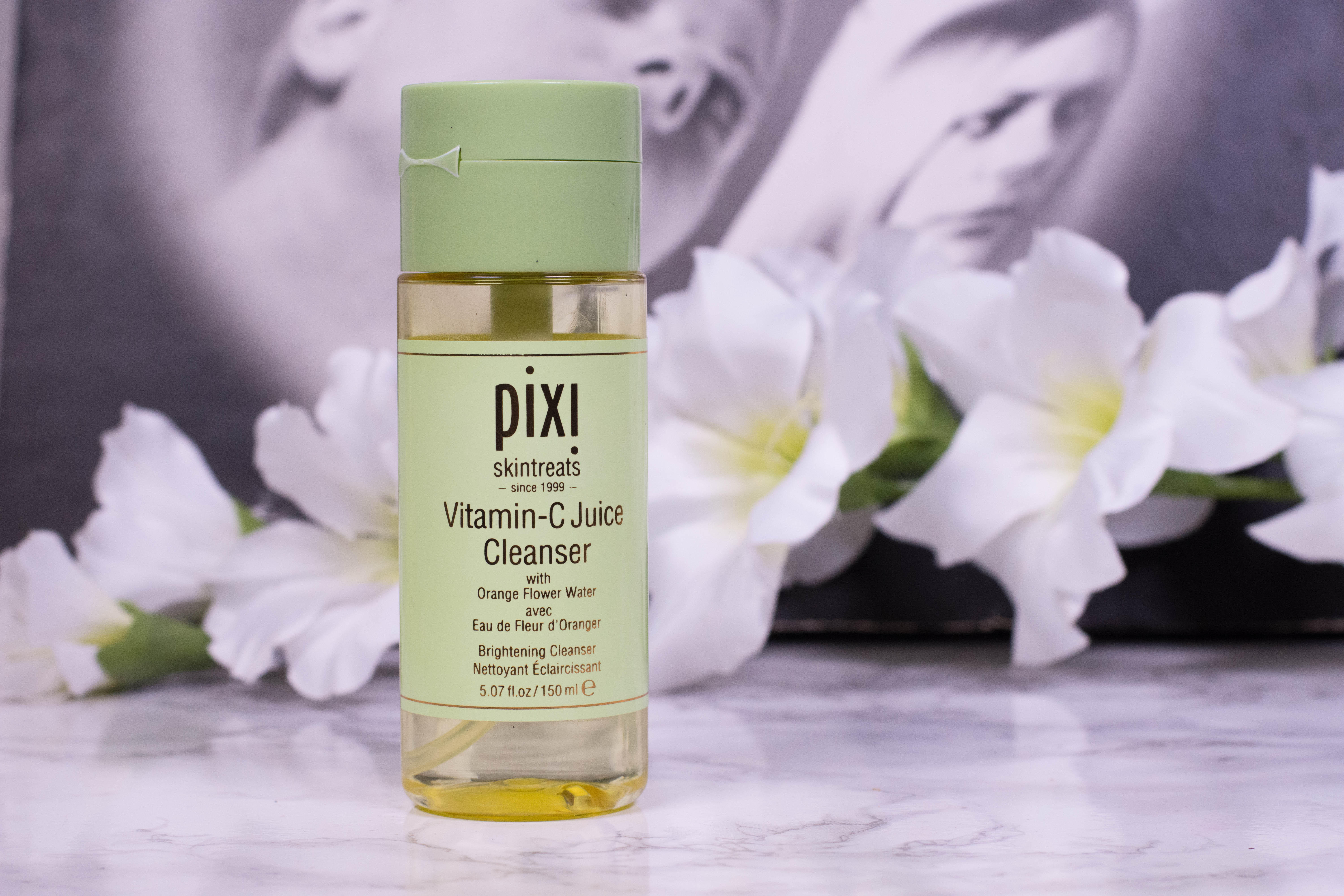 pixi Vitamin C Juice Cleanser (23,95 € for 150 ml)
Starting with this product means starting with my least favorite one. The Juice Cleanser is a cleansing water, similar in texture and purpose to Micellar Waters, although I don't find it to be very efficient in taking off my makeup. It especially struggles with waterproof mascara. On top of that I feel like it leaves a film on my skin, so just "wipe and go" without rinsing, the appeal Cleansing Waters have for many, doesn't work. And if you don't leave it on, where is the point in Vitamin C in the formula?
I liked it for a quick refresh after a workout, but otherwise did not find a place for it in my routine, so I passed it on to an acquaintance that rarely wears makeup and is twenty years younger than me.
Best suited for: Young and unproblematic skin
Read my full review of the pixi Vitamin C Juice Cleanser here.
pixi Vitamin C Tonic (23,95 € for 250 ml)
That one is much more to my liking (the above mentioned packaging issues aside). You could of course pose the question if a toner (Tonic) is really necessary in a routine. (I shared my thoughts here). But if you want a Tonic, the pixi Vitamin C Tonic is a great option. It provides lightweight hydration, the scent is uplifting and I feel combined with the serum (read below) it has a serious brightening effect. Yes, the concentration of Vitamin C is probably pretty low, as toners tend to have less actives, but every little bit helps! There is also Caffeine in the formula that aims to depuff your face, which is very welcome if you had a short night.
Instead of wiping it on my skin with a cotton pad, I pour some into the palm of my hands and press it on my face in the mornings to instantly feel refreshed.
Best suited for: All skin types
Read my full Review of the pixi Vitamin C Tonic here.
pixi Vitamin C Serum (33,99 € for 30 ml)
Yes, it is the most expensive one in terms of cost per ml out of the whole line, but serums tend to have the highest concentration of actives (with the exception of ampoules maybe), and you usually get what you pay for.
In this case you get a lightweight, hydrating and brightening serum that I adore, but that sadly oxidizes pretty quickly. I store all my skincare in a cool and dark place and got ten weeks until the light yellow started to turn to orange, others online reported that this happened within six weeks for them. I am currently on my second bottle (no oxidation yet!) and can see a huge difference in my post vacation hyperpigmentation already (read more about why your skin acts up after a holiday here), but it is up to you to decide if you are willing to take the risk of the product oxidizing within that time frame.
Best suited for: All skin types, especially the ones dealing with pigmentation issues.
Read my full review of the pixi Vitamin C Serum here.
pixi Vitamin C Lotion (31,49 € for 50 ml)
Despite being called a lotion, the product feels more like a cream when applied to the face. It is suitable to be used both mornings and night and while it was a little too much for me when the heat of summer was upon us, I really enjoy it now that the weather is a little cooler again. It keeps my skin soft, hydrated and bright while having a light citrus scent, and I can't even fault the packaging – a great moisturizer for sure.
Best suited for: Normal to combination skin
Read my full review of the pixi Vitamin C Lotion here.
pixi Vitamin C Caviar Balm (30,45 € for 45 ml)
Despite being called a brightening leave-on mask, I´d personally recommend this one as moisturizer for dry skins. It contains Shea Butter which makes it really nourishing, feels richer when applied and takes a little longer to sink in on my combination skin than the pixi Vitamin C Lotion does, but other than that I don't really see why this one should be used as a mask rather than a cream. But no matter how you call it, if you experience dryness, just apply a layer of this beauty in the evenings and wake up to bright and plump skin.
Best suited for: Dry skin. I don't think you need both this one and the pixi Vitamin C Lotion, so just pick the one best for your skin type.
Read my full review of the pixi Vitamin C Caviar Balm here.
If any of these products interest you, here is a link to the Douglas skincare section.
(Visited 2.577 times, 1 visits today)