ADVERTISEMENT INFO: THIS BLOG POST USES AFFILIATE LINKS AND CONTAINS PR-SAMPLES (GIFTED ITEMS). I RECEIVED NO MONEY TO WRITE IT. PLEASE READ DISCLAIMER.
I will spoil this pixi Vitamin C Juice Cleanser Review right at the start and tell you that I was disappointed. Not by the product itself (although I wasn´t too impressed either), but with the bottle cap.
How can you be disappointed by a bottle cap, I hear you ask. Did it leak? Did it break? Did it ruin my silk blouse/suede loafers/white carpet because of a malfunction? No to all of that! In fact, it does work okay-ish and I probably wouldn´t have given it a second thought, had I not been so excited at first. Because that is the true problem: Not the things and how they work per se. But our expectations!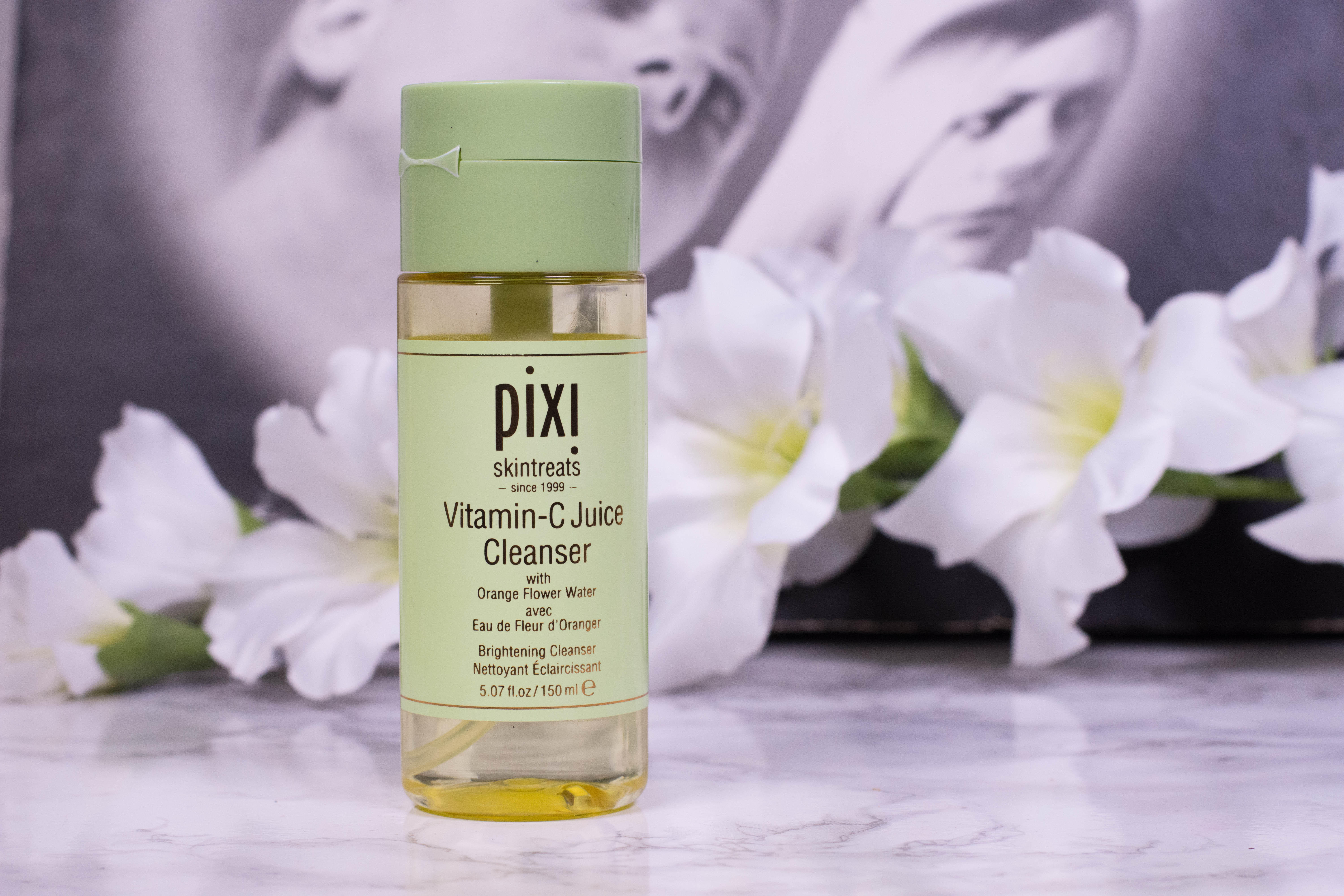 When I first laid eyes on the packaging, specifically the cap, I was amazed. Such a clever idea! So convenient and hygienic to use! I couldn´t wait to try it myself. And when I did… Well, it just wasn´t how I had dreamed it would be. I will go into detail why a little further down in this text, but right now I am sitting here wondering if my less than stellar review is mainly driven by that initial disappointment. Am I judging the book by the cover here? Or the pixi Vitamin C Juice Cleanser by the bottle cap, to be precise?
Have you tried the Juice Cleanser and felt differently about it?
Oh, and if you want to actually see what I mean with the packaging, I included a clip in todays video!
What the pixi Vitamin C Juice Cleanser claims
Brightening cleansing water with stable Vitamin C for potent antioxidant effect.
Facts about the pixi Vitamin C Juice Cleanser
Price and Size
One pump bottle contains 150 ml and retails for 18 $ on the website here. As I said before, I initially loved the idea of the pump, but quickly discovered some downsides. First: I prefer to use my hands with cleanser. I like to touch my face, massage in the product, feel my skin. With this packaging (and this type of cleanser) cotton pads do work much better. Yes, you can still squirt the product from the bottle into your hands, but it is all a little messy.
And second: Even if you use a cotton pad, you can´t just go in there and quickly pump some cleanser up. No, if you press down too hard, the Juice Cleanser will squirt through the cotton pad and all over your sink – gentle is the way to go. Once you have the right amount of pressure down, it works without fault and is very convenient for traveling or keeping in your gym bag.
Texture and scent
The scent reminds me of the pixi Vitamin C Serum (reviewed here), sweet citrus, but in this case very subtle. Just like the term "cleansing water" would suggest it is very runny, like water in a bottle. Oh, despite the sweet citrus scent, don´t attempt to lick it of your lips after removing lipstick – it tastes bitter and is probably not meant for ingestion.
How do you use the pixi Vitamin C Juice Cleanser?
Similar to micellar water cleansers out there your are supposed to use a cotton pad and swipe the cleanser all over your face, breaking down dirt and makeup without the need to rinse.
While I am no stranger to micellar waters and do always keep a bottle of Bioderma Eau Sensibio on my vanity for quick makeup removal, I rarely use them as actual leave on cleanser. Most of the time I use them either to freshen up after a workout throughout the day or as a first cleanse/ makeup removal in the evenings.
And here is where the pixi Vitamin C Juice Cleanser doesn´t live up to my expectations for the second time. When used as first cleanse or makeup removal, I don´t really find it to be effective: Waterproof mascara remains completely unaffected and even lighter makeup is not removed entirely.
Even worse, I feel like it leaves a slight film on my skin that only disappears with rinsing my face or a second cleanse. Which, in turn, means I don´t get a lasting effect from the Vitamin C and thus probably not very much brightening.
Ingredients
Favorable ingredients

Propanediol: Humectant, penetration enhancer
Ascorbic Acid: reduces hyperpigmentation, important for collagen production, antioxidant
Ferulic Acid: antioxidant, known for stabilizing other antioxidants like Vitamin C, thus enhancing their efficacy
Sodium Hyaluronate: Hydrating, smaller form of hyaluronic acid with deeper penetration
Bifida Ferment Lysate: potential antioxidant effect, hydrating
Citrus Aurantium Dulcis (Orange) Oil: Natural source of Vitamin C
Citrus Grandis Peel Oil: A fruit extract rich in flavonoids that potentially inhibit Tyrosinase; a natural source of Vitamin C
Lactic Acid: AHA or humectant, depending on pH
Olea Europaea (Olive) Fruit Oil: Emollient, soothing, rich in antioxidants
Citrus Limon (Lemon) Peel Oil: natural source of Vitamin C
Allantoin: Aminoacid, soothing irritated skin
Oryza Sativa (Rice) Callus Culture Extract: Rich in antioxidants, brightening
Salix Alba (Willow) Bark Extract: Natural source of salicylic acid and tannins, acts as preservative
1,2-Hexanediol: Humectant
Litsea Cubeba Fruit Oil: potentially astringent
Betaine: Humectant
Pentylene Glycol: Humectant
Caprylyl Glycol: Humectant
Butylene Glycol: Humectant, penetration enhancer
Other ingredients

Citrus Aurantium Dulcis Flower Water: Fragrance
PEG-6 Caprylic/Capric Glycerides: Emulsifying
Phenoxyethanol: Preservative
Sodium Citrate: pH adjuster
Ethylhexylglycerin: Preservative
Disodium EDTA: Binding Agent
I am unsure what they mean when they claim "Stable Vitamin C", because the ingredient list shows Ascorbic Acid, the notoriously unstable form of Vitamin C. It might be a reference to the added Ferulic Acid and Vitamin E, known for stabilizing Vitamin C as well as antioxidant properties of their own. Other than these two it contains a few citrus essential oils that might be potentially irritating to some, Rice and Willow Bark Extract for extra brightening, fermented ingredients for some extra nourishment and Hyaluronic Acid.
Does the pixi Vitamin C Juice Cleanser live up to its claims?
Probably, if you use it as instructed.
How does the pixi Vitamin C Juice Cleanser compare to…
Bioderma Eau Sensibio
I admit I am a bit of a micellar water snob – after trying the Bioderma version I rarely looked into other brands, so this is the only one I can compare it to. Biodermas version breaks down even waterproof mascara and removes lip stains with ease (leaving a bitter taste on my lips), and while I still prefer to rinse my face after using it, it doesn´t leave a film on my skin. And while it might be a little harder to get hold of, it has a similar price, which makes it superior for me.
Would I repurchase?
No.
As I said I prefer my Bioderma Eau Sensibio for a quick in between cleanse, and because I don´t like to leave the pixi Vitamin C Juice Cleanser on, I don´t think I get much of the brightening effects of the Vitamin C. The pixi Vitamin C Serum or the pixi Vitamin C Toner are much better for that.
Who do I recommend the pixi Vitamin C Juice Cleanser to?
If you don´t wear much makeup and you are young (meaning that you usually don´t bother and are rushed for time when it comes to an evening skin care routine), I think you might enjoy the fun packaging and lovely scent.
Shop the post
(Visited 1.659 times, 1 visits today)