ADVERTISEMENT INFO: THIS BLOG POST CONTAINS GIFTED ITEMS (PR) AND USES AFFILIATE LINKS. I RECEIVED NO MONEY TO WRITE IT. PLEASE READ DISCLAIMER.
You can´t really venture into K-Beauty without hearing about Centella Asiatica. Centella Asiatica, also known as Gotu Kola, has become famous for healing and soothing the skin, as legend has it that tigers roll in the plant to help heal their scratches.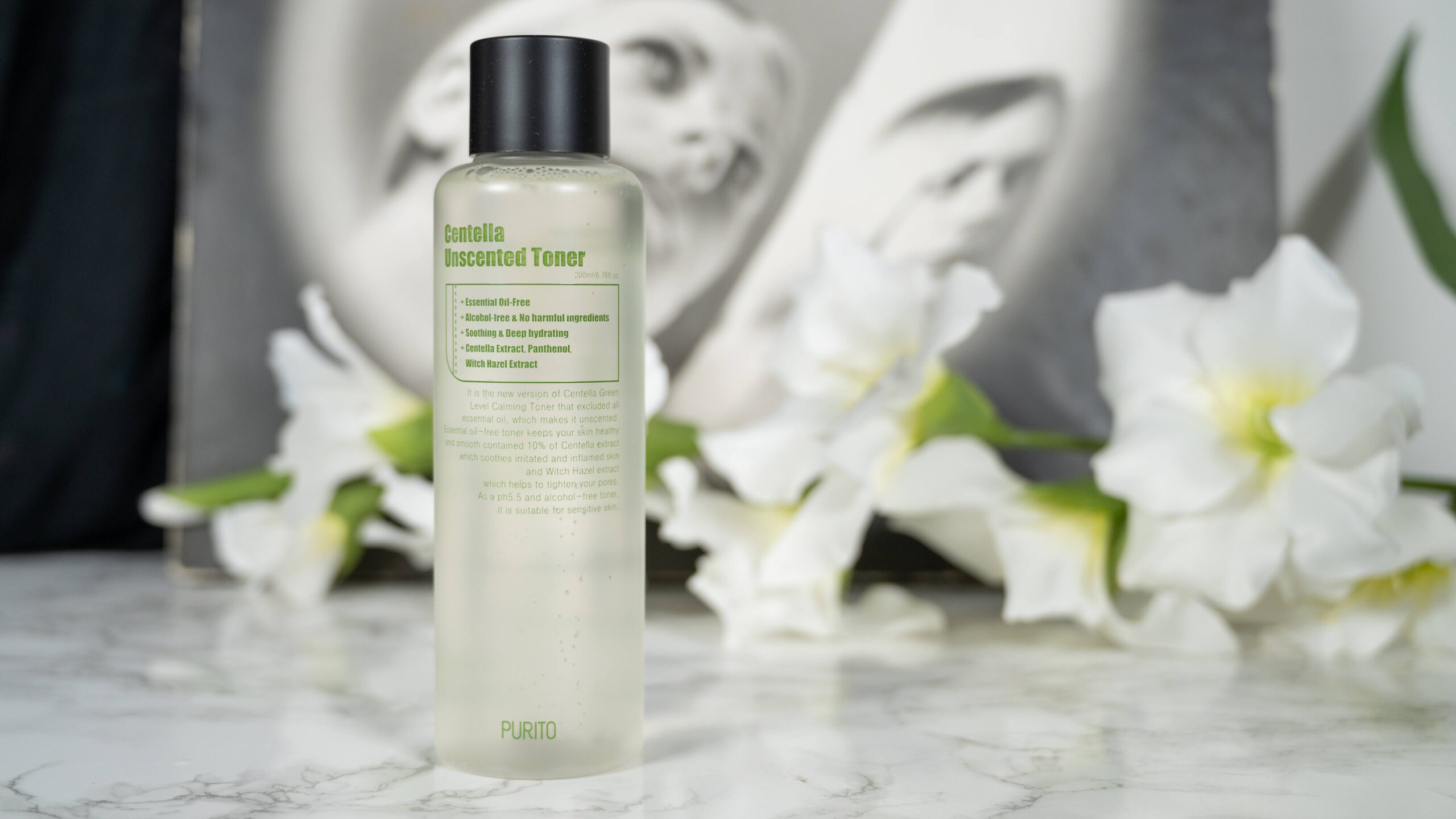 Now I am no tiger – not even a cougar – but I do have some healing to do, both because of my acne and because of the Tretinoin I use to treat it. Purito kindly offered to send me some products of their Centella Unscented line, and today I wanted to share my thought on the Purito Centella Unscented Toner with you.
What the Purito Centella Unscented Toner claims
This is an upgraded version of Centella Green Level Calming Toner that does not contain essential oils. 10% Centella Asiatica Extract and Panthenol soothe and relieve irritated skin. This toner contains Sodium Hyaluronate that attracts moisture and penetrates deep into the skin due to its small molecular structure, nourishing rough skin. With a low pH of 5.5 and alcohol-free properties, this toner can be used on sensitive skin in the first step of your skincare regimen.
Some facts about the Purito Centella Unscented Toner
Price and size
The clear bottle contains 200 ml and retails for 23 $ on the website here. You only need a little bit, even if you use it repeatedly, so that bottle should last you several months.
Texture and scent
Unscented can range from no scent to smelling quite horrible because the scent of certain ingredients wasn´t masked, but in this case I can really detect no scent at all. The toner is a little thicker than water, but still spreads easily and without any stickiness.
How to use the Purito Centella Unscented Toner
Purito says it is suitable for both morning and night time use and I agree with that. I personally use it in the evenings, to soothe and strengthen my skin before I apply my actives, but mornings or even twice a day would work just fine as well.
For me it is the first step after cleansing my face.
Ingredients of the Purito Centella Unscented Toner
Water
solv
,
Centella Asiatica Extract

so

|

aox

|

h

|

surf
,
Butylene Glycol
h

|

solv

|

vc
0
1
,
Pentylene Glycol
solv

|

h
,
Dipropylene Glycol
solv

|

perf

|

vc
,
1,2-Hexanediol
solv
,
Trehalose

h
,
Sodium Hyaluronate

sii

|

h
0
0
,
Hamamelis Virginiana (Witch Hazel) Extract

so

|

aox

|

amic
,
Madecassoside

aox

|

so
,
Asiaticoside

aox

|

perf
,
Asiatic Acid

,
Madecassic Acid

,
Panthenol

so

|

h
0
0
,
Carbomer
vc
0
1
,
Allantoin

so
0
0
,
Arginine

sii
,
Portulaca Oleracea Extract

so

|

aox
,
Ethylhexylglycerin
pres
,
Disodium EDTA
chel

|

vc
Hover the mouse over an ingredient for short explanation. Read more on INCIDecoder.
It contains humectants like Hyaluronic Acid and Trehalose, penetration enhancers, of course Centella Asiatica Extract with its key ingredients Madecassoside, Asiaticoside, Asiatic Acid and Madecassic Acid listed separately. Then there is Panthenol, Allantoin and Arginine for extra soothing and Portulaca Oleracea Extract, which claims antioxidant properties.
The version I have also contains Witch Hazel Extract, which has a (mostly undeserved) bad reputation with some, but which I don´t mind in this formulation at all.
How does it compare to
the dear klairs Supple Preparation Unscented Toner
I admit that I don´t experience much of a difference in terms of effects on my skin when I use them. The klairs version has a few more plant extracts and a Vitamin C derivative, but given that both are toners, which means the concentrations are probably low any way, I don´t think that will make much of a difference. 
Does it live up to its claims?
Despite me using retinol my skin is usually not irritated, so I can't say if this is enough to soothe really irritated skin, but whenever my skin is really upset, which I usually notice by some products stinging around my nose and around my mouth, the area where I get flakey first, is that this product does not sting at all, which means it does not cause any further irritation, but just offers gentle hydration.
Whom to I recommend the Purito Centella Unscented Toner to?
As soothing and hydration are important for all skin types, I don´t think there is a skin type that could not use the Purito Centella Unscented Toner. That doesn´t mean everyone needs it, if you use a toner is up to personal preference, but if you do I think this is a lovely option that I myself will repurchase. 
(Visited 2.291 times, 1 visits today)