ADVERTISEMENT INFO: THIS BLOG POST CONTAINS GIFTED ITEMS (PR) AND USES AFFILIATE LINKS. I RECEIVED NO MONEY TO WRITE IT. PLEASE READ DISCLAIMER. 
So, what's new from Purito? Or rather, what was new from Purito in the first half of 2021 that I am only now getting around to review because… yeah, because reasons? It is the Purito Pure Vitamin C Serum, not to be confused with their previous Vitamin C serum that contained 10 % Ascorbic Acid. The old one has been discontinued and has been replaced by this version with 5% Ascorbic Acid.
And because I was sent over both I will do a combined review and talk about the Purito Plainet Squalane Oil 100 a little as well.
But for a start: What is there to say about the Vitamin C Serum?
What the Purito Pure Vitamin C Serum claims
Pure Vitamin C serum with 5% Ascorbic acid helps brighten the complexion and improve uneven skin tone. It helps fade the appearance of sun damage and hyperpigmentation while visibly addressing dullness and loss of firmness, making skin look healthy and radiant. This serum has been reformulated with natural agents that prevent rapid oxidation and improve its stability. It is packaged in a dark brown bottle to provide the ingredients maximum protection from sunlight.
Facts about the Purito Pure Vitamin C Serum
Prize and size
One bottle (dark glass, comes with a pump) contains 60 ml, which is, just for reference, twice as much as a serum usually contains, and retails for 18,90 € here.
Texture and smell
Other than the more watery Vitamin C serums by Geek & Gorgeous and Timeless I have tried lately, this one feels richer, almost slightly oily when applied. It isn't heavy and can be worn during the day even on my more combination skin, but I did notice a tendency to pill up with a variety of sunscreens I used.
There is not really a noticeable scent, which is a good thing as some Vitamin C serums tend to smell like raw meat, and it is slightly yellow right from the start. (More info: Everything you need to know about Vitamin C)
How to use the Purito Pure Vitamin C Serum
While I usually use my Vitamin C in the morning, I had issues due to pilling with all of my sunscreens, which is why I switched it to the evenings. I can't really say why this pilling happened, as it is more common in products with silicones and the Purito Pure Vitamin C Serum doesn't contain any, but it happened repeatedly.
There was no irritation with this formula, probably due to the compared to other available serums lower Ascorbic Acid content and despite the claimed pH being around 3.5.
Ingredients of the Purito Pure Vitamin C Serum
Bambusa Vulgaris Water (Skin Conditioning Agents,76.23%)
,
Pentylene Glycol (Skin Conditioning Agents)
solv

|

h
,
Ascorbic Acid (Antioxidant,5%)

aox

|

sb

|

buff
,
Butylene Glycol (Skin Conditioning Agents)
h

|

solv

|

vc
0
1
,
1,2-Hexanediol (Solvents)
solv
,
Niacinamide (Brightening)

cci

|

sb

|

aacne

|

h
,
Water (Solvents)
solv
,
Sodium Hyaluronate (Skin Conditioning Agents)

sii

|

h
0
0
,
Polyglyceryl-6 Caprylate (Stabilizers)
emu
,
Polyglyceryl-4 Caprate (Stabilizers)
emu
,
Caprylyl Glycol (Skin Conditioning Agents)
h

|

emo
,
Hydrolyzed Jojoba Esters (Skin Conditioning Agents)
,
Hydroxyacetophenone (Antioxidant)
aox
,
Disodium EDTA (Chelating Agents)
chel
,
Glutathione (Reducing Agent)
,
Adenosine (Anti-Wrinkle Agents)

cci
Hover the mouse over an ingredient for short explanation. Read more on INCIDecoder.
Ascorbic Acid at 5%, paired with Niacinamide (More info: Can I combine Vitamin C and Niacinamide safely?), Adenosin as amino acid and humectants, this is a pretty basic ingredient list. One thing you notice when looking at it is that the usual combo with Vitamin E and Ferulic Acid made famous by SkinCeuticals was not used here and that the formula does not appear to have dedicated preservatives, something that makes me a little hesitant to use the product for prolonged periods of time.
Yes, the pump packaging should prevent contamination and Vitamin C serums shouldn't be kept open for months anyway, but still… I just like to see preservatives in my products.
Does it live up to its claims?
Yes, in parts.
While it will help brighten, I don't think the effect will be as strong as the one you get from a 15% formula, but the dark brown bottle and pump will surely protect it from going off quickly.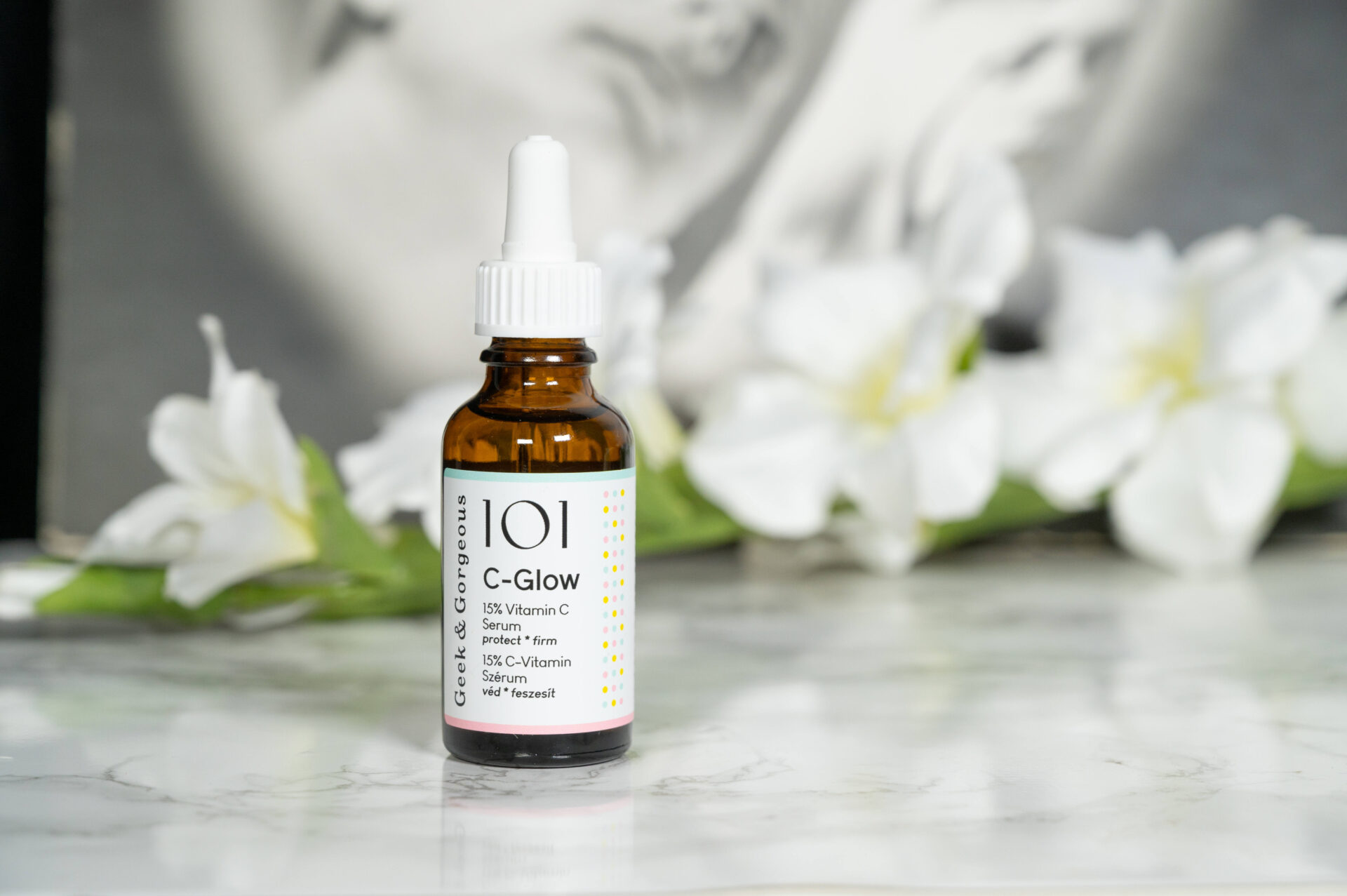 How does the Purito Pure Vitamin C Serum compare to…
Geek & Gorgeous 101 C-Glow Serum
If you read my review of Geek & Gorgeous, you know it is my current number one, and the Purito Pure Vitamin C Serum doesn't even come close in terms of texture and effect on my skin.
What could make the Purito version interesting for you though is the fact that it's Ascorbic Acid content is much lower – great for those that don't get along with higher concentrations, but still want to get some Vitamin C. Another interesting component is the added Niacinamide, an ingredient that I adore. (More info: Ingredient Spotlight Niacinamide)
Read my full Geek & Gorgeous 1010 C-Glow review here.
dear klairs Freshly Juiced Vitamin Drops
This is another serum with 5% Ascorbic Acid that I used two or three years ago, and which I liked better in terms of texture. It has a ton of extra plant extracts and Lavender Essential Oil though that might not be the best idea for skin sensitive to that.
Read my full review on the dear klairs Freshly Juiced Vitamin C Serum here.
Would I repurchase/ Whom do I recommend it to?
As you probably noticed the Purito Pure Vitamin C Serum is not my favorite and will surely not be repurchased. I can see it being beneficial for those of you that need a lower concentration of Vitamin C due to skin sensitivities and that want a two in one with added Niacinamide.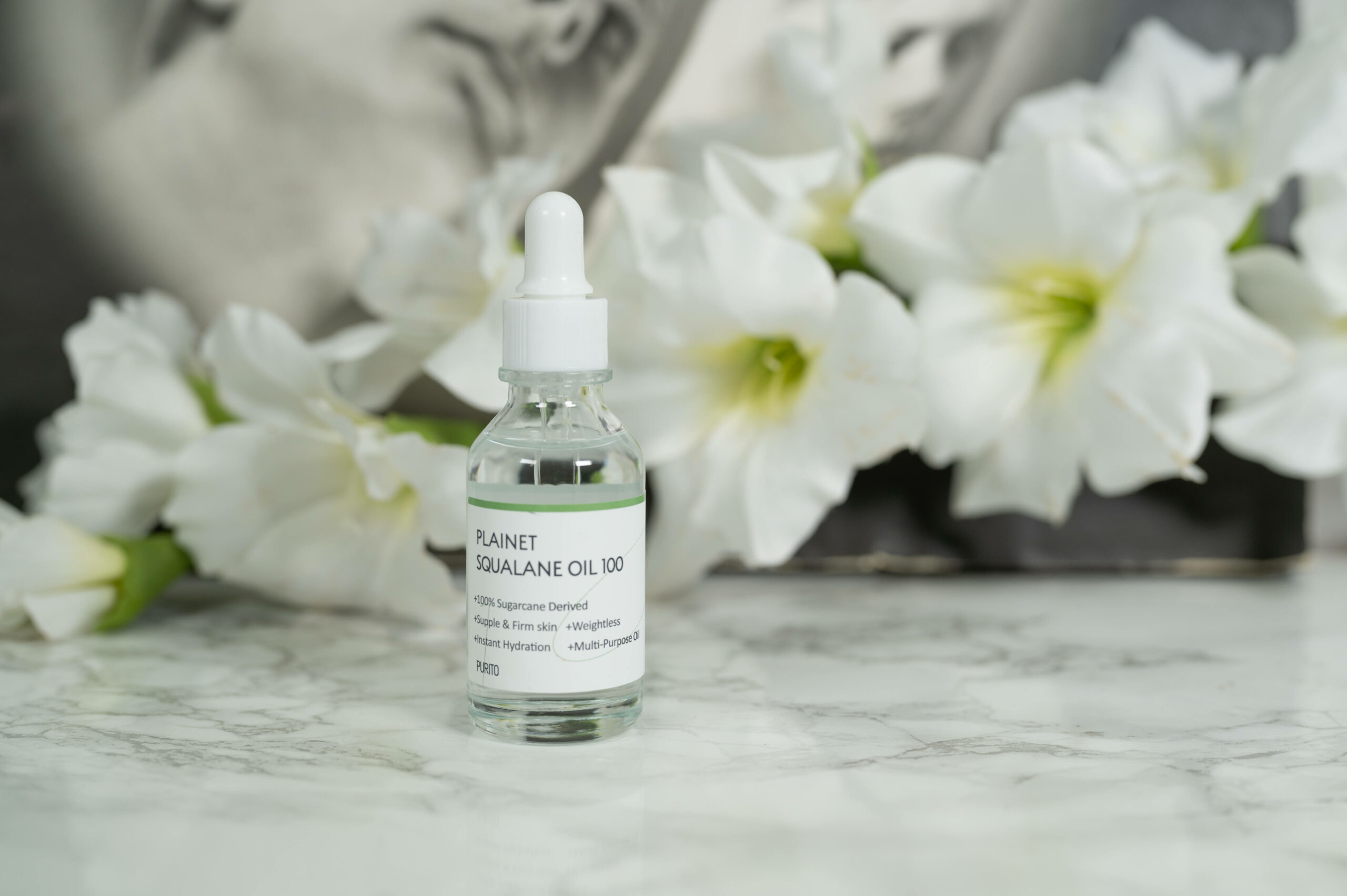 Purito Plainet Squalane Oil 100 Review
Now just a quick nod to the corresponding oil, made from 100% sugar cane derived squalane. Squalane is part of the sebum we produce and is used as lightweight emollient.
Sadly the Purito Plainet Squalane Oil 100 feels pretty oily on my skin, doesn't sink in as quickly as I would want it to for daytime use (which is recommended on the Purito website) and is even too rich for me in the evenings.
I use it for my dry knees and elbows occasionally, but would not recommend buying this one unless your skin is really, really dry.
Should you want to purchase it anyway, it is 30 ml for 13,80 € on the website here. I will certainly not repurchase.
And if you want to get a vote in the next Ask Doctor Anne Topic, Ingredient Spotlight or product I review, don't forget you can head over to my Patreon account to get more involved!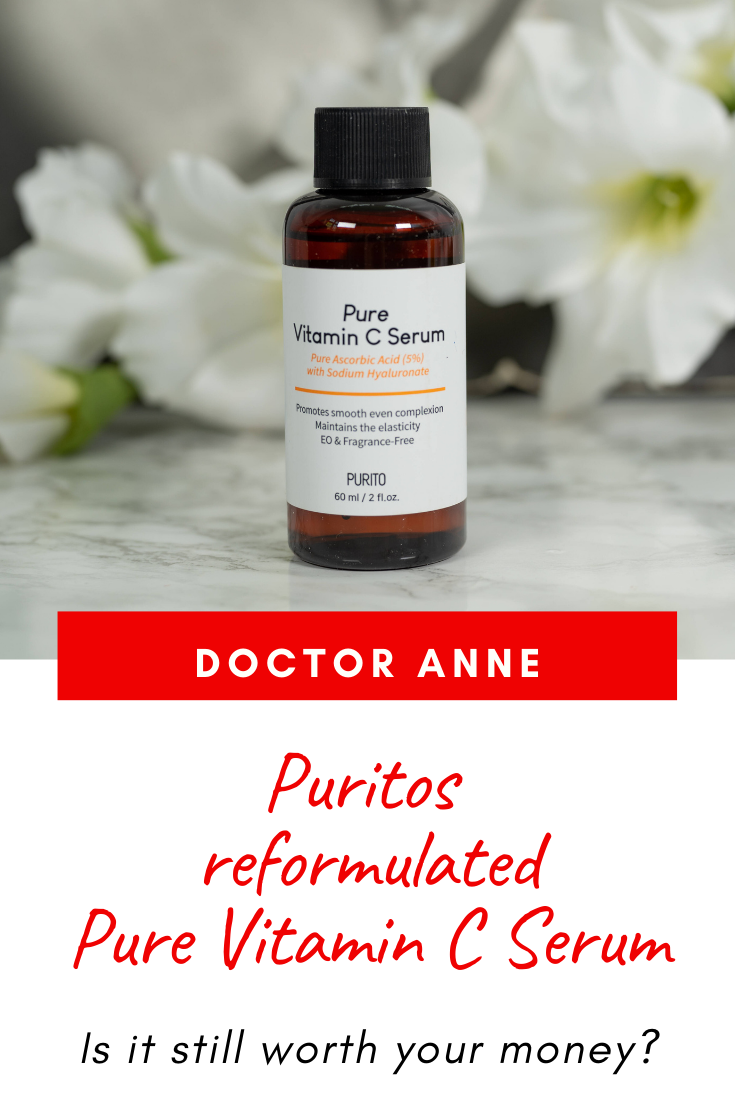 (Visited 1.792 times, 1 visits today)