ADVERTISEMENT INFO: THIS BLOG POST USES AFFILIATE LINKS AND CONTAINS PR (GIFTED ITEMS). I RECEIVED NO MONEY TO WRITE IT. PLEASE READ DISCLAIMER.
I used to do monthly favorites posts a few years ago, but quickly realized that my life as it is does not provide me with the opportunity to discover enough new and favorite things to fill even a 200 words post each month – and that was before the pandemic hit, so I can assure you the possibility is even lower now.
But sometimes there are a few things that are too good not to share, which is why today I will bring you the first in my new, totally sporadic and random Favorites series, the ones for Spring 2021!
And Spring itself is actually the first thing I want to mention – it is my favorite time of the year by far. Longer days, flowers blooming, the sun being out more and more and the promise of many more days like that, I honestly feel so much better just by being outdoors in my garden. I mean, just look at these fig leaves!
But because I am fully aware that most of you are only here for the skincare stuff, I am going to lead with that, followed up by makeup, clothes, food, fitness and other recreational finds.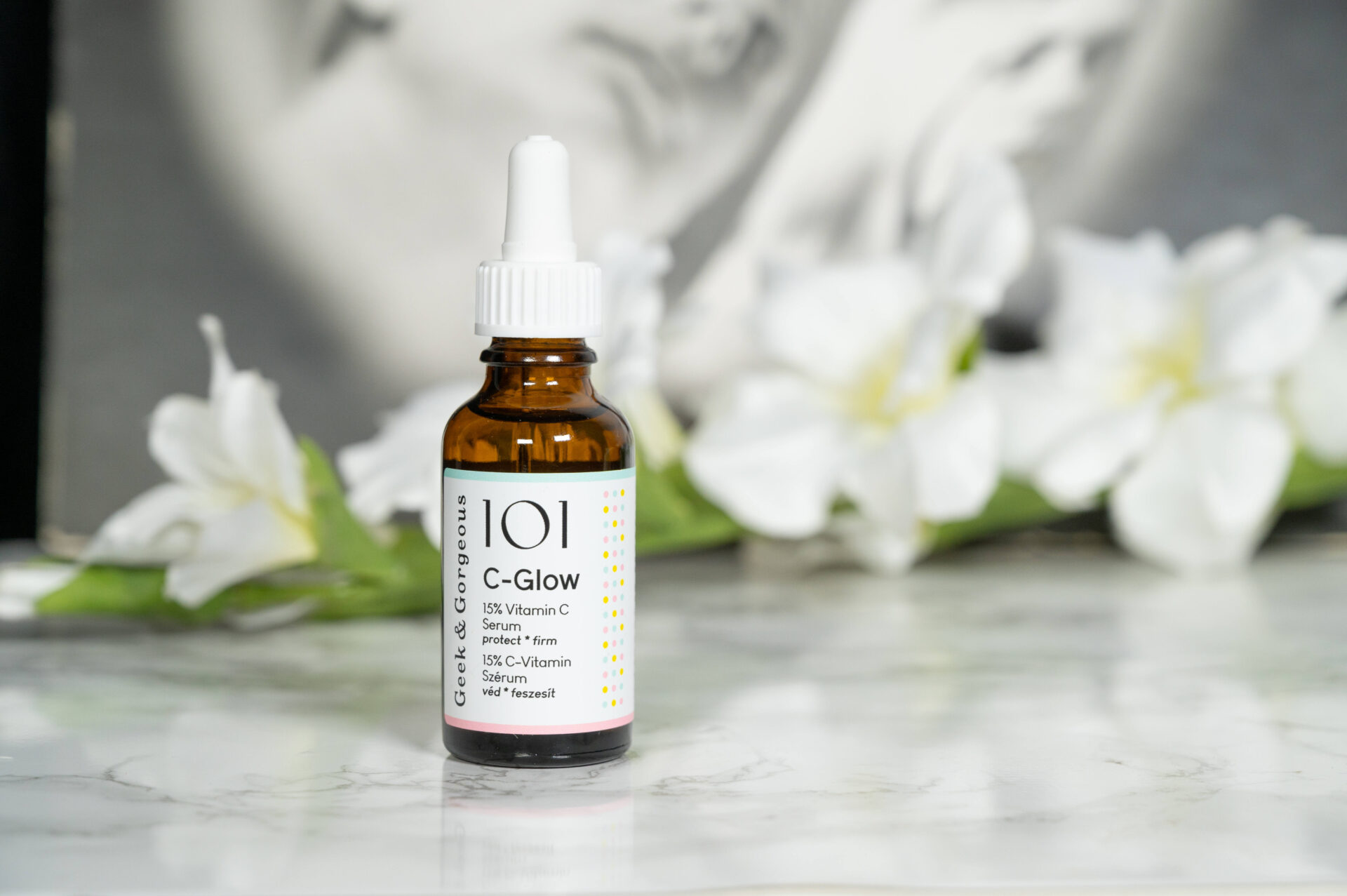 Favorite skincare products
I have talked about my search for the best Vitamin C serum in depth on here, but I think with the help of you guys I can finally say I am done. I found the one, and it is the Geek & Gorgeous C-Glow Serum so many of you recommended. My in-depth review will go live later this month, but in short: It has an amazing texture, is not irritating in the slightest and, the best part, did not oxidize from opening it in January until finishing it now.
I love it so much, I actually purchased three new ones, one for each of my sisters and of course a new bottle for myself. Does that mean I will stop reviewing other Vitamin C serums? Of course not, but this one is the one they all will be compared to.
Favorite Makeup products
I do love MAC eyeshadows and managed to finish Satin Taupe for the second time already, so it is safe to say it is a firm favorite of mine. It is the perfect all over color for a daytime smokey eye and looks good with a neutral or a red lip.
Speaking of lipstick, I (once again), went through all my lipsticks in an attempt to streamline my stash. While doing it I rediscovered my love for the Astor Soft Sensation Lip Color Butters. Hydrating, glossy, easy to apply and with a faint vanilla scent, so good for my lips that have been drier than usual lately. My favorite colors are Magic Magenta, Peachy Nude, Feeling Feline and of course Va-Va-Voum, the one that I already repurchased once. Not because I finished it, but because my daughter got hold of it and used it to paint the floors. Pro-Tip: Micellar Water can be used to clean tiles as well!
The last thing I wanted to show you is a nail polish by Essie called "Free to roam". I think the name is what made me buy it – isn't that what we all dream of right now, being free to roam? It is my only explanation as to why I picked it up in the first place, because it is not a color that I would usually wear. Red is my go-to color, on my lips, nails and often clothes, and never a bubblegum pink like this one, yet I have worn it without break for several weeks now and love how it looks against my skin tone. I guess it pays off to leave ones comfort zone once in a while… This one needs two coats to be opaque and lasts the whole week with minor chipping.
Fashion Favorites
Speaking of leaving my comfort zone, I have discovered my love for midi skirts lately and purchased a few. Up until now I had both maxi dresses for summer and regular pencil skirts or wrap dresses for work, but never something that hit mid-calf. I do thrift most of my clothes, so again I figured I could take a chance because I wouldn't lose much money should I end up not wearing it much and purchased this black one with polka dots, apples and … pockets. I love how it twirls, I love the 50s silhouette it gives me and I love that due to the way it is cut it is incredibly comfortable to wear. 
For reference: It is a UK size 14, which translates to a German 40, and was made by a UK brand called Hell Bunny. As I said it is thrifted, and this print is no longer available, but they do have a similar one with cherries on the website.
If I manage to figure out a way to film them, I will show you more things I have thrifted in an upcoming video, I was pretty successful lately!
Food and Fitness Favorites
If you remember my Personal Update video from the end of 2020, you might remember that I gained some weight through the pandemic, mostly because I am a stress-eater and stopped doing any exercise, and that I wanted to work on that because I really no longer felt like myself. Good news is that I managed to make time both for twice weekly Krav Maga and my beloved Tribal Fusion Dance class since then. I still felt like I needed something fun to move my body after a long day at the desk though, and for that I found Leilah Isaacs bellydance channel. She has both short ten minute videos and longer ones, all of which fly by simply because dancing never really feels like a workout to me. My Apple Watch tells me it is though, so both a mood and a metabolism booster.
Just a quick nod to the cultural appropriation aspect of belly dancing: I am aware that bellydance has a long history and tradition and is part of a culture that is not my own and that I don't know enough about. It is not just an exercise and by mentioning these videos here I do not want to diminish its importance.
Regarding food I have been eating much better than I did over the winter as well, but still do enjoy my sweets. For vegetables I have to mention asparagus – I adore it, and the fact that it is only available for a limited amount of time each year means I eat it in all shapes and forms and in huge quantities. My kids, like most children, do not like it at all, which means there is more for me. Yes, it makes your pee smell weird, but who cares?
When it comes to sweets I tend to have one thing that I eat over and over again, and suddenly that changes and I crave something else. My current (rediscovered) favorite are these "Schokokuss", that is what we call them in German. The English translation is either Chocolate Marshmallow or Chocolate or Foam Kiss – I am not entirely sure. Do tell me in the comments how you call them!
Now they might not look like much, but if you eat them right, they are a whole sensory experience: the soft "crack" when the thin outer layer breaks, the faint scent of dark chocolate, the texture of the inner foam that you can either spoon out with the waffle bottom or let slowly melt in your mouth… All that for only 100 calories. And without any nutritional benefit for the body, granted. 
Favorite book/ TV series
The latest series I watched on Netflix is Ginny & Georgia, a mixture between a coming of age story, a mother/ daughter drama and a study on racial, gender and moral issues, as the mother is very clearly a psychopath, but an incredibly relatable one. I turned to it expecting something like Gilmore Girls, an easy distraction with just enough heartbreak to keep me engaged, but that I did not get. It is much darker and had me thinking about the show and things that happened way after I turned off the TV. I finished it in less than a month, which for me is incredibly fast – I am a full time working mother of two, I don't binge Netflix, I struggle to stay awake for one whole episode!
In this whole year, I only managed to read one (not work-related) book so far, which is embarrassing. At least it was a book worth reading, "The Street" by Ann Petry (you can get it here). I had it on my to read list since last year – the list is currently 201 books long, so I really need to speed up here – and while it was not an easy read, it is one that I wholeheartedly recommend. I don't want to give any spoilers, so I will just tell you that it is about a black woman raising her son, trying to provide both of them with a better life and opportunities through working hard. It is absolutely heartbreaking to read, as it points out inequality and institutional racism with a special focus on the situation of black women.
Shop the post
(Visited 294 times, 1 visits today)