THIS BLOGPOST LINKS TO A VIDEO THAT WAS A PAID COLLABORATION. THE BLOGPOST ITSELF IS NOT SPONSORED. THE LINKS USED MIGHT BE AFFILIATE LINKS. PLEASE READ DISCLAIMER.
If you have oily and acne-prone skin, you know how much of a struggle finding the right skincare routine for summer can be. The heat makes us even more oily, which along with sweat triggers breakouts, and at the same time wind, sun and being outdoors can lead to irritation and dehydration, especially when paired with prescription acne treatments like Tretinoin.
What you need are products that are focused on soothing and hydration while being lightweight, like the ones by the Korean skincare brand Skin1004, who I am collaborating with for the accompanying video.
Skin1004 have a huge selection of different products centered around Centella Asiatica as main ingredient, and out of these I picked four to build the perfect soothing and hydrating summer skincare routine for oily, acne-prone skin:
The SKIN1004 Madagascar Centella Light Cleansing Oil, because I do love an oil cleanser to get rid of sunscreen and sweat, the SKIN1004 Madagascar Centella Ampoule Foam as refreshing cleansing option, then the SKIN1004 Madagascar Centella Hyalu-Cica Blue Serum for hydration and lastly the SKIN1004 Madagascar Centella Soothing Cream as lightweight moisturizer.
These four are enough to build a complete skincare routine, especially if you use prescription acne treatments (More info: How to use Retin-A with minimal irritation), so let me talk you through how I use them and what the individual products do.
Morning summer skincare routine
If you have been around for a while, you know that I don't always cleanse in the mornings, but in the summer heat a refreshing morning cleanse is exactly what I need (More info: Double Cleansing). I want to get rid of the sweat and grime without stripping my skin, and the SKIN1004 Madagascar Centella Ampoule Foam is perfect for that.
Don't shy away from the word foam here – many people think of foaming cleansers as stripping, but this one isn't. The surfactants here are coconut derived and mainly the Sodium Cocoyl Isethionate creates the most gorgeous foam, firm and bubbly, while the pH of the product is mildly acidic, around 5, which is close to the skins natural pH and helps maintain the skin barrier.
Other than that this cleanser contains Glycerin and Hyaluronic Acid to hydrate the skin and of course Centella Asiatica extract for soothing, hydration and as antioxidant.
I admit when I first used it I was surprised by the color, as it is light brown rather than white, but once you lather it up with water it looks like any other cleanser. This is the only one out of the four products that does not have a faint floral scent – I can't really say what it smells like, but I suppose the scent is mainly the Centella and the surfactants as there is no added fragrance or fragrant oils.
It is best used by foaming it up in your hands before you apply it to your face and rinses completely clean.
Even though I prefer it in the mornings, it could of course also be used at night, SKIN 1004 actually recommends it for its microdust removal properties, and on days when my face feels especially dirty I like it as second cleanse after the SKIN1004 Madagascar Centella Light Cleansing Oil that I will talk about more in a bit.
But getting back to my morning skincare routine, after rinsing my face I follow up with the SKIN1004 Madagascar Centella Hyalu-Cica Blue Serum. And yes, the serum is indeed light blue, has a faint floral scent and features both Centella Asiatica and Panthenol for soothing, three different molecular weights of hyaluronic acid for hydration (More Info: Ingredient Spotlight Hyaluronic Acid), Niacinamide for brightening (More info: Ingredient Spotlight Niacinamide) and Ceramides to strengthen the skin barrier. There are also several plant extracts, with Rosa Damascena Flower Extract probably responsible for the scent.
I apply two pumps into my hands and pat it all over my face and neck, where it immediately skins in with just a hint of tackiness that is typical for serums containing high concentrations of Hyaluronic Acid.
For me this is enough hydration, so I just follow up with my sunscreen of choice, but depending on your skin type a light moisturizer might be needed – no problem as the serum layers well with everything I paired it with. My skin feels hydrated throughout the day, but without heavy layers that might be suffocating in the summer heat.
Evening summer skincare routine
In the evenings I am a huge fan of balm or oil cleansers like the SKIN1004 Madagascar Centella Light Cleansing Oil. It is a silky oil cleanser that smells slightly floral and contains a blend of six different oils, two of which are responsible for the scent, and of course Centella Extract for soothing.
The reason why I prefer oil cleansers is the "like removes like" principle, meaning things like sebum and water-resistant sunscreens are best removed with oil based cleansing products. Layers of reapplied sunscreen and sweat paired with the increased oil production during summer days mean I need a thorough cleanse, but at the same time something that is gentle, and I find oil cleansers to be best for that.
Depending on the oils used and the emulsifiers they are paired with some oil cleansers can leave a film on the skin that requires a second cleanse, but that is not true for this one: It is lightweight and emulsifies quickly when it comes in contact with water, no need for a washcloth and no film left on the face, just the feeling of well-cleansed and hydrated skin. It removes even waterproof makeup without the need of scrubbing your face and due to its lightweight texture would even work for a morning cleanse if you want to stick to one product only.
I then follow it up with the SKIN1004 Madagascar Centella Hyalu-Cica Blue Serum again, simply because hydration and soothing are great any time during the day and because the added Niacinamide pairs extremely well with my Tretinoin prescription. And yes, before you ask, you can absolutely use Tretinoin during the summer months, just make sure you wear your sunscreen and pair it with a soothing serum like this one. (More info: Retinol in the summer)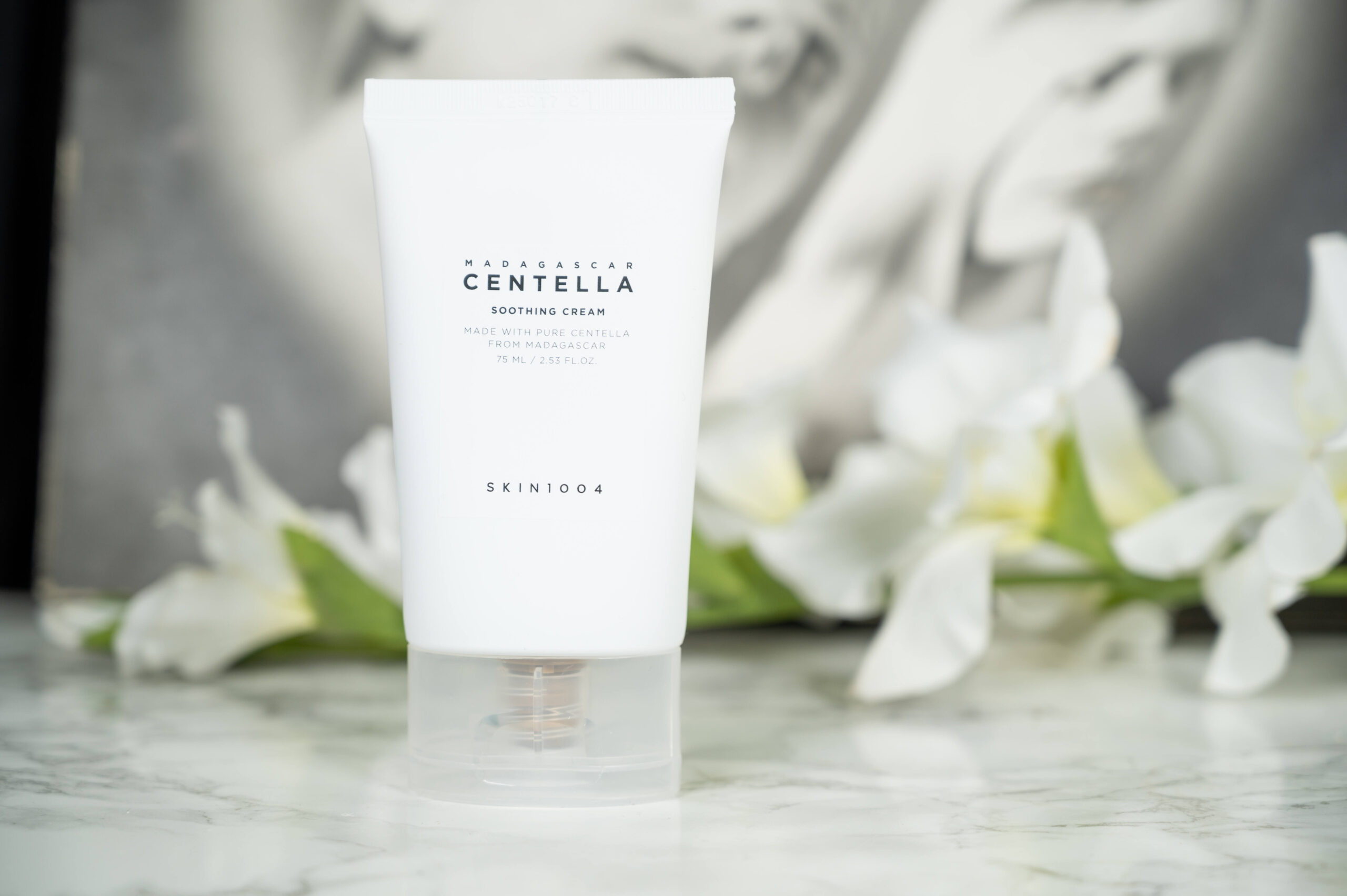 Next step is the SKIN1004 Madagascar Centella Soothing Cream, which again surprises with a brownish color rather than the usual white. It has a gel texture that I adore especially in the heat and that, unlike other gels sometimes do, does not pill on my skin.
The lightweight texture is due to the lack of occlusives and the focus on humectants and emollients, if your skin is dry rather than oily you might prefer the other version offered on the website.
What I like about the cream is that despite its lightweight texture it focuses heavily on barrier repair, perfect for my Tretinoin skin. It is made up of three different skin identical lipids, Cholesterol, free fatty acids as in Phytosphingosine and Ceramides, more precisely Ceramide EOP, NS, NP and AP. Especially Ceramides have gotten quite a lot of spotlight recently as we learned more about the importance of an intact skin barrier to prevent Transepidermal Water Loss. One of the main reasons for a self-made impaired skin barrier is the (over)use of actives, and being on prescription Tretinoin for my acne treatment myself I always make sure to take good care of mine with gentle and repairing skincare. (More info: Damaged skin barrier)
This cream fits perfectly, so I use it every night and, on Tretinoin nights, follow up with my prescription half an hour later.
Another interesting ingredient present in the formula is Tranexamic Acid, used to treat hyperpigmentation. I can't say at which concentration it is used here, but if you are interested to learn more about it I have a whole blogpost dedicated to this ingredient and the way it works. (More info: Ingredient Spotlight Tranexamic Acid)
My favorite products of the SKIN 1004 line
In fact I am torn when asked which my favorite product of the whole selection is –  this cream is absolutely amazing, but as someone that is partial to the cleansing step in their routine I think I would still pick the Madagascar Centella Light Cleansing Oil. 
It is a hard decision to make though as all the products I tried have convinced me and I would recommend Skin 1004 as a brand you should check out if you are into gentle and soothing Korean skincare. Yes, despite the non-toxic marketing that can be found on parts of their website – if the products are as good as these ones, I am willing to overlook that. (More info: My thoughts on clean beauty)
(Visited 1.854 times, 2 visits today)