Advertisement info: This blog post contains affiliate links. I received no money to write it. Please read disclaimer.
If you hear pale skin and think "english rose", let me tell you that not all of us have this porcelain hue. No, some of us are pale and yellow toned, and that quickly turns into "looking sick" rather than any floral analogies.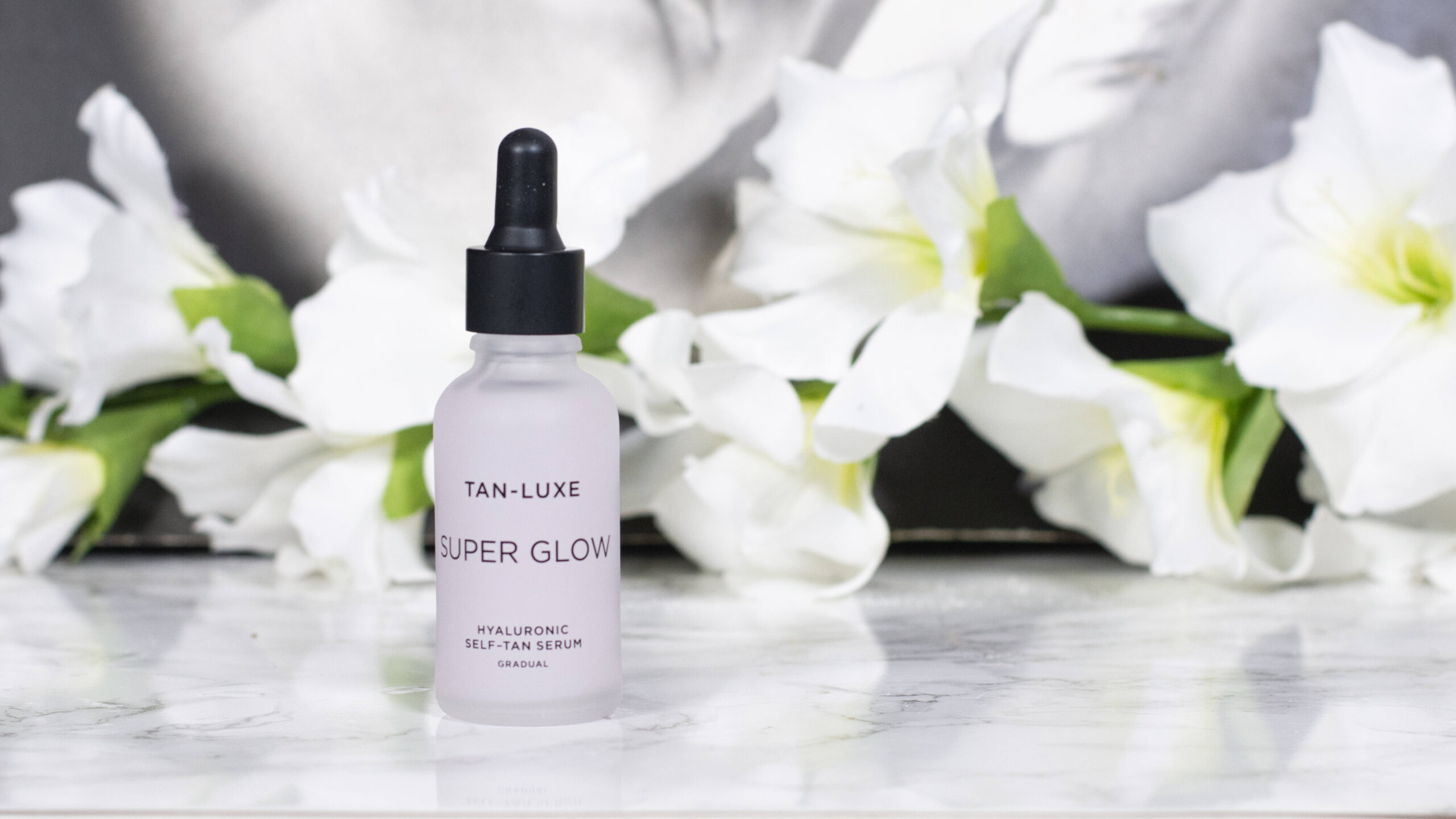 So to prevent people asking me if I am ill whenever I go makeup free, I heavily rely on my new found favorite: The Tan Luxe Super Glow Hyaluronic Acid Face Serum.
Now I already told you here that within a short time of using the Tan Luxe Super Glow, I can not imagine ever being without it again, but in order to make that a proper review, let´s get at it methodically and hear what Tan Luxe has to say first.
What Tan Luxe Super Glow claims
SUPER GLOW is the World's FIRST hyaluronic, superfood self-tan serum. Think your best skin day EVER, bottled.
Tan Luxe Super Glow Facts
Prize and size
The serum comes in a frosted glass bottle with a dropper, contains 30 ml and retails for 43 € on the website here.
Texture and smell
It has a milky color, is a little gooey, but spreads easy and has a noticeable floral scent. The scent is not unpleasant, in fact it is way better than the usual cookie dough scent most DHA based self-tanners have, and doesn´t linger on the face.
How to use the Tan Luxe Super Glow
Suitable for morning and nighttime use you just reach for it whenever you would usually apply your usual hydrating serum. After a bit of experimenting I found that for me it works best used as part of my evening routine, that way it can work its magic overnight and I wake up at least looking well rested!
You can use it on its own (which I prefer) or mixed into other creams. Except some "deeper tan lines" around my hairline I never had it get streaky or patchy. And that has to say something I suck at applying fake tan,
Tan Luxe Super Glow Ingredients
Aqua (Water)
solv
,
Glycerin

sii

|

h
0
0
,
Dihydroxyacetone
,
Hydrolyzed Soybean Fiber
,
Hyaluronic Acid

sii

|

h
,
Beta Vulgaris (Beet) Root Extract

aox

|

h
,
Brassica Oleracea Acephala Leaf Extract
h
,
Sodium Hyaluronate

sii

|

h
0
0
,
Rubus Idaeus (Raspberry) Seed Oil
emo
,
Cocos Nucifera (Coconut) Oil

emo

|

perf
0
4
,
Persea Gratissima (Avocado) Oil

aox

|

emo
0
0
–
3
,
Salvia Hispanica Seed Oil

aox

|

emo

|

h
,
Vaccinium Myrtillus Fruit Extract
,
Theobroma Cacao (Cocoa) Seed Extract
aox
,
Aloe Barbadensis (Aloe) Leaf Juice

so

|

h
,
Tocopheryl Acetate (Vitamin E Acetate)
aox
0
0
,
Ascorbic Acid

aox

|

sb

|

buff
,
Retinyl Acetate
cci
,
Erythrulose

,
Cyclopentasiloxane
emo

|

solv
,
Hydroxyethylcellulose
vc
,
Polyacrylamide
vc
,
C13-14 Isoparaffin
emo

|

vc

|

solv
,
Glyceryl Acrylate/Acrylic Acid Copolymer
h

|

vc
,
Dimethicone Crosspolymer
vc
,
Dimethicone
emo
0
1
,
Pvm/Ma Copolymer
vc
,
Laureth-7
emu

|

surf
,
Laureth-23
emu

|

surf
0
3
,
Laureth-4
emu

|

surf
4
5
,
Butylene Glycol
h

|

solv

|

vc
0
1
,
Ethylhexylglycerin
pres
,
Parfum (Fragrance)

perf
,
Limonene

perf

|

solv
,
Geraniol

perf
,
Hexyl Cinnamal

perf
,
Benzyl Salicylate

perf
,
Tetrasodium EDTA
chel
,
Citric Acid
buff
,
Phenoxyethanol
pres
,
Triethylene Glycol
perf

|

vc
,
Potassium Sorbate
pres
,
Ci 17200 (D&C Red No. 33)
col
2
1
Hover the mouse over an ingredient for short explanation. Read more on INCIDecoder.
DHA is at 4%, so the only thing except water that has more than 4% is Glycerin. The "superfood" mentioned is mainly several seed extracts and oils that claim to act as antioxidants and provide blue light protection (More info: Does blue light from your screen damage your skin?). Further antioxidants are Vitamin E, Vitamin C and even Retinyl Acetate, but in presumabely low concentrations.
I wouldn´t count much on the antioxidant and antiaging effects, but the hydrating properties surely are there.
Does it live up to its claims?
Well.
I don´t really like claims that are written in CAPS and contain words like superfood, but if you are willing to look past that (and maybe erase the word superfood, which is mainly marketing speech), it is what it says on the bottle: A hyaluronic acid self-tan serum that gives you a healthy, glowing and slightly tanned complexion.
Would I repurchase?
Yes!
It is pricey, not going to lie, but the way it makes me look and the ease of application is absolutely worth it.
Whom do I recommend the Tan Luxe Super Glow to?
Everyone needs a hydrating serum, and if, like me, you are more on the pale and yellow side with a tendency to look sicklish, this is a great pick me up for your complexion. If you are not into self-tanners, there are much more affordable hydrating serums out there to try, my favorite one being The Inkey List Hyaluronic Acid Serum (read full review here).
Shop the post
Don't forget to check out the Discount Code Page on top if you want to save some money on your next skincare purchase.
If you want to get a vote in the next Ask Doctor Anne Topic, Ingredient Spotlight or product I review, don't forget you can head over to my Patreon account to get more involved!
(Visited 1.658 times, 1 visits today)