Advertisement info: This blog post uses affiliate links. I received no money to write it. Please read disclaimer.
Peptides are among the ingredients I get the most questions about:
Are they worth the money?
Which ones are the best?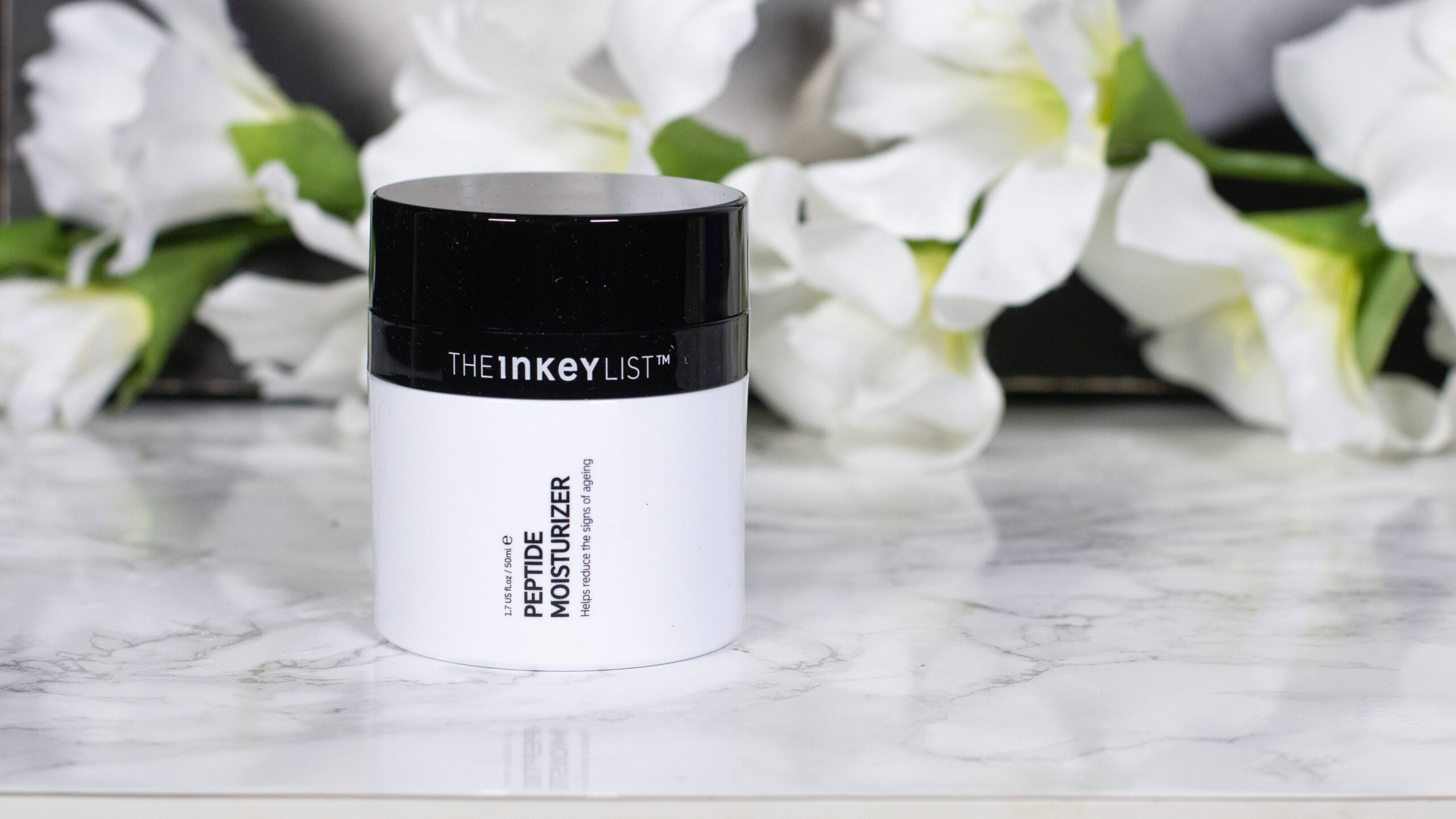 I have a whole blog post dedicated to the use of peptides in skincare, and what I said back then still is true:
Peptides are promising, but I would not spend a fortune on them just yet.
Good thing there are quite a few affordable options on the market, one of them being The Inkey List Peptide Moisturizer I want to review for you today.
I admit that seeing "peptides" on the packaging always peaks my interest and after seeing that The Inkey List used my favorite form of packaging, the airtight pot, I knew I had to give it a go despite the fact it was called "rich", something my combination skin usually shies away from.
What The Inkey List Peptide Moisturizer claims
A rich, daily, age-defying moisturiser uniting two forms of peptides (chains of amino acids) to support skin's natural proteins, helping to keep skin looking healthy and youthful.
Facts about The Inkey List Peptide Moisturizer
Prize and size
It comes in the classic black and white The Inkey List packaging, has an air tight press down pump container and retails for 14,99 £ per 50ml on the website here.
Texture and smell
The cream itself feels rich in a pleasant, non-suffocating way. Yes, it is no gel, but it is far from what I associate with rich, it sinks in slowly, but without greasiness and leaves my skin feeling soft and hydrated.
How to use The Inkey List Peptide Moisturizer
Like other moisturizers it goes last in your routine and most skin types will probably prefer using it at night (I surely do). For dry skin or during the winter months using it in the mornings would be suitable as well, it does not pill with makeup and sunscreen (probably because it does not contain any silicones). While it does not feel thick, it does take a few minutes to sink in completely, at least on my more combination skin, once it does though there is no film left behind.
The Inkey List Peptide Moisturizer Ingredients
Aqua (Water/Eau)
solv
,
Caprylic/Capric Triglyceride
emo
,
Glycerin

sii

|

h
0
0
,
C12-15 Alkyl Benzoate
emo

|

amic
,
Cetearyl Alcohol
emo

|

vc

|

emu

|

surf
1
2
,
Glyceryl Stearate SE
emu
2
3
,
Betaine

h
,
Butylene Glycol
h

|

solv

|

vc
0
1
,
Phenoxyethanol
pres
,
Benzyl Alcohol
pres

|

perf

|

solv

|

vc
,
Carbomer
vc
0
1
,
Butyrospermum Parkii (Shea) Butter

emo

|

vc
,
Sodium Stearoyl Glutamate
emu

|

surf
,
Sodium Hydroxide
buff
,
Ethylhexylglycerin
pres
,
Sodium Gluconate
chel

|

h
,
Tocopheryl Acetate
aox
0
0
,
Dehydroacetic Acid
pres
,
Hydrogenated Lecithin

emo

|

emu
,
Phenethyl Alcohol
,
Acetyl Hexapeptide-37
,
Maltodextrin
,
Pentapeptide-48
Hover the mouse over an ingredient for short explanation. Read more on INCIDecoder.
Glycerin, Shea Butter and Betaine for hydrating and emollient properties as well as some preservatives and Vitamin E as antioxidant. The peptides used are Acetyl-Hexapeptide-37, which claims to have hydrating properties by enhancing the development of so called aquaporin 3, a cell membrane protein that increases water transport into the cell, and Pentapeptide-48, claiming to stimulate elastin production.
None of these has a lot of data to back up these claims, but even without them it would be a lovely moisturizer formula.
Does it live up to its claims?
Yes.
Well, the role pf peptides in skincare and antiaging still "is a field that warrants more research", so any claims in that regard need to be taken with a grain of salt, but my skin feels healthy and youthful with regular use.
Would I repurchase?
Probably.
The Inkey List Peptide Moisturizer doesn´t break me out, it soothes my sometimes retinoid-irritated skin and features a few extra ingredients for a bargain price, which is about what I expect from my moisturizer.
If you want to make sure you get the maximum peptide effect, I would always recommend going for a serum (like The Ordinary Copper Peptides + Buffet I reviewed here), but if you just want a nice moisturizer with a little extra, you can´t go wrong with that cream.
Whom do I recommend The Inkey List Peptide Moisturizer to?
Let me cut it short by telling you whom I do NOT recommend it to: It is probably too much for very oily skin, but everyone else will find it to be a really nice and affordable moisturizer.
Shop the post
(Visited 12.711 times, 1 visits today)