ADVERTISEMENT INFO: THE PRODUCTS MENTIONED IN THIS POST WERE PURCHASED BY ME. LINKS USED ARE AFFILIATE LINKS. I RECEIVED NO MONEY TO WRITE THE BLOGPOST. PLEASE READ DISCLAIMER
I did an ingredient deep dive on polyhydroxy acids or PHA two weeks ago, really getting into the research behind this kind of acids, and then figured: Which better time than to follow that up with a review of The Inkey List PHA Toner, one of the few products on the market that actually use PHA separately instead of mixing them in with other acids. (More info: What are Polyhydroxy Acids and what is their role in skincare?)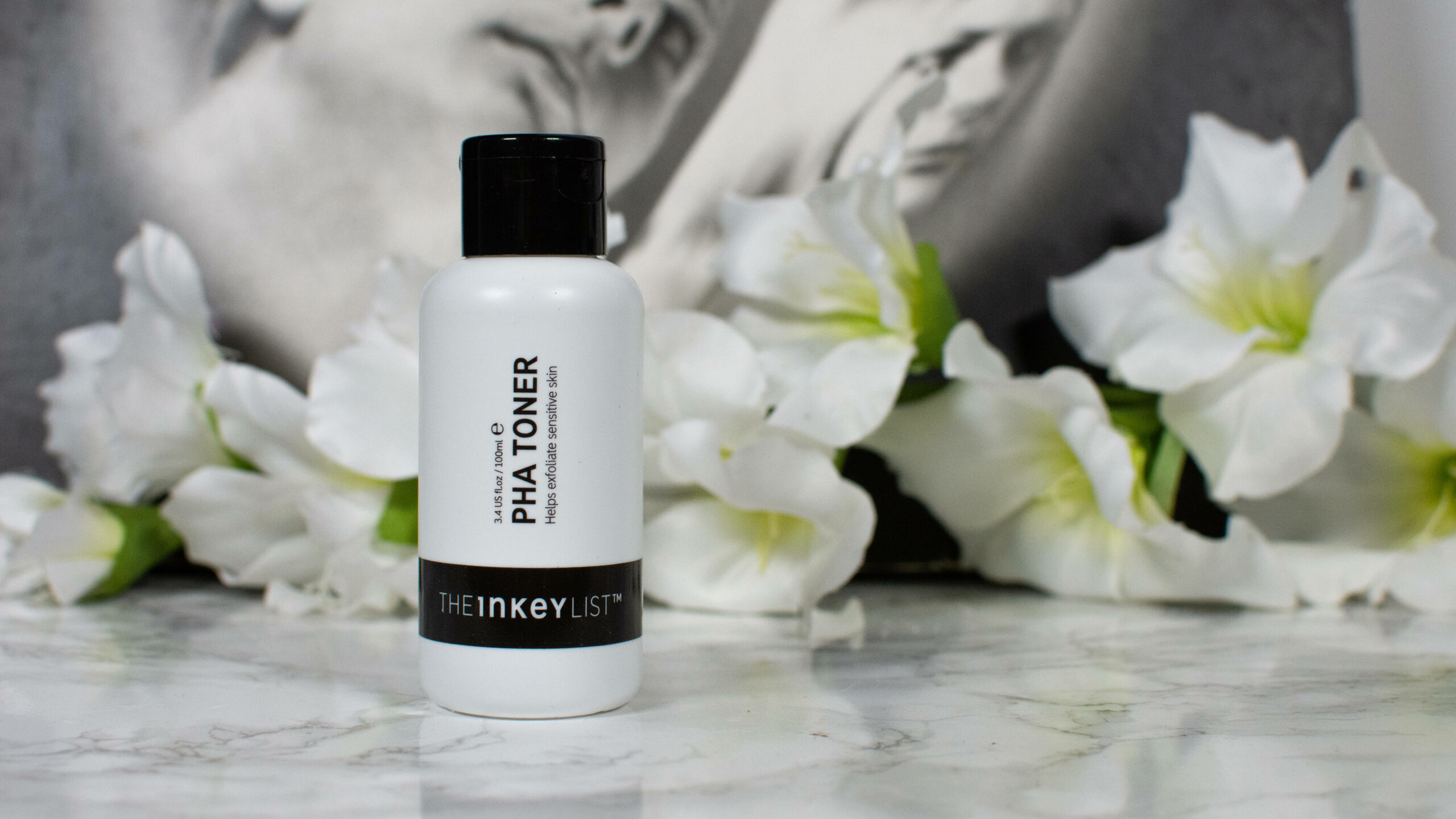 So other than PHA, what does this toner have to offer? How do you use it, which skin types is it best for and is it worth your money? Let's talk!
What The Inkey List PHA Toner claims
Gently improve skin texture – now that is one of the shortest and least exaggerated claims I have seen in a long time. I love it!
Facts about The Inkey List PHA Toner
Prize and size
One bottle in the classic black and white packaging contains 100 ml and is available for 10,99 € on the website here.
Texture and smell
This toner looks like water and has no real scent. If I sniff very closely, I can sometimes catch a faint whiff of something acidic, but that might just be my imagination running wild.
How to use The Inkey List PHA Toner
The brand recommendation, not surprising with a toner, is to saturate a cotton pad and swipe it all over your face. I find that wasteful, so I simply pour some into my palms and press it onto my face, avoiding the eyes.
Using it morning and night is possible, I prefer using it in the mornings before my Vitamin C to prep the skin and because I feel like it offers some hydration.
As PHA mix well with almost everything (I always recommend caution if you are on any prescription though), just use it in your routine where you feel it fits best.
Ingredients of The Inkey List PHA Toner
Water (Aqua/Eau)
solv
,
Propanediol
solv

|

h
,
Gluconolactone

exf

|

chel
,
Niacinamide

cci

|

sb

|

aacne

|

h
,
Pentylene Glycol
solv

|

h
,
Glycerin

sii

|

h
0
0
,
Aloe Barbadensis Leaf Juice

so

|

h
,
Potassium Sorbate
pres
,
Sodium Benzoate
pres
,
PPG-26-Buteth-26
,
PEG-40 Hydrogenated Castor Oil
emu

|

surf
,
1,2-Hexanediol
solv
,
Caprylyl Glycol
h

|

emo
,
Ethylhexylglycerin
pres
,
Citric Acid
buff
,
Sodium Hydroxide
buff
Hover the mouse over an ingredient for short explanation. Read more on INCIDecoder.
Looking at the ingredient list, the Gluconolactone you see as third ingredient is the Polyhydroxy Acid. The Inkey List tell us that they use 3%, as well as 3% Niacinamide which you can find directly after. Then there is Glycerin for extra hydration, Aloe Barbadensis Leaf Juice that is supposed to be soothing, but probably won't have much of an effect and some preservatives. (More info: Ingredient Spotlight Niacinamide)
A streamlined formula, but with the added Niacinamide and Glycerin a great allrounder in my opinion.
More info: How to read the skincare ingredient list
Does it live up to its claims?
Now the most important part – how did it work for me? I have to say I am impressed. When I purchased it, I was expecting to get a gentle exfoliant. And that I did, gentle in a way that I don't think will be enough for people that really struggle with texture. What was a pleasant surprise though is the calming and hydrating properties it showed upon usage.
You know I love Niacinamide at one step in my routine, and to have it in here, along with some hydration, really made my routine more streamlined.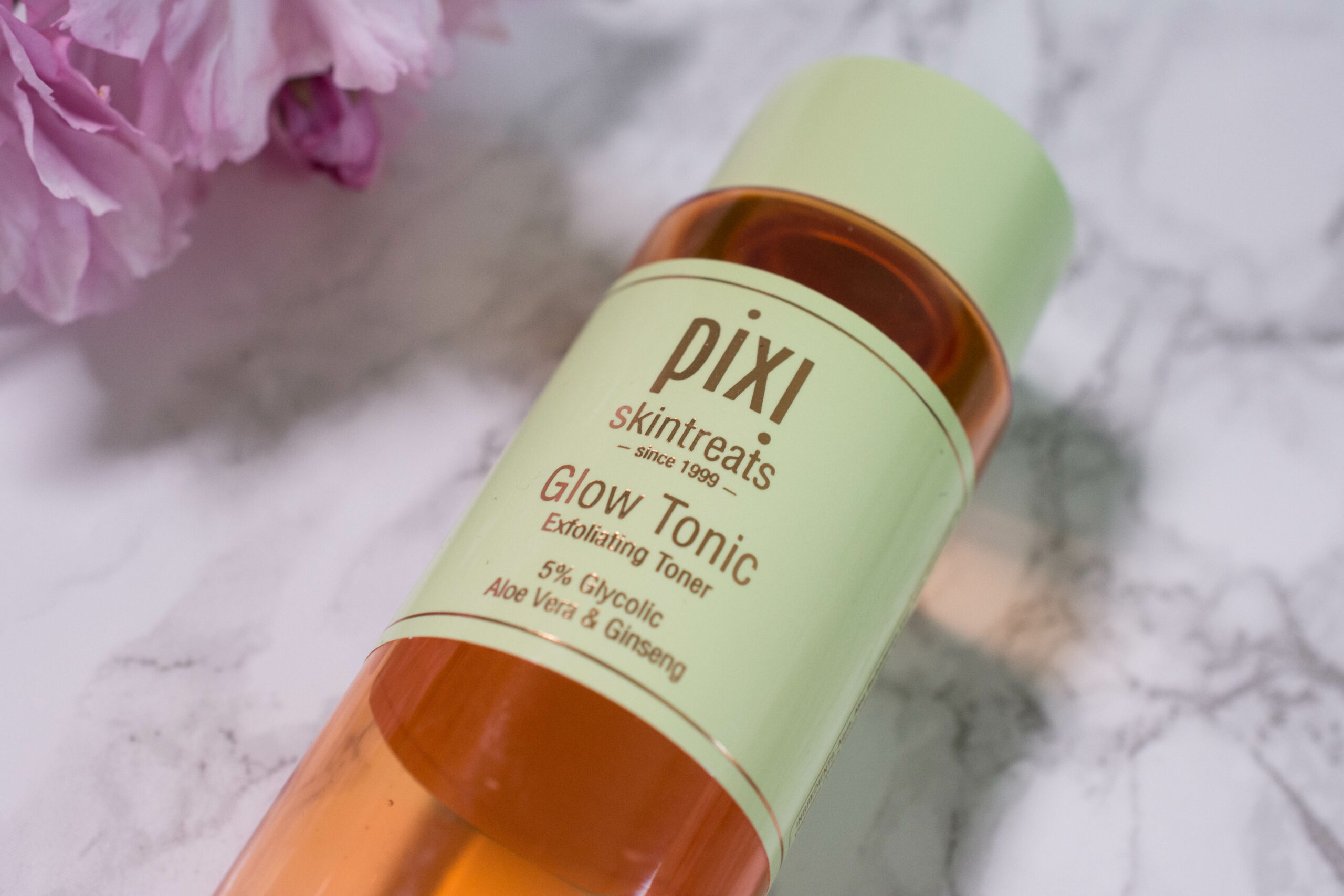 How does it compare to…
pixi Glow Tonic
pixi Glow Tonic does not use PHA, but Glycolic Acid, so that is the main difference here. Both offer a very gentle exfoliation though, due to the pixi formula and low concentration. Compared side by side pixi has more of an effect with daily use, so it probably is the better option for those with texture. The Inkey List PHA is even gentler though, so if your skin is easily irritated or you are looking to incorporate some well aging into your rosacea skincare routine, it might be the better pick.
Read my full review of the pixi Glow Tonic here.
Would I repurchase?
It is definitely a product that I can see earning a permanent place in my routine.
Which skin types do I recommend The Inkey List PHA Toner for?
While everyone can use it, I think it's best suited for those with very reactive skin that can't tolerate other acids, maybe people with a skin condition like rosacea or on strong acne prescription (always consult with your prescribing physician there!) and for people that want a gentler and more hydrating alternative to their regular exfoliant during the cold winter months ahead of us. (More info: How to treat your skin in the winter)
You can shop my current favorite toners here
If you want to get a vote in the next Ask Doctor Anne Topic, Ingredient Spotlight or product I review, don't forget you can head over to my Patreon account to get more involved!
(Visited 5.007 times, 3 visits today)