Advertisement information: This blog post uses affiliate links. Please read disclaimer.
I don't know about you, but a skincare product that comes with a good story gets me all the time. I am fully aware that I am falling for the oldest marketing trick ever here, but when I read that the Snow Mushroom or Silver Ear Mushroom was part of Concubine Yang Kuei-feis skincare routine, and that she was part of the Four Beauties of Ancient China, I instantly knew I had to have The Inkey Lists Snow Mushroom Moisturizer, based on the same famous ingredient.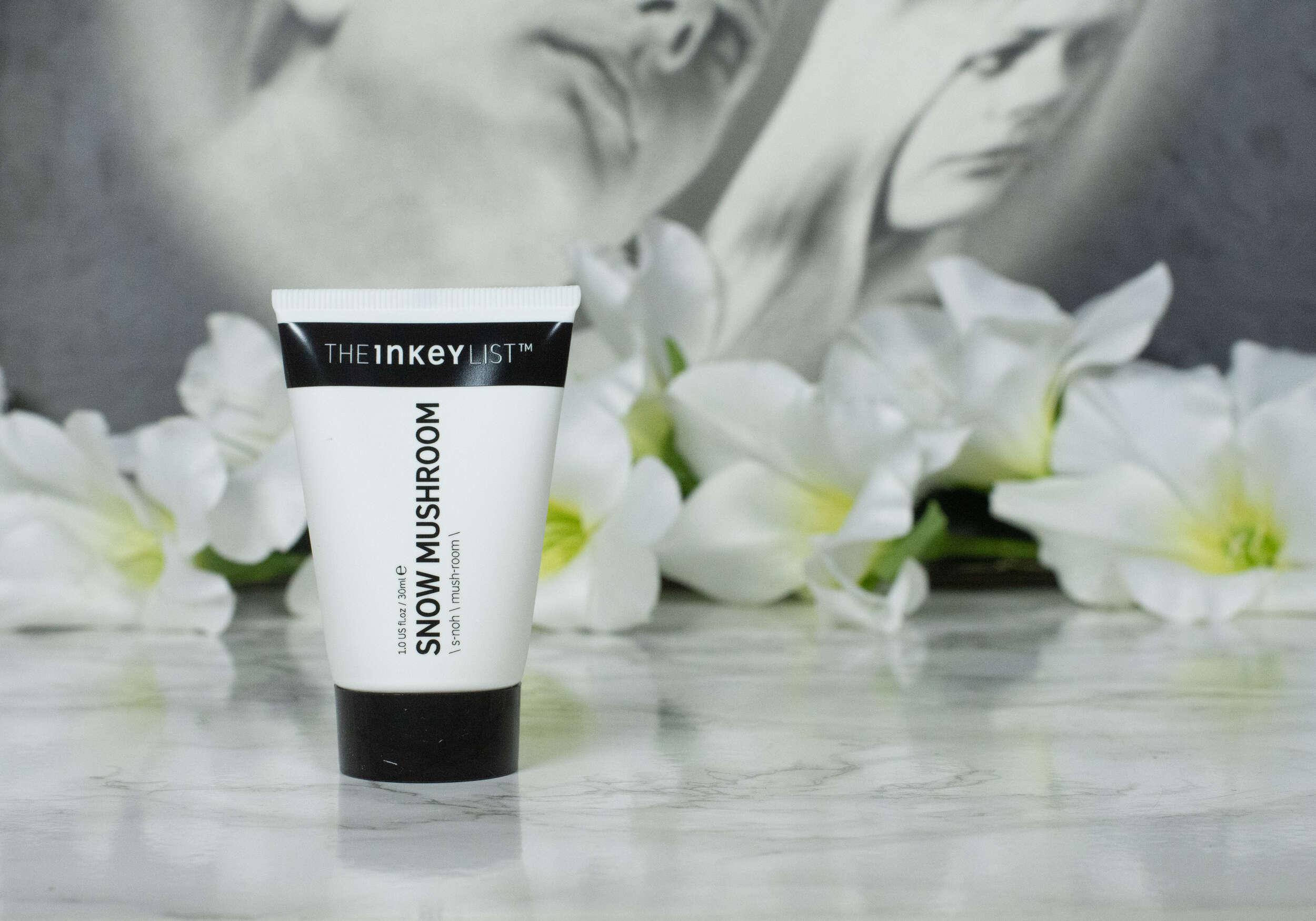 I have since read up on her story, which is a tale of love and loss, with her being wife to a prince and later on concubine to his father, who then had her strangled to death to punish her for her cousins rebellion. Pretty grim, but his heart was broken and his grief inspired the poem "Chang hen ge" (Song of Everlasting Sorrow).
Something else I discovered is that her beauty was based on her larger, more rounded figure rather than her skin, which kind of renders me purchasing a moisturizer based on her skincare useless. Although I already have a "larger, more rounded figure", so to speak, and have no desire to either become my father in laws concubine nor be strangled to death for something my cousin did.
Ancient history aside though (because that is not what you came here for), Snow Mushroom actually contains a polysaccharide that works as humectant, giving this moisturizer great hydrating properties.
What The Inkey List Snow Mushroom Moisturizer claims
Renowned in Asia for it's ability to boost skin's hydration levels, Snow Mushroom isn't as new as we think. Also known as tremella fuciformis, THE INKEY LIST's Snow Mushroom moisturiser is a must-try thanks to the hero ingredients gelatinous structure and high levels of polysaccharide molecules which puts it in competition with your favourite hero ingredient, hyaluronic acid. While hyaluronic acid can hold up to 1000 times its weight in water, snow mushroom can hold up to 5x that but it also has smaller molecular particles meaning snow mushroom can penetrate skin easily, quicker and without any unwanted irritation. A multi-tasker, this hero ingredient also has soothing anti-inflammatory benefits too that can aid collagen production for a visibly plumper and healthier complexion.
Facts
Prize and Size
One tube contains 30 ml and retails for 9,99 $ on the website here. You don't need much as the product spreads easily, so the 30 ml should last you at least three months.
Texture and scent
If you were afraid, the moisturizer would have an earthy scent, rest assured – it hasn't. It has no scent at all, but an interesting jelly like texture that feels cooling when applied. While that is part of the cooling and soothing experience, I reckon it won't be for everyone, especially in the winter.
How to use The Inkey List Snow Mushroom Moisturizer
Don't be fooled by the "moisturizer" part of the name, depending on your skin type you could absolutely use it as hydrating serum and follow up with a richer cream or a face oil – I have tried it different ways and never experienced any pilling, something a lot of gel textures do when layered. Due to the focus on hydration and reducing redness I think it is best suited for morning use, but would work equally well after a night time treatment that left your skin irritated.
Ingredients of The Inkey List Snow Mushroom Moisturizer
Favorable ingredients

Butylene Glycol:

Humectant, penetration enhancer

Glycerin

: Humectant

Sodium Caproyl Prolinate

: Humectant

Lecithin

: Emollient
Tremella Fuciformis Extract: Humectant, non-sticky

Madecassoside

: Enhances Vitamin C, induces collagen production, reduces inflammation (from Centella asiatica)

Glyceryl Polyacrylate

: Emollient
Other ingredients

Sodium Acrylates Copolymer

: Emulsifier

Phenoxyethanol

: Preservative

Carbomer

: Thickener

Sodium Hydroxide:

pH adjuster

Ethylhexylglycerin:

Preservative

Trisodium Ethylenediamine Disuccinate

: Chelating agent
A quick look at the ingredient list shows that this is a product with a focus mainly on hydration. The Tremella Fuciformis Extract that lends its name to this moisturizer is present in less than 1%, with Glycerin and Butylene Glycol featuring as main humectant. It lacks any occlusives and has very few emollients, which explains the lightweight texture. As added bonus you get Madecassoside, part of Centella Asiatica and known for soothing as well as enhancing the effects of Vitamin C.
How does The Inkey List Snow Mushroom Moisturizer compare to…
The Inkey List Hyaluronic Acid Serum
Another hydrating product from the same brand, and one that I find pretty similar. Both in regards to the ingredient list (with Glycerin and Butylene Glycol right up front) and in regards to lightweight, non-sticky formula. I couldn't say which one is more hydrating, and I am not sure why one is called a serum and the other one is called a moisturizer, so I guess it comes down to what you want in addition to your humectants: Snow Mushroom and Madecassoside or the Matrixyl-Complex-Peptides you get with the Hyaluronic Acid Serum.
Read my full review of The Inkey List Hyaluronic Acid Serum here
pixi pHenomenal Gel
Another moisturizer that I think works well for soothing the skin after treatments, but this time richer despite the gel texture. The pixi pHenomenal Gel contains more emollients and a wider variety of plant extracts, which doesn't make it your first choice if your skin is sensitive. It is more of a true moisturizer though, and contains green tea extract and aloe vera for soothing.
Read my full review of the pixi pHenomenal Gel here.
Murad Nutrient Charged Water Gel
You know I had to mention this one, it is the product I compare all gel like formulas to. Well, the first distinction between these two is going to be the price: The Murad version is about eight times as expensive as the version from The Inkey List. It does offer extra ceramides, peptides and Niacinamide though, something that I look for in a moisturizer, and feels richer on my skin. The downside to this is that it doesn't layer as well as Snow Mushroom, so I guess it comes down to your preferences and where in your routine you want to use it.
Read my full review of the Murad Nutrient Charged Water Gel here.
Would I repurchase?
No.
It is a lovely product that I will happily use up, but not special enough to earn a firm place in my routine.
Which skin types do I recommend The Inkey List Snow Mushroom Moisturizer to?
All skin types can benefit from extra hydration, and the lightweight formula and easy-to-layer-feature make it suitable for everyone. Oily skins will love it as last step, dry or dehydrated skin will want to follow it up with a cream or oil, but everyone will benefit from the extra hydration.
Shop the post
(Visited 6.929 times, 1 visits today)