21ADVERTISEMENT INFO: PRODUCTS MENTIONED IN THIS POST WERE PURCHASED MYSELF AND LINKS USED ARE AFFILIATE LINKS. I RECEIVED NO MONEY TO WRITE THE BLOGPOST. PLEASE READ DISCLAIMER
When The Inkey List Succinic Acid Blemish Treatment was launched there was so much controversy, I almost didn't buy it.
Certified "Clean by Sephora" in December 2020 and featuring Succinic Acid as name giving ingredient it seemed to be part of a move away from science-driven products and towards questionable marketing by a brand that I, as has been made abundantly clear by my huge number of reviews on this blog, was madly in love with. (More info: Recent developments regarding The Inkey List)
I am glad I did grab a tube last summer anyway though, but not because of the Succinic Acid. No, I love it for two other reasons – both of which I will talk about in a bit.
What The Inkey List Succinic Acid Blemish Treatment claims
Clear blemishes fast, reduce inflammation and prevent clogged pores with our non-drying, targeted treatment. With a cream formula, it is easily layered under makeup without flaking.
With 2% Succinic Acid, the treatment gently reduces blemish size, reduces oil levels and unblock pores whilst also helping prevent them from clogging again after use. Combined with 2% Sulfur and 1% Salicylic Acid, this targeted treatment will help shrink blemishes and blackheads whilst remaining gentle on the skin.
Facts about The Inkey List Succinic Acid Blemish Treatment
Prize and size
One tube in the usual black and white packaging and with a fine tip that makes dosage really easy contains 15 ml and is available for 7,99 € on the website here.
Texture and scent
Don't be scared when you first see it as it is actually Shrek-green. It won't turn you into your favorite ogre though, the green just helps to counteract the redness of an inflamed pimple. Not enough to completely make it disappear, but still noticeable. If you put on too much, it might look a little grey, but that can be fixed by dabbing it in a little more with your finger.
It has no noticeable scent.
How to use The Inkey List Succinic Acid Blemish Treatment
According to the website it can be applied up to three times a day, works morning or night and goes on after cleansing and before moisturizer. I never made it part of my regular routine, but kept it in my purse to apply to angry zits a few times throughout the day on the first day of their appearance.
The green gave a nice immediate effect, the product did not dry out my skin and the swelling was noticeably reduced within the first 24 hours.
Ingredients of The Inkey List Succinic Acid Blemish Treatment
Water (Aqua/Eau)
solv
,
Caprylic/Capric Triglyceride
emo
,
Glyceryl Stearate SE
emu
2
3
,
Stearic Acid
emo

|

vc
0
2
–
3
,
Cetearyl Alcohol
emo

|

vc

|

emu

|

surf
1
2
,
Colloidal Sulfur
amic
,
Glycerin

sii

|

h
0
0
,
Succinic Acid
buff
,
Hydroxyethyl Acrylate/Sodium Acryloyldimethyl Taurate Copolymer
vc
,
Salicylic Acid

exf

|

aacne

|

so

|

pres
,
Phenoxyethanol
pres
,
Squalane

sii

|

emo
0
1
,
Benzyl Alcohol
pres

|

perf

|

solv

|

vc
,
Sodium Hyaluronate

sii

|

h
0
0
,
Polysorbate 60
emu

|

surf
,
Ethylhexylglycerin
pres
,
Sodium Hydroxide
buff
,
Dehydroacetic Acid
pres
,
Malachite Extract
aox
,
Sorbitan Isostearate
emu
0
1
–
2
,
Trisodium Ethylenediamine Disuccinate
chel
,
Ci 75810 (Chlorophyllin-Copper Complex)
col
Hover the mouse over an ingredient for short explanation. Read more on INCIDecoder.
For the tea on Succinic Acid I will provide you with a link to Michelle from LabMuffin Beauty, she has a deep dive in the existing data, but in short: While there is some data that might suggest it could be helpful in fighting acne, it is far from being an accepted acne treating ingredient. (More info: Can skincare cure acne?) What are accepted ingredients for acne and blemishes though are Salicylic Acid, here used at 1% as opposed to the usual 2% you get over the counter, and to some degree Sulphur, which is keratolytic and antiinflammatory.
Then there are humectants as well as other moisturizing ingredients and lastly a chlorophyll-copper-complex for the green color.
Does it live up to its claims?
Yes.
It reduces inflammation and speeds up the healing process, and the added Salicylic Acid helps prevent clogged pores.
Two reasons why I love The Inkey List Succinic Acid Blemish Treatment
One, it reduces swelling and redness within hours, shrinking the pimple almost by half over night. The other product that had a similar effect on me was the pixi Zero Zit, but that was more drying.
And two, due to the only 1% Salicylic Acid I can use it in conjunction with my other treatments and my Tretinoin without risking irritated and flaky skin, which could happen if I used a 2% Salicylic Acid several times a day. (More info: How to introduce Tretinoin with minimal irritation)
I think it is a great product to have for everyone that gets these huge inflamed zits and wants a few different angles to combat them to speed up their disappearance as much as possible
How does it compare to…
Geek & Gorgeous Porefectly Clear
Geek and Gorgeous is your typical all over serum that is aimed at treating larger areas of congestion and that can be used as prevention. It is 2% Salicylic Acid, so it will have a stronger keratolytic and pore clearing effect, but I can't use it daily as that would, in combination with my Tretinoin, would give me irritation. I do use both on angry zits though, the one from The Inkey List throughout the day and the Geek and Gorgeous one once at night, and the combination is amazing.
Read my full review of the Geek and Gorgeous Porefectly Clear Serum here.
pixi Zero Zit Blemish Solution
The pixi Zero Zit was my first encounter with Sulphur in blemish products and it did really impress me. It is more drying than The Inkey List and has a very shiny finish after it dries down, so I prefer The Inkey Lists offer, but both work equally well in terms of reducing swelling and blemish size.
You can read my full review of the pixi Zero Zit Blemish Treatment here.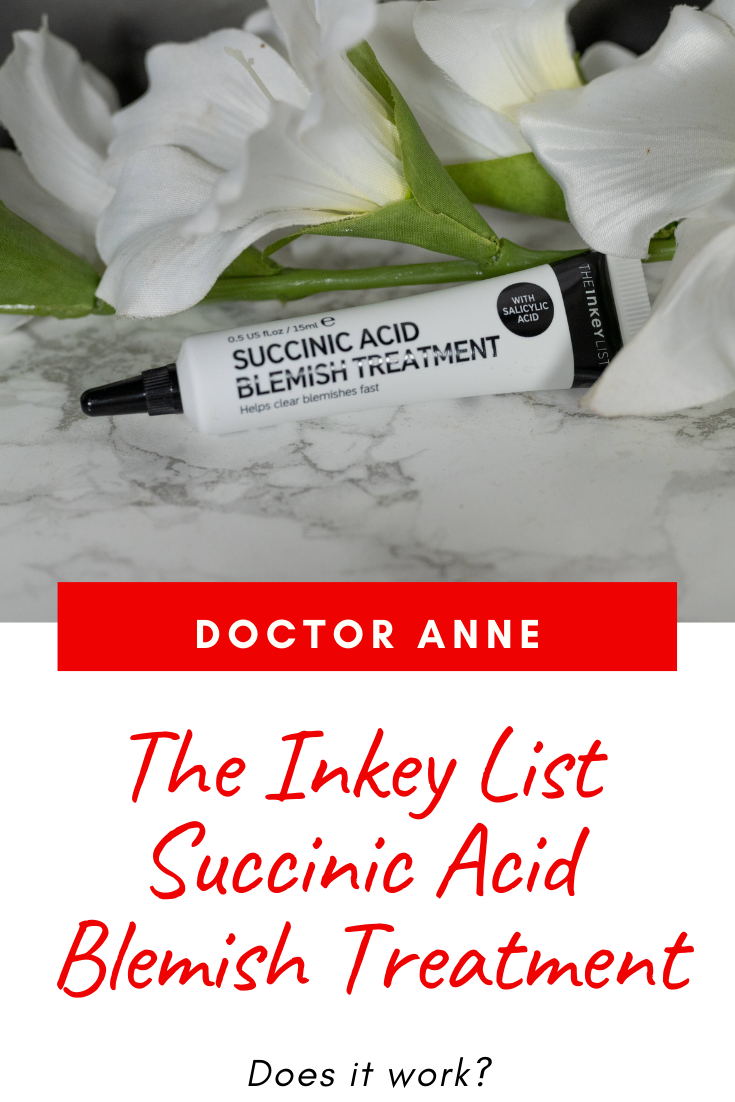 If you want to get a vote in the next Ask Doctor Anne Topic, Ingredient Spotlight or product I review, don't forget you can head over to my Patreon account to get more involved!
Shop my favorite spot treatments here
(Visited 4.204 times, 1 visits today)