ADVERTISEMENT INFO: THIS BLOG POST USES AFFILIATE LINKS AND PR-SAMPLES. I RECEIVED NO MONEY TO WRITE IT. PLEASE READ DISCLAIMER.
In my last haul (you can find it here) I showed you The Inkey List Tranexamic Acid Night Treatment, purchased for my sister as part of a skincare routine to target hyperpigmentation. When I looked through the archives though, I realized I still owe you the detailed review!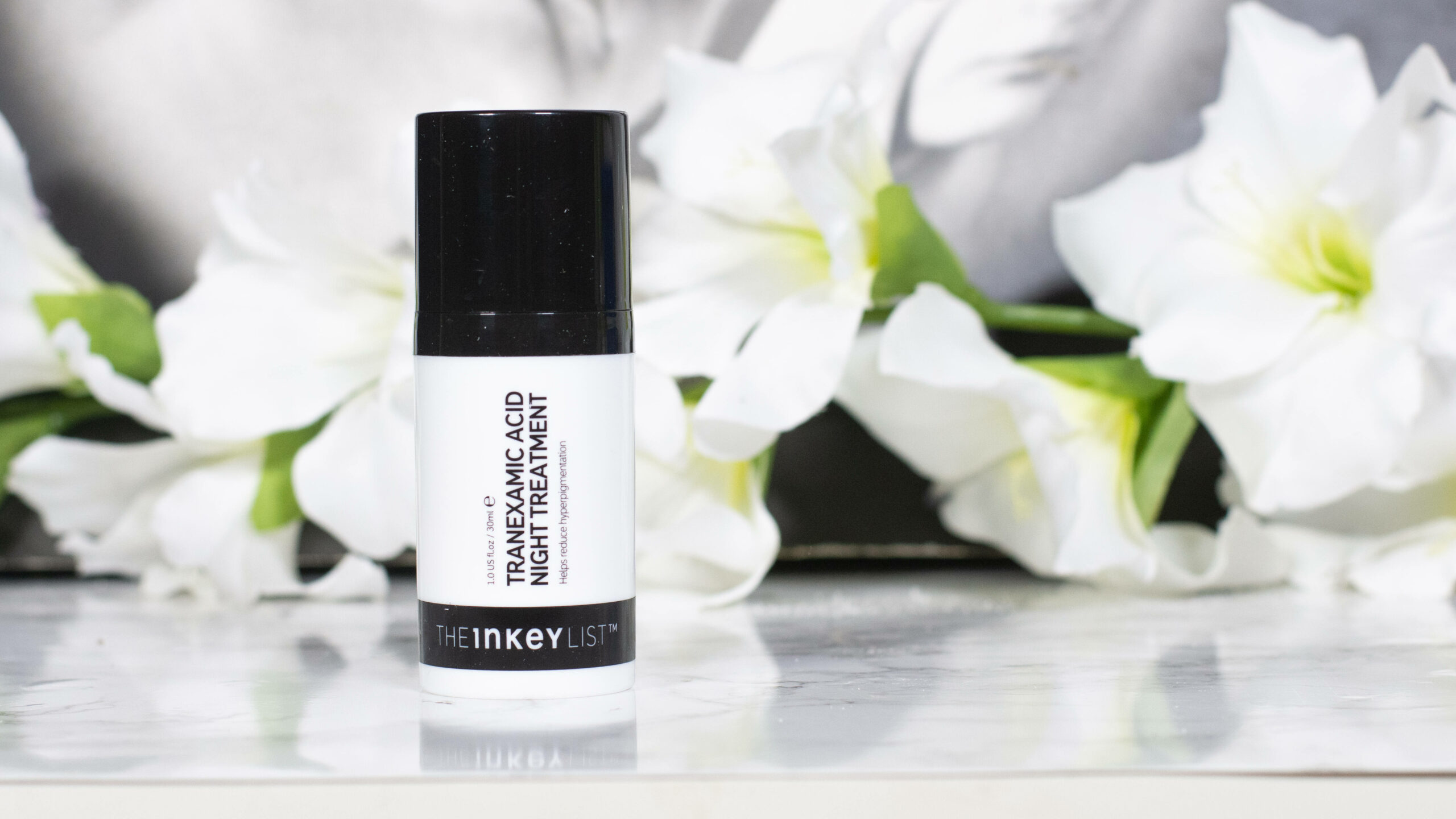 The only explanation is that I purchased and used it in 2020, when my whole schedule went out of the window numerous times due to Covid, so I figured: Better late than never! (More info: Looking back at 2020)
So here it is: My The Inkey List Tranexamic Acid Night Treatment Review – Do you need it in your routine?
What is Tranexamic Acid in skincare good for?
I already did a dedicated blogpost on Tranexamic Acid (More info: Tranexamic acid for hyperpigmentation), but as short recap: Tranexamic Acid is a plasmin inhibitor used for abnormal bleeding that showed skin brightening properties when taken orally.
Once that was noticed, it was investigated if Tranexamic Acid showed the same effect when applied topically, as the oral medication can have severe side effects.
There have been promising studies done, but we still need more data to say if topical Tranexamic works, how efficient it works and which form of topical application is the best. The concentrations used in studies ranged from 0,5% to 5%, with 2% being the maximum you get in topical, non-prescription skincare. (More info: Limitations of topical skincare)
What The Inkey List Tranexamic Acid Night Treatment claims
This overnight gel treatment targets hyperpigmentation, uneven patches and dark spots. It brightens your skin's complexion, as well as aids the reduction of dark spots and uneven skin tone. Formulated with 2% Tranexamic Acid, 2% Acai Berry extract to promote even skin tone, as well as 2% skin brightening hero Vitamin C, it also boosts overall skin brightness and evens skin tone.
Facts about The Inkey List Tranexamic Acid Night Treatment
Prize and size
One bottle contains 30 ml and retails for 14,99 € on the website here. It comes in an airtight pump.
Texture and smell
The first thing you notice when you pump some out of the bottle is the scent – it smells exactly like Barbecue Sauce. Now don't get me wrong, I do love eating Barbecue Sauce, but I am a little less convinced when it comes to covering my face in it. The scent is present upon application, but does not linger, and as it is more of a clear gel texture rather than brownish, so the first Barbecue impression does not stay.
How to use The Inkey List Tranexamic Acid Night Treatment
It is called Night Treatment, so you are supposed to use it in your evening routine. Tranexamic Acid is not light sensitive though, so using it in the mornings would be possible as well. On my normal to oily skin it works perfectly as moisturizing step, if your skin is more dry you might need to follow up with a dedicated cream and use it more as a serum, both works perfectly fine.
Tranexamic Acid can in theory be paired with other actives, but as you probably know I am a huge fan of not using too many "actives" on your face at once to minimize the risk of irritation. (More info: How to layer your skincare)
The Inkey List Tranexamic Acid Night Treatment Ingredients
Water
solv
,
Butylene Glycol
h

|

solv

|

vc
0
1
,
Glycerin

sii

|

h
0
0
,
Ascorbyl Glucoside

aox

|

sb
,
Tranexamic Acid
sb
,
Euterpe Oleracea Fruit Extract
,
1-Methylhydantoin-2-Imide
,
Sodium Acrylates Copolymer
vc
,
Phenoxyethanol
pres
,
Carbomer
vc
0
1
,
Sodium Hydroxide
buff
,
Cetearyl Olivate

emu
,
Benzyl Alcohol
pres

|

perf

|

solv

|

vc
,
Sorbitan Olivate

emu
,
Hydroxyethyl Acrylate/Sodium Acryloyldimethyl Taurate Copolymer
vc
,
Lecithin

emo

|

emu
,
Squalane

sii

|

emo
0
1
,
Ethylhexylglycerin
pres
,
Sodium Gluconate
chel

|

h
,
Polysorbate 60
emu

|

surf
,
Dehydroacetic Acid
pres
,
Lactobacillus Ferment

so

|

pres
,
Sorbitan Isostearate
emu
0
1
–
2
Hover the mouse over an ingredient for short explanation. Read more on INCIDecoder.
Other than Tranexamic Acid (which is present at 2%) you get humectants, Ascorbyl Glucoside, which is a Vitamin C derivative (More info: Everything you need to know about Vitamin C) and Squalane and Lactobacillus Ferment (More info: Pre-, pro- and postbiotics). As always with The Inkey List product an ingredient list that focuses on their one main ingredient with little else.
Does it live up to its claims?
Yes.
You need to take into account that treating hyperpigmentation takes a long, long time and a combination of different products, but this is for sure one of the steps I would recommend incorporating into your routine if you are looking for brighter, more even skin. (More info: Different forms of hyperpigmentation)
How does it compare to…
The Good Molecules Discoloration Correcting Serum
Good Molecules offer a 2% Tranexamic Acid Treatment as well, which is more of a liquid rather than a gel and does not smell like Barbecue Sauce. It also does not contain Lactobacillus Ferment and Ascorbyl Glucoside, but instead Niacinamide.
Which one is better for you is purely determined by your preference when it comes to texture and scent, as both worked equally well for me and are at a similar price point.
I repurchased The Inkey Lists version because it was easier to get for me.
You can read my full review of the Good Molecules Discoloration Correcting Serum here.
Would I repurchase?
Yes.
In fact, I already have. Not for myself, but for my sister in a targeted skincare routine to fight hyperpigmentation.
Whom do I recommend it to?
Anyone looking to fade dark spots from the sun or leftover from acne, but always as part of a balanced hyperpigmentation skincare routine. (More info: My skincare routine to fight hyperpigmentation)
And if you want to get a vote in the next Ask Doctor Anne Topic, Ingredient Spotlight or product I review, don't forget you can head over to my Patreon account to get more involved!
Shop Tranexamic Acid products
(Visited 3.325 times, 1 visits today)