This blogpost contains affiliate links. Please read disclaimer.
 "Don't it always seem to go. That you don't know what you've got. Till it's gone"
That is what Joni Mitchell sang in "Big Yellow Taxi", and yes, you will probably need to google it and never really heard of the song (or her) before, but I like it and I am old and this is my blog and so I will continue to refer to lyrics from 1970. And it is what came to my mind after I started using The Ordinary Niacinamide 10% + Zinc 1% Serum recently and was puzzled about how much it changed my skin.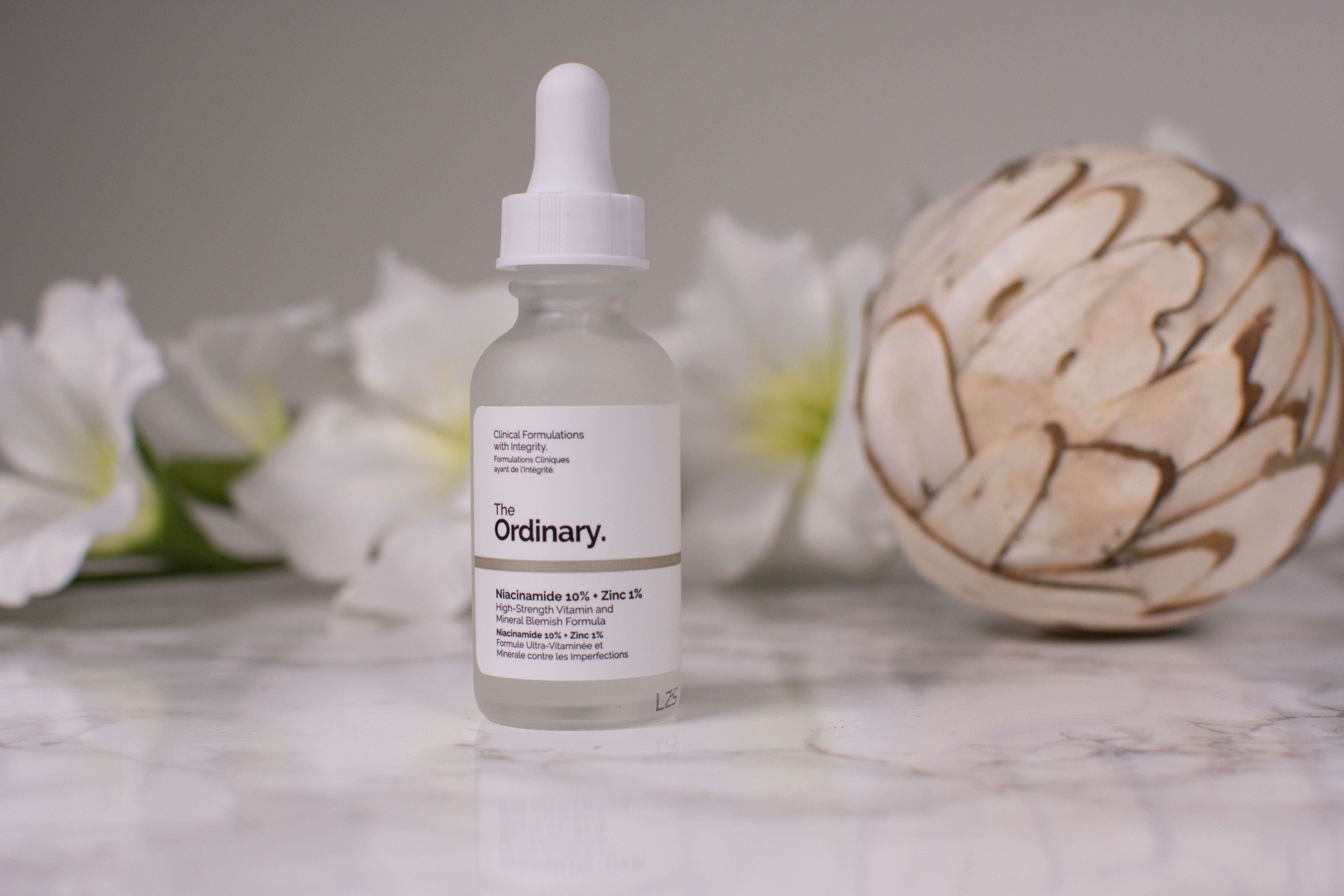 If you are an old (ha!) time reader, you may remember that in many Empties post and in many a skincare routine, La Roche Posay Serozinc (here) featured heavily. Somehow I stopped using it late last year. No specific reason, I just had other mists that I deemed more appropriate for the season.
My t-zone got oiler after a few weeks, but I didn´t really make the connection.
Until I introduced The Ordinary Niacinamide 10% + Zinc 1% in my routine and could literally watch that change…
What The Ordinary Niacinamide 10% + Zinc 1% Serum claims
Niacinamide (Vitamin B3) is indicated to reduce the appearance of skin blemishes and congestion. A high 10% concentration of this vitamin is supported in the formula by zinc salt of pyrrolidone carboxylic acid to balance visible aspects of sebum activity.
Facts about The Ordinary Niacinamide 10% + Zinc 1% Serum
Prize and size
One bottle (plastic, with a dropper) contains 30 ml and retails for 5,90 € on the website here. You only need a small amount, so the 30 ml will last you several months.
Texture and smell
It is firmer than water, but still easy to distribute, the consistency is hard to describe: A very liquid jelly maybe? No noticeable scent.
How to use The Ordinary Niacinamide 10% + Zinc 1% Serum
A small amount, maybe a third of the dropper, is enough to cover my face. The formula spreads easily, but takes a few seconds to fully absorb, leaving the skin mattifyed. After several weeks of using it I can confirm it reduced sebum production, especially around my t-zone, and helped minimize the breakouts I had.
A few people reported piling, but I think this is down to applying too much product, as I had no issues.
Ingredients of The Ordinary Niacinamide 10% + Zinc 1% Serum
Aqua (Water)
solv
,
Niacinamide

cci

|

sb

|

aacne

|

h
,
Zinc Pca

aacne

|

h
,
Tamarindus Indica Seed Gum

h

|

vc
,
Pentylene Glycol
solv

|

h
,
Carrageenan
vc
,
Acacia Senegal Gum
,
Xanthan Gum
vc
,
PPG-26-Buteth-26
,
PEG-40 Hydrogenated Castor Oil
emu

|

surf
,
Ethoxydiglycol
solv

|

h

|

perf
0
0
,
Phenoxyethanol
pres
,
Chlorphenesin
pres

|

amic
Hover the mouse over an ingredient for short explanation. Read more on INCIDecoder.
Just like expected, this is a pretty straightforward formula. It contains the main ingredients as claimed, a few humectants, a few preservatives and little else. I don´t mean it in a bad way, but it is a basic formula. No feel good ingredients added, little to make the texture more pleasant or pretty or smell good. (More info: The benefits of Niacinamide in skincare)
But it delivers, and in my universe, that is what counts.
Does it live up to its claims?
Yes.
It is what I would expect from The Ordinary, a product that uses science based skincare ingredients in a (dare I say it?) ordinary formula to deliver great results.
Would I repurchase?
Absolutely.
In fact, it has replaced my long time love for La Roche Posay Serozinc (read here), as it is much better value for money.
Whom do I recommend it to?
People that suffer from oily and blemish prone skin, no matter if it is in their teens, or, like in my case, later in life. While this is NOT a product to treat acne, it will work on the underlying cause and help reduce the appearance of pimples in the long run.
If your skin is already dry though, be warned: It reduces sebum production, which will lead to your skin becoming even drier, so maybe use it as a t-zone-treatment rather than all over in that case.
Oh, and everyone looking for means to "reduce pore size", which is what I have seen on the website comments a lot: Your pores may appear smaller when you have less sebum, as they are not as congested and "filled". But if you want immediate pore-shrinking results, opt for a product containing an adstringent.
Don't forget to check out the Discount Code Page on top if you want to save some money on your next skincare purchase.
If you want to get a vote in the next Ask Doctor Anne Topic, Ingredient Spotlight or product I review, don't forget you can head over to my Patreon account to get more involved!
(Visited 4.856 times, 1 visits today)