This blog post contains affiliate links. Please read disclaimer.
I love acids for exfoliation.
I have oily, acne-prone skin.
The obvious solution? Using an acid specifically targeted at oily, acne-prone skin. A no-brainer, essentially.  Why do I even talk about it?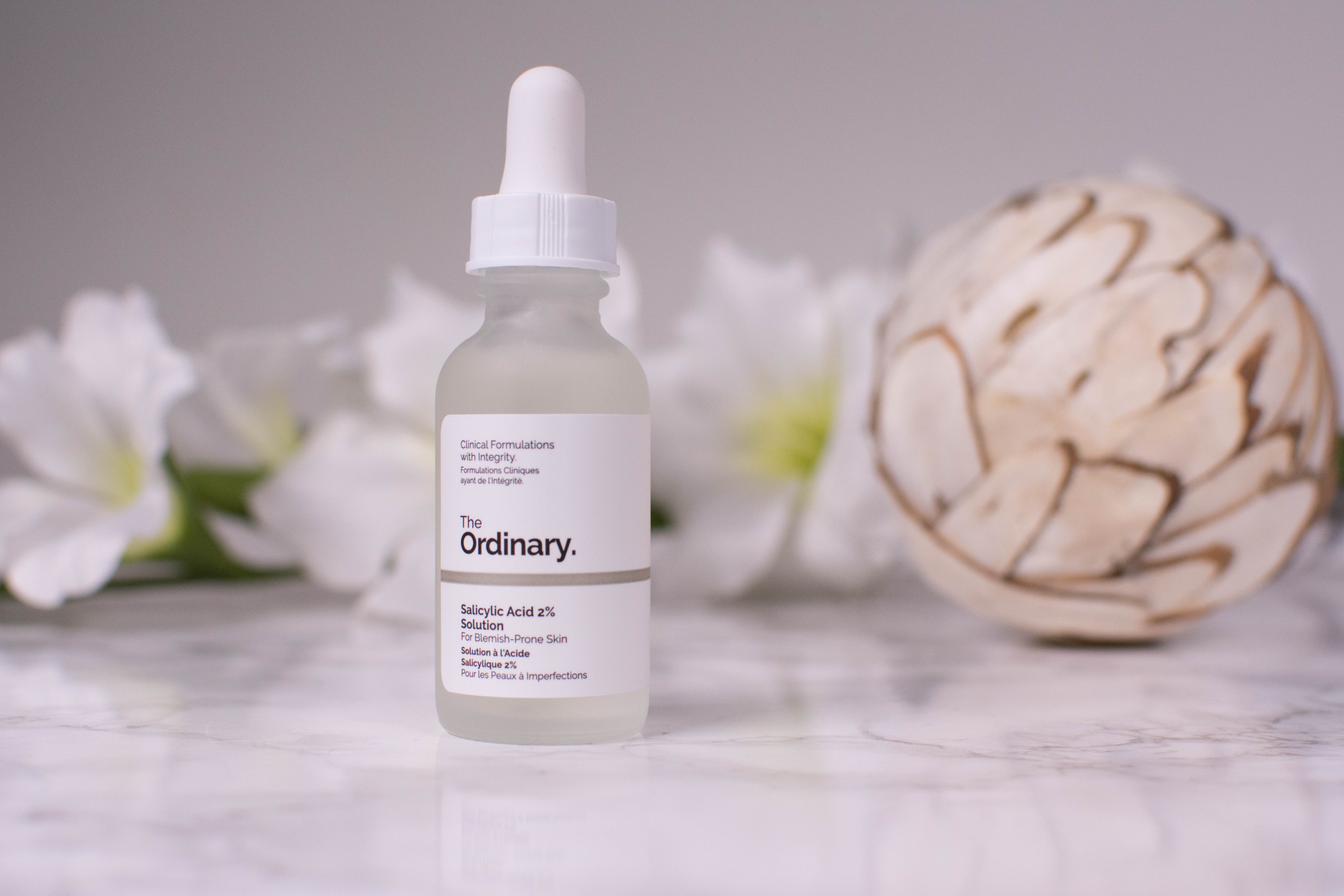 Well, dear reader. Because this is what I used in the last months, no YEARS!
Alpha-H Liquid Gold (Review) – Glycolic Acid, pixi Glow Tonic (Review) – Glycolic Acid, Sunday Riley Good Genes (Review) – Lactic Acid, Clarins Gentle Exfoliating Brightening Toner (Review) – Glycolic Acid
See that? Yes, some of them may have had Salicylic Acid added as well, but the main acid? Never the one I actually should have looked for.
Time to get that right, so The Ordinary Salicylic Acid 2% Solution was quickly added to my routine.
What The Ordinary Claims
Salicylic Acid is a beta hydroxy acid that exfoliates the skin. This 2% treatment solution helps exfoliate the inside walls of pores to fight the appearance of blemishes and for better visible skin clarity with continued use.
Contraindications: This formula should not be used on sensitive, peeling or compromised skin. Please refer to additional sun protection note and other warnings in provided directions.
Facts
Prize and size
The plastic bottle comes with a dropper and contains 30 ml, which is enough to last you several months. It retails for 5,30 € on the website here.
Texture and smell
More jelly than water, but easy to distribute and no noticeable scent. If you use to much, it can almost feel like it foams up on the skin (which it doesn't).
Application and effects
Application is easy, but I found it didn´t mix well with other products, so I made sure to wait until my face was completely dry before application. While I did not notice an stinging, it worked best for me when used twice a week instad of daily.
Ingredients
Favorable ingredients

Witch Hazel (Hamamelis Virginia) Water: Promotes healing, oil-control, anti-acneic
Salicylic Acid: BHA, great exfoliant for acneic and oily skin, exfoliates inside the pores
Dimethyl Isosorbide: Solvent, enhances ingredient penetration
Citric Acid: AHA, used as preservative
1,2-Hexanediol: Humectant
Caprylyl Glycol: Emollient
Other ingredients

Cocamidopropyl Dimethylamine: antistatic
Trisodium Ethylenediamine Disuccinate: Chelating agent
Polysorbate 20: Surfactant
Hydroxyethylcellulose: Lubricant, thickening
Ethoxydiglycol: Solvent, controls viscosity
Potassium Sorbate: Preservative
Sodium Benzoate: Preservative, should not be mixed with Vitamin C as it could form benzene, a carcinogen. Highly unlikely in the amounts used in skincare, but some people may prefer to avoid it
Salicylic Acid, a few preservatives and a few bits to stabilize the formula, really nothing fancy to see here.
Does it live up to its claims?
Yes.
It contains Salicylic Acid and works at exfoliating inside the pores and thus helping with congestion.
Would I repurchase?
Yes.
After the Clearasil Pads I used back in the days (Review) were discontinued, I had a BHA-shaped hole in my routine. Another alternative would be the Paulas Choice 2% BHA Liquid (here), which I will most likely test to compare at some point.
Who do I recommend it to?
Anyone with oily, acne-prone skin that doesn´t have adverse reactions to BHAs. I would advise you to use caution though, especially if, like me, you do use a retinol in your routine as well. Introduce it slowly to avoid overexfoliation. In my experience twice a week will be enough.
MerkenMerken
MerkenMerken
(Visited 5.993 times, 1 visits today)