ADVERTISEMENT INFO: THIS BLOG POST USES AFFILIATE LINKS. I RECEIVED NO MONEY TO WRITE IT. PLEASE READ DISCLAIMER.
The Ultraviolette Supreme Screen Hydrating Facial Skinscreen I wanted to show you today comes all the way from Australia. Well, this particular one doesn't, I had it shipped over from the UK, where Ultraviolette is available, but the brand is Australian.
Why? For two reasons. One, Michelle from LabMuffinBeautyScience recommended it and she is my favorite source of sunscreen knowledge.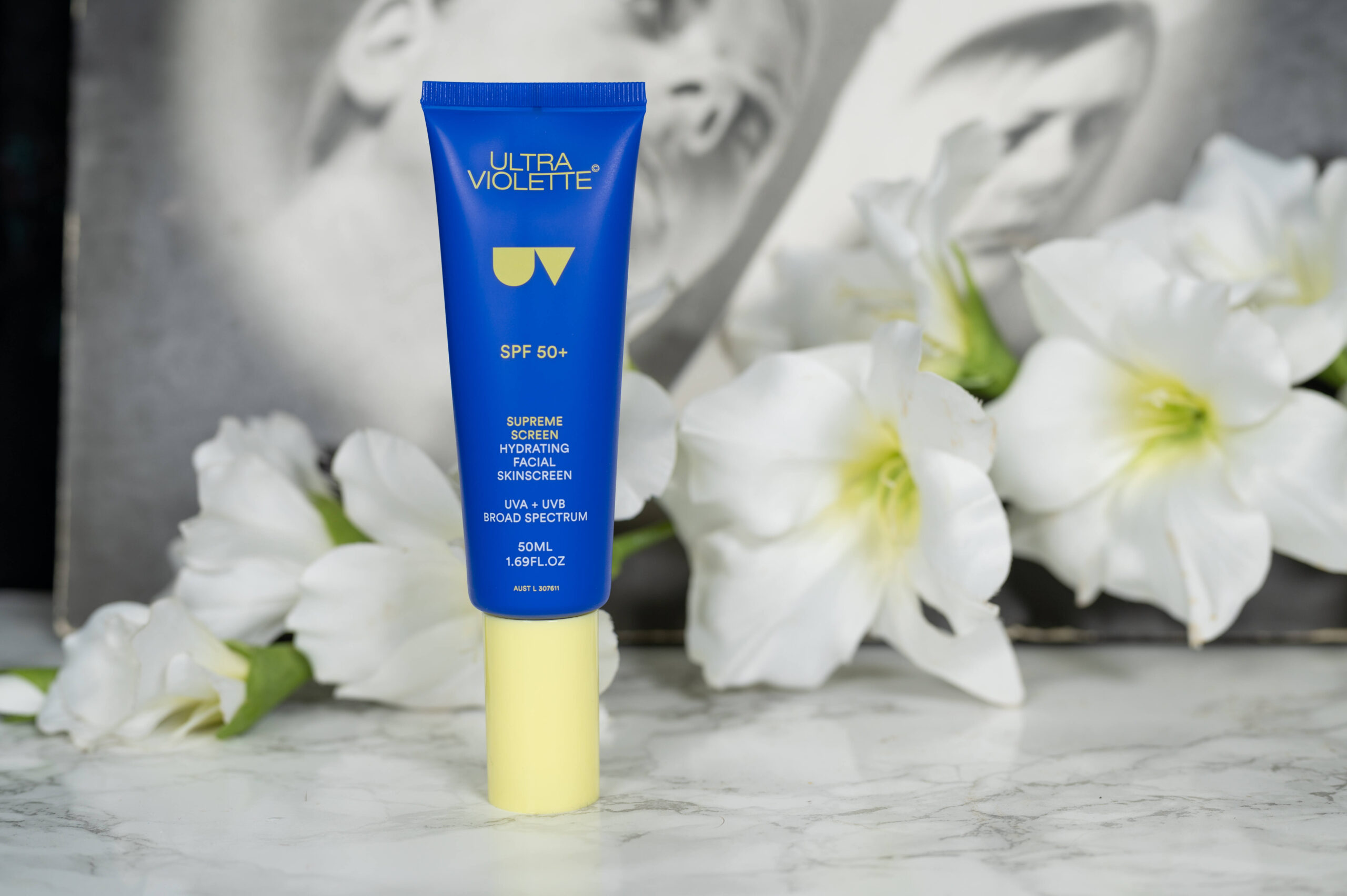 And two:
If there is one country that really has to put an emphasis on sun protection, it has to be Australia. I mean, if you have ever visited, you know that the amount of sun hours you get there throughout the year is huge compared to Germany. I actually looked it up for you, the average hours of sun throughout the year in Germany is 4,6 hours per day, in Australia it is around 6 in the coastal regions and up to 10 hours a day in the central region.
With that amount of sun you quickly realize if your product works or not!
What the Ultra Violette Supreme Screen Hydrating Facial Skinscreen SPF 50 + claims
Protect, hydrate and prime with Ultra Violette Supreme Screen Hydrating Facial Skinscreen SPF 50+, a moisturising facial lotion with high-factor sun protection.
Suitable for all skin types, this lightweight formula is infused with kakadu plum, a vitamin C-rich, antioxidant fruit extract that helps to protect the skin from damaging free radicals and environmental stressors. The addition of peptide dragosine plus helps to shield skin from the full spectrum of the sun's rays as well as damaging blue light from screens, as well as promoting plump, hydrated skin.
This high-factor sunscreen leaves a satin finish on the skin without any tell-tale white cast. It leaves the skin feeling soft and refreshed while priming the complexion for makeup application.
Facts about the Ultra Violette Supreme Screen Hydrating Facial Skinscreen
Price and size
One tube contains 50 ml and retails for 39,10 € on the website here. And yes, I agree, that is quite a lot of money.
Texture and smell of the Ultra Violette Supreme Screen Hydrating Facial Skinscreen SPF 50 +
The first thing you notice when you pump it out is that the product has a slight tint – it is not completely white, but … a very light brown? I do not notice any coverage or tint on my skin though, so I don´t think there will be any white cast or ashiness on melanated skin.
How to use the Ultraviolette Supreme Screen Hydrating Facial Skinscreen SPF 50 +
As always, this one goes on as last step in your morning routine and sits beautifully under makeup. If you apply the full recommended amount, the finish is very shiny at first – it settles to a more satiny finish after 15 minutes though and stays that way throughout the day. (More info: That is how much sunscreen you need)
This is a very hydrating product, so you really don't need to wear a separate moisturizer underneath – my skin feels plump and hydrated all day without ever getting greasy.
Reapplication is also not an issue, the sunscreen sinks in like a moisturizer does and if you use a sponge to dab it on does not disrupt the makeup or starts rolling off. (Here are my tips for reapplying sunscreen on top of makeup)
Ingredients of the Ultraviolette Supreme Screen Hydrating Facial Skinscreen SPF 50 +
Active Ingredients
:
Ethylhexyl Methoxycinnamate (10%)
sunsc
0
0
,
Bis-Ethylhexyloxyphenol Methoxyphenyl Triazine (3%)

sunsc
,
Methylene Bis-Benzotriazolyl Tetramethylbutylphenol (2.5%)

sunsc
Inactive Ingredients
:
Aqua
solv
,
Isostearyl Neopentanoate
emo
3
3
,
Cyclopentasiloxane
emo

|

solv
,
Alcohol

amic

|

solv

|

vc
,
Cyclohexasiloxane
emo

|

solv
,
Glycerin

sii

|

h
0
0
,
Butylene Glycol
h

|

solv

|

vc
0
1
,
Dimethicone
emo
0
1
,
Cetearyl Alcohol
emo

|

vc

|

emu

|

surf
1
2
,
Hydroxyethyl Acrylate/Sodium Acryloyldimethyl Taurate Copolymer
vc
,
Nylon 6/12
,
Ceteareth-20
emu

|

surf
3
2
,
Squalane

sii

|

emo
0
1
,
Caprylyl Glycol
h

|

emo
,
PEG-40 Stearate
emu

|

surf
,
Silica
vc
,
Saccharide Isomerate

h
,
Decyl Glucoside
surf
,
Tocopheryl Acetate
aox
0
0
,
Disodium EDTA
chel

|

vc
,
Polysorbate 60
emu

|

surf
,
Caprylhydroxamic Acid
chel
,
Pentylene Glycol
solv

|

h
,
Parfum

perf
,
Triethanolamine
buff
0
2
,
Terminalia Ferdinandiana Fruit Extract
aox

|

sb
,
Propylene Glycol
h

|

solv

|

vc
0
0
,
Xanthan Gum
vc
,
Citric Acid
buff
,
Sodium Chloride
vc
,
L-Carnosine

aox

|

cci
,
Ci 77492
col
0
0
,
Ci 77491
col
0
0
,
Ci 77499
col
0
0
Hover the mouse over an ingredient for short explanation. Read more on INCIDecoder.
Octinoxate against UVB rays as well as Tinosorb S and Tinosorb M against both UVA and UVB rays, these are the sunscreen filters used. Both Tinosorb S and M are newer filters that prevent the product from being available in the US. (Interested in different sunscreen filters? Read here)
There is Glycerin as humectant, Vitamin E and the Kakadu Plum Extract as antioxidants, squalane as emollient and silica which can absorb excess oil for shine control.
The peptide Dragosine plus goes by the INCI name Aqua (and) Pentylene Glycol (and) Carnosin and, according to the manufacturer (who is interestingly enough based in Holzminden, Germany) offers powerful antioxidant properties, blue light protection and antiglycation effects. We all have learned to take these kind of manufacturer claims with a grain of salt, but I guess at least it won´t hurt. (More info on peptides is here)
I want to point out that it also contains alcohol and perfume – that did not bother me at all, but in case your skin reacts to that, now you know. (More info: Is Alcohol in skincare really a problem?)
How does it compare to…
Heliocare 360 Water Gel
The Ultra Violette version feels more hydrating, more like a moisturizer, whereas the Heliocare one feels more sunscreen-like and as if it stays on the face better. It has also a more matte finish, which is why I think the Heliocare version will work better for more oily skins or for outdoor workouts, while the Ultraviolette one is great if your face gets easily irritated by the older sunscreen filters like Octocrylene and Avobenzone as it doesn't contain any of them.
Read my full Heliocare review here
Garnier Ambre Solaire Anti-Age Super UV SPF 50
Garniers version is similar in texture and hydrating properties, but uses Octocrylene and Avobenzone – not a problem for most, but might be an issue if your skin is very reactive. Where Garnier wins though compared to Ultraviolette is in the price department, 50 ml are only 9,90 € and it is available at the drugstore, whereas Ultra Violette Supreme Screen is almost four times the price for the same amount of product, which is something to take into account – the best filters will not give you good protection if you apply too little because you don't want to use it up too quickly.
Read my full Garnier Abti-Age Super UV SPF review here
Which skin types is the Ultra Violette Supreme Screen best suited for?
I'd say that depends on the season. For my more oily skin it is better for the colder months than the sweltering heat, but if your skin is oily and dehydrated, it might work for you even in summer.
Anyone with normal to dry skin will love it year round.
Will I repurchase?
It is safe to say that the Ultra Violette Supreme Screen quickly made its way into my heart and sunscreen wardrobe and that I will repurchase. I reach for it more on office days and underneath makeup than I do on outdoor days, but as these – story of my life – are way more common I can see myself placing a bulk order soon.
The only thing I´d wish for is that it would be more accessible where I live.
So Ultra Violette, if you are watching – do start selling in Germany pretty please?
Shop the post
(Visited 1.363 times, 1 visits today)