ADVERTISEMENT INFO: SOME PRODUCTS MENTIONED IN THIS POST ARE PR (GIFTED) AND LINKS USED ARE AFFILIATE LINKS. I RECEIVED NO MONEY TO WRITE THE BLOGPOST. PLEASE READ DISCLAIMER 
There was a time this fall where I honestly felt as if I would never need to update my skincare routine for the coming winter – it was so warm and sunny right into mid-November, it was easy to forget that the cold was right around the corner.
Well, that has changed now, and looking out of the window all I see is gray and rain, the heating is on and my constant need for lip balm tells me that the air inside is sucked dry. Time to go through my skincare baskets and rotate in my winter products – the rich creams, the hydrating cleansers and maybe even a face oil.
So let's take my morning and my evening basket, empty them and see what gets replaced!
(More info: Skincare changes I am making for fall)
Common skincare concerns in winter
I am of course widely generalizing here, but the issues most people face during the winter is dehydration and irritation alongside dry patches and maybe even eczema.
I will touch on all of them briefly, starting with the dehydration.
Dehydration occurs if the skin either doesn't get enough water from the environment, maybe due to dry air and central heating, or can't hold on to that water because the skin barrier is compromised, something that also often happens in cold and windy climates. Most of the time it is a combination of both and can be addressed by using a humidifier and by using appropriate skincare products that offer humectants, emollients and occlusives while at the same time not stripping the skin from its natural lipids.
(More info: Signs of a damaged skin barrier and 5 things to do if yo have damaged your skin barrier)
Irritation is again a sign of an impaired skin barrier function – if potential allergens can reach the deeper layers of the skin, this triggers an inflammatory reaction and often presents itself as tight, itchy or flaky skin. Again, you can strengthen the skin barrier with replenishing products while at the same time reducing the irritation you cause yourself by over cleansing or using too many actives.
Dry patches, flaky skin or even eczema already have a dedicated blog post here, so after sharing these general tips, let's take a look at what that means for me.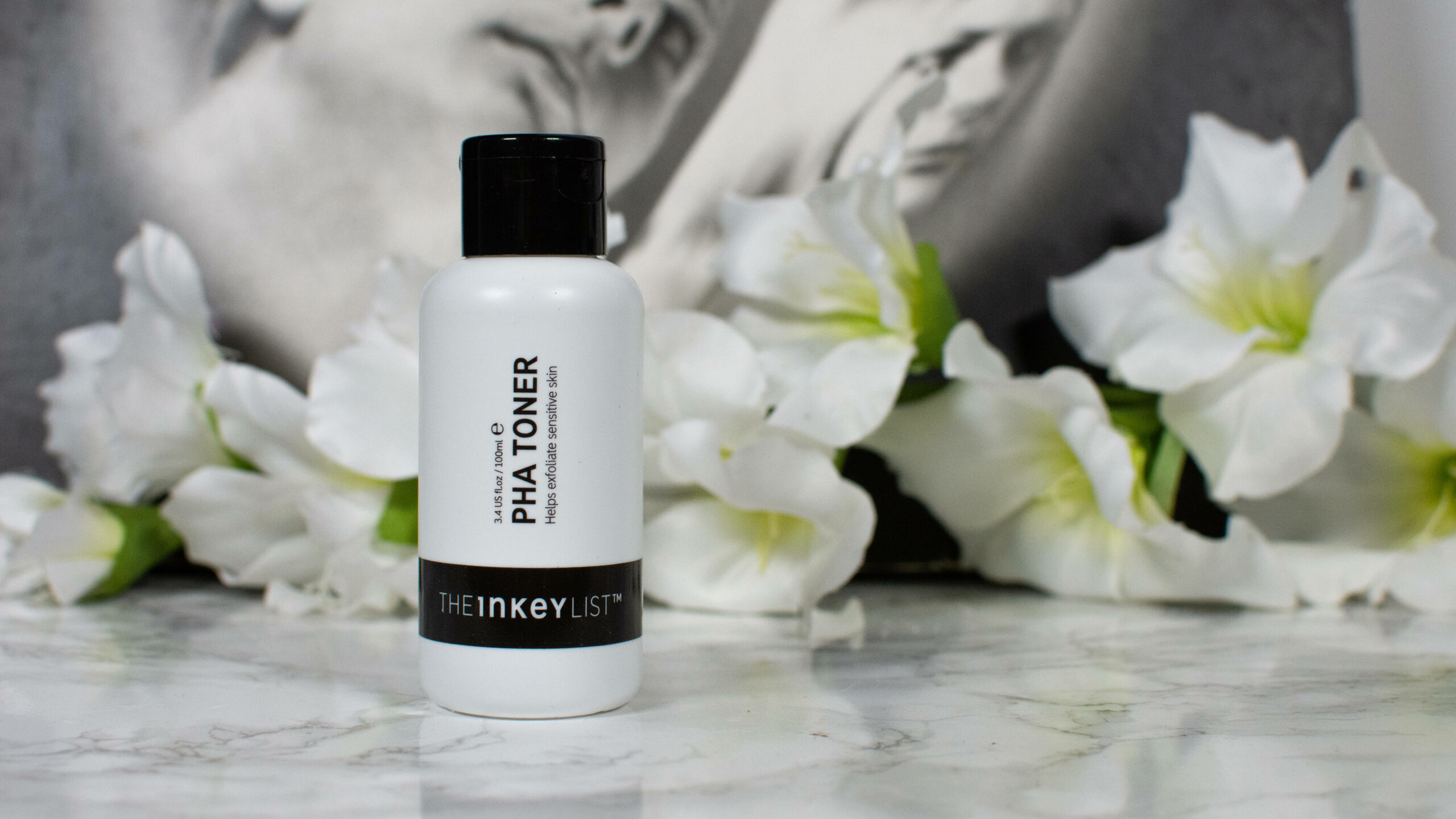 My morning skincare routine
The first thing to go is my morning cleanse – all through winter and well into spring I do not use a separate cleansing product in the mornings, but instead a little water on a cloth to get rid of the sleep in my eyes and occasionally the little dried up drool in the corners of my mouth.
What is also drastically reduced is my exfoliation. I will keep my Paula's Choice Skin Perfecting 2% BHA Liquid Exfoliant (118 ml for 36 $, full review here) in for one to two times a week and switch to The Inkey List PHA Toner (100 ml for 10,99 €, full review here) for everyday use. That might sound counterintuitive, but to me this is less of an exfoliant, but instead a very hydrating formula with added Niacinamide and Glycerin that works very well during the cold. (More info: The role of Polyhydroxyacids in skincare)
My Vitamin C Serum, the Geek and Gorgeous C-Glow (30 ml for 12,50 €, vegan, full review here) stays in year round, as does my eye cream, The Inkey List Caffeine Eye Cream (15 ml for 9,95 €, full review here). (More info: Everything you need to know about Vitamin C in skincare)
Depending on my sunscreen of choice I sometimes use a separate light moisturizer for an extra layer of hydration, so the Geek and Gorgeous Hydration Station (50 ml for 10,80 €, full review coming soon) is going in the basket. This one is new to me, but works well with any sunscreen I have paired it with so far, probably due to the fact that it is free of silicones, which makes it less prone to pilling.
And then sunscreens – I wear them year round every day, it is just part of my habits. I will continue with the office sunscreens, of which I have a variety, my favorite still being the Beauty of Joseon Relief Sun Rice + Probiotics one (50 ml for 18 $, full review here). I do also like the SKIN1004 Madagascar Centella Hyalu Cica Water Fit Sun Serum SPF 50+ (50 ml for 19 $, full review here) – I did a sponsored video on this one a while ago, but this is NOT part of the sponsorship, I just really like it – and the Thank You Farmer Sun Project Skin Relief Sun Cream SPF 50 (50 ml for 24 €, full review coming soon), both of which have additional soothing ingredients and are very hydrating. (More info: The benefits of Centella Asiatica in skincare)
Some subtle changes, mainly aimed at preventing irritation so I can keep up my actives at night.
My evening skincare routine
Now is the time I quit Double Cleansing at night. Obviously not always, if I have worked out in a full face of makeup or just feel particularly gross, I will cleanse twice, but for the majority of nights one cleanse with a cleansing balm will do it for me. The trick is to get one that rinses clean without leaving a residue, and I have two options for you: The Hylamide High-Efficiency Face Cleaner (full review here), which is sadly discontinued, and The Inkey List Oat Cleansing Balm (150 ml for 10 $, full review here). The latter contains colloidal oatmeal, which is great at soothing the skin, and the way I use it – I have had questions about that – is that I mix it with a little water and preemulsify before I apply it to my face. That way there is no graininess that seems to bother some people, but it still is as effective in getting rid of everything I have on my face. (More info: The benefits of Colloidal Oatmeal in skincare)
If I do a second cleanse, I'll use something hydrating like The Inkey List Hyaluronic Acid Cleanser (150 ml for 10,99 €, full review here)
For the Tretinoin nights, which I am able to keep at every other night, but which could be reduced if your skin can't handle your usual frequency once the cold sets in, it is a Niacinamide Serum, currently still the Geek and Gorgeous B-Bomb (30 ml for 8,50 €, full review here) and then a thick cream as buffer before the Tretinoin. I like the Geek and Gorgeous Happier Barrier (50 ml for 8,80 €, full review coming soon) for that, and as it contains Niacinamide in the formula, you'd be able to save the serum step. (More info: How to use Retin-A with minimal irritation)
On non-Tretinoin nights, after cleansing, I use the Geek and Gorgeous Liquid Hydration Toner (110 ml for 7 €, full review here) with 5% Panthenol for extra hydration and soothing. I follow up with my greatest indulgences, the Estee Lauder Advanced Night Repair Serum (30 ml for 76 €, full review here) and then the NIOD Copper Amino Isolate Serum 3 (30 ml for 76 €, full review here). After that it is again a thicker moisturizer, either the 107 Beauty Every Day Plump Hydro Cream (50 ml for 48 $, full review here) or the Biossance Squalane + Omega Repair Cream (100 ml for 55 €, full review coming soon)
As I am prone to eyelid eczema in winter, I skip the Retinol eye creams for now and instead reach for a thicker one, currently the Biossance Squalane + Marine Algae Eye Cream (50 ml for 38 €, full review here), which is rich, but not greasy.
Again no major changes, just a few little tweaks in my routine that is built around Tretinoin.
My special occasion basket
Winter brings a few extra challenges for me, so I do have an SOS basket on the side. In this one you will find a face oil to make my moisturizers even richer should it get really, really cold. My current one is the Biossance Squalane + Vitamin C Face Oil (30 ml for 59,99 €, full review coming soon), but to be honest mostly because I have it open for testing already – I am not particular into any specific face oil at the moment.
The next one is a German classic, the Linola Fett Creme (50 g for 10 €), which translates to fat cream, and that sums it up perfectly. It is a thick layer of fatty lipids that feels greasy as hell and never sinks in, but is just the best if you have dry, flaky skin. When my skin freaks out, I put on a layer before bed and all is well by morning. It is just a nightmare in texture and elegance.
And a winter staple as well: My Nuxe Reve de Miel Lip Balm (15 g for 10 €) to keep my lips soft and to prevent Cheilitis Angularis, these cracked, bleeding corners of the mouth. A thick layer before bed helps me prevent that, and the thicker texture makes sure it stays on overnight. (More info: Cheilitis angularis – how to get rid of the cracked corners of your mouth)
Shop the post here
Don't forget to check out the Discount Code Page on top if you want to save some money on your next skincare purchase.
If you want to get a vote in the next Ask Doctor Anne Topic, Ingredient Spotlight or product I review, don't forget you can head over to my Patreon account to get more involved!
(Visited 271 times, 1 visits today)