ADVERTISEMENT INFO: PRODUCTS MENTIONED IN THIS POST WERE PURCHASED MYSELF AND LINKS USED ARE AFFILIATE LINKS. I RECEIVED NO MONEY TO WRITE THE BLOGPOST. PLEASE READ DISCLAIMER
I tend to talk about skincare that is more on the affordable side on this channel, and the Zelens Power D Fortifying & Restoring Vitamin D Serum Concentrate definitely does not fall into this category.
It is part of the Zelens Vitamin Alphabet featuring Power A to Power E, but while A, B, C and E are pretty common ingredients in skincare, I have not seen Vitamin D around much. (More info: Everything you need to know about Retinoids in skincare, Everything you need to know about Niacinamide in skincare, Everything you need to know about Vitamin C in skincare)
Still the Zelens Power D products have been a staple in my routine for five years now, I got my first bottle back when they were still called Treatment Drops back in 2017, and I figured it was about time I told you why I keep spending so much money on a face oil. (More info: Full review of the Zelens Power D Treatment Drops)
What Zelens Power D Fortifying & Restoring Vitamin D Serum Concentrate claims
A high-potency provitamin D3 concentrate enriched with replenishing lipids structurally similar to those found in the skin. Infused with a proprietary complex of botanicals rich in plant sterols, this unprecedented fortifying and restoring treatment helps to strengthen skin's natural barrier, build its resilience, and protects skin against environmental aggressors and stressed conditions. Leaves skin supple, plumper and healthy-looking.
Facts about Zelens Power D Fortifying & Restoring Vitamin D Serum Concentrate
Prize and size
One bottle (frosted glass with a pump) contains either 10 ml and costs 45,20 € here or contains 30 ml and costs 125 € here. While the latter is better value for money, I prefer the 10 ml as you only need the tiniest amount anyway.
Texture and smell
While it is described as being a dry oil on the website, I do think it is pretty average in oiliness. Not heavy, but still feeling like an oil on my admittedly more oily skin. It takes only a short time to sink in though. The scent is very faint and slightly nutty.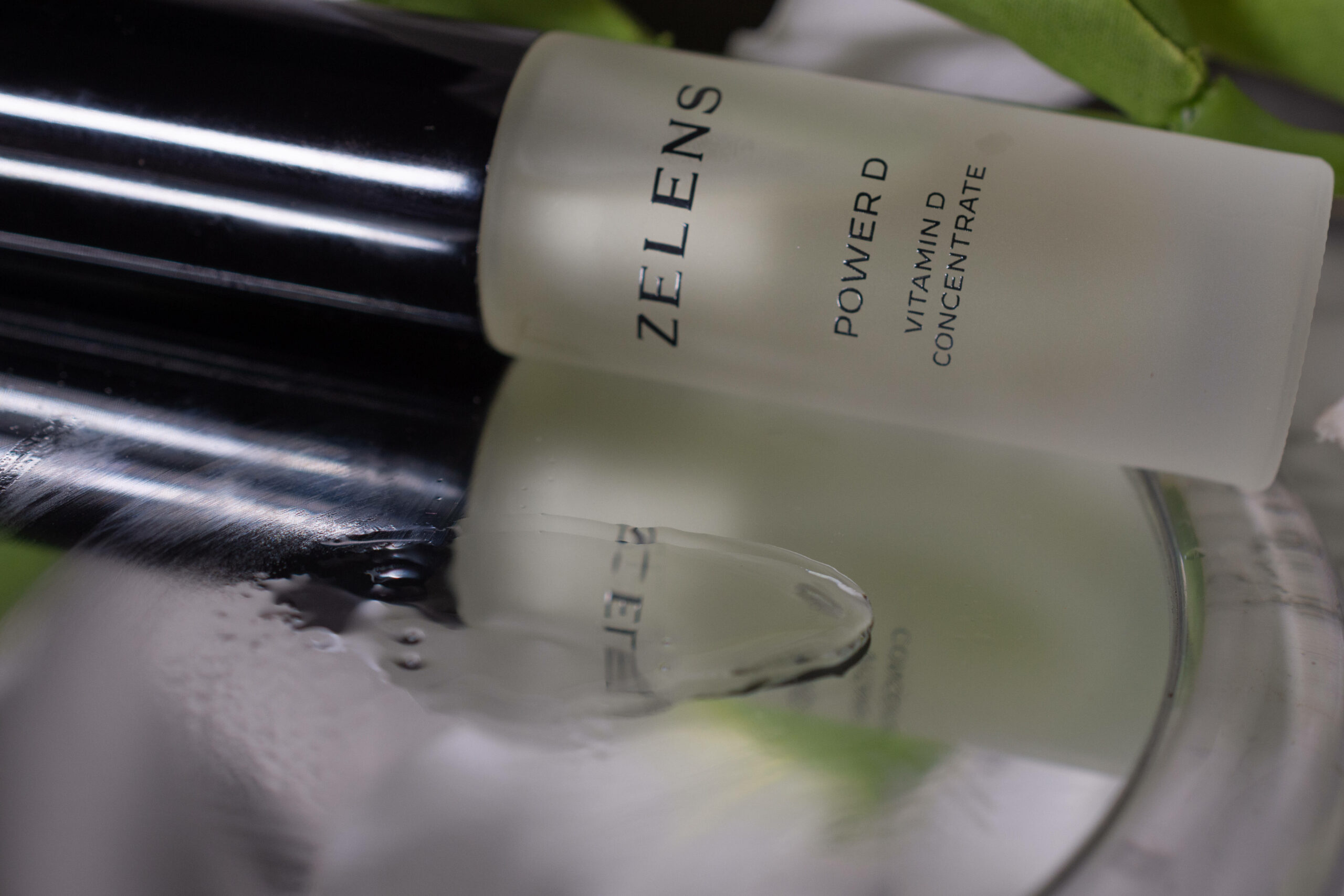 How to use Zelens Power D Fortifying & Restoring Vitamin D Serum Concentrate
Apparently it is suitable for morning and night time use, but if that works for you probably heavily depends on your skin type. As I said, I am normal to oily and wouldn't dream of using it in the mornings. For me it is a night time product that goes on either as last step or mixed in with my moisturizer if I want just a little more oomph. My preferred way though is two drops of the oil pressed into my face to end my evening routine.
I am not exaggerating if I say that this is my secret weapon for flake-free skin using Tretinoin in winter. (More info: Why you need to change your skincare routine in winter)
Ingredients of Zelens Power D Fortifying & Restoring Vitamin D Serum Concentrate
Coco-Caprylate/Caprate
emo
,
Caprylic/Capric Triglyceride
emo
,
C10-30 Cholesterol/Lanosterol Esters

emo

|

emu

|

vc
,
Squalane

sii

|

emo
0
1
,
Isoamyl Laurate
emo
,
Linoleic Acid

sii

|

emo

|

surf
,
Limnanthes Alba (Meadowfoam) Seed Oil

emo
,
Linum Usitatissimum (Linseed) Seed Oil

emo

|

perf
,
Octyldodecanol
emo

|

perf
,
Linolenic Acid

sii

|

emo

|

surf

|

perf
,
Phospholipids

sii

|

emo
,
Persea Gratissima (Avocado) Oil

aox

|

emo
0
0
–
3
,
7-Dehydrocholesterol
vc
,
Oleic Acid
emo

|

emu
,
Palmitic Acid
sii

|

emo

|

emu
0
2
,
Stearic Acid
emo

|

vc
0
2
–
3
,
Hexyldecanol
emo
,
Tocopherol

aox
0
–
3
0
–
3
,
Glycolipids
,
Glycine Soja (Soybean) Oil

emo

|

perf
0
3
,
Saccharomyces Cerevisiae Extract

h
,
Glycine Soja (Soybean) Sterols
emo
,
Bisabolol

so
,
Hyaluronic Acid

sii

|

h
,
Ganoderma Lucidum Extract
,
Usnea Barbata (Lichen) Extract
pres

|

amic
,
Agaricus Bisporus (Mushroom) Extract
,
Lentinus Edodes Extract
,
Plankton Extract
,
Hydroxyproline
surf
,
Glycine

sii
,
Proline

sii
,
Cetylhydroxyproline Palmitamide

emo
,
Brassica Campestris (Rapeseed) Sterols
emo
,
Helianthus Annuus (Sunflower) Seed Oil

emo
0
0
,
Rosmarinus Officinalis (Rosemary) Leaf Extract

aox

|

so

|

amic
Hover the mouse over an ingredient for short explanation. Read more on INCIDecoder.
Other than the Vitamin D this concentrate contains a bunch of different plant oils, Squalane, Aminoacids and soothing ingredients like Bisabolol. There are also Phospholipids, Linoleic and Linolenic Acid which are essential for a healthy skin barrier. (More info: Damaged skin barrier as cause for acne, eczema and atopic dermatitis)
The Vitamin D is present in form of 7-Dehydrocholesterol, so actually Provitamin D3 that gets converted into Vitamin D in the skin And, just to be clear, it will not cure any systemic Vitamin D deficiencies, you'd need a supplement for that. So while it doesn't help with bone density and your immune system, it does have anti-inflammatory, antioxidant and calming benefits for the skin. (More info: The best foods and supplements for healthy skin)
Does it live up to its claims?
Yes.
Now I will be completely honest here: I am not sure if the resilience I see in my skin when using this during winter is due to the Vitamin D or due to the blend of lipids that smooth down my skin's outer layer, but I really don't care. What I care about is that since I started incorporating this one into my winter skincare routine, my skin never again was the flakey mess Tretinoin caused it to be as soon as the temperatures dropped. (More info: How to introduce Retin-A with minimal irritation)
Would I repurchase?
Yes.
In fact, despite the price I already have several times, and I am happy to say this reformulated (and slightly less expensive) version is just as good as the previous one.
Which skin types do I recommend the Zelens Power D Fortifying & Restoring Vitamin D Serum Concentrate to?
I really don't think this one is suited to oily skin types, but if you are normal and prone to irritation due to Tretinoin, or if your skin is dry and inflamed for any reason, this could be a game changer. And if you shy away from the price – I get the 10 ml and they last me well over 6 months, which is for how long I need it anyway, so while I know it is beyond the budget of many, to me it is worth repurchasing.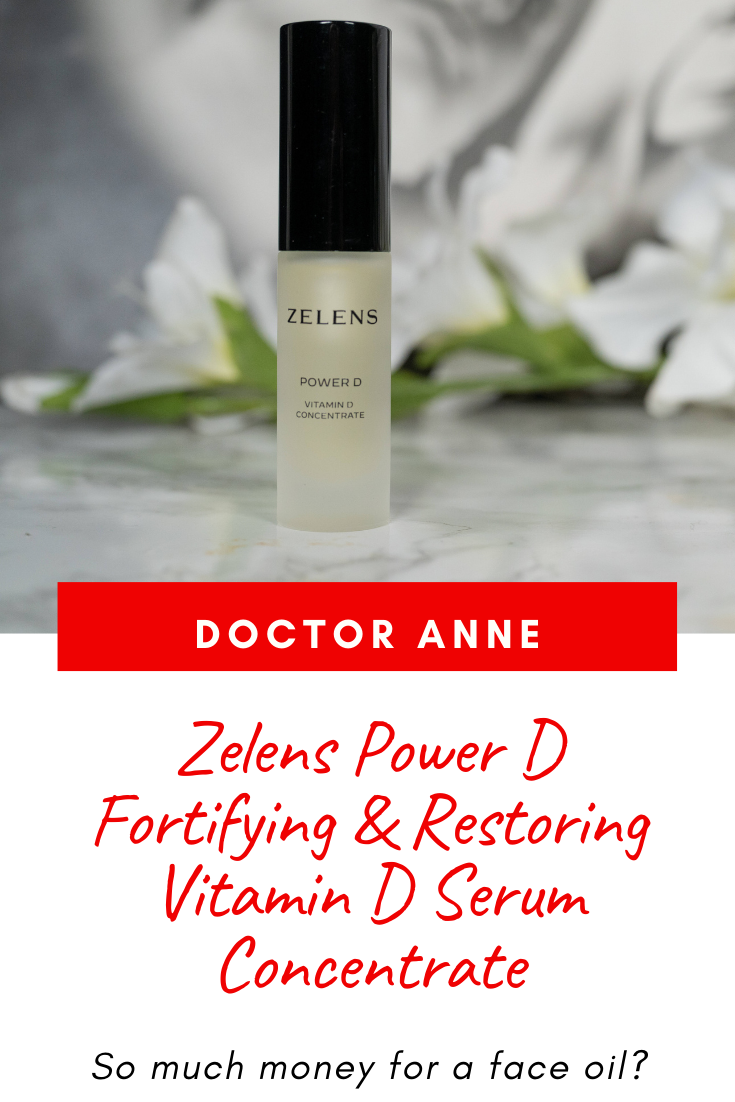 Shop the post
If you want to get a vote in the next Ask Doctor Anne Topic, Ingredient Spotlight or product I review, don't forget you can head over to my Patreon account to get more involved!
(Visited 2.443 times, 1 visits today)