This blogpost uses affiliate links and contains PR (gifted items). I did not receive any money to write it. Please read disclaimer.
I think you can learn a lot about a brand's philosophy by their cleansers. Are they expensive and luxurious, are they affordable and basic, are they designed to give you a spa experience or do they simply get the job done?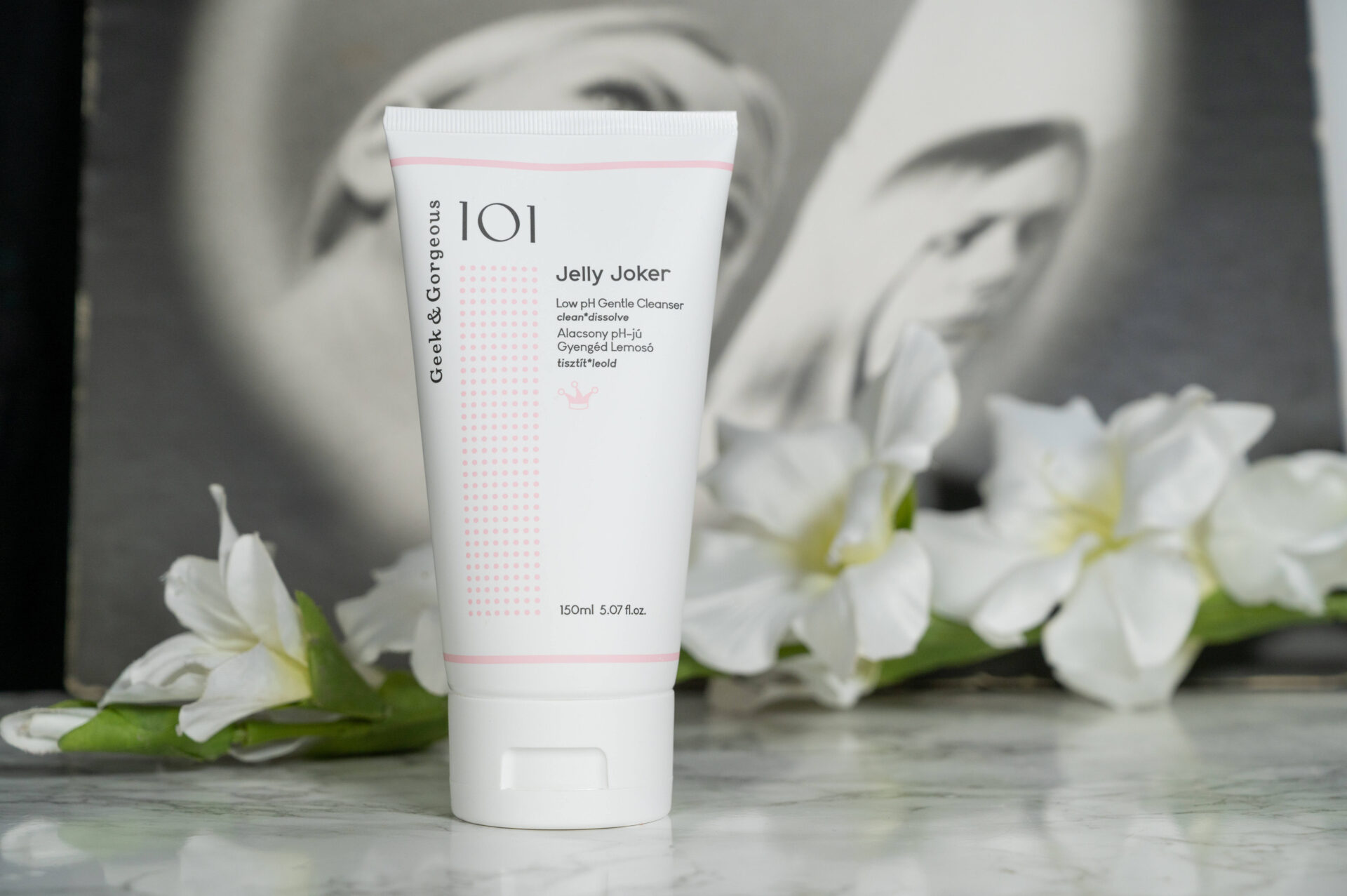 Both have their time and place, which is why I have a cleanser wardrobe to suit my every mood, and the latest addition to it is the Geek & Gorgeous 101 Jelly Joker Low pH cleanser.
Where does this one fit in the before mentioned categories? And what does it tell me about the brand?
Let´s find out!
What the Geek & Gorgeous 101 Jelly Joker Low pH Gentle Cleanser claims
A gentle but hard-working jelly cleanser that cleanses skin and dissolves (water-soluble) makeup while being respectful to the skin barrier. pH 5-5.4
Facts about the Geek & Gorgeous 101 Jelly Joker Low pH Gentle Cleanser
Prize and size
One tube contains 150 ml and retails for 8,80 € on the website here. It is vegan and has a pH of 5 to 5.4.
Texture and scent
As the name "Jelly Joker" gives away, this cleanser has a thicker gel texture. I get a faint glue-like scent, but I recently realized that this is how I describe most unscented skincare products, so it probably just smells like unscented skincare. Whatever the scent is though, it does not linger or is noticeable upon application, so it probably doesn't really matter.
How to use the Geek & Gorgeous 101 Jelly Joker Low pH Cleanser
You can use the cleanser both morning and night, but if you wear a lot of (probably waterproof) makeup, you might need a separate makeup remover. It is suitable to use around the eyes though, no stinging, so for my average everyday makeup it is more than enough. While I usually prefer to use my cleansers on dry skin and emulsify them after massaging them in for a little, I found the thicker texture of the Jelly Joker works best on slightly damp skin.
Geek & Gorgeous 101 Jelly Joker Low pH Cleanser Ingredients
Water
solv
,
PEG-6 Caprylic/Capric Glycerides
emu

|

surf
,
Propanediol
solv

|

h
,
Methyl Gluceth-20

h
,
Poloxamer 184
surf

|

emu
,
Caprylic/Capric Triglyceride
emo
,
Hydroxyethyl Acrylate/Sodium Acryloyldimethyl Taurate Copolymer
vc
,
Ammonium Acryloyldimethyltaurate/VP Copolymer
vc
,
Panthenol

so

|

h
0
0
,
Allantoin

so
0
0
,
Xylitylglucoside

h
,
Anhydroxylitol

h
,
Xylitol

h
,
Citric Acid
buff
,
Phenoxyethanol
pres
,
Ethylhexylglycerin
pres
Hover the mouse over an ingredient for short explanation. Read more on INCIDecoder.
In the ingredient list you will find gentle surfactants, some humectants and emollients and Panthenol and Allantoin for soothing – everything you need fo a gentle and effective cleanse.
Does it live up to its claims?
Yes.
It is gentle, it gets the job done and it is enough to remove non-waterproof makeup.
How does it compare to…
The Good Molecules Rosewater Daily Cleansing Gel
Similar in texture and price, Good Molecules uses Rosewater rather than Panthenol and Allantoin, a good example for a cleanser giving away a lot about the brand philosophy. Rosewater doesn't have more than anecdotal evidence in terms of skincare benefits, yet features prominently in the name and claims, while Panthenol has some good research behind it despite not being one of the trending ingredients, more of a workhorse than an attention catcher. And yes, I will do an Ingredient Spotlight on it eventually, quite a few of you already asked for it.
If you leave that aside, both are lovely gel cleansers that work equally well and cost around the same.
Read my full review of the Good Molecules Rosewater Daily Cleansing Gel here.
The Inkey List Oat Cleansing Balm
Different texture, similar price and most likely similar brand philosophy. The Inkey List is more of a balm/ oil cleanser, much richer and very well suited at makeup removal. It also uses Oatmeal, another underrated ingredient I would love to see more of in my skincare with quite a bit of research behind it.
Read my full review of The Inkey List Oat Cleansing Balm here.
The Murad Environmental Shield Essential-C Cleanser
Similar in texture, but Murads version is three times the price and uses Vitamin C in tiny yellow beads that burst when the cleanser is massaged into the skin rather than Panthenol. Two ingredients with relevant benefits in the skin (although you might debate how relevant they are in a rinse off cleanser). The beads in Murads product make for a more exciting cleansing experience, both are similar in cleansing power and how the skin feels, yet the Geek & Gorgeous one has slight advantages when it comes to taking off makeup, so it is up to you to decide what is more important for you.
Read my full review of the Murad Environmental Shield Essential-C Cleanser here.
Would I repurchase?
Now will this cleanser earn a place in my standing cleanser wardrobe? Possible. Not because it is outstanding in texture or because of what it does for my skin, no, mostly because the philosophy behind it speaks to me – no bullshit, no exaggeration, but ingredients that get the job done and have data behind them.
Whom do I recommend it to?
Due to the gentle texture the Geek & Gorgeous Jelly Joker Cleanser is suitable for all skin types, even dry and sensitive ones.
(Visited 2.209 times, 1 visits today)