ADVERTISEMENT INFO: PRODUCTS MENTIONED IN THIS POST ARE PR (GIFTED) AND LINKS USED ARE AFFILIATE LINKS. I RECEIVED NO MONEY TO WRITE THE BLOGPOST. PLEASE READ DISCLAIMER
If a website uses words like "trifecta" to describe the results of their product as Biossance does when talking about their Squalane + Vitamin C Rose Oil,  I admit I instantly expect something magical to happen. It might be just me as non-native speaker, but I only hear the word trifecta used in a clerical context, not regularly as part of a skincare website.
In this case the trifecta of magical things you can expect to happen is brightening, firming and hydration, and to me as a face oil sceptic – I love the luxury feel, but never felt like I really needed them in my routine, that sounds like a miracle indeed. But to move back to the more scientific side of skincare, let's take a look at the ingredients and how it actually performed on my skin.
What the Biossance Squalane + Vitamin C Rose Oil claims
Experience a trifecta of visible results—brightening, firming, and hydration—with this luxuriously lightweight vitamin C oil.
Facts about the Biossance Squalane + Vitamin C Rose Oil
Prize and size
One glass bottle with a dropper contains 30 ml and is available for 74 $ on the website here. While that is quite expensive, you really only need a few drops, so the product will last you a long time. The product is vegan.
Texture and smell
Despite being called lightweight, the oil still feels like an oil, but it is runnier than some and thus easier to spread. The scent is beautiful, one of these rose scents that smell like real roses, not like the soap version I grew up with. It is also so subtle that you need to get really close to sniff it, you won't walk around in a cloud of rose perfume after application. While the bottle it is in is rose-colored, the oil itself is almost clear and only slightly yellow.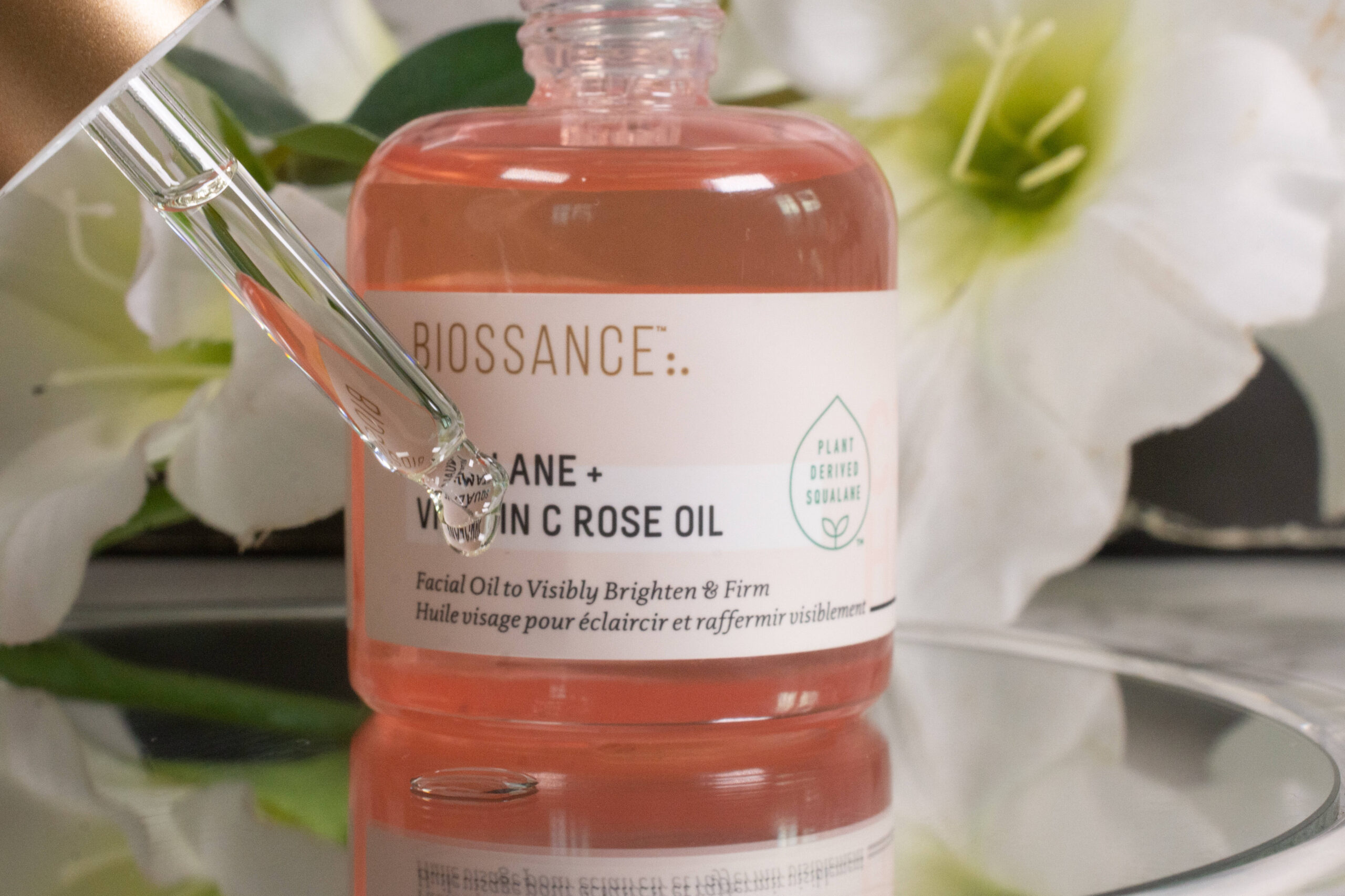 How to use the Biossance Squalane + Vitamin C Rose Oil
While both morning and night would be possible depending on your skin type, most people prefer to use face oils at night. You can either use the oil on its own, both before or after your moisturizer, or mix it in with your face cream to make that one richer. If I say "mix it in", I am referring to adding one or two drops to the cream you already scooped out of the pot, so fresh every time you apply. Mixing it into the pot is never a good idea, as it will change the concentration of preservatives and might lead to the cream going off quicker than intended.
To be honest, I don't use many face oils and if I do, it is a few drops added to my cream when it is very, very cold, but for the sake of this review I also used it on its own and really enjoyed that. It sinks in fairly quickly – it will still take a few minutes, but quicker than other oils, and does not leave a greasy film, so if I had dry patches, this one would work very well in smoothing them over.
Ingredients of the Biossance Squalane + Vitamin C Rose Oil
Squalane

sii

|

emo
0
1
,
Pistacia Lentiscus (Mastic) Gum
,
Rosa Damascena Flower Extract
,
Tetrahexyldecyl Ascorbate

aox

|

sb
,
Caprylic/Capric Triglyceride
emo
,
Geraniol

perf
Hover the mouse over an ingredient for short explanation. Read more on INCIDecoder.
The ingredient list here is short and sweet: You will find Squalane as carrier oil, a choice that will work for many as it is identical to the skins own oils and works for all skin types, then Tetrahexyldecyl Ascorbate, an oil-soluble and quite promising Vitamin C derivative (More info: Everything you need to know about Vitamin C in skincare)
The Geraniol might be a problem for those with very reactive skin, it is most likely present as part of the Rose Flower extract that adds the lovely scent.
(More info: How to read the ingredient list in skincare)
Does it live up to its claims?
I don't think so.
While it might be able to give you a brightening effect if you use it consistently and never used any form of Vitamin C or derivative before, it will not be able to visibly firm and lift the skin. No skincare product on its own will be able to do that, despite any added plumpness you might notice due to the moisturizing effect.
How does it compare to…
pixi Rose Oil Blend
I reviewed the pixi Rose Collection back in March 2019 and, interestingly enough, stated in the review of the pixi Rose Oil Blend how much I love face oils. Quite a contradiction to what I said earlier – I barely use face oils anymore. Still, both carry Rose in their name, so I wanted to compare them, especially as the pixi version is much more affordable. Well, pixi uses Rose Oil while Biossance uses Rose Extract, and while the main oil in pixi is actually Sweet Almond Oil, the main one in Biossance is Squalane. That leads to pixi being heavier and probably less suitable for oily skin types.
The pixi version also doesn't contain Vitamin C or a derivative, just a variety of other plant oils and extracts, so if it is the Vitamin C you are after, Biossance is the better choice. If you, like me, just want extra nourishment from your oils though, both are good options depending on our texture preferences.
You can read my full review of the pixi Rose Oil blend here.
Antipodes Divine Face Oil
Now this is a very old review, and I haven't had that product in my collection since before my son was born. The main reason why I wanted to bring it up here is the Rosehip oil it contains and that sometimes gets confused with Rose Oil. Rosehip Oil has gained popularity as precursor of Vitamin A, so some people claim that using it will have the same benefits as using a retinoid would have – it has not, the concentrations are just way too low. Rose Oil on the other hand contains Vitamin C, but again not in a concentration that is going to make a meaningful difference in your skin.
The Divine Face Oil from Antipodes is much richer than the one from Biossance, so the better choice for those with dry skin, and also does not contain additional Vitamin C.
You can read my full review of the Antipodes Divine Face Oil here (but be gentle, it was written a very long time ago!)
Which skin types do I recommend the Biossance Squalane + Vitamin C Rose Oil to?
I would not repurchase, as I really barely use face oils anymore. I will probably not even be able to finish it before it goes off. If you on the other hand are a regular user, this is a nice option for almost all skin types, as the Squalane works even for oily and acne prone skins. It might be especially good for those that don't get along with Ascorbic Acid and would prefer an oil-soluble Vitamin C derivative.
Shop Biossance Squalane skincare products here

Don't forget to check out the Discount Code Page on top if you want to save some money on your next skincare purchase.
If you want to get a vote in the next Ask Doctor Anne Topic, Ingredient Spotlight or product I review, don't forget you can head over to my Patreon account to get more involved!
(Visited 478 times, 1 visits today)