ADVERTISEMENT INFO:  PRODUCTS MENTIONED ARE PR (GIFTED) AND LINKS USED ARE AFFILIATE LINKS. I RECEIVED NO MONEY TO WRITE THE BLOGPOST. PLEASE READ DISCLAIMER
If you had told me five years ago, a texture like the Biossance Squalane + Omega Repair Cream would win my heart, I would not have believed you. I believed there were only two kinds of face creams out there: lotions or gels to suit oily skin like the one I had, or real, heavy creams for those with dry skin, way too rich for me to comfortably use.
But with age and with Tretinoin my skins needs changed, so I went on a hunt for those products that were rich enough to give me moisturization in winter, yet still wouldn't feel suffocation or break me out.
And believe me, they do exist, and the Biossance Squalane + Omega Repair Cream is one of them, so let's take a closer look at its texture, ingredients and how it performs.
What the Biossance Squalane + Omega Repair Cream claims
A rich and decadent moisturizing repair cream with all the good fats (lipids) your skin needs to deeply moisturize without leaving a greasy after feel. This moisturizing face repair cream is formulated with lipids that mimic and support skin's natural moisture barrier: squalane, omega fatty acids, ceramides and plant sterols help nourish, plump, hydrate and feed your skin.
Facts about the Biossance Squalane + Omega Repair Cream
Prize and size
The cream comes in a weighty green glass pot with a coppery lid that contains 50 ml and is available for 60$ on the website here. The cream is fragrance-free and vegan.
Texture and smell
Biossance calls the cream decadent, and that is a great description for the texture: it is initially firm to the touch, but silky soft and melts into the skin without any greasiness.
The scent however is only decadent if you are thinking of the decadence of Louis XIV., the sun king, when washing wasn't really en vogue – not that it smells like unwashed humans, but just like it is with many fragrance-free products, the scent is definitely not a pleasant one.
It isn't very strong though and barely noticeable after application, so shouldn't be a huge problem.
How to use the Biossance Squalane + Omega Repair Cream
Depending on your skin and the climate you live in, the cream is suitable for both your morning or your night time skincare routine, or even for both. My skin is still oily in the t-zone and prone to breaking out, but needs more hydration due to age and tretinoin, and for me this cream is perfect at night during the fall and winter. (More info: Why you should change your skincare routine in winter) If your skin is dry, it will probably work great in the mornings as well as it sits beautifully under sunscreen and makeup.
Like any other moisturizer, it goes as last step in your routine after your serum in the evenings or after serum and before sunscreen in the mornings. If you, like me, use the buffering method before Tretinoin, this is a great cream for that as well, so every other night I will use it not as last step, but right before Tretinoin to reduce irritation. (More info: How to use Retin-A with minimal irritation)
Ingredients of the Biossance Squalane + Omega Repair Cream
Water
solv
,
Squalane

sii

|

emo
0
1
,
Glycerin

sii

|

h
0
0
,
Caprylic/Capric Triglyceride
emo
,
Isoamyl Laurate
emo
,
Butyrospermum Parkii (Shea) Butter

emo

|

vc
,
Sorbitan Olivate

emu
,
Cetearyl Olivate

emu
,
Ceramide Np

sii
,
Jojoba Esters
so

|

emo

|

h
,
Sodium Hyaluronate

sii

|

h
0
0
,
Euterpe Oleracea Sterols
,
Linoleic Acid

sii

|

emo

|

surf
,
Oleic Acid
emo

|

emu
,
Linolenic Acid

sii

|

emo

|

surf

|

perf
,
Ethyl Linoleate
emo

|

perf
,
Tocopherol

aox
0
–
3
0
–
3
,
Isoamyl Cocoate
emo
,
Cetyl Palmitate
emo
0
0
,
Sorbitan Palmitate
emu
,
Cetearyl Alcohol
emo

|

vc

|

emu

|

surf
1
2
,
Ethylhexylglycerin
pres
,
Carbomer
vc
0
1
,
Sodium Hydroxide
buff
,
Phenoxyethanol
pres
,
Sodium Gluconate
chel

|

h
Hover the mouse over an ingredient for short explanation. Read more on INCIDecoder.
Just like the name gives away, you have Squalane as main emollient alongside Omega 3, 6 and 9, all of which seek to strengthen the skin's lipid barrier to reduce Transepidermal Water Loss. There is also Ceramide NP, serving the same purpose (More info: The benefits of Ceramides in skincare), and Shea Butter as an additional emollient. (More info: Emollients and occlusives in skincare)
To attract moisture underneath these emollients there is Glycerin as well as Sodium Hyaluronate used as humectants, so basically a repairing and otherwise basic formula that is great to pair with actives as it will not further upset your skin. And I mean basic in loving and appreciative way – I love basic moisturizers, especially when the texture is as beautiful as this one.
Does it live up to its claims?
Yes.
It has a beautiful, rich texture that is very moisturizing without a trace of greasiness and leaves the skin feeling plump and supple.
How does it compare to…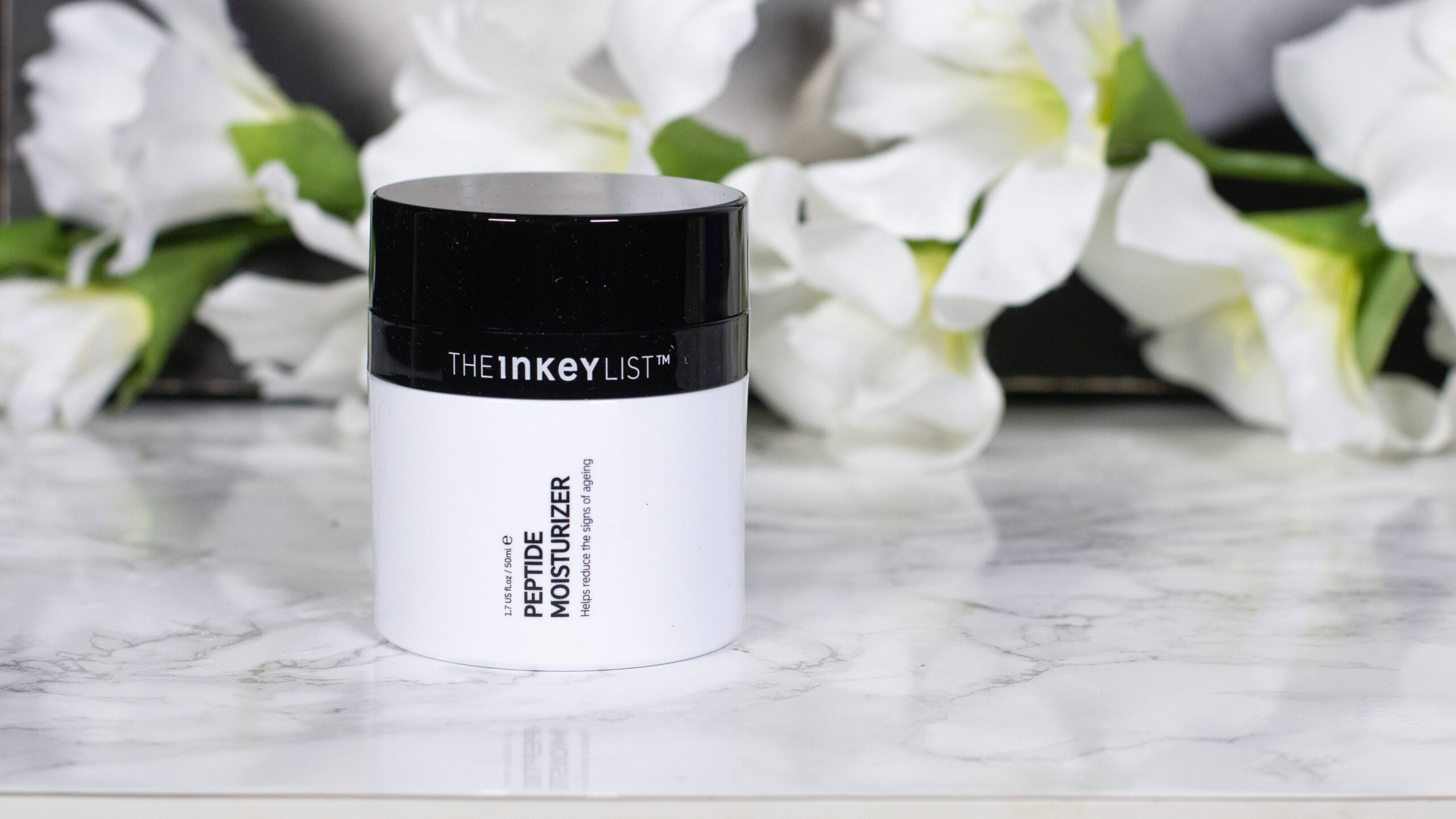 The Inkey List Peptide Cream
The Inkey List Peptide Moisturizer was one of the first formulas that convinced me in terms of being rich, but not too heavy. It is a tad lighter than the Biossance one, but still leaves my skin feeling deeply moisturized and comes at a third of the price.
When you compare the ingredients, both share the Glycerin and the Shea Butter, but Ihe Inkey List lacks the Squalane, the Omega fatty acids and the Ceramide, but features two peptides instead. quite frankly, I don't think that will make much of a difference in terms of how it performs on your skin, in the end it comes down to how much you want to spend and which texture you prefer more.
You can read my full review of The Inkey List Peptide Moisturizer here
Would I repurchase and which skin types do I recommend the Biossance Squalane + Omega Repair Cream to?
As much as I enjoy using this moisturizer, the price will probably prevent me from repurchasing. I am willing to splurge on skincare that either has ingredients I love or whose texture convinces me, but if there are plenty of more affordable and just as good options available, I am less likely to do so.
In terms of skin types, I think despite the rich texture it will work for all but very oily ones depending on time of day and current weather and is especially good for those on potentially irritating actives like Tretinoin or other drying treatments.
Shop the post
Don't forget to check out the Discount Code Page on top if you want to save some money on your next skincare purchase.
If you want to get a vote in the next Ask Doctor Anne Topic, Ingredient Spotlight or product I review, don't forget you can head over to my Patreon account to get more involved!
(Visited 1.474 times, 1 visits today)