ADVERTISEMENT INFO: PRODUCTS MENTIONED IN THIS POST ARE PURCHASED MYSELF AND LINKS USED ARE AFFILIATE LINKS. I RECEIVED NO MONEY TO WRITE THE BLOGPOST. PLEASE READ DISCLAIMER
I am a fan of alliterations, I really am, but calling the product Glow Recipe Plum Plump Hyaluronic Serum? I mean, have you ever looked at a plum and thought "that plumpness"? It might be my medical background, but when I think of plums, I think of prunes and their digestive benefits, so anything but plump and bouncy skin.
Before you come @me, I KNOW that Glow Recipe names their serums after the extracts they put in them, Terminalia Ferdinandiana Fruit Extract in this case, but still. It isn't even supposed to be really hydrating, but more used as an antioxidant. I guess it is mainly for the alliteration.
With this (important) discussion out of the way, how did the Glow Recipe Plum Plump Hyaluronic Serum convince me?
If you want to know more about my thoughts on Glow Recipe skincare, I have a dedicated video on their products here:
What the Glow Recipe Plum Plump Hyaluronic Serum claims
Meet the Plum Plump Hyaluronic Serum powered by 5 weights of hyaluronic acid for deep hydration and plumping like you've never experienced before.
Facts about the Glow Recipe Plum Plump Hyaluronic Serum
Prize and size
One bottle contains 30 ml and is available for 45 $ on the website here. There is also a jumbo size containing 60 ml that is available for 60 $, making it much better value for money if you know you'll love the product.
Texture and smell
All Glow Recipe products have a rather distinct fruity scent, but the one from the Plum Plump Serum did bother me the least (Watermelon is much worse!). It is firmer than expected, it feels like a liquid gel rather than a serum, and stays tacky for around 3-5 minutes.
That tackiness could pose an issue with causing other products applied on top to pill, but when I waited for the tackiness to subside, I did not experience any problems.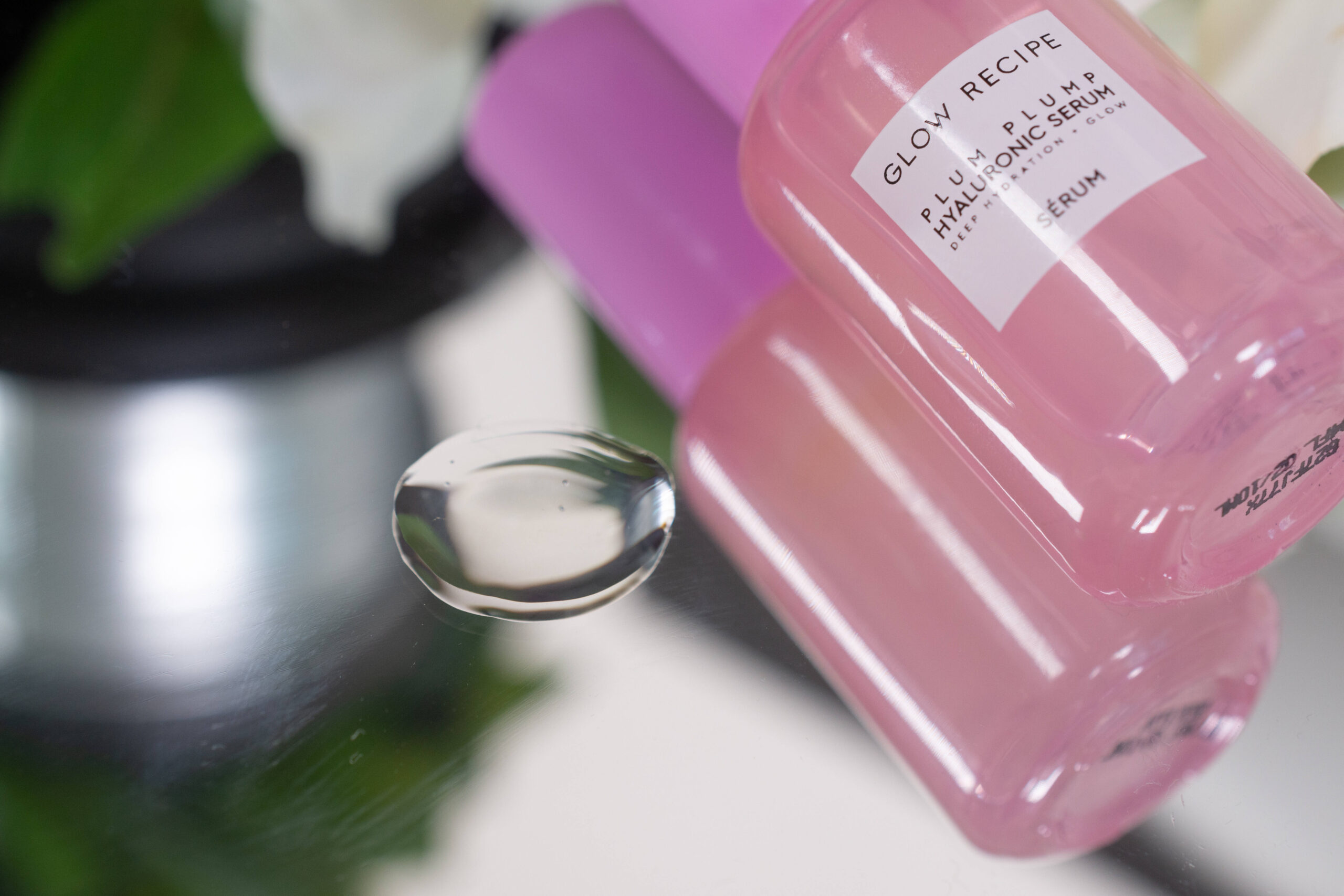 How to use the Glow Recipe Plum Plump Hyaluronic Serum
Depending on your skins needs, both morning or night time use is possible. Hydration is important at every time in your routine, and hydrate this does exceptionally well. I used it during the colder month when my skin due to central heating, cold winds and my Tretinoin is prone to dehydration and was impressed.
Despite the initial tackiness my preferre time was the mornings, to get the most out of the fine line smoothing effect the additional hydration had.
Ingredients of the Glow Recipe Plum Plump Hyaluronic Serum
Aqua
solv
,
Glycerin

sii

|

h
0
0
,
Propanediol
solv

|

h
,
Pentylene Glycol
solv

|

h
,
Pleiogynium Timoriense Fruit Extract
,
Podocarpus Elatus Fruit Extract
,
Terminalia Ferdinandiana Fruit Extract
aox

|

sb
,
Sodium Acetylated Hyaluronate

h
,
Sodium Hyaluronate

sii

|

h
0
0
,
Tremella Fuciformis Polysaccharide

h
,
Acacia Seyal Gum Extract
h
,
Sr-Spider Polypeptide-1**
,
Pantothenic Acid
,
Phospholipids

sii

|

emo
,
Sodium Hydroxide
buff
,
Spirulina Platensis Extract
,
Raphanus Sativus Root Extract
,
Caprylyl Glycol
h

|

emo
,
Chlorphenesin
pres

|

amic
,
Tetrasodium Glutamate Diacetate
chel
,
Polyglyceryl-6 Caprylate
emu
,
Polyglyceryl-4 Caprate
emu
,
Potassium Sorbate
pres
,
Propylene Glycol
h

|

solv

|

vc
0
0
,
Leuconostoc/Radish Root Ferment Filtrate
amic

|

pres
,
1,2-Hexanediol
solv
,
Citric Acid
buff
,
Ethylhexylglycerin
pres
,
Hydroxyacetophenone
aox
,
Carrageenan
vc
,
Xanthan Gum
vc
,
Sodium Glycolate
buff
,
Sodium Formate
buff

|

pres
,
Phenoxyethanol
pres
,
Parfum

perf
Hover the mouse over an ingredient for short explanation. Read more on INCIDecoder.
Responsible for that hydrating effect are Glycerin and several forms of Hyaluronic Acid as humectants (More info: Hyaluronic Acid – more than a humectant?), but it also contains Phospholipids and Pantothenic Acid (More info: The benefits of panthenol in skincare) for soothing and repairing the skin as well as Sr-Spider Polypeptide-1, which is a peptide produced through fermentation in E. coli that comes from a copy of a gene in a spider that codes for silk. It claims to smooth the skin, like silk, but whether this is more than a manufacturer claim I can't say. It is a fun little fact though, so I didn't want to keep it from you.
Another ingredient made from fermentation is the Radish Root Ferment Filtrate that also claims antioxidant benefits (More info: The benefits of fermented ingredients in skincare explained)
Like in the other Glow Recipe product you will find a bunch of different plant extracts as well, but none that particularly stood out to me, as well as fragrance. (More info: Is fragrance in your skincare products dangerous for you?)
Does it live up to its claims?
Mostly yes.
I am not a fan of the exaggeration "like you never experienced before", but I do admit that in terms of hydrating serums, this was one of the best I have tried so far.
How does it compare to…
Geek and Gorgeous HA 5 Rich and Light Serum
These two could be replaced by any other Hyaluronic Acid Serum I have tried, as quite frankly they usually don't behave much differently apart from nuances. I picked the two options from Geek and Gorgeous as they are some that I have tried more recently and also use five different forms of Hyaluronic Acid.
The most noticeable difference here will be the price, as Geek and Gorgeous is much more affordable, and the fact that these two have less tackiness after application. All three contain additional Silver Ear Mushroom Extract, Panthenol and Glycerin, but used side by side, the Glow Recipe version is a little bit more hydrating. (Is it the plum etxract after all?)
So depending on what is more important to you, price, fast absorption or intense hydration – pick your favorite. All three are really nice.
You can read my full review of the Geek and Gorgeous HA 5 Rich and Light Serum here.
Would I repurchase and which skin types do I recommend the Glow Recipe Plum Plump Hyaluronic Serum to?
I don't really use serums dedicated at hydration only anymore, but if I would, this would be among the ones I'd consider getting. It should work for most skin types with the exception of those sensitive to the plant extracts or fragrance it contains.
Shop the post
Don't forget to check out the Discount Code Page on top if you want to save some money on your next skincare purchase.
If you want to get a vote in the next Ask Doctor Anne Topic, Ingredient Spotlight or product I review, don't forget you can head over to my Patreon account to get more involved!
(Visited 522 times, 1 visits today)