ADVERTISEMENT INFO: THIS BLOG POST USES AFFILIATE LINKS AND CONTAINS PR (GIFTED ITEMS). I RECEIVED NO MONEY TO WRITE IT. PLEASE READ DISCLAIMER.
Did you know that I drank original Mate tea in Chile once in the strangest hostel I ever visited, and that I absolutely hated it? I have pictures to prove it, and as you can probably tell there is a pretty long story behind how and especially where that happened. I am not going to tell this story today though, I am here with a review of the Good Molecules Yerba Mate Wake Up Eye Gel.
What does it do, which ingredients does it contain and who do I think it is best for?
Why Yerba Mate?
Yerba Mate comes from a tree that is common in South America and is said to stimulate mind and body, which is not surprising as it contains caffeine. The amount of caffeine a cup of Mate contains is less than a cup of coffee, but more than a cup of tea, although that of course depends on the strength of the brew – we all know that there can be a worlds difference depending on who does the brew.
It also contains other antioxidants and polyphenols – if this effect actually transfers to a beneficial effect when applied topically has not been extensively studied though, as you can see here. That doesn't mean it does not help though – you won't find much more on most antioxidant containing plant extracts out there.
Yerba Mate is also one of the foods that have demonstrated anti-glycation effects in the lab – I talk more about Glycation in this blogpost here, in case you are interested.
What the Good Molecule Yerba Mate Wake Up Eye Gel claims
Revitalize and energize tired, puffy eyes with this soothing eye gel from Good Molecules. Yerba Mate Wake Up Eye Gel is rich in yerba mate extract, a natural source of antioxidants and polyphenols that fight oxidative damage for brighter, more radiant skin.
Facts about the Good Molecule Yerba Mate Wake Up Eye Gel
Prize and size
One tube contains 15 ml and retails for 6 $ on the website here. It has a pH of 5.2 and is vegan and cruelty-free.
Texture and scent
The texture and color is quite unique: It is yellow and a firm gel, much firmer than usual, and it took me a while to get used to it. The firmness is actually a benefit though, as this cream doesn't move around once applied, but instead smooths over my fine lines and provides a smooth surface for makeup and concealer application.
How to use the Good Molecule Yerba Mate Wake Up Eye Gel
I use it in the mornings because I like how it works underneath my makeup, but you could use it in the evenings as well, or both morning and night or not at all – my blog post answering the question if an eye cream is really necessary will be up in a bit.
And yes, I do apply it all around the eye, on the eyelid as well as underneath the eyes. I do that with all my eye products and don't see a good reason why you shouldn't.
Good Molecule Yerba Mate Wake Up Eye Gel Ingredients
Water
solv
,
Propanediol
solv

|

h
,
Butylene Glycol
h

|

solv

|

vc
0
1
,
Glycerin

sii

|

h
0
0
,
1,2-Hexanediol
solv
,
Sodium Polyacryloyldimethyl Taurate
vc
,
Cetyl Ethylhexanoate
emo
,
Corn Starch Modified
vc
,
Ilex Paraguariensis Leaf Extract
perf
,
Cetearyl Olivate

emu
,
Sorbitan Olivate

emu
,
Panthenol

so

|

h
0
0
,
Allantoin

so
0
0
,
Tocopherol

aox
0
–
3
0
–
3
,
Helianthus Annuus (Sunflower) Seed Oil

emo
0
0
,
Hyaluronic Acid

sii

|

h
,
Sodium Hyaluronate

sii

|

h
0
0
,
Hydrolyzed Hyaluronic Acid

h
,
Caffeine

aox

|

perf
,
Acetyl Tetrapeptide-5

cci

|

h
,
Cichorium Intybus (Chicory) Root Extract
Hover the mouse over an ingredient for short explanation. Read more on INCIDecoder.
Ilex Paraguariensis Leaf extract is the Yerba Mate, and you might notice immediately that Caffeine and Vitamin E as antioxidant have been added separately and not just are present as part of the extract. Caffeine is often used in depuffing eye products (as well as in anti-cellulite creams) due to its vasoconstrictive properties and ability to penetrate the skin, but there isn't much more than anecdotal evidence for its use in eye products.
Other than that you will find humectants, corn starch probably responsible for the thick texture, sunflower seed oil and Acetyl-Tetrapeptide-5. This peptide is used to reduce puffiness and eye bags and has one study, very small and done by the manufacturer, to support that claim. (You can read more about peptides in general here)
Does it live up to its claims?
Now I have to say that I don't often suffer from very puffy eyes, only after the occasional good hormonal crying session – we all have them. Usually I just have a little swelling in the mornings that disappears within the first hour anyway, so I am probably not the best person to judge that claim. I can tell you though that my skin feels tightened in a good way and that my makeup really goes on smoothly after application.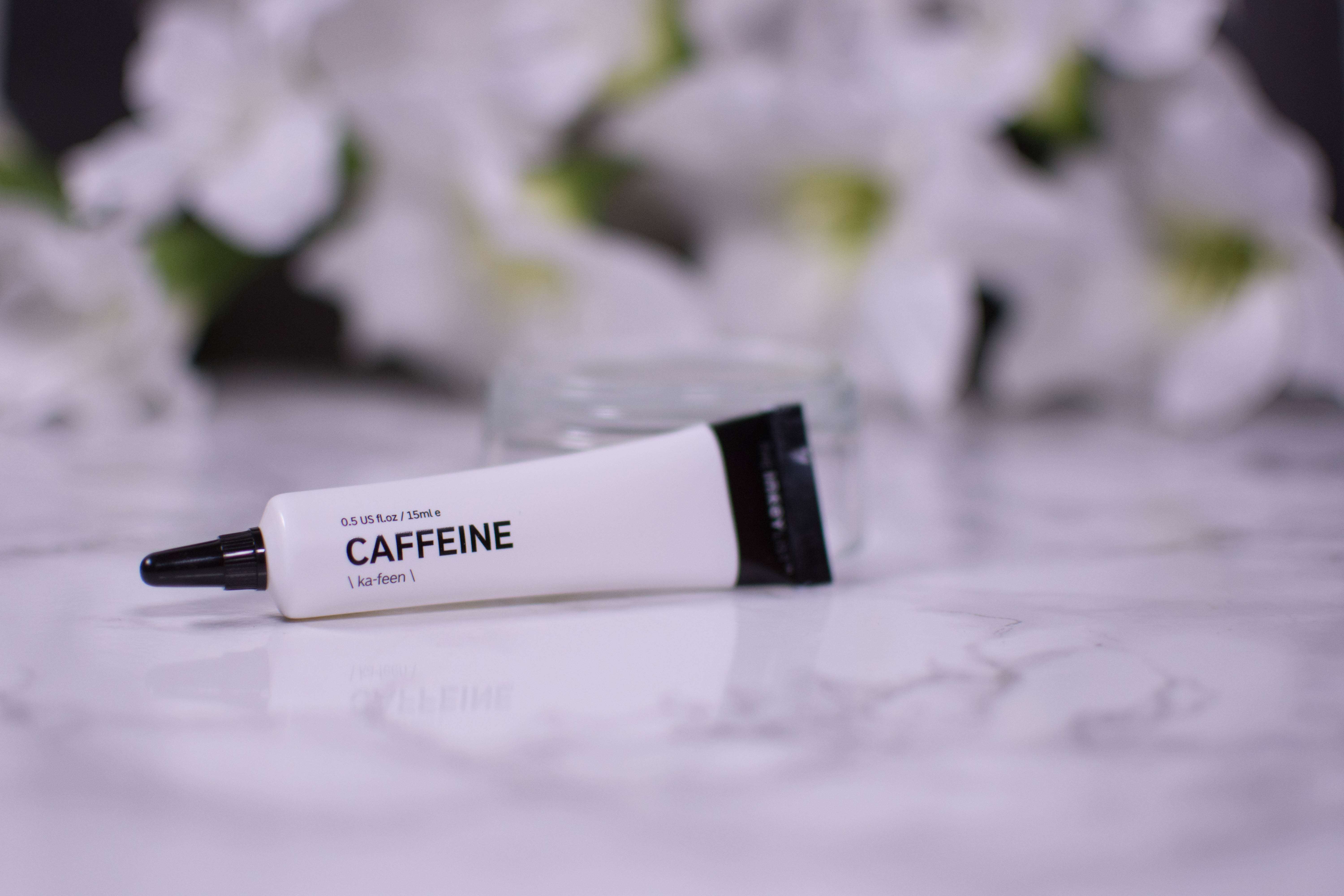 How does it compare to…
The Inkey List Caffeine Eye Cream
My favorite, the one that I keep talking about, and a product that has similar claims – how does the Good Molecule Eye Gel compare to The Inkey List Caffeine Eye Serum?
Well, the texture of The Inkey List is more your typical light eye cream, it does not contain Yerba Mate, but also Caffeine, other antioxidants, humectants and peptides, but different ones to the Good Molecules version. The peptides in The Inkey List products are from the Matrixyl Complex and focus more on antiaging than on preventing eye bags.
I like both for depuffing my eyes if needed, find that my makeup looks a little bit smoother after using the Good Molecules product, but overall prefer the one from The Inkey List because I appreciate the Matrixyl Peptides given my age.
Which one is better for you comes down to personal preference, both get my recommendation.
You can read my full review of The Inkey List Caffeine Eye Serum here.
Would I repurchase?
No.
I will stick with the one from The Inkey List.
Whom do I recommend it to?
I think the product is best suited to those with chronic puffiness that want long term prevention and those that need extra help in smoothing the under eye area before makeup application. The texture should work for all skin types.
Shop the post
(Visited 5.812 times, 3 visits today)