ADVERTISEMENT INFO: THIS BLOG POST USES AFFILIATE LINKS AND CONTAINS PR (GIFTED ITEMS). I RECEIVED NO MONEY TO WRITE IT. PLEASE READ DISCLAIMER
Just like many of you I haven't been wearing any foundation for approximately 12 months now – no point in putting it on if you cover half of your face with a face mask anyway. But even before that I wasn't one to wear a primer in like… ever.
So you can imagine that I am probably the worst person to review the Juno & Co Miracle Moonshine Primer – which is what I told the brand when they offered to send it over along with their new release, a cleansing balm. They were so convinced by their product though, they insisted on sending it over anyway – and I, curious person that I am, figured that a primer basically isn't that different to a face cream, so I might just as well give it a go.
After all it seems to be their best selling product, and allegedly a dupe to the Charlotte Tilbury Magic Cream – which I, full disclosure, haven't tried either.
Just to address that first: I am not a fan of the multiple clean and free-from claims the brand uses as marketing strategy – I have talked about it in length in this video and I wish Juno & Co would move away from it. But as this is not the product's fault, let's focus on the cream for the moment.
What the Juno & Co Miracle Moonshine Cream claims
A luxurious, hydrating 2 in 1 primer with moisturizing benefits formulated for all skin types. Infused with 3% avocado oil and Hyaluronic Acid to help nourish skin and erase imperfections while providing a light, breathable barrier for 12 hr+ for makeup to stay put for a longer lasting wear while visibly smoothing and plumping skin.
Facts about the Juno & Co Miracle Moonshine Cream
Prize and size
I rarely focus on the packaging of products that I review and if you have been around for a while, you know that I am usually all for sleek and minimalistic packaging – but there is something about the deep purple pot with silver sparkles that really speaks to me. It is a beauty to look at, but the domed shape makes it hard to handle if you, like me, tend to take it off the shelf, open it with one hand, use it and then try to put the lid back on.
Shouldn't be an issue though if you, like any sane person, put it down when you use it.
One pot contains 45g and retails for 28$ on the website here.
Texture and smell
It is a very thick cream and smells slightly like glue – just the faintest whiff, not something that should bother you or something that lingers, in fact it disappears as soon as the cream is applied to the face. Despite the initially quite thick texture, the products absorbs quickly and without greasiness.
How to use the Juno & Co Miracle Moonshine Cream
Now that depends on your preferences. It is supposed to be a primer, so applying it right before makeup in the mornings is probably what you should do. And to be honest, that works like a charm, as it has pore blurring properties (probably the added Silica) and even without makeup just makes the skin look smoother and more even.
As the weather gets warmer though I prefer applying it in the evenings, especially as a buffer cream before my Tretinoin, as in the mornings my sunscreen doubles up as my moisturizer anyway.
Ingredients of the Juno & Co Miracle Moonshine Cream
Aqua
solv
,
Glycerin

sii

|

h
0
0
,
Persea Gratissima (Avocado) Oil

aox

|

emo
0
0
–
3
,
Methylpropanediol
solv
,
Dimethicone
emo
0
1
,
Cetearyl Alcohol
emo

|

vc

|

emu

|

surf
1
2
,
C12-15 Alkyl Benzoate
emo

|

amic
,
Betaine

h
,
Isohexadecane
emo

|

solv
,
Cetearyl Glucoside
emu

|

surf
,
PEG-100 Stearate
surf

|

emu
0
0
,
Glyceryl Stearate
emo

|

emu
0
1
–
2
,
1,2-Hexanediol
solv
,
Hydroxyacetophenone
aox
,
Tocopheryl Acetate
aox
0
0
,
Polyacrylamide
vc
,
C13-14 Isoparaffin
emo

|

vc

|

solv
,
Acrylates/C10-30 Alkyl Acrylate Crosspolymer
vc
,
Paeonia Albiflora Root Extract
,
Dimethiconol
emo

|

h
,
Laureth-7
emu

|

surf
,
Disodium EDTA
chel

|

vc
,
Xanthan Gum
vc

|

emu

|

surf
,
Sodium Hyaluronate

sii

|

h
0
0
,
Sodium Hydroxide
buff
,
Caramel
col
,
PEG-8 Dimethicone
emo
,
Silica
vc
,
Aluminum Hydroxide
emo

|

h

|

vc
,
Citrus Aurantium Amara (Bitter Orange) Flower Oil

,
Ci 77891
col
0
0
,
Ci 19140
col
Hover the mouse over an ingredient for short explanation. Read more on INCIDecoder.
Avocado oil features prominently in the formula and is alongside several other emollients like silicones responsible for the smooth and silky finish it adds to the skin. Paired with several humectants the cream helps hydrate and keep the moisture in, though the lack of occlusive agents might make it a little too light for people with dry or very dehydrated skin.
I already mentioned the silica, used to thicken up products and mattify skin and also quickly want to point out the use of Bitter Orange Flower Oil, an essential oil with a lot of fragrant components that might be problematic if your skin is sensitive to that.
Does it live up to its claims?
Now if you want to use it as a primer – I have tried it for that purpose a few times, it smoothes my skin, blurs my pores and helps my makeup glide over any rough patches. If it actually prolongs the weartime I am not sure, I always find that incredibly hard to judge.
As a cream it is more lightweight than I initially thought, hydrating and makes me wake up to plump and happy skin in the mornings.
How does it compare to…
The Good Molecules Silicone Free Priming Moisturizer
Well, the first thing is obvious already in the name. Good Molecules does not use silicones, which might be good for those with a silicone allergy. It is also much more lightweight, so lightweight in fact that even I with my combination skin did not find it enough to use as a face cream. So while as a primer both work equally well, as a cream I would prefer the Juno & Co offer for everyone except those with incredibly oily skin.
Read my full review of the Good Molecules Silicone Free Priming Moisturizer here
The Inkey List Peptide Moisturizer
My favorite moisturizer at the moment, and similar in texture once applied to the skin (initially, The Inkey Lists option feels lighter). No Avocado Oil for the Peptide Moisturize, but instead Shea Butter and of course the name giving peptides. This one has no silica and probably wouldn´t work as well as primer, but as a face cream ticks similar boxes.
Read my full review of The Inkey List Peptide Moisturizer here.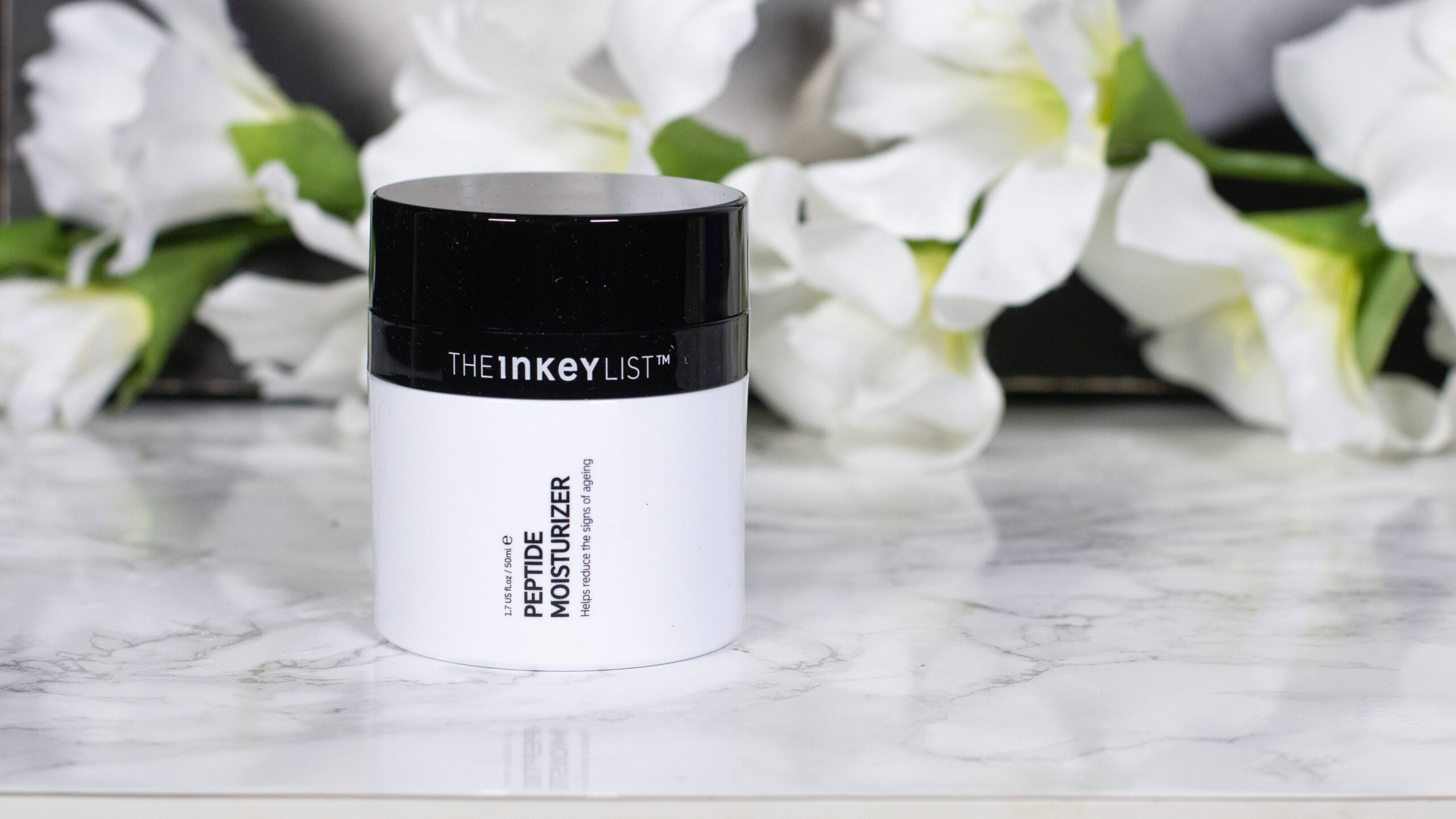 Would I repurchase?
No.
I really enjoy the cream for now, but not that much that I would go out of my way to repurchase it. If I was a regular primer wearer though, this would probably one that I would enjoy – simply because it combines the priming abilities with the benefits of a hydrating face cream.
Whom do I recommend it to?
Due to the texture I think this ideal as a primer for combination, normal or slightly dry skin types, and the same people will probably enjoy it as a face cream. Really oily skins will probably dislike the initial texture while very dry or dehydrated skins need something more occlusive.
Shop the post
(Visited 1.490 times, 1 visits today)