ADVERTISEMENT INFO: SOME PRODUCTS MENTIONED IN THIS POST ARE PR (GIFTED) AND LINKS USED ARE AFFILIATE LINKS. I RECEIVED NO MONEY TO WRITE THE BLOGPOST. PLEASE READ DISCLAIMER
It seems that testing new Vitamin C serums is kind of a hobby of mine, so I couldn't pass on the opportunity to try the Clinical Skin Vitamin C Pro Collagen Serum although I admit, I knew that at this price point it would most likely not replace my current favorite.
Pricewise it costs about the same as the cult favorite Skinceuticals C E Ferulic Serum (which I have not tried, so please don't ask for a comparison), so I know there is a market for it, and I totally get that. Vitamin C serums are so hard to get right, to make them stable, effective and pleasant to use, and still most of us want some form of Vitamin C in their routine. (More info: The benefits of Vitamin C in skincare explained)
So how about this one? Did it convince me?
What the Clinical Skin Vitamin C Pro Collagen Serum claims
Leaves your skin feeling rejuvenated and beautifully radiant.
Clinical Skin's powerful antioxidant rich serum with 20% L-Ascorbic Acid is designed to improve skin tone and luminosity while minimizing signs of aging.
Facts about the Clinical Skin Vitamin C Pro Collagen Serum
Prize and size
One bottle, opaque, but with a dropper, contains 30 ml and is available for 110, 95 € on the website here. There is also a subscription which saves you 10% per bottle.
Texture and smell
One thing I noticed when opening the bottle was that the serum already had a yellow hue which, according to the website, is normal. As Vitamin C serums do tend to turn yellow as the product oxidizes, that could point towards an already reduced amount of active Vitamin C, but could also be a color choice on purpose so the first oxidazion isn't as visible. Over time (I have had it open for four months now) it has gone noticeably darker in color still, meaning it did (continue?) to oxidise.
The initial texture is watery and it spreads easy on the skin, but has a minimal tackiness after application and leaves the skin feeling softer than it did before after it sinks in. There is no scent, maybe a distant whiff of something citrussy if you sniff very closely.
How to use the Clinical Skin Vitamin C Pro Collagen Serum
Vitamin C serums are supposed to be used in the mornings, to get the maximum antioxidant benefits and because often other actives like retinoids are use during the night and to reduce the risk of irritation, it is usually recommended you use them at different times in your routine. (More info: How to combine skincare ingredients the right way and The best way to combine your Vitamin C)
The watery texture makes it perfect for the mornings and while it paired well with my sunscreens, I am not convinced by the silky feeling it gives my skin – I didn't mind it during the colder months, but do think it would annoy me in the summer when I prefer to feel nothing at all.
Despite it containing 20% Ascorbic Acid, which is quite a lot, I never experienced any irritation.
Ingredients of the Clinical Skin Vitamin C Pro Collagen Serum
Purified Water
solv
,
Ascorbic Acid

aox

|

sb

|

buff
,
Isopentyldiol
solv

|

h

|

emo
,
Propanediol
solv

|

h
,
Laureth-23
emu

|

surf
0
3
,
Dimethyl Isosorbide
solv

|

vc
,
Ethoxydiglycol
solv

|

h

|

perf
0
0
,
Glycerin

sii

|

h
0
0
,
Ceramide NG

sii
,
Ceramide NP

sii
,
Ceramide AP

sii
,
Ceramide EOP

sii
,
Caffeine

aox

|

perf
,
Zinc Pca

aacne

|

h
,
Superoxide Dismutase

aox
,
Ergothioneine
aox
,
Glutathione
,
Chamomilla Recutita (Matricaria) Flower Extract

so

|

aox
0
0
,
Lavandula Angustifolia (Lavender) Oil

amic

|

perf
,
Lavandula Angustifolia (Lavender) Flower Water
,
Aphanizomenon Flosaquae Powder
,
Olive Oil PEG-7 Esters
emo

|

emu
,
Tetrasodium Glutamate Diacetate
chel
,
Phytosphingosine

sii

|

cci

|

aacne

|

amic
,
Cholesterol

sii

|

emo
0
0
,
Sodium Lauroyl Lactylate
emu
,
Carbomer
vc
0
1
,
Xanthan Gum
vc
,
Phenoxyethanol
pres
Hover the mouse over an ingredient for short explanation. Read more on INCIDecoder.
Other than the Ascorbic Acid, according to the brand present at 20%, you will find a few other antioxidants like Caffeine, Superoxide Dismutase, Ergothioneine and Glutathione. Then there is Glycerin as humectant and different Ceramides for soothing. (More info: The benefits of Ceramides in skincare explained)
The added plant extracts left me a little confused, as I am not sure what this combination is supposed to do, but overall the formulation shows that this is supposed to be much more than "just" a Vitamin C serum.
Does it live up to its claims?
Yes.
It did make my skin feel smooth and contains the ingredients to brighten and fight off free radicals.
How does it compare to…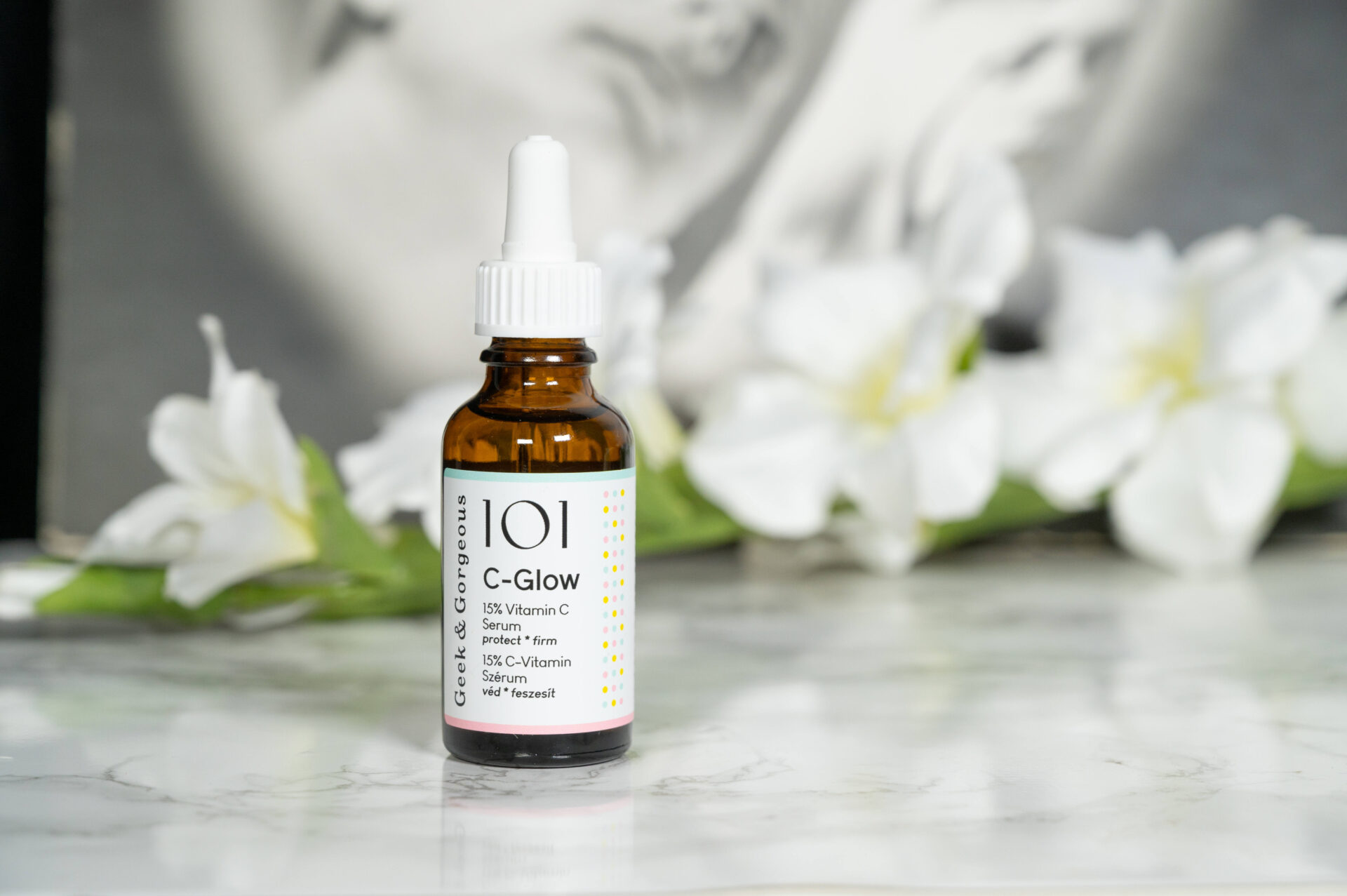 Geek and Gorgeous C-Glow Serum
You all know that Geek and Gorgeous is my favorite and most repurchased Vitamin C, and, that out of the way, this didn't change with me trying the Clinical Skin version. That doesn't mean I dislike Clinical Skins version, it is just that for something that usually only lasts 3 months before going off, I am not willing to pay 110 €.
Yes, Clinical Skin is much more than just a Vitamin C, and I am impressed that despite being 20%, I never experienced any irritation, but still I much rather combine another product with Ceramides with my regular Vitamin C serum and save some money.
In terms of texture, both feel similar initially, but Geek and Gorgeous sinks in completely and without the added softness of the Clinical Skin version.
You can read my full review of the Geek and Gorgeous C Glow Serum here.
Would I repurchase and which skin types do I recommend the Clinical Skin Vitamin C Pro Collagen Serum to?
You already have guessed it, I will not repurchase as it is outside my price preference. If money is not something you need to consider or you really just want one thing to do the maximum amount possible, this might be an option. If your skin is sensitive, the plant extracts and high percentage of Ascorbic Acid will probably not be for youand very oily skins might struggle with the layer of softness it leaves on the skin, but apart from that it should work for all skin types.
Shop the post
Don't forget to check out the Discount Code Page on top if you want to save some money on your next skincare purchase.
If you want to get a vote in the next Ask Doctor Anne Topic, Ingredient Spotlight or product I review, don't forget you can head over to my Patreon account to get more involved!
(Visited 537 times, 1 visits today)