ADVERTISEMENT INFO: SOME PRODUCTS MENTIONED IN THIS POST ARE PR (GIFTED) AND LINKS USED ARE AFFILIATE LINKS. I RECEIVED NO MONEY TO WRITE THE BLOGPOST. PLEASE READ DISCLAIMER
The first product I ever reviewed from the brand Geek and Gorgeous was their Jelly Joker Gel Cleanser (you can read the review here), and now, two years later, I am here to tell you about its newest companion: The Geek and Gorgeous Mighty Melt Cleansing Balm. It is no secret that I am a huge fan of cleansing balms, but not necessarily of year round double cleansing, so I want my balm cleansers to both get rid of all my makeup and at the same time rinse clean without the need for a second cleanse or wash cloth. (More info: Do you really need to Double Cleanse?)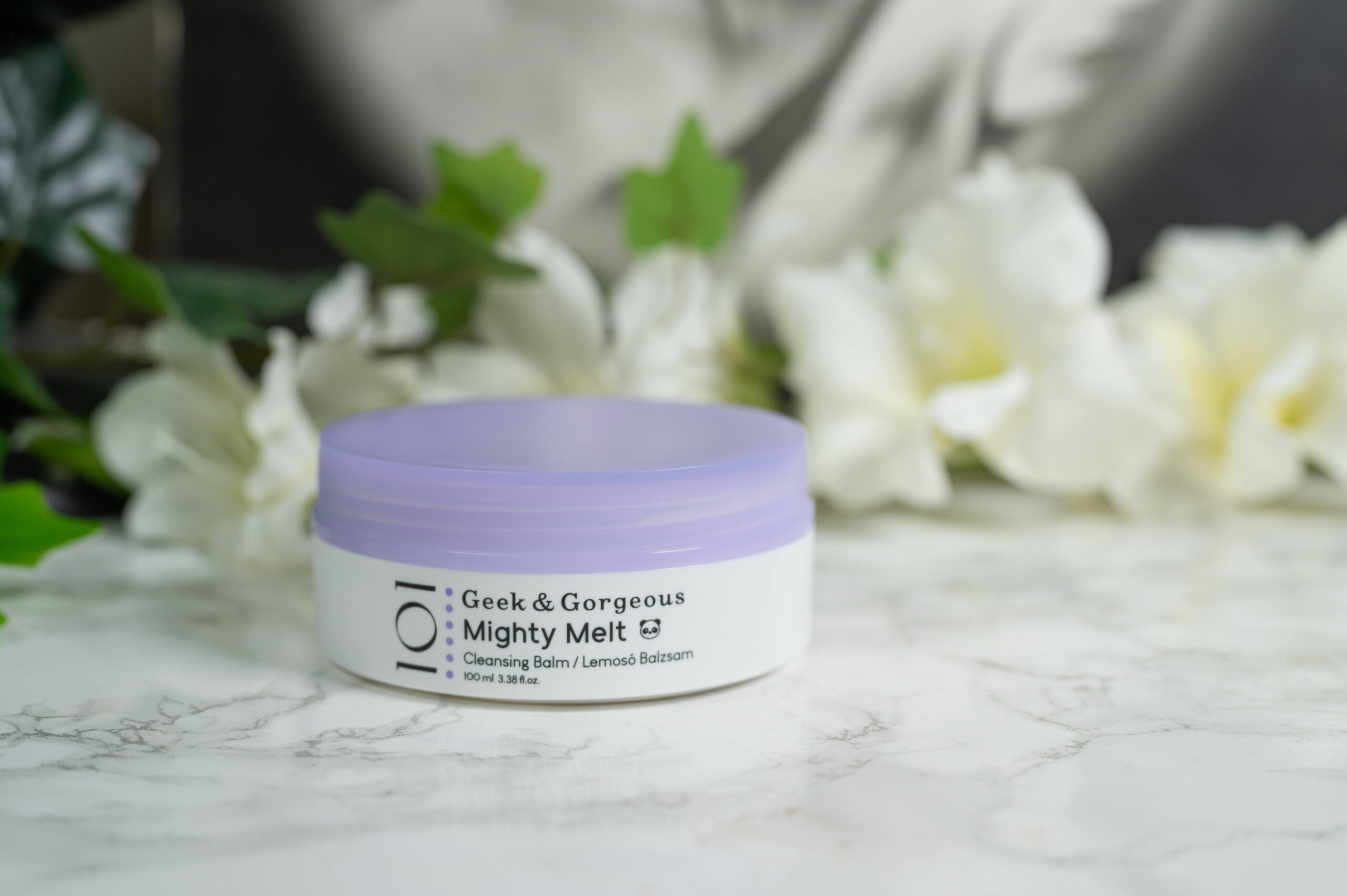 Because while I like the Jelly Joker Low pH Cleanser, it isn't one that excites me or "sparks joy" to quote a well-known decluttering icon (who would probably get a heart attack should she ever see my cleanser stash). It is a work horse, and out of all the steps in my skincare routine, I need the cleanse to be the most luxurious one.
Did the Mighty Melt Cleansing Balm meet these high expectations?
Here you can see it in action together with two other new drugstore cleansers I think you should know about:
What the Geek and Gorgeous Mighty Melt claims
A gentle, yet gorgeously effective cleansing balm that melts away even long-lasting, waterproof makeup & sunscreen. It rinses off completely clean.
Facts about the Geek and Gorgeous Mighty Melt
Prize and size
One pot, white plastic with a lilac screw on top, contains 100 ml and is available for 12,80 € on the website here. It is vegan and fragrance-free. (More info: Is fragrance in skincare bad for you?)
Texture and smell
The balm looks white and opaque, is firm upon touch but quickly melts when you dip your finger in and start spreading it onto your face. I didn't notice any scent.
How to use the Geek and Gorgeous Mighty Melt
Like most cleansing balms this is supposed to be used at night to get rid of the dirt, sunscreen and eventually makeup you are wearing. This one transforms into an oil once it comes in contact with the skin and easily melts away even heavy filming makeup if I wear it. The only thing that it needs a little work with is waterproof mascara, but that for me is true for almost every cleanser – I seem to pile more mascara on than the average person.
If your skin is really dry, you could of course also use it in the mornings to make sure to strip your skin as little as possible.
After rinsing my face there is absolutely no residue and my skin feels soft.
Ingredients of the Geek and Gorgeous Mighty Melt Cleansing Balm
Hover the mouse over an ingredient for short explanation. Read more on INCIDecoder.
It contains a variety of surfactants and emollients, out of which the PEG-20 Glyceryl Triisostearate – according to the manufacturer – is perfect for oil cleansers that rinse off without a wash cloth. Nothing fancy or extra, but as it is supposed to be a cleanser for makeup removal, you don't really need that much more. (More info: How to read the ingredient list in skincare)
Does it live up to its claims?
Yes.
It is gentle, effective and rinses clean.
How does it compare to…
Clinique Take the Day Off Cleansing Balm
Clinique Take the Day Off is basically the mother of all cleansing balms in that it featured heavily in all skincare blogs and videos after 2013, so it is only natural to compare it to the new kid on the block from Geek and Gorgeous. Both are similar effective in taking off my makeup and both have a similar luxurious balm to oil texture. Clinique is (expectedly) more expensive, although still reasonable priced and contains additional Safflower Seed Oil with a beneficial linoleic/ oleic acid ratio. I assume it is this oil though that makes it harder to rinse, meaning that I can't really use it on it's own without a second cleanse or wash cloth, which is why out of the two I would go for Geek and Gorgeous.
You can read my full review of the Clinique Take the Day Off Cleansing Balm here.
Beauty of Joseon Radiance Cleansing Balm
Thsi cleansing balm is a more recent discovery for me, and it is very similar in texture, but also doesn't rinse clean on its own. It is less plain in formulation though, but contains a lot more potentially skin beneficial ingredients like fermented ingredients (More info: The benefits of fermented ingredients in skincare), Glycerin as humectant and Rice extract without being much more expensive. If you need those in your cleansing balm though is a question you have to answer for yourself.
You can read my full review of the Beauty of Joseon Radiance Cleansing Balm here.
Would I repurchase and which skin types do I recommend it to?
Yes, I can absolutely see myself repurchasing this cleansing balm and think it will work for all skin types. Especially those with sensitive skin that struggle with doing a Double Cleanse or using a wash cloth might enjoy it as it rinses clean on its own.
Shop the post
Don't forget to check out the Discount Code Page on top if you want to save some money on your next skincare purchase.
If you want to get a vote in the next Ask Doctor Anne Topic, Ingredient Spotlight or product I review, don't forget you can head over to my Patreon account to get more involved!
(Visited 1.478 times, 1 visits today)