ADVERTISEMENT INFO: THE PRODUCTS MENTIONED IN THIS POST ARE PR (GIFTED) AND LINK USED ARE AFFILIATE LINKS. I RECEIVED NO MONEY TO WRITE THE BLOGPOST. PLEASE READ DISCLAIMER 
Are you old enough to remember the hype pixi Glow Tonic caused? I am, and I went through several bottles of it throughout the years – I even have a huge fancy one with my name on. Ever since that countless exfoliants in different strengths have entered the market, but the Good Molecules Glycolic Exfoliating Toner is the one that I think could be a worthy contender.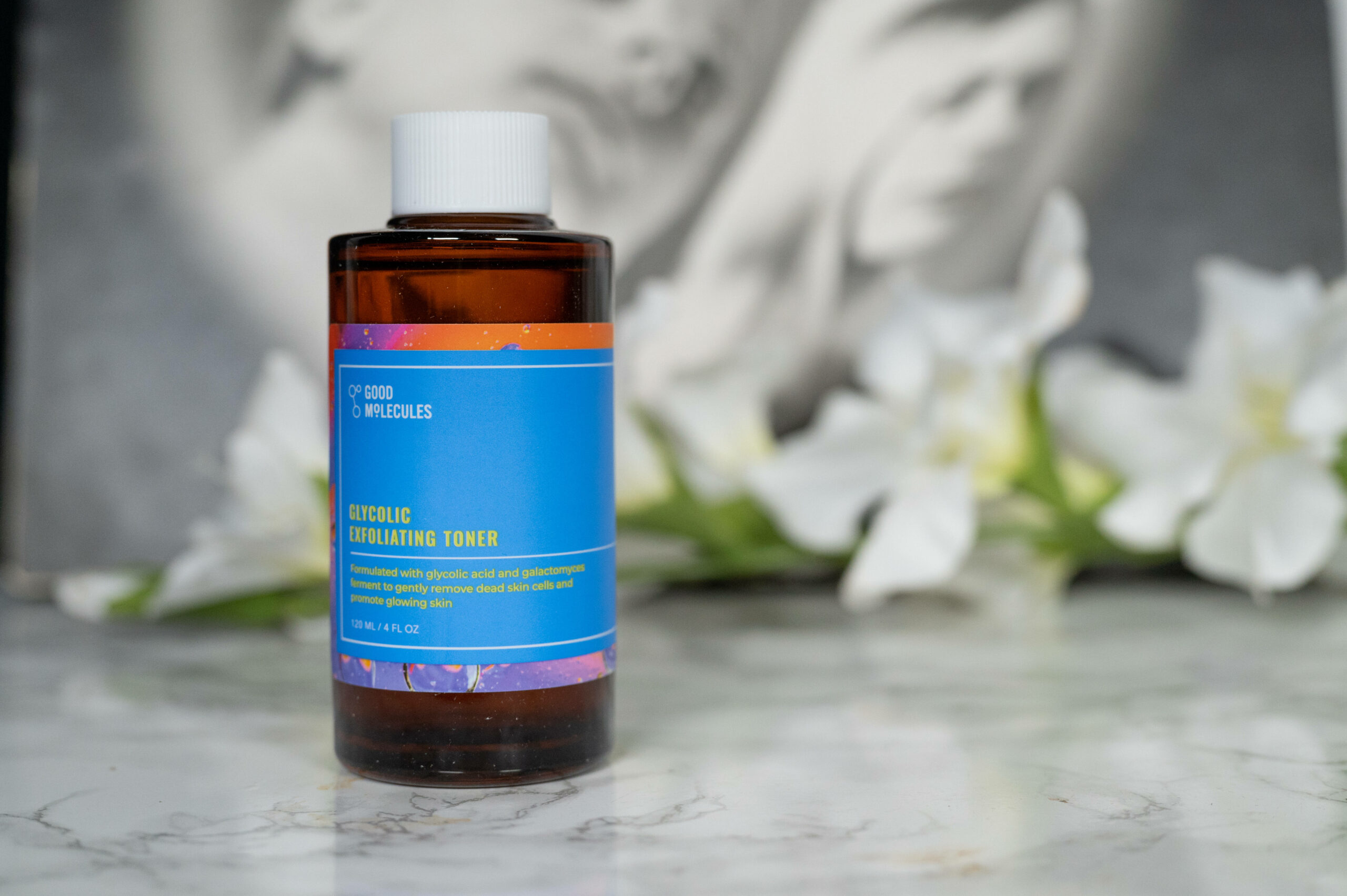 Why? Because it is similar in the things that made Glow Tonic outstanding, but has a few tweaks that are worth noting.
So join me in todays review of the Good Molecules Glycolic Exfoliating Toner where we discuss the ingredients, the performance and which skin types it is best suited for!
What Good Molecules Glycolic Exfoliating Toner claims
Reveal smoother, brighter skin with the help of this gentle resurfacing treatment. Powered by glycolic acid and galactomyces ferment, Glycolic Exfoliating Toner helps to exfoliate the surface of skin to promote more even tone and texture.
Fragrance-free, vegan and not tested on animals.
Facts about Good Molecules Glycolic Exfoliating Toner
Prize and size
One bottle, made from darkened glass, contains 120 ml and is available for 14 $ on the website here.
Texture and scent
It is a clear liquid that looks a lot like water and has no noticeable scent.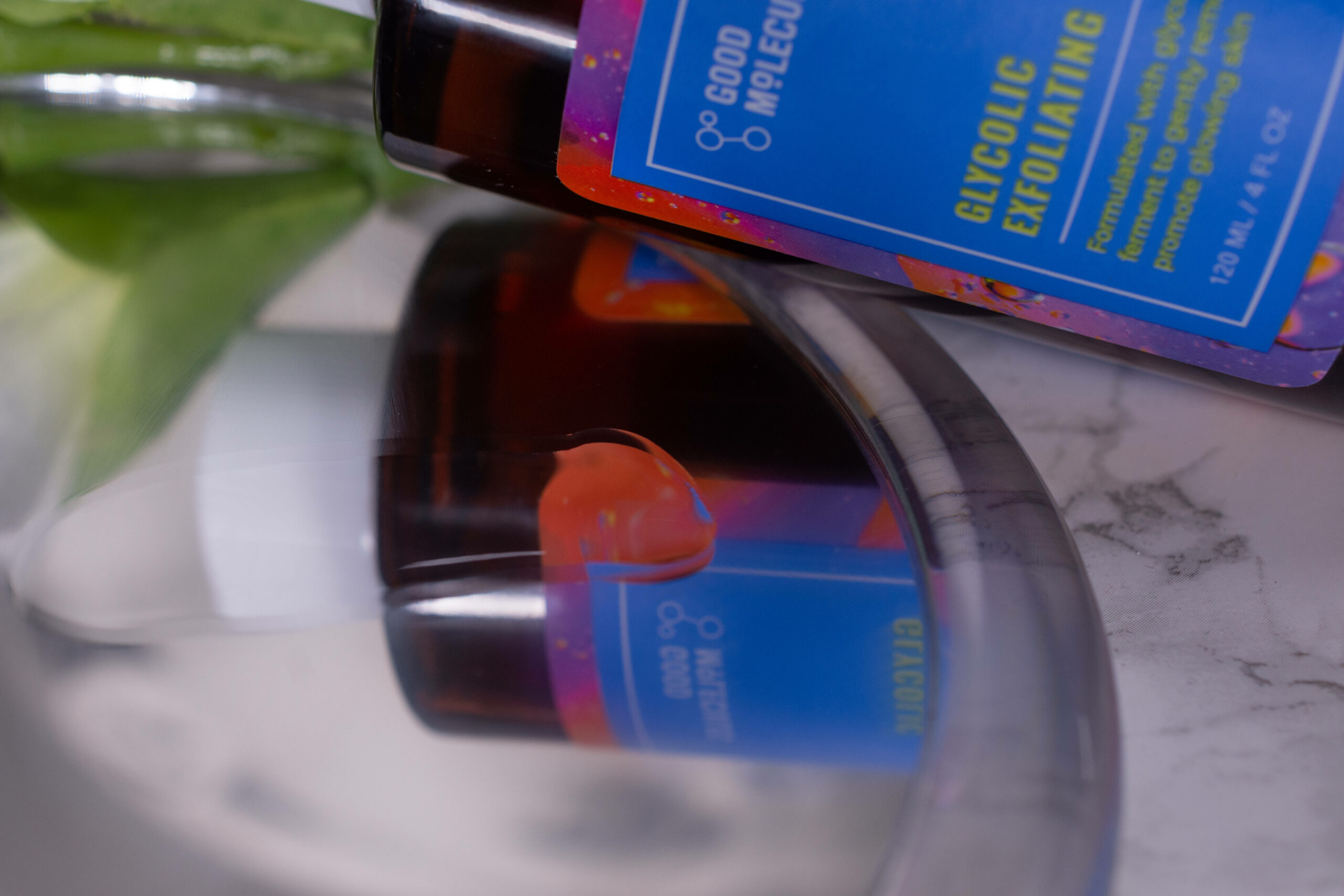 How to use the Good Molecules Glycolic Exfoliating Toner
Like other exfoliating toners it goes on after cleansing and before serum and could be used morning or night depending on your routine. I prefer not to use chemical exfoliants the same night I use my Tretinoin, so for me it worked best every other night. (More info: How to layer your skincare – Acids and retinoids) The website states it is gentle enough for daily use, which I think is true, but at the same time in my opinion, gentle exfoliation 3-4 times a week is probably enough.
Similar to my other toners I pour some into the palms of my hand and then pat it on my face, but if you prefer the cotton pad swipe, that will work as well.
Ingredients of Good Molecules Glycolic Exfoliating Toner
Water
solv
,
Dipropylene Glycol
solv
,
Glycolic Acid (3.5%)

exf

|

buff
,
Propanediol
solv

|

h
,
Sodium Citrate
chel

|

buff
,
1,2-Hexanediol
solv
,
Glycerin

sii

|

h
0
0
,
Galactomyces Ferment Filtrate

h
,
Butylene Glycol
h

|

solv

|

vc
0
1
,
Salicylic Acid

exf

|

aacne

|

so

|

pres
,
Aloe Barbadensis Leaf Extract

so

|

emo

|

h
,
Pentylene Glycol
solv

|

h
,
Niacinamide

cci

|

sb

|

aacne

|

h
,
Tricholoma Matsutake Extract
,
Ethylhexylglycerin
pres
,
Hydrolyzed Cicer Seed Extract
,
Rhododendron Chrysanthum Leaf Extract
so
,
Trisodium Ethylenediamine Disuccinate
chel
,
Sodium Hyaluronate

sii

|

h
0
0
,
Hyaluronic Acid

sii

|

h
,
Hydrolyzed Hyaluronic Acid

h
Hover the mouse over an ingredient for short explanation. Read more on INCIDecoder.
As always Good Molecules share the exact percentage of the ingredients used, which helps put things into perspective: Salicylic Acid for example, present at 0,2%, will most likely not have a relevant effect on your skin, and Glycerin, present at 1,5 % is usually used at at least double that amount for a hydrating effect. But as this is a Glycolic Exfoliating, not a Salicyic Hydrating Toner, let's look at Glycolic Acid, which is present at 3,5%. Yes, that again is on the lower side, pixi in comparison uses 5% and the infamous The Ordinary Peeling Solution 30% AHA, so ten times as much. But if you ask me, that is a good thing, as it is hard to overdo – you can use it daily without risking your face falling off. Other than the concentration, the pH plays a role in how effective a Glycolic Acid peel will be as well. Ideal is below 4.0, which is exactly where Good Molecules sits – pixi Glow Tonic is closer to 5, which means despite the higher concentration it could have a weaker effect.
The Galactomyces Ferment filtrate mentioned in the claims comes at 0,9%, which might or might not have an effect on your skin, but surely isn't the main player here. (More info: What is probiotic skincare?)
Compared to Glow Tonic it is also fragrance-free.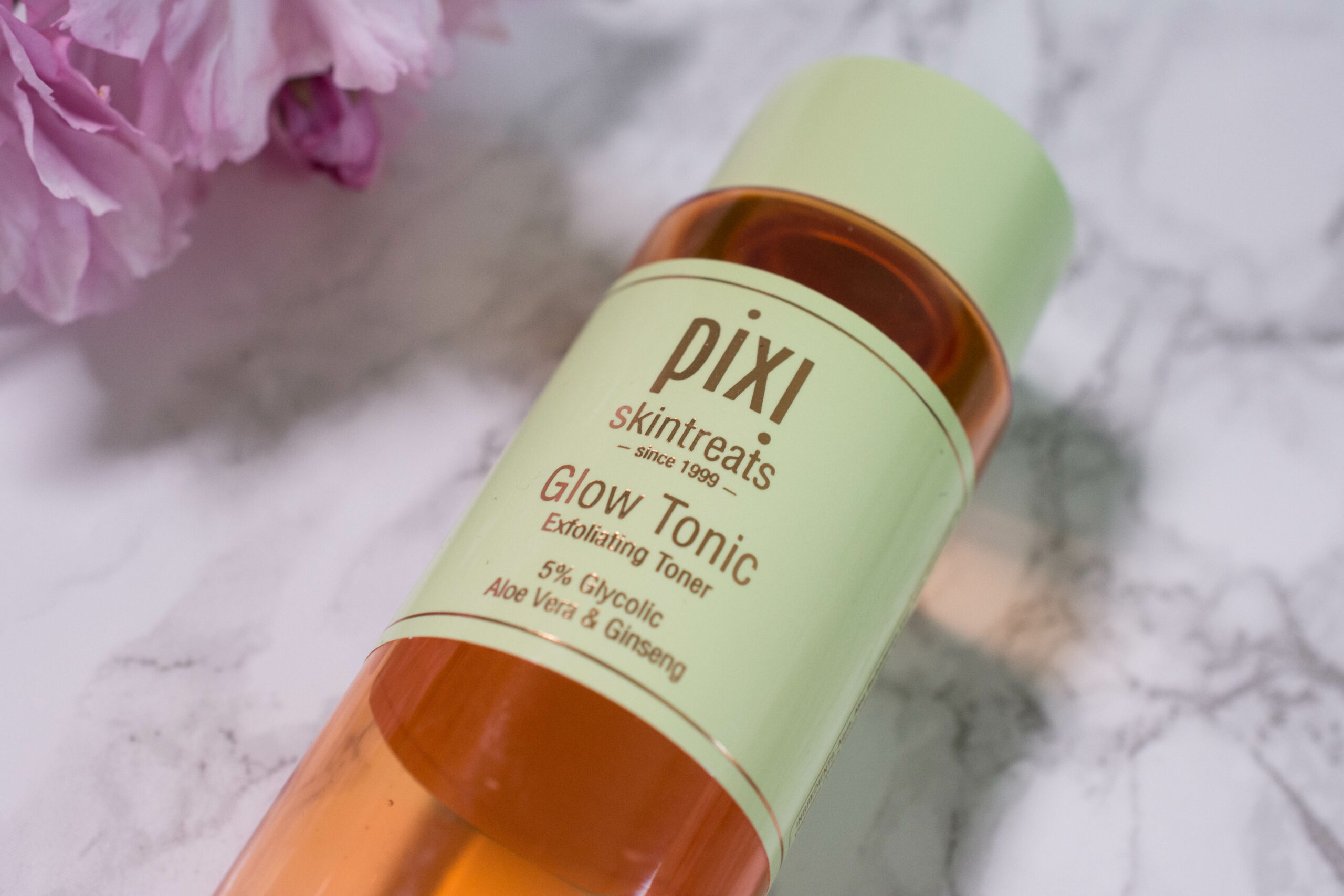 How does it compare to…
pixi Glow Tonic
So when I directly compare the two, both are great choices for frequent yet gentle exfoliation and preferable for skin that reacts easily, with Good Molecules probably being a tad more effective and a good choice if you prefer your skincare to be fragrance-free. Which I don't, pixi Glow Tonic smells absolutely delicious!
Read my full review of the pixi Glow Tonic here.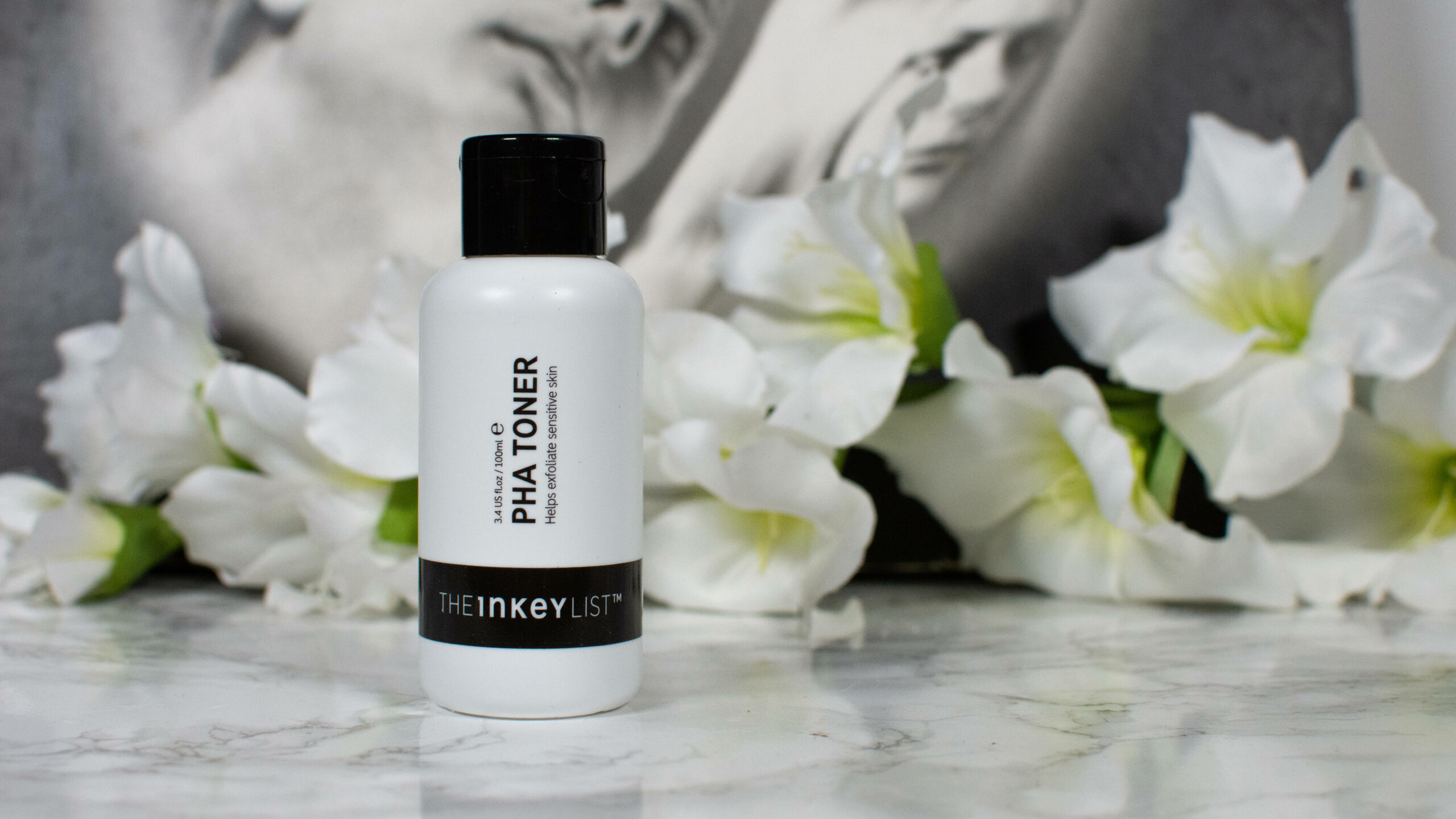 The Inkey List PHA Toner
Polyhydroxy Acids work similar to AHAs, but are much gentler on the skin. (More info: What are PHA and why are they used in skincare?) If your skin is very, very sensitive, this PHA version might be a better pick, but in my opinion it has very little effect on texture and rather adds extra hydration.
Read my full review of The Inkey List PHA Toner here.
Would I repurchase?
No.
I personally don't often use Glycolic Acid, I prefer Salicylic Acid against my congestion, so I won't repurchase, but I think this toner is absolutely worth checking out.
Which skin types do I recommend it to?
Good Molecules Glycolic Exfoliating Toner is a great option for those with easily irritated skin that want to incorporate exfoliation to get rid of texture and pigmentation.
If you want to get a vote in the next Ask Doctor Anne Topic, Ingredient Spotlight or product I review, don't forget you can head over to my Patreon account to get more involved!
Shop this and other Glycolic Acid exfoliants here

(Visited 1.926 times, 3 visits today)