ADVERTISEMENT INFO: SOME PRODUCTS MENTIONED IN THIS POST ARE PR (GIFTED) AND LINKS USED ARE AFFILIATE LINKS. I RECEIVED NO MONEY TO WRITE THE BLOGPOST. PLEASE READ DISCLAIMER
Exfoliating toners like the facetheory Glycolacsal Solution seem to be really popular. Somehow they are perceived as less intimidating than exfoliating serums, although we all know that concentration and formulation plays a much bigger role than the name a certain product got – I have seen toners that pack way more punch than a serum!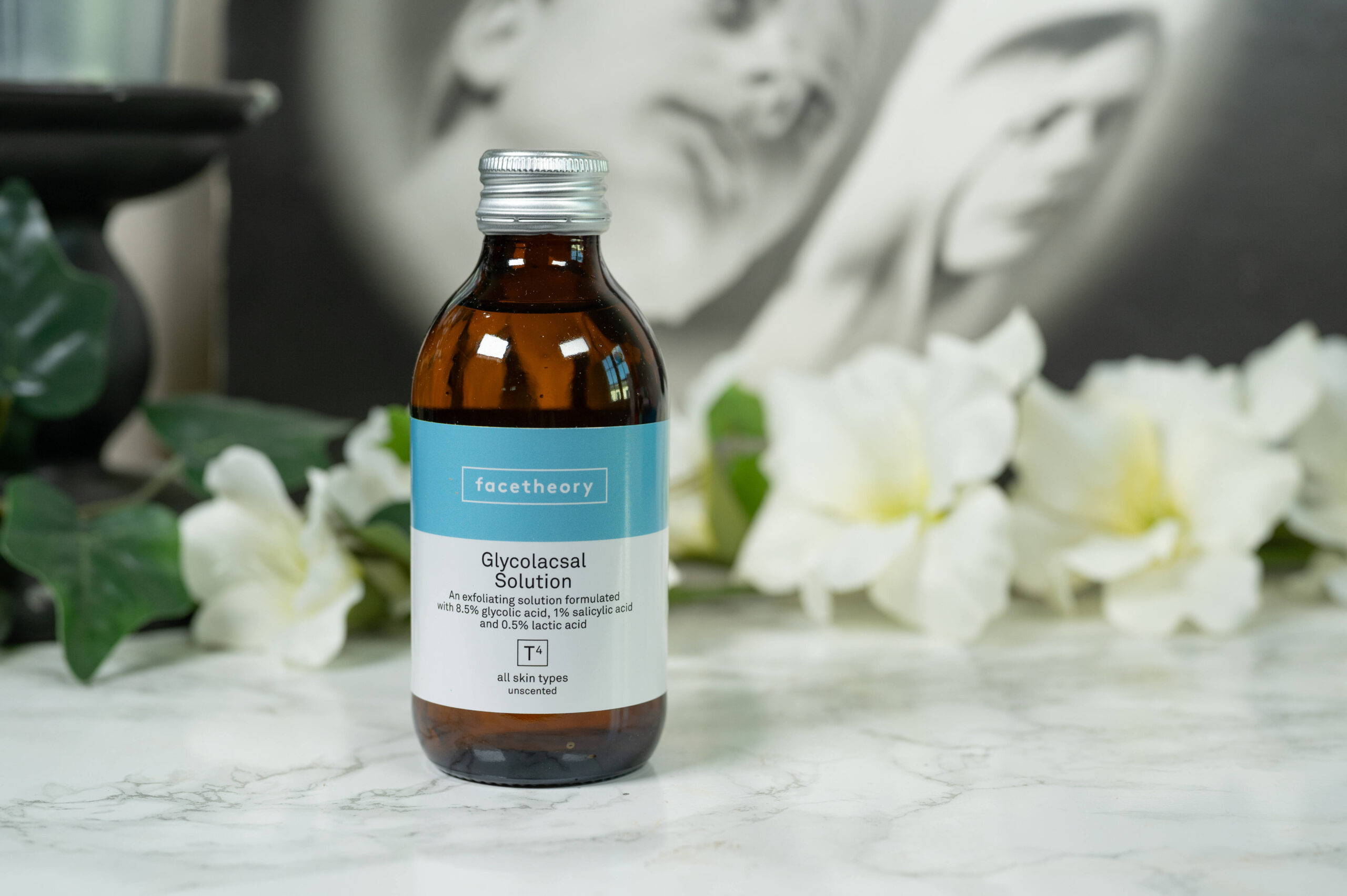 Is that the case here too? Which skin types is it best suited for and how do you incorporate it into your routine? Let's see.
What the facetheory Glycolacsal Solution T4 claims
Our exfoliating toner is formulated with glycolic acid (8.5%), salicylic acid (1%) and lactic acid (0.5%) to clarify, brighten and even out the complexion. This potent trifecta of acids expedites cell turnover and reveals fresh new skin, thus minimising the appearance of fine lines, wrinkles and enlarged pores.
Facts about the facetheory Glycolacsal Solution T4
Prize and size
One bottle made from darkened glass contains 200 ml and is available for 24 € on the website here. Unlike other facetheory products it is only available in unscented. It is vegan.
Texture and smell
The toner is unscented, meaning no fragrance or fragrant components were added, but it does smell odd. Not very unpleasant, but a little… fermented for the lack of a better word. It is clear, runny, but has a little slip when applied to the skin that distinguishes it from water.
How to use the facetheory Glycolacsal Solution T4
Depending on your skin's needs and the rest of your routine, I don't think this is a product for daily use. In general I don't think daily exfoliation is necessary for the majority of people, and a mixture of different acids in a solution with a pH of around 3.5 could easily irritate the skin when used too often. (More info: The best way to exfoliate when using retinol)
My approach with this one was to use it around three times a week after cleansing, not with a cotton pad, but poured into my palms and then patted in, and usually in the mornings because I use Tretinoin in the evenings. If you use it morning or night is personal preference though and depends on the rest of your routine. Ideally you don't pair it with other irritating things.
When my face was already a little upset, I would sometimes notice a little tingling, but usually I could tolerate it very well. (More info: Have you damaged your skin barrier?)
Ingredients of the facetheory Glycolacsal Solution T4
Aqua
solv
,
Glycolic Acid

exf

|

buff
,
Dimethyl Isosorbide (Sugar Based Solvent)
solv

|

vc
,
Propanediol (Emollient Derived From Corn)
solv

|

h
,
Betaine (Natural Moisturiser)

h
,
Glycerin (Humectant)

sii

|

h
0
0
,
Sodium Glycolate (Salt Of Glycolic Acid)
buff
,
Panthenol (Vitamin B5)

so

|

h
0
0
,
Salicylic Acid

exf

|

aacne

|

so

|

pres
,
Lactic Acid

exf

|

h

|

buff
,
Chamomilla Recutita (Chamomile) Flower Extract

so

|

aox
0
0
,
Aloe Barbadensis (Aloe Vera) Leaf Juice

so

|

h
,
Camellia Sinensis (Green Tea) Leaf Extract

aox

|

so
,
Citric Acid (Ph Adjuster)
buff
,
Potassium Sorbate (Preservative)
pres
Hover the mouse over an ingredient for short explanation. Read more on INCIDecoder.
In the solution you have a combination of Glycolic Acid, or rather the salt of Glycolic Acid at a concentration of 8.5%. You usually don't get more than 15% outside of professional treatments, and paired with the pH of beneath 4 it is quite effective. Salicylic Acid at 1% is again around half of the strength you can get, here 2% is the maximum, and Lactic Acid with 0.5% is on the lower side of the available spectrum. As with this combination you have a quite potent surface exfoliant with Glycolic and an inside-the-pore exfoliant with Salicylic already, I don't think the low concentration of Lactic will make much of a difference in how it works on your skin.
For soothing you have Panthenol, Chamomile Flower Extract and Aloe Vera Leaf Juice, you have Glycerin as humectant and then some Green Tea Extract as antioxidant. (More info: The benefits of Panthenol in skincare and The benefits of Green Tea Extract in skincare)
More info: How to read the ingredient list in your skincare products.
Does it live up to its claims?
Yes.
It claims exactly what an exfoliating toner will and can do.
How does it compare to…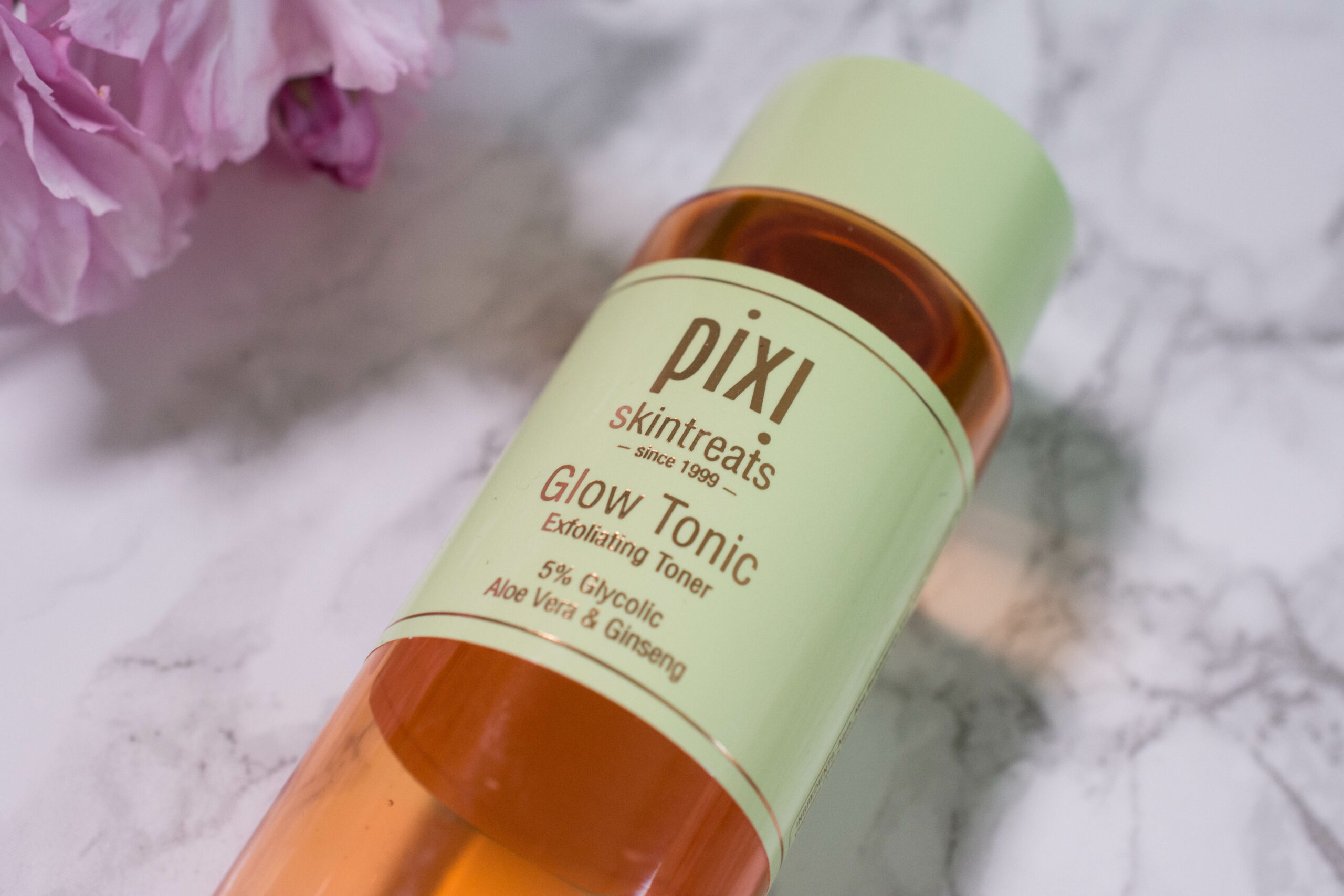 pixi Glow Tonic
I don't think you can talk about exfoliating toners and not think about pixi Glow Tonic. In comparison, facetheory has a higher concentration of Glycolic Acid and the additional Salicylic and Lactic Acid while also having a lower pH, so I would reckon it is stronger in effect and has an additional effect on clogged pores as well. Now stronger doesn't equal better when it comes to skincare, and what made pixi Glow Tonic a cult product was that you could use it daily without problems, making your way to even skin with less texture as easy as possible. Which one you prefer is up to what fits your routine better, but having tried both, the pixi version is certainly more fun to use.
You can read my full review of pixi Glow Tonic here.
Paulas Choice 2% BHA Liquid Exfoliant
Another cult favorite exfoliating toner, Paula's Choice is aimed a people with congested skin and breakouts, so it contains Salicylic Acid as opposed to Glycolic and Lactic. Despite the 2% concentration, which is twice as much as facetheory has, it still is gentle on the skin and for my congestion prone skin the better choice.
You can read my full review of Paula's Choice Skin Perfecting 2% BHA Liquid Exfoliant here.
by Wishtrend 5% Mandelic Acid Skin Prep Water
Lastly I wanted to compare it with an option for those with quite reactive skin that still want to address hyperpigmentation and texture. Mandelic Acid, which is used here, is a gentler surface exfoliant and less irritating than Glycolic Acid. Again, this one offers only surface exfoliation and no exfoliation inside the pore, so it is better suited for those with pigmentation and roughness than for those with congestion.
You can read my full review of the by Wishtrend Mandelic Acid 5% Skin Prep Water here.
Alpha-H Liquid Gold Midnight Reboot Serum
Alpha-H has a higher concentration of Glycolic Acid than facetheory, but again doesn't combine it with other acids. Instead it is paired with Granactive Retinoid, which belong to the same family as retinol. (More info: Your comprehensive guide to retinoids) It is a serum for those that want as little steps as possible, as it has basically everything you could need in one bottle – which does reflect in the price, it is the most expensive of all the options shown here.
You can read my full review of the Alpha-H Liquid Gold Midnight Reboot Serum here.
Would I repurchase and which skin types do I recommend it to?
While I don't think it is a particularly elegant product – it doesn't spark joy if you know what I mean – it is a good combination for people like me that want both something to keep the pores clean as they are prone to congestion, but also something that addresses signs of premature aging like pigmentation and fine lines. If you adapt the frequency you use it with to your skins needs, you should be able to use it with every skin type.
Shop facetheory skincare here
Don't forget to check out the Discount Code Page on top if you want to save some money on your next skincare purchase.
If you want to get a vote in the next Ask Doctor Anne Topic, Ingredient Spotlight or product I review, don't forget you can head over to my Patreon account to get more involved!
(Visited 49 times, 1 visits today)