ADVERTISEMENT INFO: THIS PRODUCT WAS PURCHASED WITH MY OWN MONEY. I RECEIVED NO MONEY TO WRITE THE BLOGPOST. PLEASE READ DISCLAIMER
Whenever I talk about Vitamin C Serums, there is one that appears as a recommendation in my comments: The Timeless 20% Vitamin C + E Ferulic Acid, apparently a cult favorite for many in the US.
It is not readily available in Germany, so I had to have it shipped over with my wishtrend order, but you know me – if everyone tells me that something is THAT GOOD, I need to see for myself.
So here we go – how do I feel about it? And will it replace my current favorite by Geek & Gorgeous?
Why Vitamin C is important in skincare
A few words on Vitamin C: It is an antioxidant, a necessary component for collagen production and helps in treating hyperpigmentation. It is also hard to formulate with due to its reactivity and works best in concentrations of around 15%, with the risk of irritation increasing much more than the potential benefits when you use more than that. (More info: Ingredient Spotlight Vitamin C)
What the Timeless 20% Vitamin C + E Ferulic Acid Serum claims
Give your skin a mega-dose of Vitamin C. Our 20% Vitamin C + E + Ferulic Acid serum brightens skin, builds collagen, and evens out tone. Enhanced with Vitamin E & Ferulic Acid, this serum is a great pick me up for dull, discolored, and stressed skin, while providing 24/7 protection against environmental pollutants. Recommended For: All skin types.
Facts about the Timeless 20% Vitamin C + E Ferulic Acid Serum
Prize and size
One piece (airless pump and bright yellow) contains 30 ml and retails for 24 € on the website here.
Texture and smell
Compared to other Vitamin C serums I have used, timeless sits right in the middle between watery and oily. It is heavier than the Geek & Gorgeous version, which feels like water, but way lighter than the Purito Vitamin C one and sits comfortably on my more oily skin even in summer.
There is no noticeable scent, which is a relief as high percentage Ascorbic Acid products do have a tendency to stink.
How to use the Timeless 20% Vitamin C + E Ferulic Acid Serum
As always when it comes to Vitamin C I prefer using it in the mornings, to get some tiny extra protection against oxidative stress throughout the day and to keep it separate from my Tretinoin or acids that I prefer using at night.
You can of course use it at night as well, to help your skin repair.
I go in right after cleansing, maybe add some toner before if I am feeling extra dry and then wait for it to sink in (while I brush my teeth) before I apply sunscreen.It paired well with every other product and never pilled or irritated my skin despite the high concentration and the low pH of 2.4.
Ingredients of the Timeless 20% Vitamin C + E Ferulic Acid Serum
Water
solv
,
Ethoxydiglycol
solv

|

h

|

perf
0
0
,
L Ascorbic Acid

aox

|

sb

|

buff
,
Propylene Glycol
h

|

solv

|

vc
0
0
,
Alpha Tocopherol

aox
0
–
3
0
–
3
,
Polysorbate 80
emu

|

surf
0
0
,
Panthenol

so

|

h
0
0
,
Ferulic Acid

aox

|

amic
,
Sodium Hyaluronate

sii

|

h
0
0
,
Benzyl Alcohol
pres

|

perf

|

solv

|

vc
,
Dehydroacetic Acid
pres
Hover the mouse over an ingredient for short explanation. Read more on INCIDecoder.
You can see that 20% L-Ascorbic Acid is paired with Vitamin E and Ferulic Acid, a combination made popular by SkinCeuticals as the latter two help stabilize the Vitamin C.
In addition to that is has a few humectants and Panthenol for soothing, but the main focus here is Vitamin C for sure, something I find reassuring – due to its instability too many things mixed together make me doubt the effectiveness of a formula when it comes to Ascorbic Acid.
You also don't find many dedicated preservatives on the list, which due to the airless pump packaging and presence of Vitamin E should not be a problem. (More info: How to read an ingredient list)
Does it live up to its claims?
Yes.
My skin looks brighter, it delivers 20% Vitamin C and despite the high concentration I can see it working through for all skin types.
How does the Timeless 20% Vitamin C + E Ferulic Acid Serum compare to…
The Inkey List 20% Vitamin C Serum
Despite my love for many The Inkey List products, I was not a fan of their 20% Vitamin C. I found it to be quite irritating and the texture – it is dissolved in a silicone base rather than water, which increases stability – felt weird. Timeless version feels much nicer and did not cause any irritation, something that I did actually expect.
Read my full review of the Inkey List 20% Vitamin C Serum here.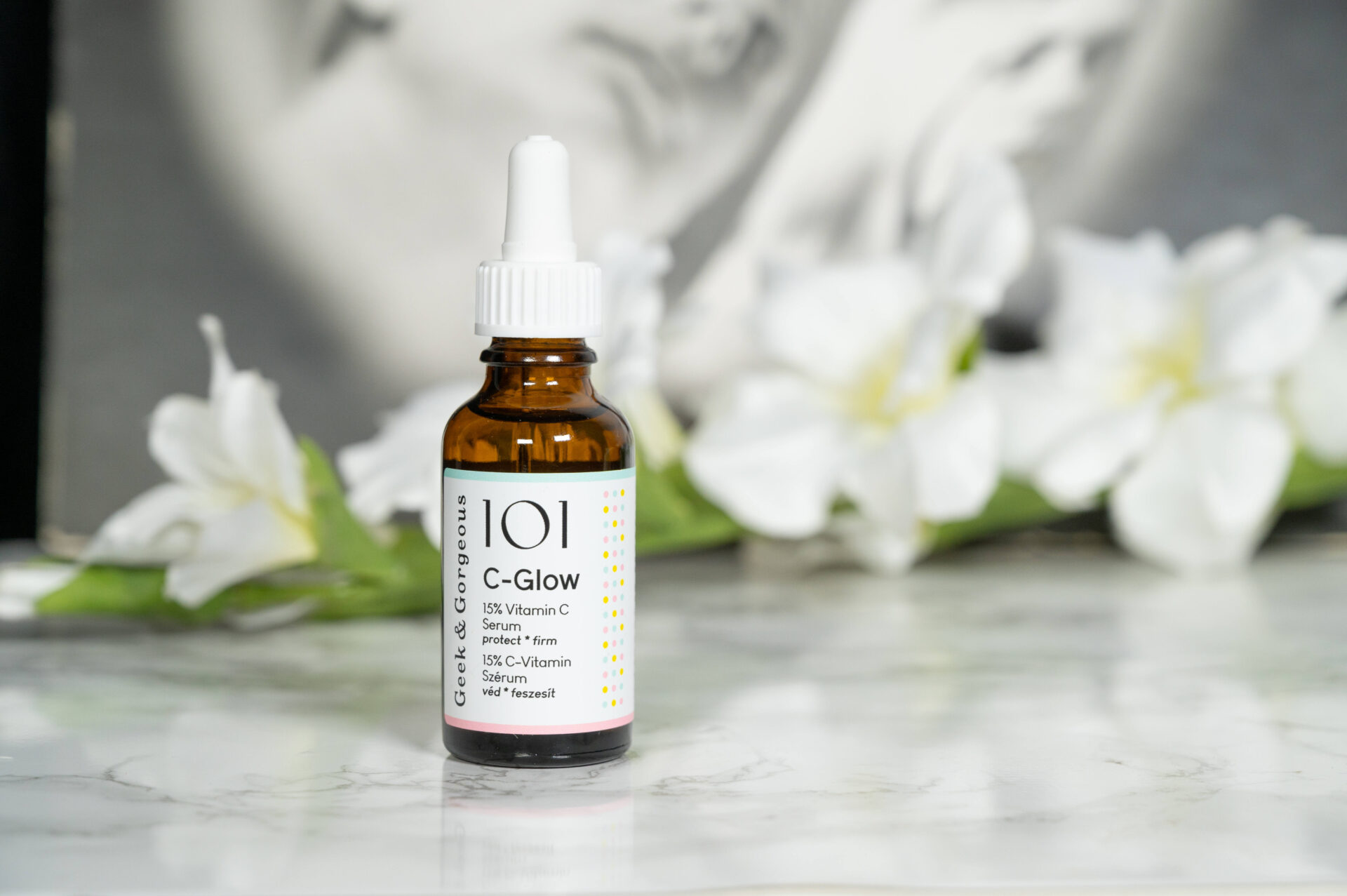 Geek & Gorgeous 101 C-Glow Serum
More watery and with 5% less Ascorbic Acid, Geek & Gorgeous use the same combo with Vitamin E and Ferulic Acid that Timeless has. There is no Panthenol and more preservatives due to the dropper bottle packaging as well as a slightly higher pH of around 3.4.
I prefer the more watery texture of this one and, as it is easier to get and more affordable, will continue to repurchase Geek & Gorgeous. But I must admit that Timeless is a worthy contender!
Read my full review of the Geek and Gorgeous 101 C-Glow Serum here.
Would I repurchase?
I really enjoy it a lot and totally get where the hype comes from, but as the Geek & Gorgeous version is more affordable and easier to get where I live, I will stick to that one when it comes to my own routine.
Whom do I recommend the Timeless 20% Vitamin C + E Ferulic Acid Serum to?
If Geek & Gorgeous doesn't ship where you live, or if you prefer the airless pump over the dropper bottle, then Timeless 20% Vitamin C is for you. Despite the low pH and high concentration, I never experienced any issues, so I think it would work even for more sensitive skins. As Vitamin C is known to be irritating though I (as alway) recommend you patch test first. Especially those of you that struggle with hyperpigmentation will want to take a closer look at either of the serums I recommend here. (More info: Different forms of hyperpigmentation)
If you want to get a vote in the next Ask Doctor Anne Topic, Ingredient Spotlight or product I review, don't forget you can head over to my Patreon account to get more involved!
(Visited 21.997 times, 2 visits today)