ADVERTISEMENT INFO: THIS PRODUCT WAS PURCHASED WITH MY OWN MONEY. LINKS USED MAY BR AFFILIATE LINKS. I RECEIVED NO MONEY TO WRITE THE BLOGPOST. PLEASE READ DISCLAIMER
Summer is gone and what is left to remind me is the stubborn hyperpigmentation on my temples that keeps reappearing no matter how diligently I apply my sunscreen. And yes, hyperpigmentation is usually not something you get rid of once and for all, no matter how hard you try. Prevention is key here! (More info: What is hyperpigmentation?)
What better time to review The Inkey Lists Alpha Arbutin Serum, featuring 2% α-Arbutin and claiming to fade dark spots?
What is it, how do you use it and which skin types do I recommend it for?
What is Alpha-Arbutin?
If you haven't heard about Alpha-Arbutin before, it is a glycosylated hydroquinone and a potent inhibitor of tyrosinase, an enzyme involved in melanin synthesis in the skin.
Yes, it is basically a Hydroquinone precursor, meaning it supposedly is transformed into Hydroquinone in the skin, but due to that transformation step required is less potent and has a lesser risk of side effects. Hydroquinone, contrary to what you might have heard, is not banned in the EU, but needs a prescription for higher percentages. (More info: Everything you need to know about Hydroquinone)
Alpha-Arbutin on the other hand is available without prescription.
What The Inkey Lists Alpha Arbutin Serum claims
A concentrated 2% Alpha Arbutin serum to help reduce the appearance of hyperpigmentation and dark spots and keep skin at an optimal hydration level. Derived from the leaves of the bearberry plant, this non irritating serum helps to brighten the skin and improve overall skin tone. Added Squalane helps to increase skin hydration and smoothness.
Facts about The Inkey List Alpha Arbutin Serum
Prize and size
One tube in the classic black and white packaging contains 30 ml and retails for 10.99 € here. You only need a little bit, so 30 ml should last you a few months.
Texture and smell
Despite being called a serum, it feels like a gel moisturizer and is milky white. I did not notice any scent.
How to use The Inkey List Alpha Arbutin Serum
It is suitable to use both morning and night, but as I didn't find it to layer exceptionally well with other products, my preferred way to use it was at night, focussing on the areas where I have the most hyperpigmentation, which is around my temples, but spreading it all over my face from there.
The added Squalane meant that I personally did not feel the need for an extra moisturizer as long as the weather was on the warmer side, but that might be different for you if your skin is more on the dry side.
Ingredients of The Inkey List Alpha Arbutin Serum
Water
solv
,
Butylene Glycol
h

|

solv

|

vc
0
1
,
Propanediol
solv

|

h
,
Glycerin

sii

|

h
0
0
,
Alpha-Arbutin

aox

|

sb
,
Dicaprylyl Carbonate
emo
,
Caprylic/Capric Triglyceride
emo
,
Leuconostoc/Radish Root Ferment Filtrate
amic

|

pres
,
Hyaluronic Acid

sii

|

h
,
Phenoxyethanol
pres
,
Hydroxyethyl Acrylate/Sodium Acryloyldimethyl Taurate Copolymer
vc
,
Caprylyl Glycol
h

|

emo
,
Squalane

sii

|

emo
0
1
,
Phospholipids

sii

|

emo
,
Glycine Soja (Soybean) Extract
,
Carbomer
vc
0
1
,
Polysorbate 60
emu

|

surf
,
Disodium EDTA
chel
,
Sodium Hydroxide
buff
,
Glycolipids
,
Glycine Soja (Soybean) Sterols
emo
,
Tetrapeptide -30

sb
Hover the mouse over an ingredient for short explanation. Read more on INCIDecoder.
Other than α-Arbutin you will find humectants, emollients and a peptide called Tetrapeptide-30 that – according to manufacturer studies – is both anti-inflammatory and a tyrosinase-inhibitor. (More info: Everything you need to know about peptides in skincare)
Squalane is a lipid present in the skins natutal sebum and usually works great in moisturizing products without adding greasiness.
Does it live up to its claims?
Yes.
It did help in brighten my hyperpigmentation (which always takes the combined effort of different products and a lot of time and patience) and it kept my skin irritation-free and hydrated.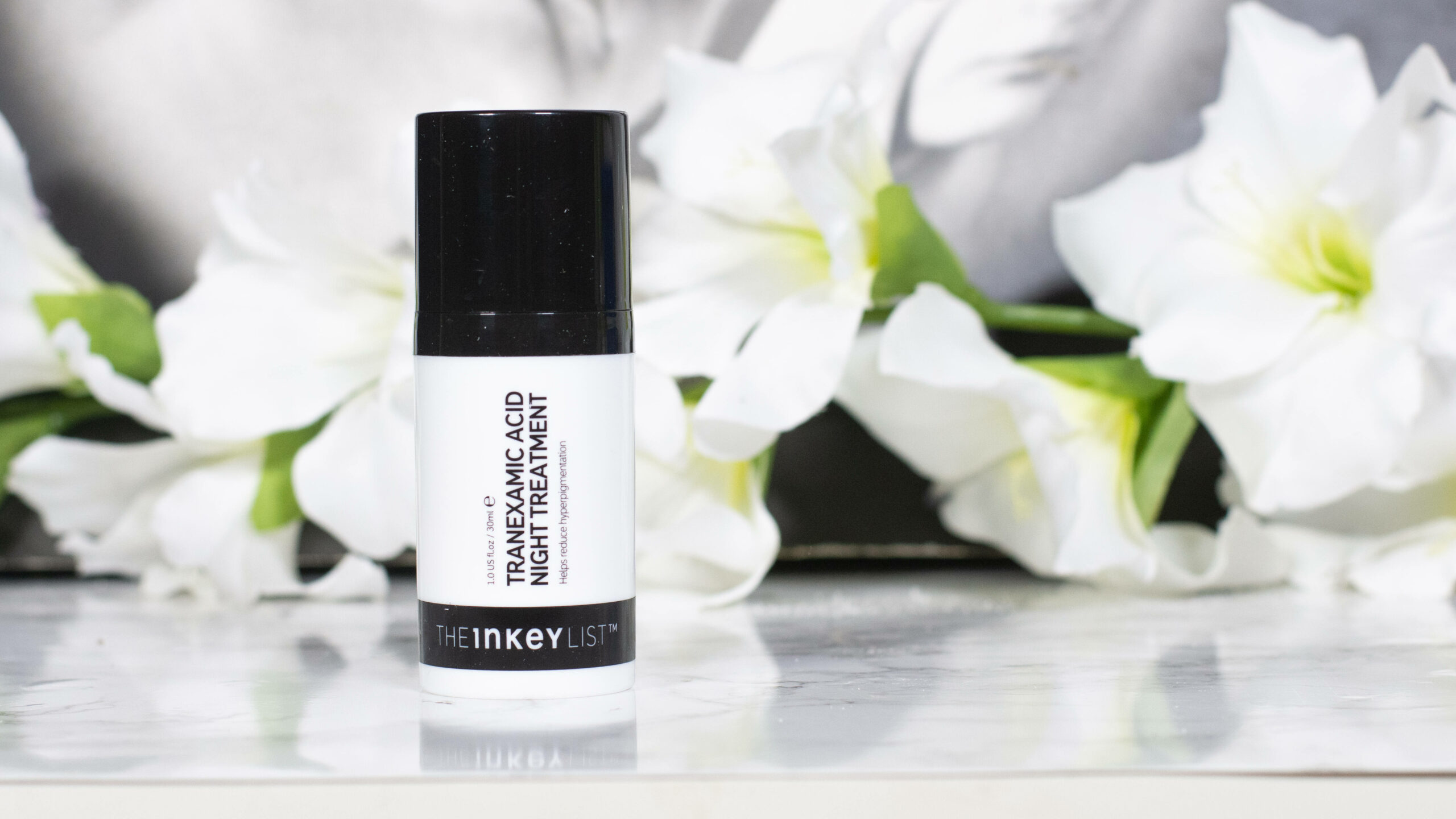 How does it compare to…
The Inkey List Tranexamic Acid Night Treatment
Well, first of all Tranexamic Acid is a plasmin inhibitor and interferes with melanin production in the skin. Alpha-Arbutin is a tyrosinase-inhibitor and also reduces melanin production in the skin, so both work at different steps of the same pathway. That means that both combined could actually give you better results than using one or the other. When you look at the texture it is actually pretty similar, with the main difference being the scent.
The Inkey List Tranexamic Acid has a strong barbecue-like scent that many find off putting, The Inkey List Alpha Arbutin on the other hand has no scent.
Which one will work better on your hyperpigmentation though is hard to tell, as any kind of hyperpigmentation is best treated with a combination of actives and, most importantly, time. Neither of them are the ingredients with the most research to back their effectiveness up, but in my opinion both make a great supporter in a skincare routine aiming to treat stubborn spots. If you want, you can even use both interchangeably or, given your skin can take it, in the same routine.
You can read my full review of The Inkey List Tranexamic Acid Night Treatment here.
Would I repurchase?
Yes.
I personally really like it for when my skin needs some extra help in fall to get rid of last summers traces, but don't really use it all year round.
Whom do I recommend The Inkey List Alpha Arbutin Serum to?
Due to its richer texture and low irritation potential it will work for all skin types and might be a good option for those hesitant to use Hydroquinone.
If you want to get a vote in the next Ask Doctor Anne Topic, Ingredient Spotlight or product I review, don't forget you can head over to my Patreon account to get more involved!
(Visited 3.501 times, 1 visits today)