ADVERTISEMENT INFO: SOME PRODUCTS MENTIONED IN THIS POST ARE PR (GIFTED) AND LINKS USED ARE AFFILIATE LINKS. I RECEIVED NO MONEY TO WRITE THE BLOGPOST. PLEASE READ DISCLAIMER
I would love to be one of these sensible people that don't let their heart influence their decisions, but The Ordinary Glucoside Foaming Cleanser has once again shown me that I am not. At least not when it comes to skincare. Don't get me wrong, I am quite sensible in my day to day life, but when it comes to products, especially cleansers, I put way more emphasis on sensual experience than I probably should.
I mean, what is a cleanser supposed to do other than cleansing the skin without stripping it? Not much. And obviously not all cleansers will work for everyone, as every skin has different needs (More info: How to pick the best cleanser for your skin type), but if you'd reduce it to the basics, The Ordinary Glucoside Foaming Cleanser would actually be quite convincing.
Let's take a closer look!
And if you want my thoughts on three new cleanser releases including the one from The Ordinary, there is a video on that here:
What The Ordinary Glucoside Foaming Cleanser claims
A gentle, foaming cleanser that effectively cleanses the skin whilst maintaining the skin's moisture barrier.
Facts about The Ordinary Glucoside Foaming Cleanser
Prize and size
One tube in the typical minimalistic The Ordinary design I personally like contains 150 ml and is available for 13,40 € on the website here. It is vegan  and according to the website has a pH of 5-6.
Texture and smell
I am going to describe the texture as gel that is more on the liquid side, clear and with air bubbles inside the product, but I admit the first thing I thought when I had it on my hand was *snot*. Not in a way that is disgusting, but also not in a way that is in any shape or form an exciting experience to use it.
It is fragrance-free and has a faint chemical scent to it. (More info: Is fragrance in your skincare products bad for you?)
How to use The Ordinary Glucoside Foaming Cleanser
Like most gel cleansers you can either foam it up with water in your hand before applying it to your face, apply it to damp skin or apply it and then foam it up on the face with wet fingers – all three work. I either foam it up before application when I use it in the mornings or apply it to damp skin when I use it as second cleanse at night.
I tried removing makeup with it, but it is only capable of doing that for very light application and not for waterproof or long lasting products, so I personally wouldn't use it for that purpose. It doesn't sting my eyes though, which is always a bonus.
The lather is nice and gentle and it rinses clean, leaving the skin feeling refreshed, but not stripped.
Ingredients of The Ordinary Glucoside Foaming Cleanser
Aqua (Water)
solv
,
Decyl Glucoside
surf
,
Coco-Glucoside
surf
,
Xanthan Gum
vc
,
Tocopherol

aox
0
–
3
0
–
3
,
Phytic Acid
chel
,
Benzyl Alcohol
pres

|

perf

|

solv

|

vc
,
Ethylhexylglycerin
pres
Hover the mouse over an ingredient for short explanation. Read more on INCIDecoder.
Now you can argue that a cleanser doesn't really need an extensive ingredient list and you'd be right about that if you want to use your cleanser for cleansing only. There are options out there with added skin beneficial ingredients and those aren't as wasted as some will want to make you believe – depending on how you formulate a cleanser, it is entirely possible to have those stick to the skin when you rinse the rest off.
This is however a formula concentrating on a cleansers basic function, so you'll find mild surfactants and then Vitamin E and Phytic Acid which both have antioxidant properties, but probably are used for a different purpose in this formula.
(More info: How to read the ingredient list in your skincare products)
Does it live up to its claims?
Yes, all of them.
It is gentle, foaming, it cleanses the skin and is not stripping in the slightest.
How does it compare to…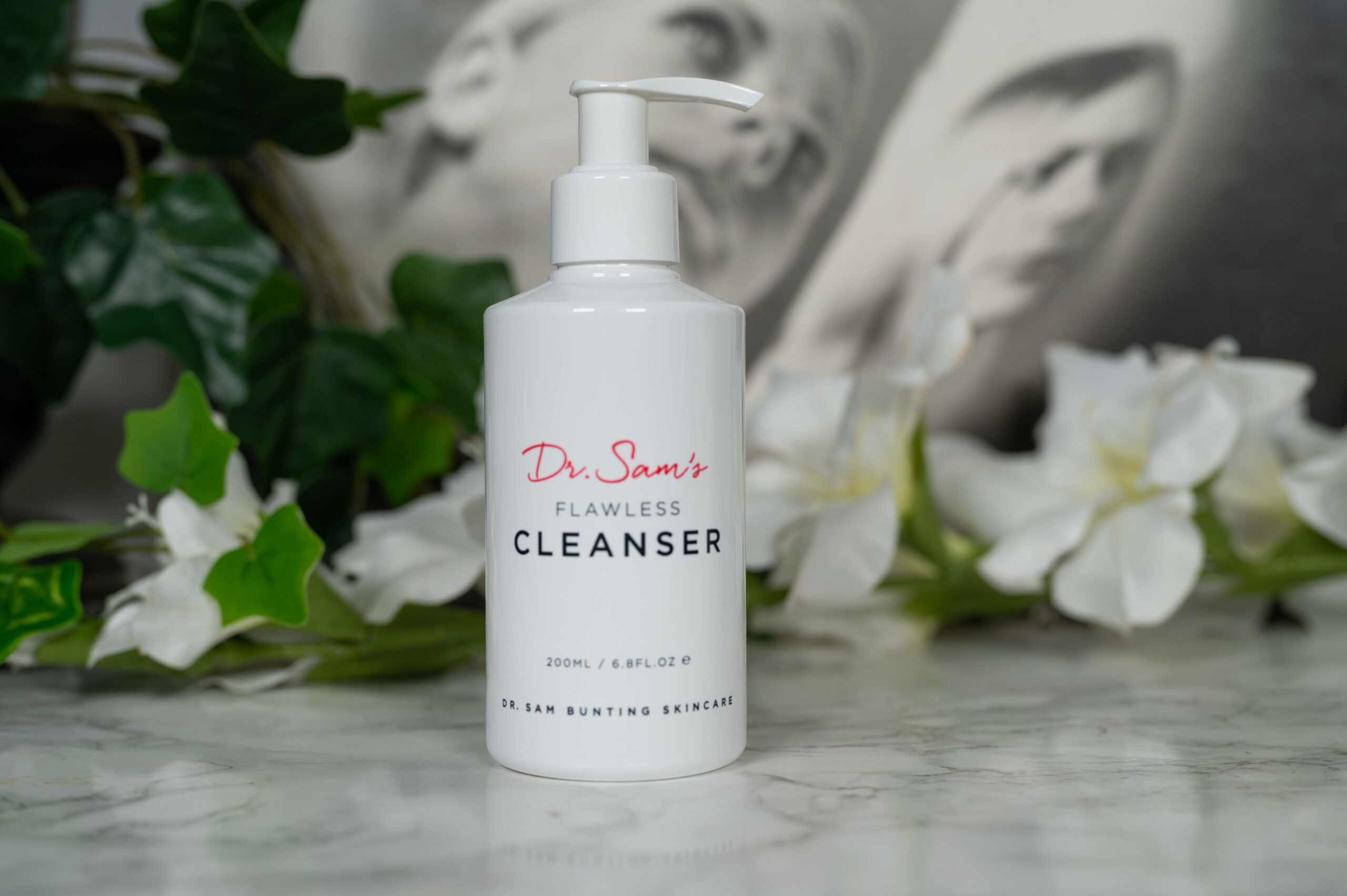 Dr Sam's Flawless Cleanser
Dr Sam's Flawless cleanser follows a similar philosophy: It is designed to cleanse the skin without stripping it. This one here is a little firmer and doesn't foam up at all, which probably doesn't make a difference in performance, but is more personal preference. Dr. Sam's formula isn't quite as basic though, as it has added Allantoin and Aloe Vera Leaf Extract for soothing.
Given that Dr Sam's Flawless cleanser contains 200 ml compared to 150 ml in the one from The Ordinary the price difference isn't actually that huge either.
You can read my full review of the Dr Sam's Flawless Cleanser here.
The Inkey List Hyaluronic Acid Cleanser
The Inkey Lists option doesn't only aim to cleanse without stripping, but to rehydrate the skin while doing so, and I admit it works. The texture is identical, you get less foam and it stings my eyes when I try to remove makeup with it although I have to say it does a better job at that than the version from The Ordinary.
In addition to Glycerin and Hyaluronic Acid as humectant you also get Inulin, a prebiotic. (More info: The benefits of prebiotics, probiotics and postbiotics in skincare explained) In general I think The Inkey Lists version is the one I'd ultimately repurchase out of the two due to its hydrating properties, but that is personal preference.
You can read my full review of The Inkey List Hyaluronic Acid Cleanser here.
Good Molecules Rosewater Daily Cleansing Gel
This option is build around rosewater and its antioxidant potential, so which one you prefer will probably be heavily influenced by whether you believe in that or not. Given that the rosewater is present at less than 1% here, I don't think it makes much of a difference anyway, so what you get is a nice gentle cleansing gel with minimal foam.
It has Glycerin as extra humectant, which might make it a tad more hydrating (nothing I can say I noticed) and contains a little less product, meaning in the end it is priced approximately the same.
You can read my full review of the Good Molecules Rosewater Daily Cleansing Gel here.
Ambigoose Respect Water Cleanser
The Ambigoose Respect Water Cleanser is from a fairly unknown brand with all the right intentions, aiming to create unisex and vegan products that respect the skins barrier. Sadly, it also lacks the pleasant experience I want from my products, which is why it is hard for me to love it as much as it might deserve for that. It is fragrance-free, so the scent isn't really pleasant and similar to the version from The Ordinary and The Inkey List the texture isn't the most pleasing either nor is there good foam.
It does cleanse my skin leaving it feeling calm and hydrated though, so clearly one of the sensible choices.
You can read my full review of the Ambigoose Respect Water Cleanser here.
Would I repurchase and which skin types do I recommend it to?
I said it before and I stand by it: Would I only care about facts, this would probably be one that I'd repurchase, even though I have to say in direct comparison the Hyaluronic Acid Cleanser from The Inkey List has a heads up. As I care a lot about texture and sensory experience though, it is one that I will finish, but probably then forget about.
It will work for all skin types though.
Shop the post

Don't forget to check out the Discount Code Page on top if you want to save some money on your next skincare purchase.
If you want to get a vote in the next Ask Doctor Anne Topic, Ingredient Spotlight or product I review, don't forget you can head over to my Patreon account to get more involved!
(Visited 622 times, 1 visits today)