ADVERTISEMENT INFO: PRODUCTS ARE DISCUSSED IN THIS BLOGPOST ARE PR (GIFTED) AND LINKS USED ARE AFFILIATE LINKS. I RECEIVED NO MONEY TO WRITE THE BLOGPOST. PLEASE READ DISCLAIMER
Sometimes things get lost in translation, and that leaves me as a non-native speaker confused. When I first got sent a bottle of the Abib Heartleaf Sun Essence Calming Drop SPF 50+, not only the packaging confused me, but also the instructions on the back of the bottle: "Use the spoid to drop two or three drops on your face and let it soften over your face gently" …
I mean, what the f* is a spoid? The urban Dictionary that I consult on such occasions because I am old and need translation from"The Young Speech" said it means dumb, so that was no help either.
Even more confusing were the measurements: Two or three drops? Of sunscreen? That will never give me the recommended 2 cm² for adequate protection. (More info: How much sunscreen do you need for face and neck?)
Well, after some trial and error I think I figured out how to make the sunscreen work!
What the Abib Heartleaf Sun Essence Calming Drop claims
Skincare and sun protection in a bottle. The light and moist texture quickly absorbs into the skin, providing a soft and featherlight finish. Experience a daily suncare that is light and comfortable.
Facts about the Abib Heartleaf Sun Essence Calming Drop
Prize and size
One bottle made from brown glass and coming with a dropper contains 50 ml and is available for 16,80 $ on the website here.
Texture and smell
The sunscreen itself has a yellow hue, is very runny and smells faintly of glue. It is much better used with a pipette than I initially thought, and reminds me a lot of the La Roche Posay Anthelios Fluid in appearance.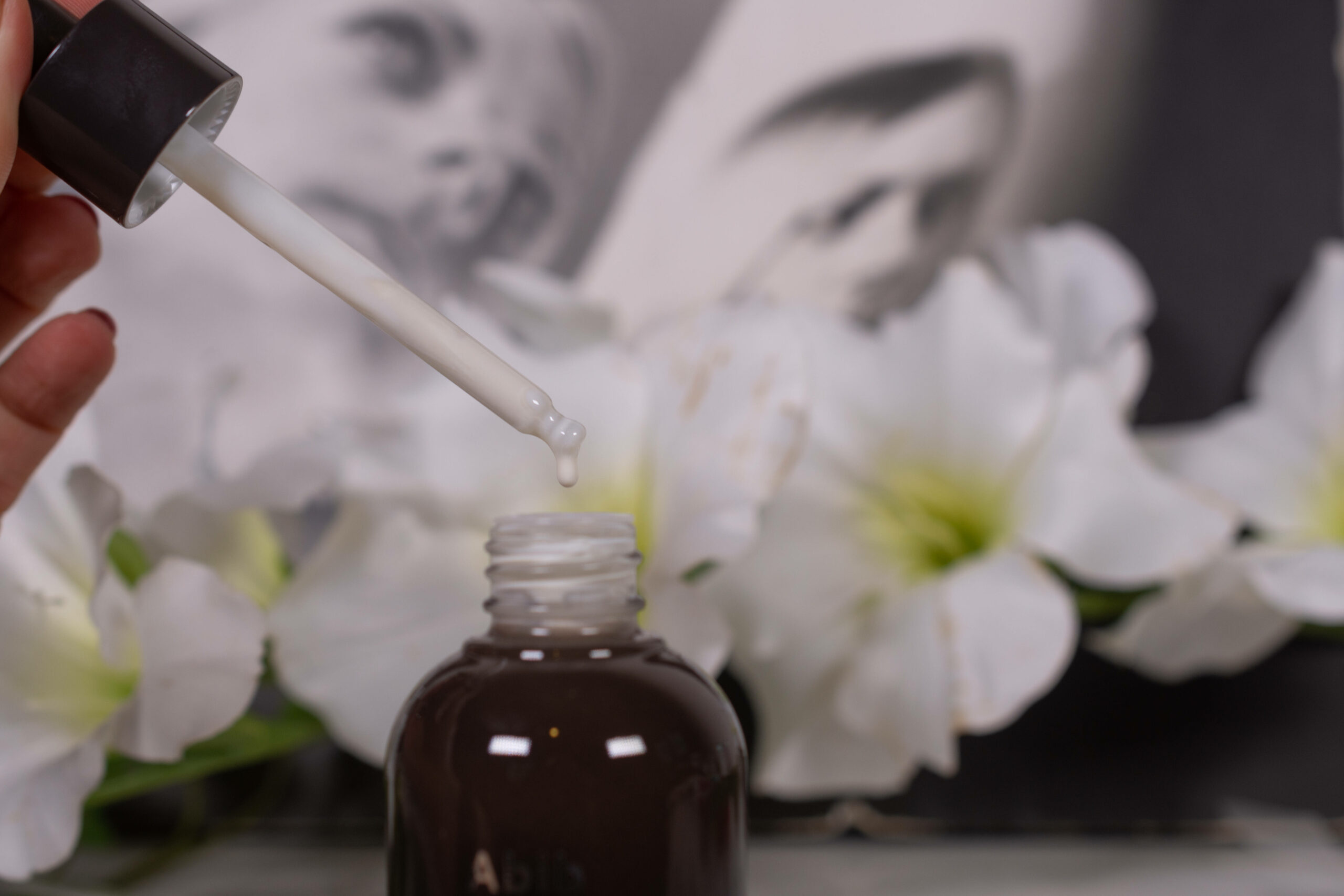 How to use the Abib Heartleaf Sun Essence Calming Drop
Here is where I will light part of the confusion: Instead of two or three drops, use two or three droppers or pipettes.
Yes, that is a lot, but you do need a lot of sunscreen if you want good protection! And while we are at it, don't touch your face with the dropper. It might look cool on Instagram, but it is ineffective and messy. From the bottle to the hand and from there onto your face after you finished the rest of your routine is the way to go.
The Abib sunscreen spreads like a dream, sinks in quickly and has a beautiful, skinlike finish without any tackiness. It does thicken up a bit when you spread it and doesn't stay as watery as it does when it comes out of the packaging, but it still is comfortable to wear. There is no extra glow, just a skin like finish, I like that a lot! – and no rubbing off throughout the day.
It feels hydrating, has no cast and can be reapplied without issues, I really don't understand why people don't talk about it more.
The only issue I did find is that it can irritate the eyes when applied too close and would sting a little on broken skin – probably due to the alcohol, as the filters are all quite modern and not known to be irritating.
Ingredients of the Abib Heartleaf Sun Essence Calming Drop
Water
solv
,
Dibutyl Adipate
emo

|

solv
,
Houttuynia Cordata Extract

aox

|

so
,
Alcohol

amic

|

solv

|

vc
,
Caprylyl Methicone
emo
,
Diethylamino Hydroxybenzoyl Hexyl Benzoate

sunsc
,
Bis-Ethylhexyloxyphenol Methoxyphenyl Triazine

sunsc
,
Phenethyl Benzoate
emo

|

perf
,
Polymethylsilsesquioxane
,
Polysilicone-15

sunsc
,
Methylene Bis-Benzotriazolyl Tetramethylbutylphenol

sunsc
,
Ethylhexyl Triazone

sunsc
,
Hexyl Laurate
emo
,
Niacinamide

cci

|

sb

|

aacne

|

h
,
Polyglyceryl-6 Stearate
emo

|

emu
,
Diethylhexyl Butamido Triazone
sunsc
,
Aspergillus Ferment
,
Triticum Aestivum (Wheat) Seed Extract
perf
,
1,2-Hexanediol
solv
,
Pentylene Glycol
solv

|

h
,
C20-22 Alkyl Phosphate
emu

|

surf
,
Panthenol

so

|

h
0
0
,
Decyl Glucoside
surf
,
Hydroxyacetophenone
aox
,
Tromethamine
buff
,
Ethylhexyl Olivate
,
Polyglyceryl-6 Behenate
,
Sodium Acrylates Copolymer
vc
,
Polyglyceryl-4 Oleate
emu
,
Dipotassium Glycyrrhizate

so

|

h
,
Adenosine

cci
,
Glycerin

sii

|

h
0
0
,
Sodium Phytate
chel
,
Maltodextrin
,
Lipase
,
Protease
,
C20-22 Alcohols
vc
,
Xanthan Gum
vc
Hover the mouse over an ingredient for short explanation. Read more on INCIDecoder.
Speaking of sunscreen filters, you can find Uvinul A Plus (best protection at 320 to 400 nm, UVA), Tinosorb S (280 – 400 nm, very photostable), Parsol SLX (290-320 nm), Tinosorb M (280-400 nm), Uvinul T 150 (280-320 nm), Uvasorb HEB (peak at 310, very photostable) – an impressive selection that makes me confident it offers good protection, even though I have yet to see 3rd party testing or a more detailed insight into the height of the UVA protection. (More info: UVA protection – why it is important)
As additional skincare ingredients there are Glycerin, Niacinamide, Panthenol and Licorice Root Extract as well as the Houttuynia Cordata Extract Abib is known for and that is supposed to be anti inflammatory. (More info: Ingredient Spotlight Niacinamide)
There is also alcohol in the formula. (More info: Is alcohol in skincare problematic?)
Does it live up to its claims?
Yes.
Well, maybe "featherlight" is too ambitious, but it is very nice to wear even on combination skin.
How does it compare to…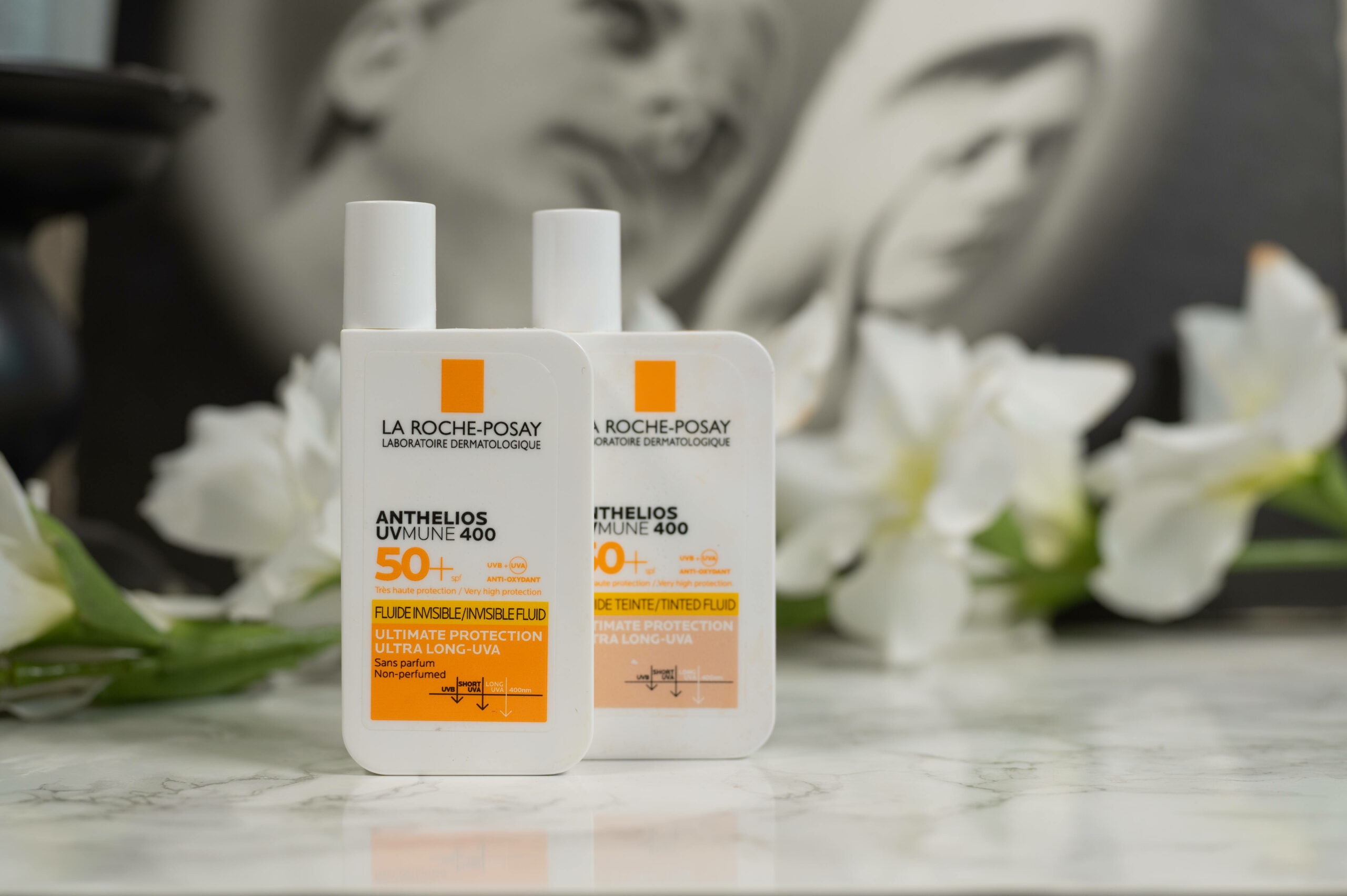 La Roche Posay Anthelios Invisible Fluid Uvmune 400
The reformulated version of the oily skin favorite and my go-to outdoor sunscreen – both are similar in texture and looks, but the Abib version feels a little more hydrating over the course of the day. Neither is comparable to something like Beauty of Joseon or one of the other cosmetically pleasing Asian offers, but both are sunscreens that I can wear all through the day in summer. Abib does not claim to be water and sweat resistant and I don't know the PPD (the old LRP Anthelios one had 46, which is really high), so I still reach for the La Roche Posay one when I know I will be outdoors in summer a lot.
You can read my full review of the La Roche Posay UVmune LSF 50+ here soon.
Would I repurchase and which skin types do I recommend the Abib Heartleaf Sun Essence Calming Drop to?
Despite my initial irritation regarding the application (and the spoid thing – that really sticks with me, what is a spoid?) this sunscreen really grew on me. I am not sure yet if I will repurchase, as La Roche Posay is easier to get for me and I prefer Beauty of Joseon for office days (you can read my full review here), but I think it is a beautiful product especially for those with dehydrated skin.
Shop this one or my other favorite sunscreens here

Don't forget to check out the Discount Code Page on top if you want to save some money on your next skincare purchase.
If you want to get a vote in the next Ask Doctor Anne Topic, Ingredient Spotlight or product I review, don't forget you can head over to my Patreon account to get more involved!
(Visited 2.961 times, 1 visits today)