ADVERTISEMENT INFO: PRODUCTS ARE DISCUSSED IN THIS BLOGPOST ARE PR (GIFTED) AND LINKS USED ARE AFFILIATE LINKS. I RECEIVED NO MONEY TO WRITE THE BLOGPOST. PLEASE READ DISCLAIMER
The Avon Anew Hydra Pro Vita-D Water Cream proudly claims to activate the skins daily Vitamin D production, and as Vitamin D deficiency was on my mind anyway, I figured it was about time I gave it a go. (More info: Warning signs for a Vitamin D deficiency)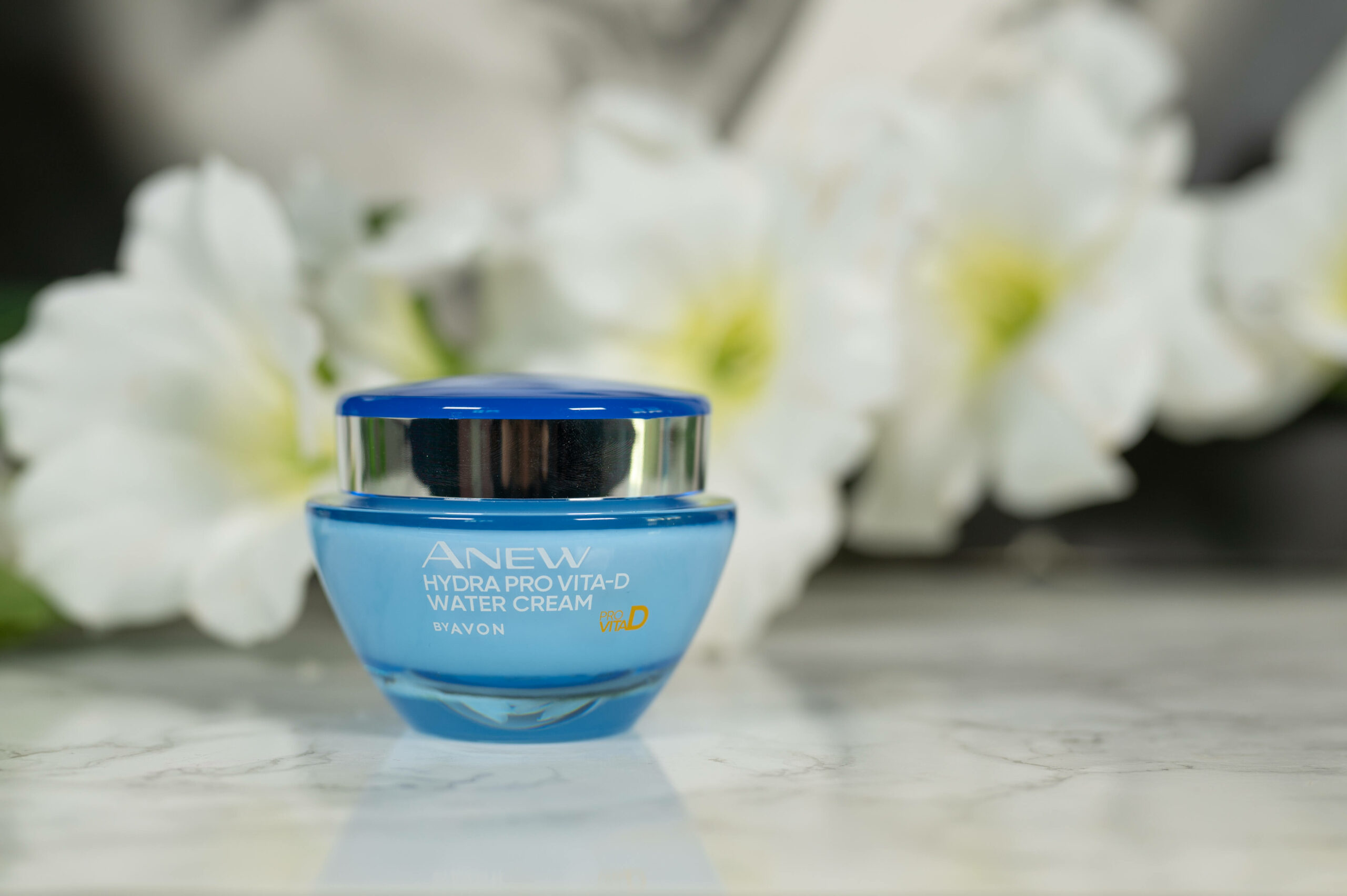 But how can a cream provide you with Vitamin D? Which other ingredients does it have and is it actually beneficial for your skin?
Let's see.
What the Avon Anew Hydra Pro Vita-D Water Cream claims
Did you know that inadequate exposure to sunlight leads to a decline in vitamin D, which is known to help lock in skin hydration? Try our Anew Hydra Pro Vita-D Water Cream, which is brimming with Pro Vita-D technology to help activate your skin's daily dose of vitamin D. This lightweight, oil-free formula melts into the skin to lock in 72-hour hydration and that healthy-looking glow we're all craving.
Facts about the Avon Anew Hydra Pro Vita-D Water Cream
Prize and size
One pot contains 50 ml and is available for 17,99 € on the website here. The pot itself is made of light blue glass, the lid is plastic.
Texture and smell
Just like many other Avon products, this one has a quite intense, but pleasant fragrance. It isn't floral, but rather fresh with a hint of shower gel. The scent is noticeable on your skin even 30 minutes after application.
The cream has an almost gel like texture, is easy to distribute and leaves no tackiness behind. It doesn't feel overly rich, but can be felt on the skin for a bit – not in an unpleasant way, more as in your skin feeling as if you applied a moisturizer.
How to use the Avon Anew Hydra Pro Vita-D Water Cream
Depending on your skin type it can be used morning or night as last step in your routine. I found it to work both under makeup and under sunscreen, but due to the fact that despite the claims I didn't find it overly hydrating, I don't think it will work as night cream for all but the oiliest of skins. As it also has a smoothing effect I think it lends itself to day time use for most.
Ingredients of the Avon Anew Hydra Pro Vita-D Water Cream
Water/Eau
solv
,
Glycerin

sii

|

h
0
0
,
Butylene Glycol
h

|

solv
0
1
,
PEG-8
h

|

solv
,
Dimethicone
emo
0
1
,
Phytol
emo

|

perf
,
Butyrospermum Parkii Butter

emo

|

vc
,
Carbomer
vc
0
1
,
Methyl Gluceth-20

h
,
1,2-Hexanediol
solv
,
Caprylyl Glycol
h

|

emo
,
Sodium Hydroxide
buff
,
Disodium EDTA
chel
,
Parfum

perf
,
Hydroxyethyl Acrylate/Sodium Acryloyldimethyl Taurate Copolymer
vc
,
Steardimonium Hydroxypropyl Panthenyl PEG-7 Dimethicone Phosphate Chloride
,
Isohexadecane
emo

|

solv
,
Dimethicone Crosspolymer
vc
,
Thiazolylalanine
,
Polysorbate 60
emu

|

surf
,
Phosphoric Acid
buff
Hover the mouse over an ingredient for short explanation. Read more on INCIDecoder.
The main humectant here is Glycerin – it is actually one of the rare Hyaluronic Acid free formulas that you will find these days – paired with Dimethicone for the smooth finish and Shea Butter as emollient. (More info: Hyaluronic Acid – More than a humectant?)
So far not an exciting, but not a bad formula either.
But what about the Pro Vita D technology?
Apparently it "activates 2 different kinds of collagen" and "activates the daily Vitamin D production in the skin".
To be honest, I don't know.
At first I thought the formula would contain Provitamin D (although its effect in topicals could be debated), but I don't see it anywhere on the ingredient list, so my guess is that they either refer to the Steardimonium hydroxypropyl panthenyl peg-7 dimethicone phosphate chloride, which so far I have only seen referred to as hair conditioner, or the Thiazolylalanine, which Avon has a patent on and that claims to have skin benefits in regards to skin elasticity, but no data that I could access.
Which obviously doesn't mean it isn't effective, just that I would bet my money on retinoids if I were a gambler. (More info: Everything you need to know about retinoids)
Does it live up to its claims?
Well…
Apart from the aforementioned part with the Pro Vita-D technology that I can't really judge, it does. It is lightweight, oil-free, it melts into the skin and has the potential to lock in hydration (if for 72 hours need to be debated), but it certainly isn't overly hydrating in itself.
How does it compare to…
The Inkey List Omega Water Cream
Lightweight and oil-free applies to both of them, but I do find the version from The Inkey List more hydrating on its own, while the Avon Anew one is probably better at keeping hydration in.
The Inkey List is also fragrance-free and more affordable.
You can read my full review of The Inkey List Omega Water Cream here
Murad Nutrient Charged Water Gel
Murads version has a similar texture and is (more subtly) fragranced, but also feels more hydrating to me and is – no surprise – far more expensive. It features several barrier strengthening ingredients like phospholipids and ceramides. (More info: The 5 things you need to do to repair your skin barrier)
You can read my full review of the Murad Nutrient Charged Water Gel here
Would I repurchase and which skin types do I recommend the Avon Anew Hydra Pro Vita-D Water Cream to?
No, I would not repurchase, I have other products I like more and am not convinced by the Pro Vita-D technology.
It is a nice cream though to use after a hydrating serum for those with normal to combination skin in the mornings.
(More info: Which skin type do you have and does it really matter?)
Shop my current favorite moisturizers here

Don't forget to check out the Discount Code Page on top if you want to save some money on your next skincare purchase.
If you want to get a vote in the next Ask Doctor Anne Topic, Ingredient Spotlight or product I review, don't forget you can head over to my Patreon account to get more involved!
(Visited 1.689 times, 1 visits today)