ADVERTISEMENT INFO: SOME PRODUCTS MENTIONED IN THIS POST ARE PR (GIFTED) AND LINKS USED ARE AFFILIATE LINKS. I RECEIVED NO MONEY TO WRITE THE BLOGPOST. PLEASE READ DISCLAIMER
I know that actives in a cleanser like the Vitamin C in the facetheory Vitamin C Cream Cleanser are a little controversial as some people claim they aren't effective as they are going to go down the drain, but there are ways to formulate that can make the actives stick to the skin even if the product itself is rinsed off.
So while I would probably never rely on it for my antioxidant fix alone, I would consider adding it to my routine if the product itself did convince me.
Did it?
What the facetheory Vitamin C Cream Cleanser claims
Our Vitamin C Cream Cleanser is formulated to effectively remove pore-blocking debris while being kinder to your skin than soap. Stabilised vitamin C neutralises free radicals and shields against future environmental damage. Glycerin protects the skin's moisture balance. Sweet almond oil contains restorative oleic, linoleic and myristic acids.
Facts about the facetheory Vitamin C Cream Cleanser
Prize and size
One pot (larger than the one pictured, as mine is a travel size) contains 170 ml and is available for 16 € on the website here. It is available in both scented – Mandarin – and in unscented. All facetheory products are vegan.
Texture and smell
When I first opened up the pot I really thought I had accidentally opened a cream – it looks like a moisturizer with a slight yellow hue. And it feels like one too when you scoop some out and spread it on the skin. There are two versions available, an unscented one and the one that I have in the scent Mandarine, and let me tell you, the scent is absolutely beautiful. Not your average artificial citrus, no this one smells like a fresh, juicy mandarin, but in a subtle way. (More info: Is fragrance in your skincare bad for you?)
How to use the facetheory Vitamin C Cream Cleanser
The website advises you to first splash your skin with water and then apply the cleanser to damp skin, and this is really the best way to go about it. When your skin is damp, this one applies very smoothly, creamy, but when used on dry skin it is much harder to spread. Although it is not advertised to remove makeup, it had no problems with my non-waterproof eyeliner and mascara and didn't sting the eyes, so it is a great option both morning and night and can be used as only cleanse as well. (More info: Do you need to Double Cleanse?)
Like many hydrating cleansers it rinses clean, but leaves a hydrating feeling behind, meaning that those that don't like that will probably prefer using it with wash cloth.
Ingredients of the facetheory Vitamin C Cream Cleanser
Aqua
solv
,
Cetyl Alcohol (Naturally Derived Non-Drying Coconut Fatty Acid)
emo

|

vc
2
2
,
Prunus Armeniaca (Apricot) Kernel Oil

emo
0
1
–
2
,
Glycerin (Vegetable-Derived)

sii

|

h
0
0
,
Glyceryl Stearate SE (Emulsifier)
emu
2
3
,
Prunus Amygdalus Dulcis (Sweet Almond) Oil

emo
0
1
–
3
,
Stearic Acid (Fatty Acid)
emo

|

vc
0
2
–
3
,
Sodium Ascorbyl Phosphate (Stable Vitamin C)

aox

|

aacne
,
Persea Gratissima (Avocado) Oil

aox

|

emo
0
0
–
3
,
Xanthan Gum (Rheology Modifier)
vc
,
Sodium Levulinate (Preservative From Sugar Cane)
,
Sodium Anisate (Preservative From Star Anise)
amic
,
Glyceryl Caprylate (Emollient)
pres
Scented Version Contains
:
Citrus Nobilis (Mandarin) Peel Oil (D-Limonene 0.2045%, Linalool 0.0025%)

perf
Hover the mouse over an ingredient for short explanation. Read more on INCIDecoder.
Now it is called a Vitamin C Cleanser, but uses a Vitamin C derivative, Sodium Ascorbyl Phosphate instead of Ascorbic Acid. (More info: Everything you need to know about Vitamin C) That makes it much less prone to oxidation and I don't think it makes a huge difference in a cleanser anyway, but a derivative is not the same as Vitamin C.
Other than that you will find Sweet Almond, Avocado and Apricot Kernel Oil as well as different emulsifiers so these oils get off your skin again together with all the dirt and makeup.
The scented version also contains Mandarin Peel Oil and from that Limonene and Linalool.
(More info: How to read the ingredient list in skincare)
Does it live up to its claims?
Yes.
Despite the creamy texture it works really well at removing makeup, so I assume it will also remove pore-blocking debris.
How does it compare to…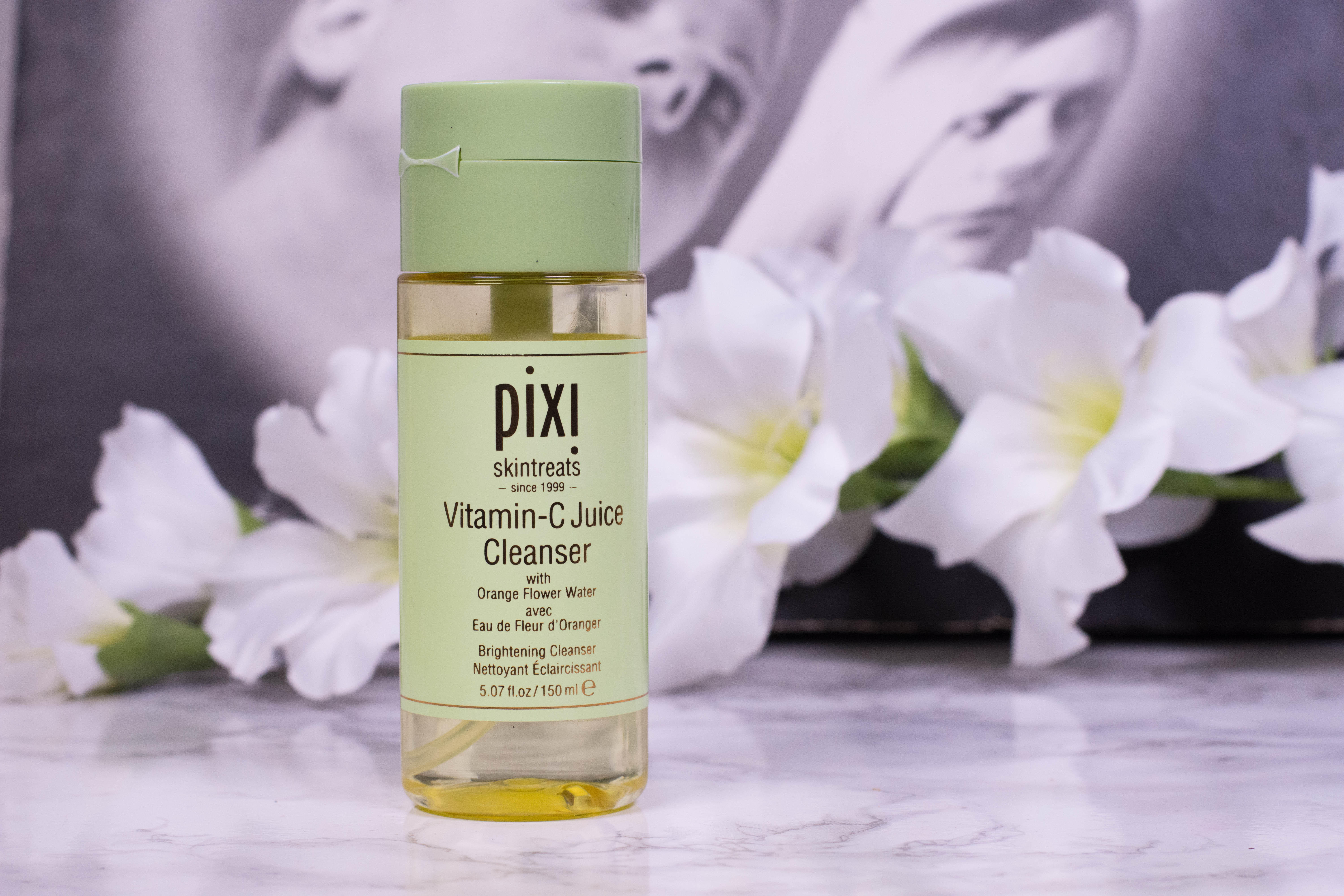 the pixi Vitamin-C Juice Cleanser
Another cleanser with Vitamin C, this time more of a micellar water type, but one that didn't make it into my regular routine. It wasn't too good at removing makeup, certainly inferior to the facetheory one, and that is what I essentially use my micellar waters for. Makeup removal. I used it up to refresh after working out if I wasn't able to properly cleanse shortly after, but out of the two I without a doubt prefer the one from facetheory.
You can read my full review of the pixi Vitamin-C Juice Cleanser here.
Murad Environmental Shield Essential-C Cleanser
If you have been a long time reader, you know that the Murad Essential C one is a longstanding favorite of mine. It is a gel type cleanser, so more suited for a morning cleanse as it isn't the best at removing makeup (it can sometimes sting my eyes) and in texture and performance more geared towards normal to oily skin types, as dry skins might find it a little too thorough. I still enjoy it as my summer morning cleanse, but admit I would prefer the facetheory version for the colder months.
You can read my full review of the Murad Environmental Shield Essential-C Cleanser here.
Would I repurchase and which skin types do I recommend it to?
This cleanser was actually a surprise favorite for me. I adore the texture and scent, it works way better than expected in removing my makeup and my skin feels beautiful after using it, I highly recommend it. It is better suited for normal to dry skins or for those with more mature skin, as oily skins might find it too hydrating, but in general it should work for all skin types.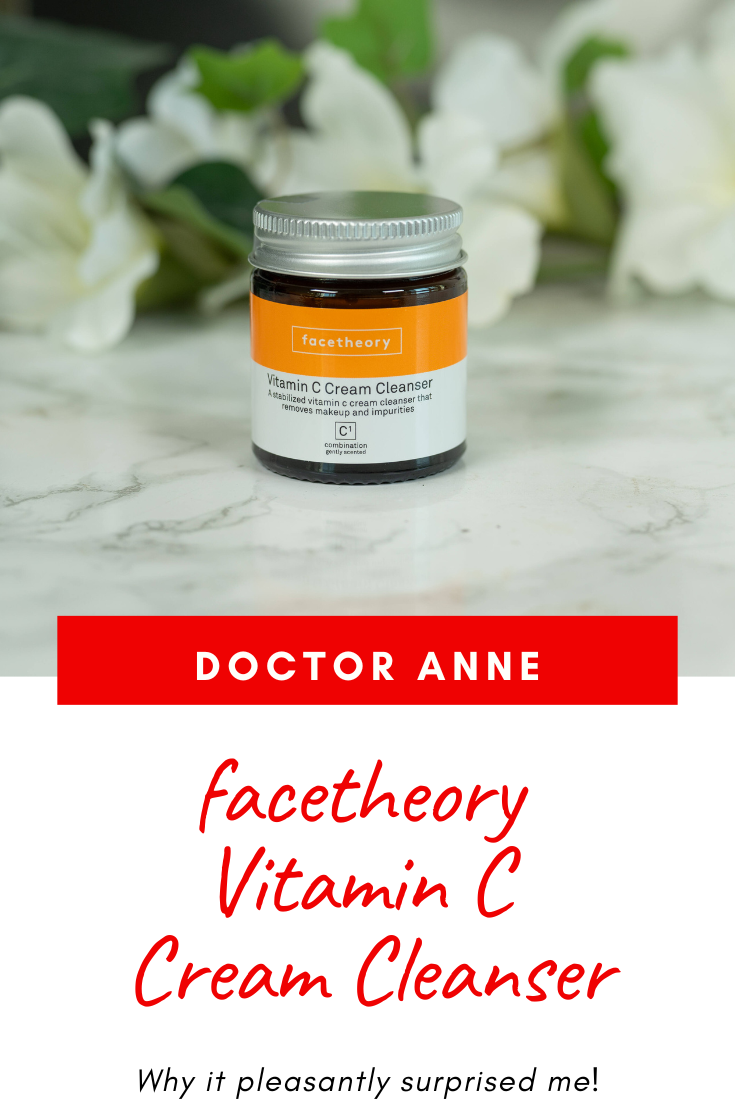 Shop facetheory skincare here
Don't forget to check out the Discount Code Page on top if you want to save some money on your next skincare purchase.
If you want to get a vote in the next Ask Doctor Anne Topic, Ingredient Spotlight or product I review, don't forget you can head over to my Patreon account to get more involved!
(Visited 96 times, 1 visits today)