ADVERTISEMENT INFO: SOME PRODUCTS MENTIONED IN THIS POST ARE PR (GIFTED) AND LINKS USED ARE AFFILIATE LINKS. I RECEIVED NO MONEY TO WRITE THE BLOGPOST. PLEASE READ DISCLAIMER
I still remember when I started exploring K-Beauty – it was the sunscreens and the toners that drew me in. Products like the haruharu Wonder Black Rice Toner here in the version for sensitive skin, so free from essential oils. It claims to be light, hydrating and refreshing – basically what you expect any K-Beauty Toner to be – while also featuring many nourishing ingredients.
But while it is free from alcohol and fragrance, something many people with sensitive skin do look out for, it contains quite a few plant extracts that made me wonder: Is it really the best for sensitive skins?
What the Haruharu Wonder Black Rice Hyaluronic Toner claims
A light, hydrating, and refreshing toner packed with nourishing ingredients.
Facts about the Haruharu Wonder Black Rice Hyaluronic Toner for sensitive skin
Prize and size
One bottle contains 150 ml and is available for 22 $ on the website here. Not that it should matter, but I adore the dark gradient packaging, it looks really elegant! The fragranced version has similar packaging, but a light cap.
Texture and smell
The version for sensitive skin has absolutely no noticeable scent and is clear and quite runny, initially feeling like water on the skin. I don't own the original one, so I can't say how it smells in comparison.
How to use the Haruharu Wonder Black Rice Hyaluronic Toner for sensitive skin
Once you spread it, there is a light tackiness that subsides after 2-3 minutes and the skin feels very soft and hydrated. To be honest I expected worse from a toner called Hyaluronic Acid, but this is really only noticeable for a short time. Of course toners are not a necessity, but when you decide to use them, they go on after cleansing and before serum and can be used both morning and night. (More info: Toner, Tonic, Essence – What is the difference?) You can also layer them by applying several "skins" or layers of toner to increase hydration, depending on the ingredients – it isn't advisable to layer exfoliating toners. (More info: Everything you need to know about the Seven Skin method)
I have used it both morning and night as well as for layering and it works beautifully with everything I paired it with.
Ingredients of the Haruharu Wonder Black Rice Hyaluronic Toner for sensitive skin
Water
solv
,
Betaine

h
,
Glycerin

sii

|

h
0
0
,
Propanediol
solv

|

h
,
Oryza Sativa (Rice) Extract
abrasive/scrub
,
Phyllostachys Pubescens Shoot Bark Extract
,
Aspergillus Ferment
,
Panax Ginseng Root Extract

aox

|

emo
,
Cyclodextrin
chel
,
Scutellaria Baicalensis Root Extract

so

|

aox

|

amic

|

h
,
Hyaluronic Acid

sii

|

h
,
Beta-Glucan

so

|

h
,
Cellulose Gum
vc
0
0
,
Xanthan Gum
vc
,
Butylene Glycol
h

|

solv
0
1
,
Usnea Barbata (Lichen) Extract
pres

|

amic
,
Zanthoxylum Piperitum Fruit Extract
aox

|

amic

|

pres
,
Pulsatilla Koreana Extract
amic

|

pres
,
Sodium Phytate
chel
,
Tamarindus Indica Seed Gum

h

|

vc
,
Polyglyceryl-10 Laurate
surf

|

emu
,
Polyglyceryl-10 Myristate
,
Glucose

h
,
1,2-Hexanediol
solv
Hover the mouse over an ingredient for short explanation. Read more on INCIDecoder.
As ingredients you will find Glycerin and Hyaluronic Acid as humectants and Beta-Glucan for soothing. (More info: The benefits of colloidal oat meal in skincare explained and The benefits of Hyaluronic Acid in skincare explained)
There are also a variety of plant extracts as well as ferment of Black Rice and Aspergillus. Fermentation breaks down the ingredients of an extract into smaller pieces like amino acids or peptides that can better penetrate the skin, but if that is actually beneficial for the skin depends on what was in the extract to begin with. (More info: The benefits of fermented ingredients in skincare explained)
In this case the Black Rice Ferment is the company's secret ingredient to hydrate and nourish the skin.
(More info: How to read the skincare ingredient list)
Does it live up to its claims?
The one on the website? Yes. It is a light and hydrating toner with nourishing ingredients. The claim "for sensitive skins" though  – I am not sure. While it is free from alcohol and fragrance that can be a source of irritation for some people (More info: Is fragrance in your skincare bad for you? and Is alcohol in your skincare bad for you?), it has seven different plant extracts (not counting the ferments). Now there isn't anything wrong with plant extracts per se, but they are by definition an extraction of different components of a plant, so when you see them on the ingredient list, you can't really know what exactly their presence means, nor can you be sure at which concentration the components are present. So if you have a variety of allergies, they could be just as bad as perfume.
As "sensitive skin" is not clearly defined, it is impossible to know if what you think your skin needs is what is inside this toner. I personally try to avoid plant extracts whenever my skin is upset, but use them as I use fragrance and alcohol when it isn't. (More info: The 5 steps you need to take when your skin barrier is damaged)
How does it compare to…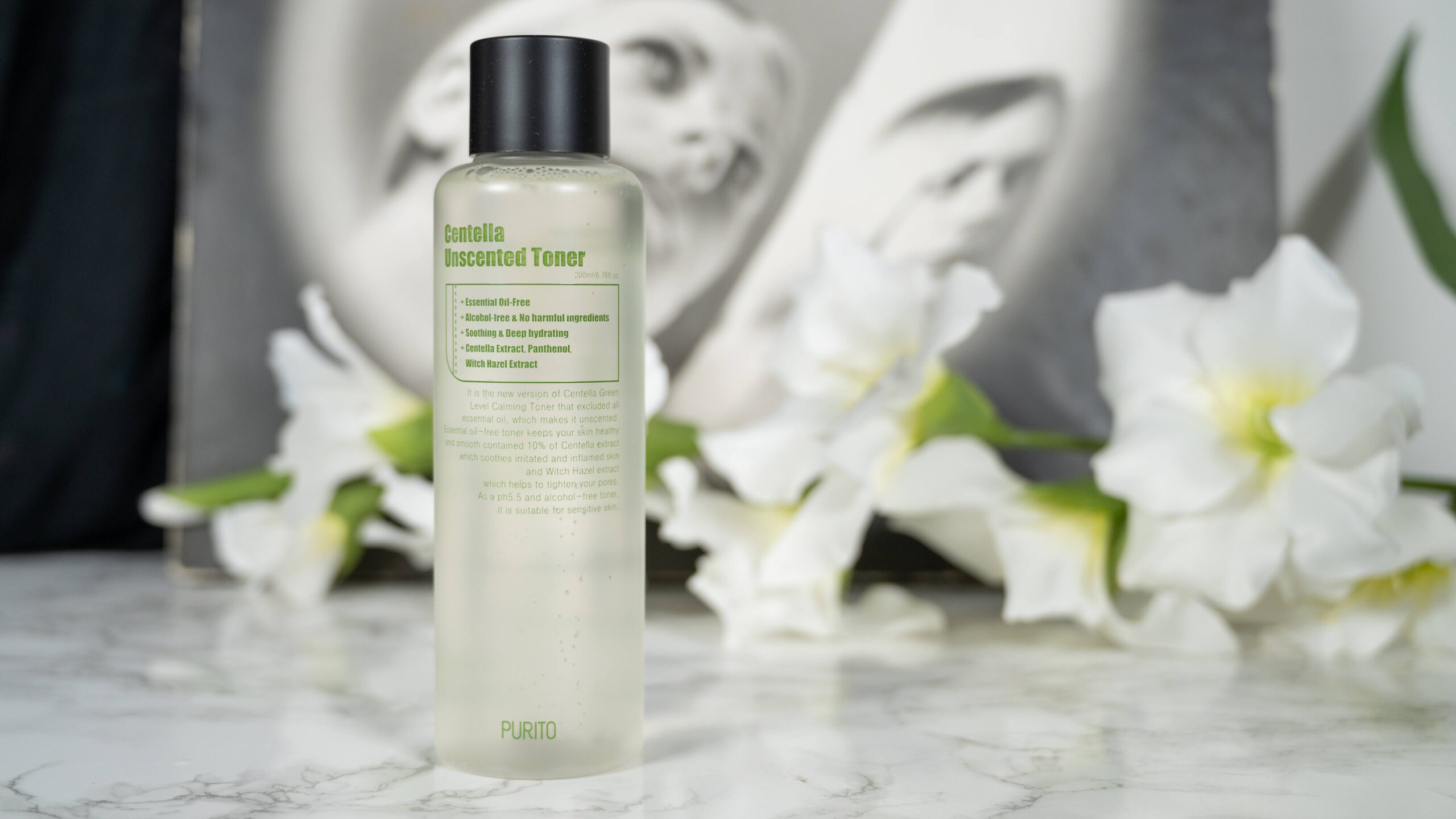 Purito Centella Unscented Toner
Out of all the Korean Toners I have tried, this one is the one aimed at sensitive skin with the least amount of plant extracts added, which is why I am featuring it here. It has no Black Rice Ferment, but Centella Asiatica Extract as well as the individual components of Centella Asiatica added (More info: The benefits of Centella Asicatica in skincare explained), but other than that is similar in hydration, texture and feel.
You can read my full review of the Purito Centella Unscented Toner here.
Real Barrier Extreme Essence Toner
This one is different in texture, it is thicker and more milky, but the one that I reach for when my skin is not yet upset, but I can feel that I have overdone it or that the temperature changes are taking a toll. Like the haruharu one it has more plant extracts than I would have expected, but I like it a lot.
You can read my full review of the Real Barrier Extreme Essence Toner here.
Would I repurchase and which skin types do I recommend it to?
I like this toner for everyday use, although I would recommend people with reactive skin to patch test first, as even without essential oils the plant extracts could be source of irritation depending on your individual sensitivities. To be honest, I was surprised to see so many of them in a product specifically aimed at sensitive skin – they can be the cause of irritation due to the many different components they contain. That aside though I think this will work lovely for all skin types.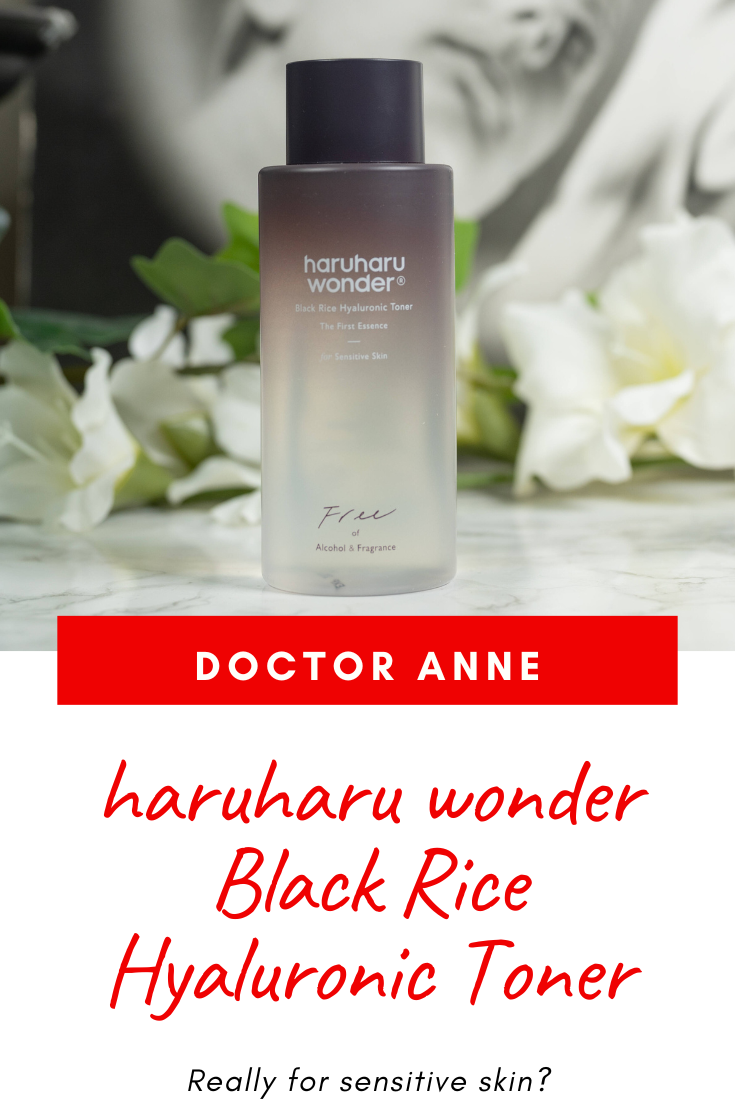 Shop the post
Don't forget to check out the Discount Code Page on top if you want to save some money on your next skincare purchase.
If you want to get a vote in the next Ask Doctor Anne Topic, Ingredient Spotlight or product I review, don't forget you can head over to my Patreon account to get more involved!
(Visited 121 times, 1 visits today)