ADVERTISEMENT INFO: SOME PRODUCTS MENTIONED IN THIS POST ARE PR (GIFTED) AND LINKS USED ARE AFFILIATE LINKS. I RECEIVED NO MONEY TO WRITE THE BLOGPOST, BUT THE VIDEO LINKED IS SPONSORED. PLEASE READ DISCLAIMER
Back in December 2022 I received a few products from the brand Real Barrier, a Korean skincare brand I hadn't heard of before. As December is a busy time, I kind of forgot about them until I one night, on a whim, reached for a sheet mask they had sent me.
I don't often do sheet masks, but that one was really soothing and hydrating. I was impressed. And as sheet masks are usually just pieces of fabric drenched in essence, I immediately started digging for the Real Barrier Extreme Essence Toner I had previously stashed away.
Would it be just as good?
Here is a sponsored video I did on all the Real Barrier skincare products I own
What is MLE Technology and the 3-Calming Complex?
Before we look at the individual product though, we need to talk about the two things the brand claims sets their skincare apart from other products: the MLE technology and the 3-Calming Complex.
MLE stands for multi-lamellar emulsion, so a mixture of skin identical lipids that form the shape of a maltese cross, the same shape the skin lipids in the skin barrier form when looked at under a cross polarizing microscope.
The claim here is that formation of this structure in a skincare formulation shows the use of the proper ratio and types of lipids to repair the skin's barrier. I have talked about that "ideal ratio" in my blogpost on Ceramides and would advise you to take that claim with a grain of salt, as the "ideal ratio" most likely differs from skin to skin, but you can be sure that the lipids used behave like they would in your skin, which surely doesn't hurt. (More info: The benefits of Ceramides in skincare explained)
The 3-Calming-Complex refers to the use of a combination of Allantoin, Madecassoside and Panthenol in their formulas, all of which have shown their individual skin soothing properties. (More info: The benefits of Centella Asiatica in skincare explained and The benefits of Panthenol in skincare explained)
What the Real Barrier Extreme Essence Toner claims
The Real Barrier Cream Extreme Essence Toner is an essence-type milk toner that helps to replenish the skin with moisture after cleansing. This nourishing toner contains the patented MLE Skin Barrier Formula which uses a complex of ceramides to help protect and strengthen the skin barrier.
Facts about the Real Barrier Extreme Essence Toner
Prize and size
One bottle contains 190 ml and is available for 17 $ in their Amazon shop here. The bottle itself is sturdier than I expected, so you need to press it gently in order to get product out, it won't just start to pour when turned upside down.
Texture and smell
It is described as an essence-type milky toner and that is pretty accurate. The texture is a little firmer than your average watery products and has a milky-white color. If you sniff very closely, you get a delicate, sweet scent, but none that transfers to the skin or is noticeable after application.
How to use the Real Barrier Extreme Essence Toner
The website instructions will tell you to apply the toner with a cotton pad and then gently pat it in, but as I do with all toners, I just pour some into my palms and pat from there. (More info: What is the difference between Toner, Tonic and Essence?)
It doesn't disappear into the skin like the more lightweight ones, but isn't tacky either and can be layered without feeling heavy or interfering with your other products. Morning or nighttime routine, both will work perfectly fine.
Ingredients of the Real Barrier Extreme Essence Toner
Water
solv
,
Glycerin

sii

|

h
0
0
,
Propanediol
solv

|

h
,
Dimethicone
emo
0
1
,
Helianthus Annuus (Sun Ower) Seed Oil

emo
0
0
,
Glyceryl Stearate
emo

|

emu
0
1
–
2
,
Xylitol

h
,
Sodium Hyaluronate Crosspolymer

sii

|

aox

|

h
,
Hydrolyzed Glycosaminoglycans
h
,
Sodium Hyaluronate

sii

|

h
0
0
,
Hydrolyzed Hyaluronic Acid

h
,
Hyaluronic Acid

sii

|

h
,
Butylene Glycol
h

|

solv
0
1
,
Sorbitan Laurate
emu
1
–
2
1
–
2
,
Hydroxyethylcellulose
vc
,
Acetyl Dipeptide-1 Cetyl Ester

cci

|

so
,
Panthenol

so

|

h
0
0
,
Beta-Glucan

so

|

h
,
Madecassoside

aox

|

so
,
Myristoyl/Palmitoyl Oxostearamide/Arachamide MEA

,
Ceramide 3

sii
,
Allantoin

so
0
0
,
Polyglyceryl-4 Caprate
emu
,
Hydroxypropyl Methylcellulose
surf

|

vc
0
1
,
Carbomer
vc
0
1
,
Sodium Polyacrylate
vc
,
Caprylic Acid
surf

|

emu

|

perf
3
1
,
Raspberry Ketone
perf
,
Ethylhexylglycerin
pres
,
Sodium Phytate
chel
,
Benzyl Glycol
solv
,
Caprylyl Glycol
h

|

emo
,
1,2-Hexanediol
solv
,
Citrus Aurantium Dulcis (Orange) Oil

perf
,
Vetiveria Zizanoides Root Oil
perf
,
Lavandula Angustifolia (Lavender) Oil

amic

|

perf
Hover the mouse over an ingredient for short explanation. Read more on INCIDecoder.
In the ingredient list you will find Glycerin and different forms of Hyaluronic Acid for hydration, a few plant extracts that I hadn't expected in products aimed at irritated skin like Lavender and Orange Oil and then quite a variety of soothing things: Panthenol, Beta Glucan, Allantoin and Madecassoside and then, less well known, Acetyl Dipeptide-1 Cetyl Ester, a peptide aiming to reduce inflammatory mediators in the skin. (More info: The benefits of Hyaluronic Acid in skicare explained and The benefits of Colloidal Oatmeal in skicare explained and Everything you need to know about peptides in skincare)
The MLE complex the brand has patented is the Myristoyl/ Palmitoyl Oxostearamide/ Arachamide MEA, a pseudoceramide complex, and then the Ceramide 3.
Does it live up to its claims?
Yes.
Although I can't as mentioned above, give you any data on the patented MLE complex.
How does it compare to…
107 Beauty Micro Drizzle Hydro Toner
I initially thought to compare the two because the texture is similar, with a little more body than your average toner. This one here is clear though, and while they share soothing ingredients like Panthenol, Allantoin and Beta Glucan, 107 Beauty has no ceramides and of course no MLE technology for whatever that is worth. It also has less plant extracts and no peptide, so the hydration is more focus than the soothing and barrier repair. The secret ingredient in all 107 Beauty products is their 7 year old aged vinegar, which has benefits related to fermentation. (More info: The benefits of fermented skincare ingredients explained)
You can read my full review of the 107 Beauty Micro Drizzle Hydro Toner here.
Vegreen Fragrance-Free Nature Mucin Toner
Again similar in texture and with a focus on soothing ingredients like Allantoin and Panthenol as well as hydration, but with no added ceramides or peptides. The claim here is that the "nature mucin" is similar to snail mucin, only in vegan, but snail mucin seems to have additional ingredients like Copper Peptides that are missing in this one. (More info: The benefits of snail mucin in skincare explained)
You can read my full review of the Vegreen Nature Mucin Toner here.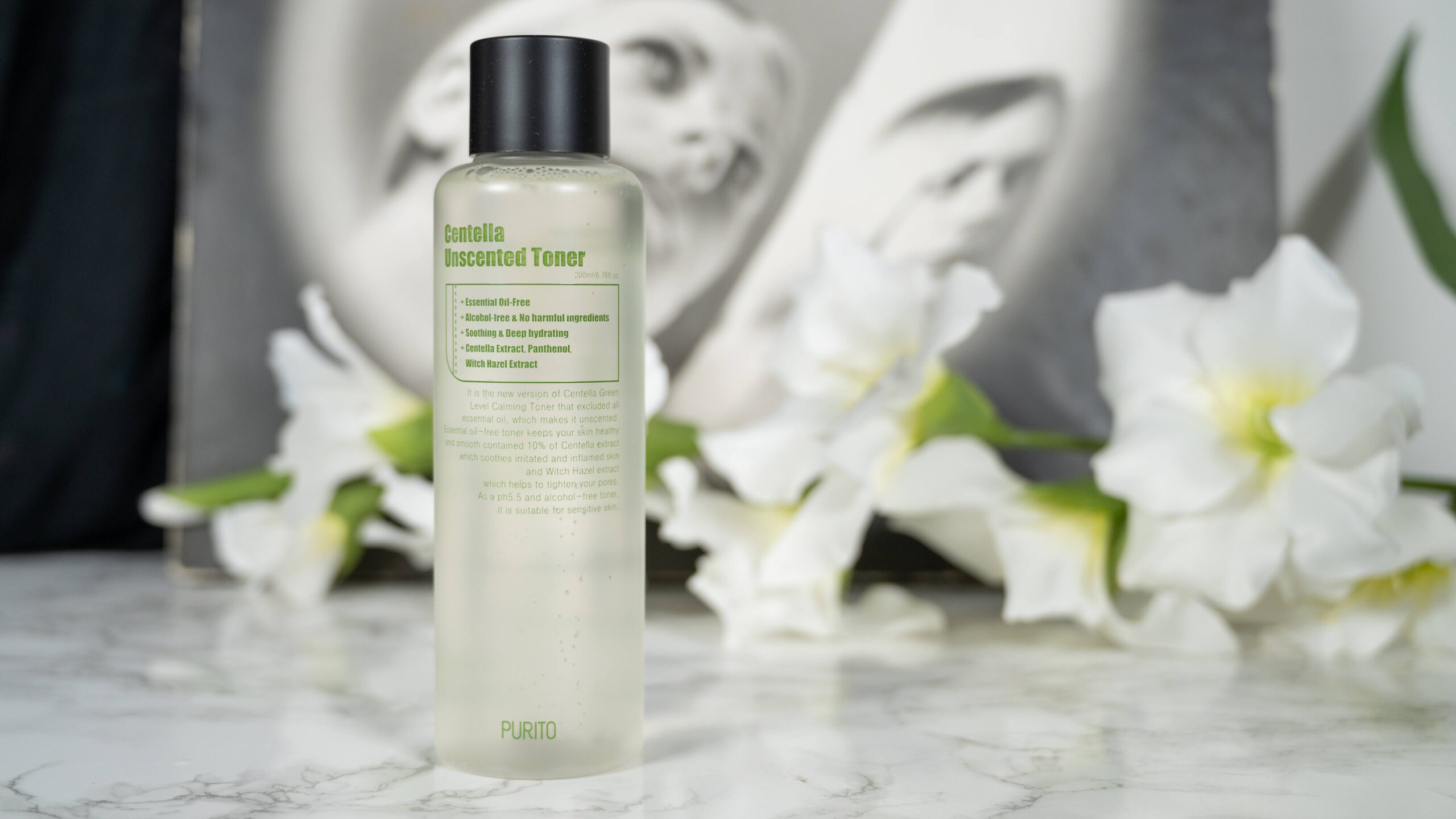 Purito Centella Unscented Toner
Again a product claiming to soothe the skin, but this time more watery than the other two, with soothing ingredients like Centella Asiatica, Allantoin and Panthenol, and completely free of fragrance or essential oils. (More info: Is fragrance in your skincare bad for you?)
All three toners I shared here for comparison are great, but none of them comes close in soothing, especially in winter, which makes the Real Barrier one my current favorite.
You can read my full review of the Purito Centella Unscented Toner here.
Would I repurchase and which skin types do I recommend it to?
The Real Barrier Extreme Essence Toner has really won my heart and I am pretty sure I will keep it in my routine (and add it to my Holy Grail skincare routine at the end of the year – the one from last year can be found here). No matter your skin type, if you like toners this is a great one to try, the only people I would recommend to stay away from it are the ones with known sensitivities against Lavender or Citrus Essential Oils even in very low concentrations.
Shop the post
Don't forget to check out the Discount Code Page on top if you want to save some money on your next skincare purchase.
If you want to get a vote in the next Ask Doctor Anne Topic, Ingredient Spotlight or product I review, don't forget you can head over to my Patreon account to get more involved!
(Visited 134 times, 1 visits today)