ADVERTISEMENT INFO: SOME PRODUCTS MENTIONED IN THIS POST ARE PR (GIFTED) AND LINKS USED ARE AFFILIATE LINKS. I RECEIVED NO MONEY TO WRITE THE BLOGPOST. PLEASE READ DISCLAIMER
I have a dear friend who is from India, more precisely from Kerala. She has ben in Germany for a few years now, working on her PhD and we met through Krav Maga, the self defense I train and more recently, also teach to children and teenagers (More info: Explaining my bruises). One fine day, I was away with the kids, she called me and basically yelled into the phone: "You are Doctor Anne, I saw you on YouTube! How come I never knew?!?" Turns out she found my videos when looking for advice on retinoids, a lucky coincidence that blessed me with someone as excited about skincare as I am.
So when she went back home to visit her family in spring, she returned with a few carefully picked gifts for me and among them were two sunscreens from India that she found to be amazing to wear and very affordable – this girl truly knows the way to my heart!
But of course there was more that made its way into my stash, some makeup, some other sunscreens and some products from Facetheory – let's dive in!
New In Sunscreens from India from Dr. Sheth's and The Derma Co
Here are the two products she picked, both tested on herself (eczema prone skin that is more on the dry side and a much deeper skin tone than me) and very affordable compared to the Korean SPFs I introduced her to.
The Dr. Sheth's Haldi and Hyaluronic Acid sunscreen for example is only 569 Rupees or 5,16 € for 50 g (full review coming soon) and offers an SPF of 50 with slightly lower UVA protection than I usually go for, PA +++ (More info: What is UVA protection and how is it measured) It is a hybrid sunscreen, meaning it uses both organic and inorganic filters, but has absolutely no white cast.
The Derma Co C-Cinamide Radiance Sunscreen Aqua Gel SPF 50 (50 g for 499 Rupees or 5,59 €, full review coming soon) is using purely organic filters alongside a Vitamin C derivative and Niacinamide for additional skin benefits (More info: Everything you need to know about Vitamin C in skincare and Everything you need to know about Niacinamide in skincare) Out of the two it is my favorite texturewise, but my in-depth review will be up in a bit, so I won't go into detail here.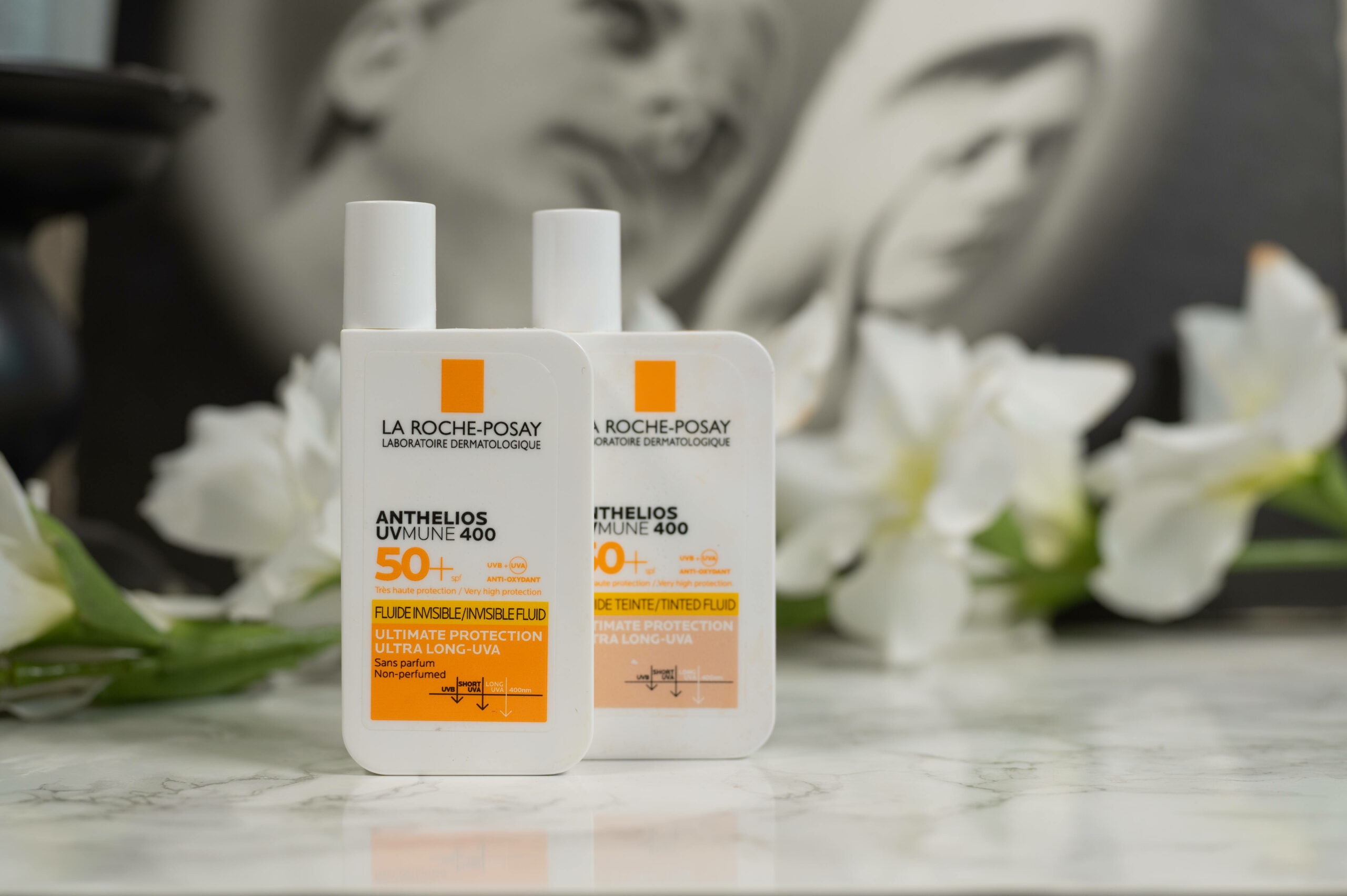 New in from La Roche Posay
Now the picture above is a little misleading, as I only repurchased the Sheer version of the La Roche Posay UVMune 400 SPF 50+ (50 ml for 22 €, full review here) – if you have read my original review, you now that I really dislike the tint of the tinted version, which is much too orange for my pale skin.
I grabbed two bottles right before I got into the car to go on our annual beach holiday in the South of France though, so no chance to take a picture, which is why I had to rely on an old one instead. It is a frequent repurchase and what I trust my face with when it comes to beach holidays and hiking, all of which I plan to do a lot of in the two weeks spend away from home. If the two bottles won't be enough, I know I can grab it there on every corner.
And before anyone asks, it is face and neck only, my body is either covered in UVPF clothing or gets whatever was on offer at the discounter.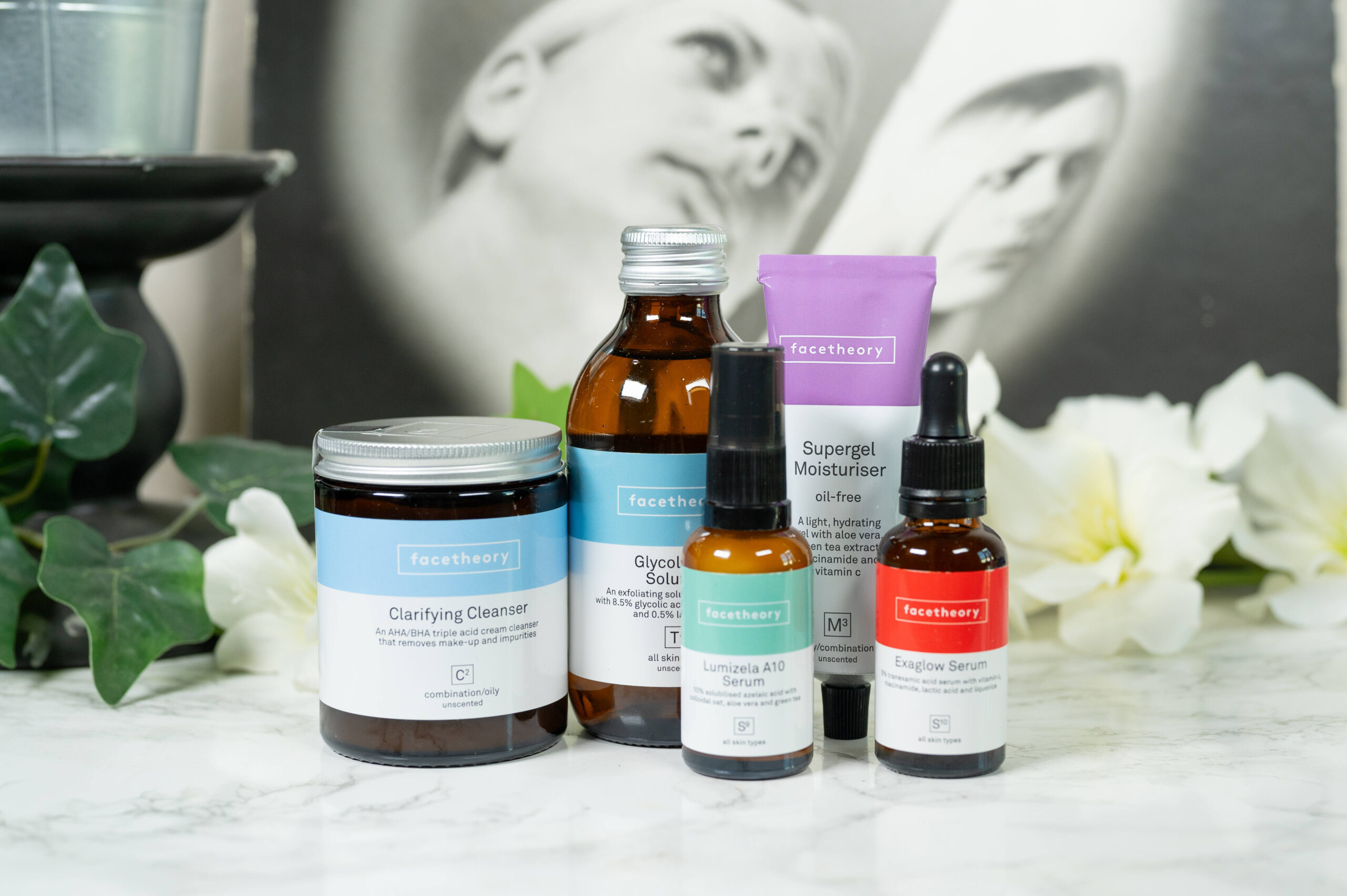 New in from facetheory
facetheory is a brand I had heard about, but never seen them in store, so when they got in contact asking if I wanted to try some of their bestsellers, I jumped at the chance.
The first thing they sent over is the facetheory Claryfing Cleanser (180 ml for 16 €, full review coming soon), a cleanser with different exfoliating acids to get rid of congestion. To go with that the facetheory Gycolacsal Solution (200 ml for 24 €, full review coming soon) with the same combination of Glycolic, Lactic and Salicylic Acid as well as the same blue banderole – I assume their products are color coded that way?
I specifically asked for the facetheory Exaglow Serum (30 ml for 32 €, full review coming soon) that combines Tranexamic Acid, Vitamin C and Licorice Root, all three aiming to fight hyperpigmentation, one of my main issues when we leave summer behind and enter fall (More info: What is hyperpigmentation and where does it come from). They also sent over the facetheory Lumizela A 10 Serum (30 ml for 30 €, full review coming soon) that has a lot of fans according to my 100% NOT representative poll on Instagram. It combines 10% Azelaic Acid with Green Tea Extract and Colloidal Oat Meal, making it a great choice for skin that is irritated and redness prone. (More info: Everything you need to know about Azelaic Acid in skincare, Everything you need to know about Green Tea Extract in skincare and Everything you need to know about Colloidal Oat meal in skincare)
The last item I got is the facetheory Supergel Moisturizer in Oil-Free (50 ml for 19 €, full review coming soon). There is a version with oils as well, but I admit despite being 44 already I much prefer the oil-free formulas for the warmer months. It contains Niacinamide and Green Tea Extract, both very welcome in my routine, and will see me through the warm days I bet we will still experience in September.
New In from St. Moritz
Every summer without fail I swear I will become that person that fake tans regularly, and every summer I purchase a different item to help me achieve that streak-free golden glow especially on my legs.
This year I opted for the St. Moritz Self Tan Mousse in Medium (200 ml for 8,95 €, review coming soon) because it has a guiding color, something my friend Siobhán from Beautylymin – who IS one of these persons that fake tan regularly – told me over and over again would make all the difference, especially for a beginner like myself.
It isn't that I struggle with my paleness – I did when I was younger, but ever since I discovered the power of makeup and people don't assume I am about to faint or sick when I leave the house, I don't mind it anymore. No, it is that my legs are the part of my body that show more than anywhere else both my age and the fact that I have born two children. I have varicose veins, spider veins, scars, quite often bruises, and all of that is much more noticeable when my legs are pasty.
So in order to feel more comfortable when wearing skirts, here we are with another attempt of becoming a regular self tanner. Who knows, maybe I will be the person that can offer you a guide come next year!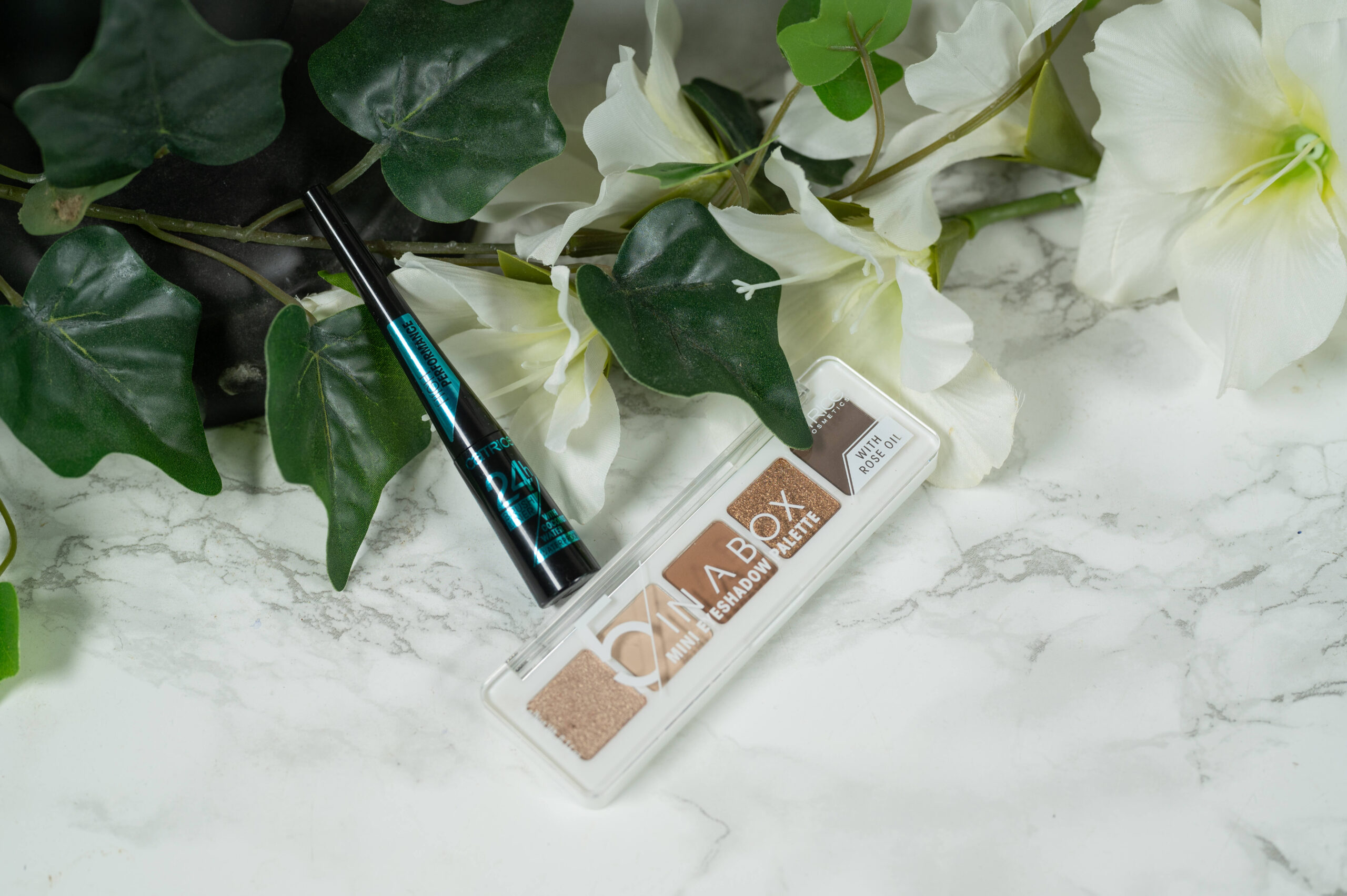 New in from Catrice
Remember when last month I showed you one of the Catrice 5 in a box Mini Eyeshadow pallets already? (More info: New In Beauty July) Well, that was the one called Elegant Khaki. It is beautiful, but after much umming and ahing I decided that it would be better suited for the upcoming fall, and that for summer I needed the slightly different but equally beautiful Catrice 5 in a box called Golden Nude (4 g for 4,95 €, vegan, review coming soon). I have been reaching for it every single day since I bought it and even took it with me on holiday, so apparently I was right.
And because I am one of those people that at least sometimes wear makeup to the beach – makeup as in eye makeup, no foundation! – I also purchased the waterproof version of the Catrice 24 h brush liner in Ultra Black (3 ml for 3,49 €, review coming soon). So far I can say that it held up pretty well through swimming and snorkeling with only minor fading around the wing.
What made it into your stash last month?
Shop the post
Don't forget to check out the Discount Code Page on top if you want to save some money on your next skincare purchase.
If you want to get a vote in the next Ask Doctor Anne Topic, Ingredient Spotlight or product I review, don't forget you can head over to my Patreon account to get more involved!
(Visited 149 times, 1 visits today)