ADVERTISEMENT INFO: SOME PRODUCTS MENTIONED IN THIS POST ARE PR (GIFTED) AND LINKS USED ARE AFFILIATE LINKS. I RECEIVED NO MONEY TO WRITE THE BLOGPOST. PLEASE READ DISCLAIMER
The question whether or not products like the LANEIGE Water Sleeping Mask_EX are worth a separate category in your routine isn't one I can easily answer. They belong to the category of products I haven't quite figured out yet. I mean, I know how to use them, but I don't know which slot in my routine they should fill – face mask, moisturizer, something entirely different?
But if they are a separate must-have or just a type of moisturizer doesn't really matter if the product is nice, so let's focus on that for now and see how I got along with it. And why it reminds me of a childhood drink.
What the LANEIGE Water Sleeping Mask_EX claims
An overnight, moisture-recharging gel mask that quickly absorbs while you sleep to deeply hydrate skin.
Facts about the LANEIGE Water Sleeping Mask_EX
Prize and size
One pot (it comes with a spatula if you are worried about contamination, but I assure you if you wash your fingers before doing your skincare, you are fine as well) contains 70 ml and is available for 30 € on the website here.
Texture and smell
The first thing I thought when I opened the jar was "fresh". The baby blue color, the hint of ocean breeze when you sniff it, the cooling gel texture that is not at all tacky (at least not in the beginning), all that creates the illusion of a lightweight and refreshing product that would work well for summer.
According to the website the scent is actually not ocean breeze, but a sleepscent with sandalwood, orange flower and rose, but I don't really get any of those notes or would associate it with sleep.
How to use the LANEIGE Water Sleeping Mask_EX
Just like a moisturizer would, the Sleeping Mask goes on last in your nighttime routine after you did the rest of your skincare and stays there overnight. It is easy to spread, but gets a little tacky when it starts to sink in. That only lasts for a couple of minutes though, after that it is completely gone, leaving the skin feeling soft and smooth.
In terms of hydration I wasn't overly impressed – when my skin felt really parched I sometimes applied several layers over the course of the evening instead of just one, which worked very well. Due to its fast absorbance it would work equally well during the day, especially when you want lightweight hydration during the warmer months.
Ingredients of the LANEIGE Water Sleeping Mask Probiotics
Water
solv
,
Butylene Glycol
h

|

solv
0
1
,
Glycerin

sii

|

h
0
0
,
Methyl Trimethicone
solv
,
1,2-Hexanediol
solv
,
Squalane

sii

|

emo
0
1
,
Phenyl Trimethicone
emo
,
Pca Dimethicone
,
Caprylyl Trimethicone
,
Ammonium Acryloyldimethyltaurate/VP Copolymer
vc
,
Lactobacillus Ferment Lysate
,
Carbomer
vc
0
1
,
Propanediol
solv

|

h
,
Tromethamine
buff
,
Acrylates/C10-30 Alkyl Acrylate Crosspolymer
vc
,
Glyceryl Caprylate
pres
,
Ethylhexylglycerin
pres
,
Disodium EDTA
chel
,
Stearyl Behenate
emo
,
Malachite Extract
aox
,
Parfum

perf
,
Polyglyceryl-3 Methylglucose Distearate
emu
,
Inulin Lauryl Carbamate
surf

|

emu
,
Tranexamic Acid

sb

|

so
,
Tryptophan
,
Hydroxypropyl Bispalmitamide MEA

sii

|

emo
,
Beta-Glucan

so

|

h
,
Limonene

perf

|

solv
,
Acorus Gramineus (Japanese Sweet Flag) Extract
h
,
Linalool

perf
,
Vitamin E

aox
0
–
3
0
–
3
Hover the mouse over an ingredient for short explanation. Read more on INCIDecoder.
Looking at the ingredient list there is Glycerin as humectant as well as a few silicones and Squalane as emollient. Instead of regular water, the brand is known for using what they call "highly concentrated hydro ionized mineral water" – I am not entirely sure what the hydro ionized is supposed to be, but the use of mineral water has shown benefits especially when it comes to sensitive skin.
The more interesting part is the added Tranexamic Acid to target hyperpigmentation (More info: Tranexamic Acid against hyperpigmentation), Beta Glucan for soothing and the Lactobacillus Ferment Lysate, a postbiotic and probably what they refer to when they say "Sleeping Microbiome" on the tub. (More info: The benefits of Colloidal Oat Meal in skincare explained, The benefits of fermented ingredients in skincare explained and Prebiotics, Probiotics and Postbiotics in skincare).
Oh, and the added Tryptophan.
Tryptophan is an amino acid that in the body is a precursor to serotonin, which controls your mood and sleep. I doubt that applying it to the skin has any effect in this regard, but I appreciate a sleep related aminoacid in a sleeping mask, it is just a nice touch. Fun fact – Tryptophan is why you drink hot milk with honey to get sleepy, this combo is rich in that amino acid and boosts your serotonin levels.
It is fragranced and contains Limonene and Linalool, both of which have irritating potential. (More info: Is fragrance in your skincare bad for you?)
More info: How to read the ingredient list in your skincare products
Does it live up to its claims?
In parts.
I wouldn't call it deeply hydrating, but it absorbs reasonably quick and is a gel type mask.
How does it compare to…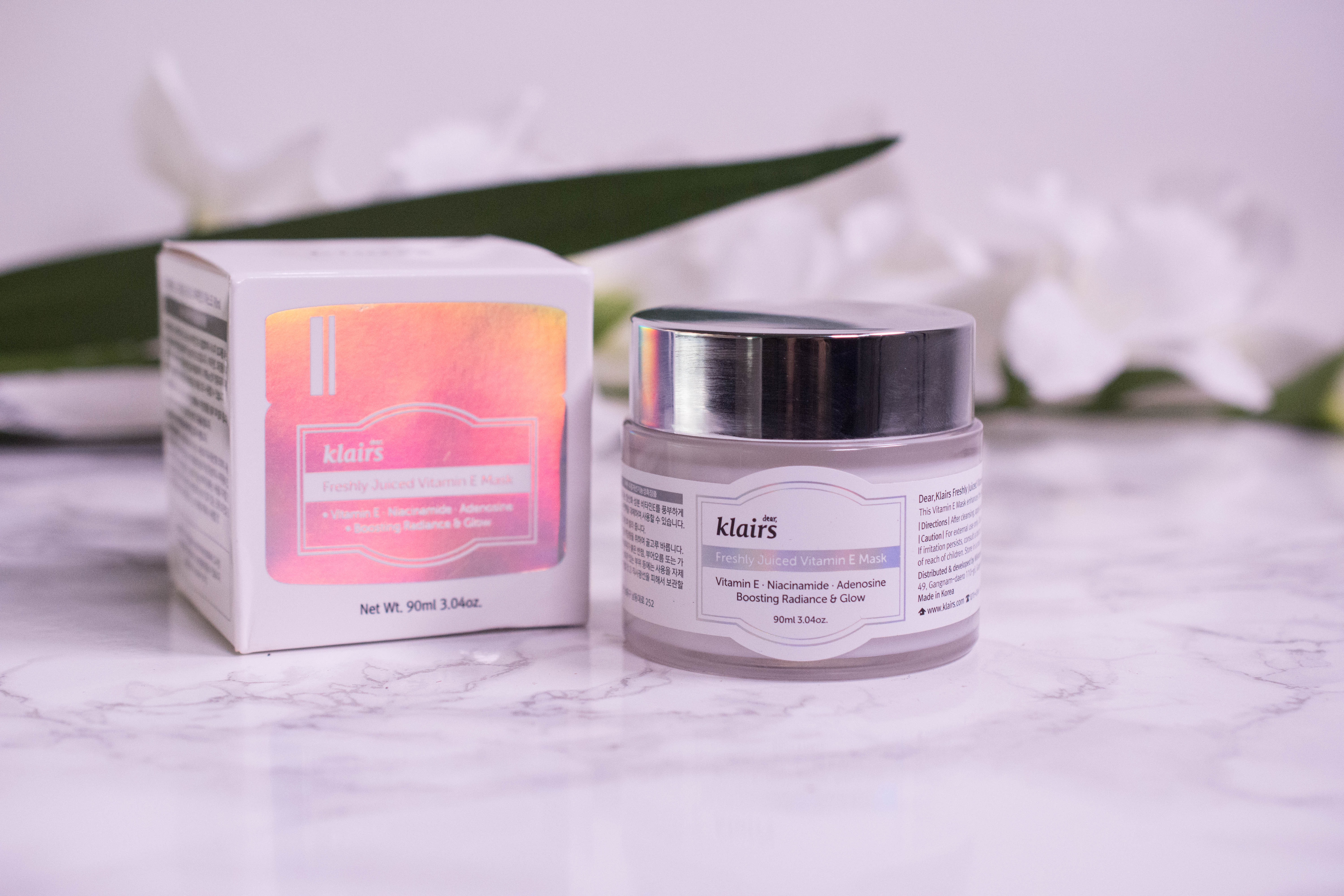 dear klairs Freshly Juiced Vitamin E Mask
The texture in the version from dear klairs is quite unique, more like a jello than anything else, but melting into the skin beautifully. It is as tacky as the LANEIGE version, but in terms of ingredients is different. Instead of Tranexamic Acid, fermented ingredients and probiotics it contains Vitamin E, Niacinamide and Centella Asiatica Extract (More info: The benefits of Niacinamide in skincare explained and The benefits of Centella Asiatica in skincare explained).
Both should work well if you want to target leftover pigmentation and both could be problematic if you are sensitive to fragrance and essential oils.
You can read my full review of the dear klairs Freshly Juiced Vitamin E Mask here.
Elemis Peptide 4 Plumping Pillow Facial Hydrating Sleep Mask
Now if you are a fan of Elemis or absolutely hate the brand usually depends on your stance on fragranced skincare, as the brand focus is heavily on essential oils as part of selfcare. So if you are into subtle fragrances in your products, it surely isn't the one for you. Instead of the ingredients doing the heavy lifting in the LANEIGE Mask, you have a blend of essential oils and their Peptide 4 complex aiming to increase skin hydration.
It is the richest of the three I am showing you here and with it's very warm and heavy scent once that I prefer during winter.
You can read my full review of the Elemis Peptide 4 Plumping Pillow Facial here.
Would I repurchase and which skin types do I recommend it to?
So although I still haven't figured out what makes this an overnight mask instead of a gel moisturizer, I really enjoy using it just as much as the dear klairs version. Especially if your skin is for oily, yet dehydrated it could be a good product to incorporate in your routine, maybe peired with a hydrating serum.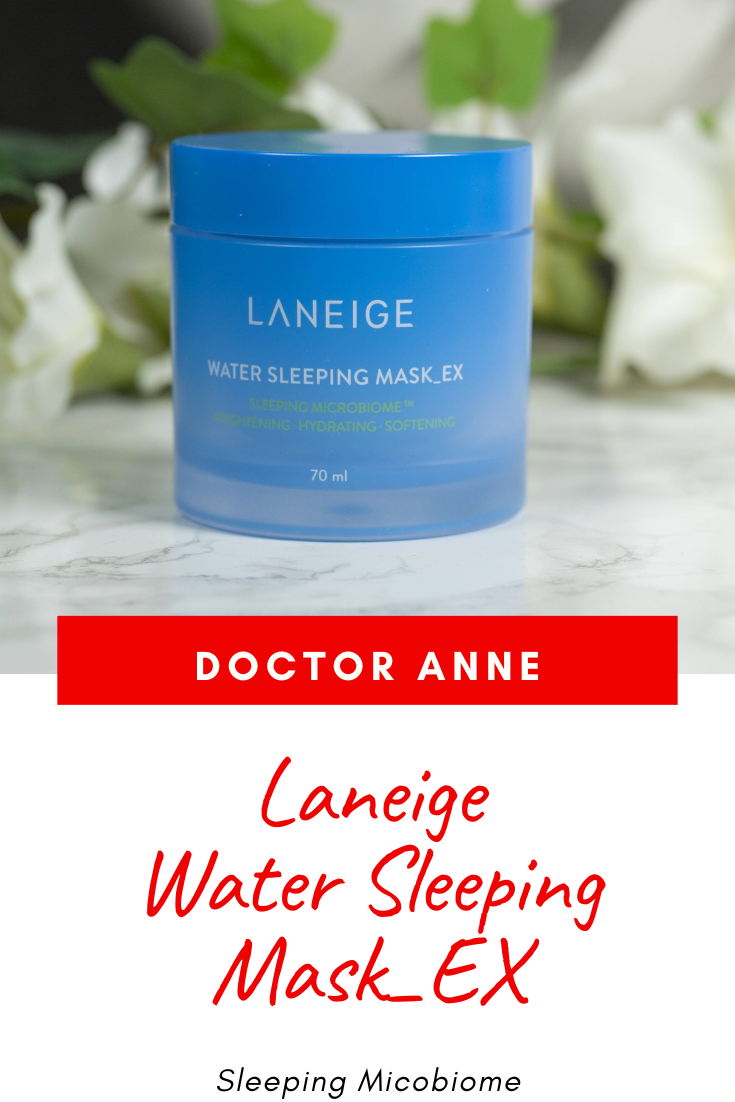 Shop LANEIGE skincare
Don't forget to check out the Discount Code Page on top if you want to save some money on your next skincare purchase.
If you want to get a vote in the next Ask Doctor Anne Topic, Ingredient Spotlight or product I review, don't forget you can head over to my Patreon account to get more involved!
(Visited 40 times, 1 visits today)