ADVERTISEMENT INFO: PRODUCTS MENTIONED IN THIS POST ARE PR (GIFTED) AND LINKS USED ARE AFFILIATE LINKS. I RECEIVED NO MONEY TO WRITE THE BLOGPOST. PLEASE READ DISCLAIMER
So, what on earth are Glucosides, giving their name to the NIOD Modulating Glucosides we will review today? Well, they are a pretty broad term describing organic substances in which an alcohol or phenol-group is bound to a sugar.
And no, knowing that didn't help me understand what the Modulating Glucosides Serum is supposed to do for my skin either.
So let's take a closer look at texture, ingredients and effects on my skin.
&nbsp:
What NIOD Modulating Glucosides claims
Dermal-Friendly Lipids Support Barrier Function to Help Lessen Skin Reactivity – so basically a serum to help repair the skin's barrier and reduce irritation.
Facts about the NIOD Modulating Glucosides
Prize and size
One dropper bottle, made from dark glass, contains 30 ml and is available for 28 $ on the website here. It is vegan and has a pH of 4,5 – 5,5.
Texture and smell
The website calls it an emulsion, and that is the perfect description. It is creamier than your average serum, but lighter than a lotion, and has a distinct yellow color.
Someone told me they felt it left an orange hue on their skin and while I didn't notice that at first, after paying attention to it I felt like my face looked a little more yellow after application. That wasn't permanent though, but vanished when washing my face the next morning. As my undertone is pretty yellow anyway, it didn't really bother me, but might be more noticeable in those of you with pale, pinkish skin – if that is you, I would love to hear your experiences!
It has a faint, rather earthy scent that isn't the most pleasant, but not strong enough to be bothersome.
How to use the NIOD Modulating Glucosides
It can be used both morning and night and as it sinks in quickly and without tackiness, both will work great. The finish is completely natural and it works well with anything else put on top. As it contains Squalane, I found it to be enough used on its own without following up with a moisturizer once it got warmer, but if you are more on the dry side, this one goes on after your more watery serums and before your face cream or SPF.
(More info: The difference between emollients and occlusives)
Ingredients of the NIOD Modulating Glucosides
Aqua (Water)
solv
,
Squalane

sii

|

emo
0
1
,
Isodecyl Neopentanoate
emo
,
Glycerin

sii

|

h
0
0
,
Caprylic/Capric Triglyceride
emo
,
Pentylene Glycol
solv

|

h
,
Propanediol
solv

|

h
,
Hexyldecanol
emo
,
Bisabolol

so
,
Butylene Glycol
h

|

solv

|

vc
0
1
,
Epigallocatechin Gallatyl Glucoside

aox

|

so
,
Rosmarinyl Glucoside

aox

|

so
,
Caffeyl Glucoside

aox

|

so
,
Gallyl Glucoside

aox

|

so
,
Tetrasodium Tetracarboxymethyl Naringeninchalcone

so
,
Hydroxymethoxyphenyl Decanone

aox

|

so
,
4-T-Butylcyclohexanol

so

|

cci
,
Cetylhydroxyproline Palmitamide

emo
,
Hydroxyphenyl Propamidobenzoic Acid

so
,
Palmitoyl Tripeptide-8

so
,
Superoxide Dismutase

aox
,
Sodium Pca

sii

|

h
0
0
,
Pca

sii

|

h
,
Arginine

sii
,
Glycine

sii
,
Alanine

sii
,
Serine

sii
,
Valine

sii
,
Isoleucine

sii
,
Proline

sii
,
Threonine

sii
,
Histidine

sii

|

h
,
Phenylalanine

sii
,
Aspartic Acid

sii
,
Sodium Lactate

buff

|

h
,
Mirabilis Jalapa Callus Extract
,
Tasmannia Lanceolata Fruit/Leaf Extract

aox

|

so
,
Zingiber Officinale (Ginger) Root Extract

aox

|

so
,
Curculigo Orchioides Root Extract

so
,
Isochrysis Galbana Extract
,
Brassica Campestris (Rapeseed) Sterols
emo
,
Stearic Acid
emo

|

vc
0
2
–
3
,
Dextran
vc
,
Isoceteth-20
emu

|

surf
,
Polyacrylate Crosspolymer-6
vc
,
Xanthan Gum
vc
,
Tocopherol

aox
0
–
3
0
–
3
,
Propyl Gallate
aox

|

perf
,
Tromethamine
buff
,
Dehydroacetic Acid
pres
,
1,2-Hexanediol
solv
,
Benzyl Alcohol
pres

|

perf

|

solv

|

vc
,
Phenoxyethanol
pres
,
Caprylyl Glycol
h

|

emo
Hover the mouse over an ingredient for short explanation. Read more on INCIDecoder.
Now there are a lot of Glucosides present, and most of them claim antiinflammatory and soothing benefits according to manufacturer studies. There is also Squalane, great as moisturizer for almost all skin types and probably the reason why it is enough on its own for more oily skins, and Glycerin as humectant.
Another quite impressive list are the added Amino Acids all supporting wound healing – you usually see one or two in your products, but rarely eleven. Palmitoyl-Tripeptide-8 is a soothing peptide, so all in all this emulsion has the potential to soothe and heal.
(More info: How to read the skincare ingredient list and Everything you need to know about peptides in skincare)
Does it live up to its claims?
Hard to say.
It isn't something you can really measure, so I can't say for sure, but the combination of ingredients is aimed at that and I liked it to support my skin while using Tretinoin.
When I had contact dermatitis on my face from the laundry detergent in the flat we rented for the holiday, I used it morning and night, but while it felt soothing, I can't say if it made a difference in how long the rash lasted.
(More info: How to use Tretinoin with minimal irritation)
How does it compare to…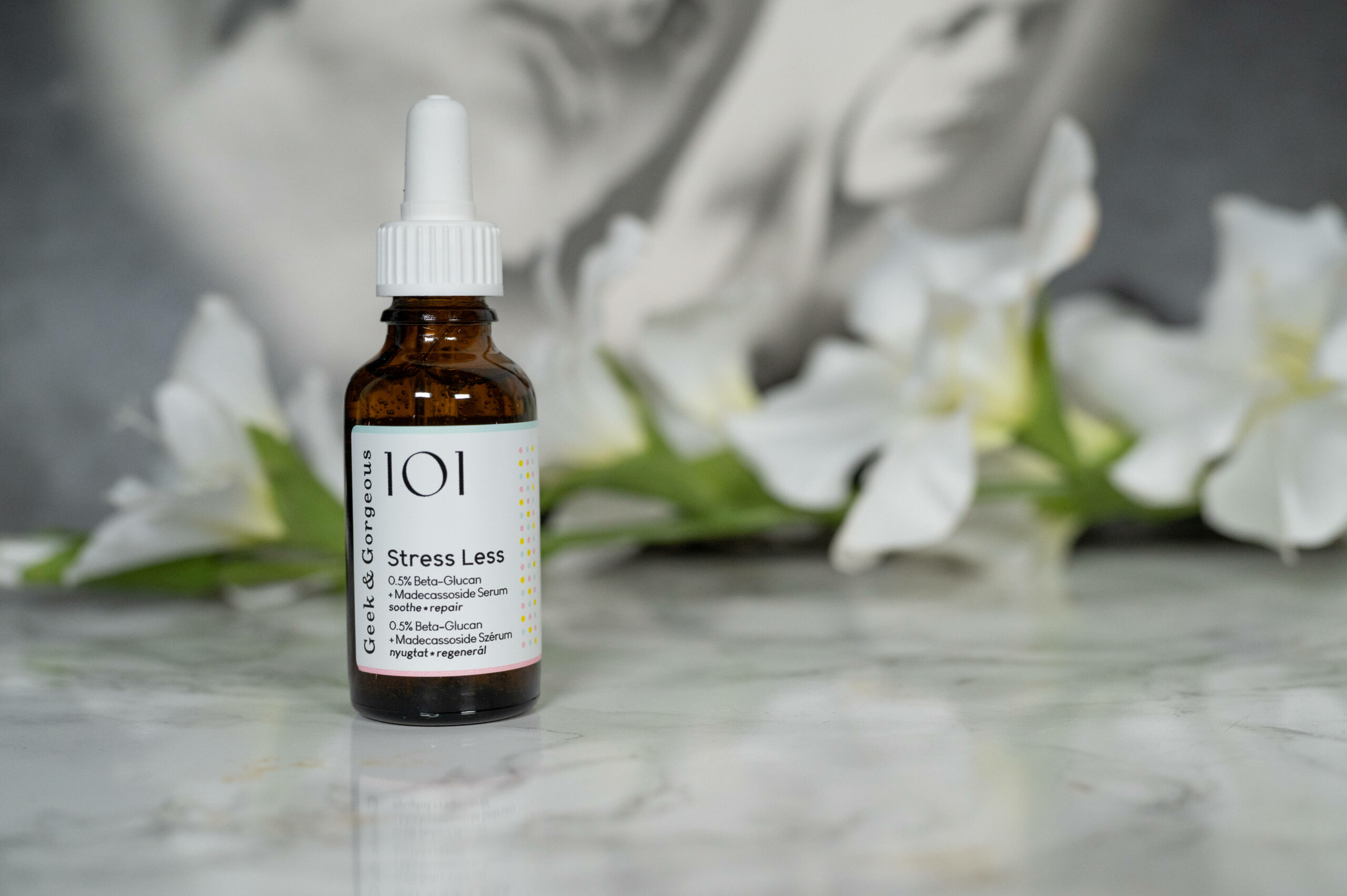 Geek and Gorgeous Stress Less Serum
While both aim to do the same thing, Geek and Gorgeous focusses on Beta-Glucan from Colloidal Oatmeal (More info: The benefits of colloidal oatmeal for your skin) and Madecassoside (More info: The benefits of Centella Asiatica for your skin) to sooth and repair. It is also more of a serum rather than an emulsion and of course more affordable.
In terms of effect both worked similarly as far as I can tell.
You can read my full review of the Geek and Gorgeous Stress Less Serum here
Zelens Power D
My holy grail, eye watering expensive irritated skin savior – it actually has some similarities in terms of ingredients like Amino Acids, but as main act focuses on Vitamin D, Bisabolol and Phospholipids for soothing and strengthening.
It is way more oily and way more expensive, but it is what has saved my face through many winters with Tretinoin and has been repurchased countless times already.
You can read my full review of the Zelens Power D here.
Would I repurchase and which skin types do I recommend the NIOD Modulating Glucosides to?
I haven't made up my mind completely if I will repurchase or not – I need to use it through the warmer months to see how I get on with it then. For the winter it won't replace my Zelens Power D (despite that one being so expensive), but it might be a great option for the summer as night time moisturizer/ skin soother in one step.
If your skin is irritated and you want to try a few out of the box ingredients rather than the tried and trusted Niacinamide and Panthenol, this is a great option that will work on all skin types, either as serum step if you are dry or as moisturizer if you are more oily.
Shop the post

Don't forget to check out the Discount Code Page on top if you want to save some money on your next skincare purchase.
If you want to get a vote in the next Ask Doctor Anne Topic, Ingredient Spotlight or product I review, don't forget you can head over to my Patreon account to get more involved!
(Visited 2.547 times, 3 visits today)