ADVERTISEMENT INFO: PRODUCTS MENTIONED IN THIS POST WERE PURCHASED MYSELF AND LINKS USED ARE AFFILIATE LINKS. I RECEIVED NO MONEY TO WRITE THE BLOGPOST. PLEASE READ DISCLAIMER 
I like to think that hair products are pretty straight forward, but the name Olaplex No 6 Bond Smoother Reparative Styling Cream had me confused. And to be honest, I still am a little confused about what a styling cream actually is and where in my hair routine this fits best, but after almost a year of experimenting, I am ready to share my review.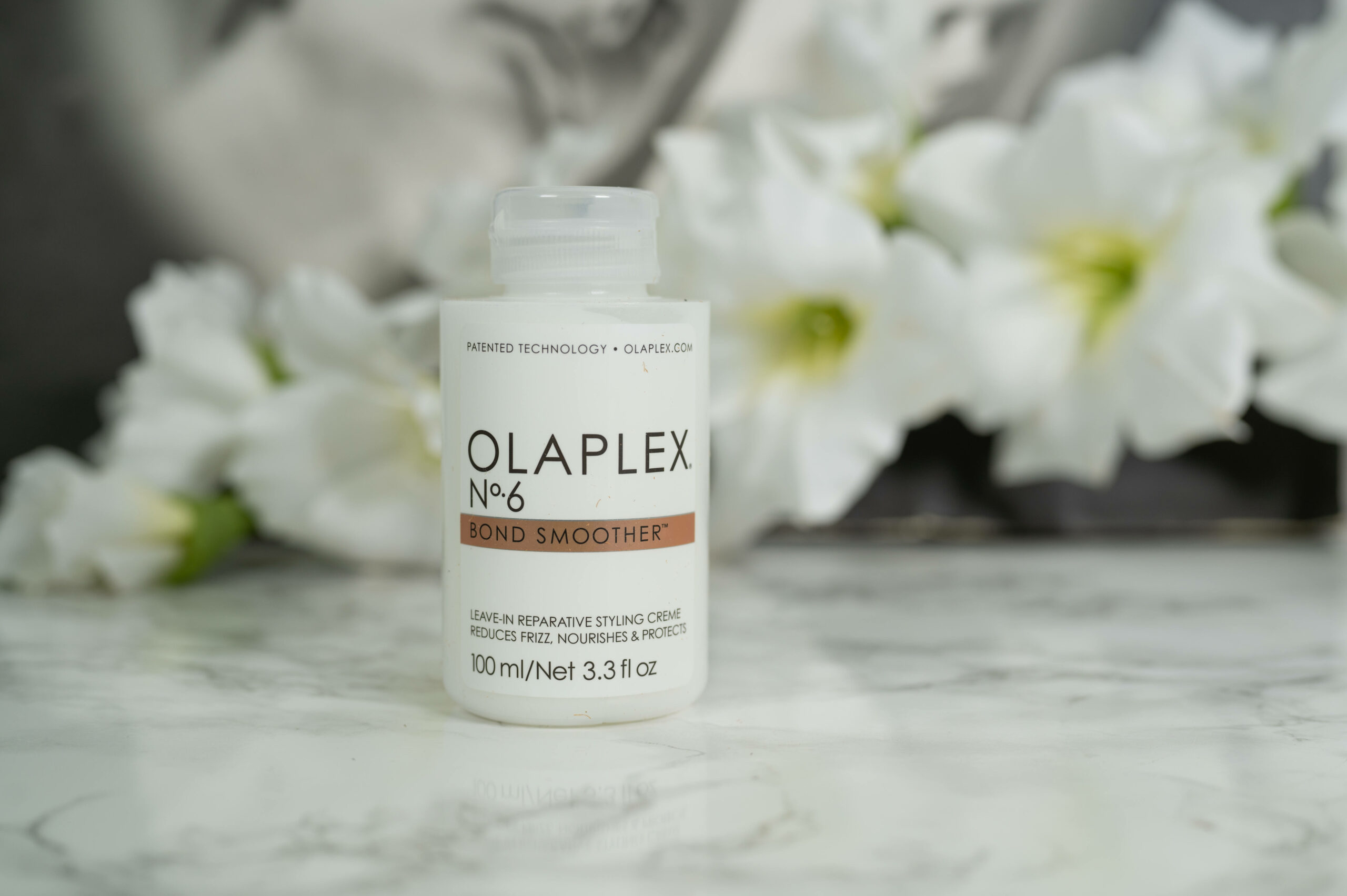 After all I have tried all five different ways it is supposed to help and settled on one that really makes a difference for my hair. But enough of a difference to repurchase?
What the Olaplex No 6 Bond Smoother Reparative Styling Cream claims
N°6 strengthens, moisturizes, and eliminates frizz and flyaways for up to 72 hours. Excellent for all hair types, including colored and chemically treated hair.
Facts about the Olaplex No 6 Bond Smoother Reparative Styling Cream
Prize and size
One bottle contains 100 ml and retails for 28$ on the website here. You really only need the tiniest amount, so I don't know if I ever will be able to finish this.
Texture and smell
It is a little firmer than the other Olaplex products I have tried and kind of hard to get out of the bottle. The scent is the typical, slightly floral Olaplex scent. If you have ever smelled one of their products, you know what I mean by that.
How to use the Olaplex No 6 Bond Smoother Reparative Styling Cream
The website offers a variety of ways to use No 6: after styling for a smooth finish, on damp hair to speed up drying time, worked through waves to reduce frizz, a generous amount to enhance your curls when styling and lastly to tame flyaways and frizz during the day.
Believe me, I have tried all of them, and what works best for me is using a tiny amount – and by tiny I mean the tiniest amount ever, a small dollop and then half of that! – through the lengths after washing and before styling. That way my curls do last longer and are more defined. So it would be the perfect styling product if it did also offer heat protection, which it sadly does not, meaning I'd need a separate product for that, and as you all know I really can't be bothered to do much to my hair, let alone apply a multitude of things.
If I try to use it on dry hair to combat frizz (as speeding up the blow dry time isn't really important with my fine hair) that works, but adds a texture that I don't really like.
Ingredients of the Olaplex No 6 Bond Smoother Reparative Styling Cream
Water
solv
,
Cetearyl Alcohol
emo

|

vc

|

emu

|

surf
1
2
,
Dimethicone
emo
0
1
,
Isohexadecane
emo

|

solv
,
Coco-Caprylate
emo
,
Neopentyl Glycol Diheptanoate
emo
,
Behentrimonium Chloride
pres
,
Isododecane
emo

|

solv

|

perf
,
Phenyl Trimethicone
emo
,
Propanediol
solv

|

h
,
Bis-Aminopropyl Diglycol Dimaleate
,
Fragrance (Parfum)

perf
,
Cetrimonium Chloride
amic

|

emu

|

pres

|

surf
,
Phenoxyethanol
pres
,
Glyceryl Stearate
emo

|

emu
0
1
–
2
,
Isopropyl Alcohol

solv

|

vc

|

perf
0
0
,
Hydroxyethylcellulose
vc
,
Hydroxypropyl Guar
surf

|

vc
,
Sodium Stearoyl Lactylate
emu
,
Hydroxypropyl Cyclodextrin

,
Hexyl Cinnamal

perf
,
Limonene

perf

|

solv
,
Citral

perf
,
Hydrolyzed Vegetable Protein Pg-Propyl Silanetriol
,
Disodium EDTA
chel
,
Linalool

perf
,
Citronellol

perf
,
Iodopropynyl Butylcarbamate
pres
,
Hydroxycitronellal

perf
,
Etidronic Acid
chel
,
Tocopherol

aox
0
–
3
0
–
3
,
Geraniol

perf
,
Potassium Sorbate
pres
,
Helianthus Annuus (Sunflower) Seed Oil

emo
0
0
,
Phytantriol
h
2
2
,
Sodium Benzoate
pres
,
Pseudozyma Epicola/Camellia Sinensis Seed Oil Ferment Extract Filtrate
h
,
Tocopheryl Acetate
aox
0
0
,
Vitis Vinifera (Grape) Seed Oil

aox

|

emo
,
Aloe Barbadensis Leaf Juice

so

|

h
,
Panthenol

so

|

h
0
0
,
Citric Acid
buff
,
Gigartina Stellata Extract
,
Chondrus Crispus (Carrageenan) Extract

h

|

vc
,
Ascorbic Acid

aox

|

sb

|

buff
,
Cocos Nucifera (Coconut) Oil

emo

|

perf
0
4
Hover the mouse over an ingredient for short explanation. Read more on INCIDecoder.
Olaplex hero ingredient, the Bis-Aminopropyl Diglycol Dimaleate, comes in the first third of the ingredient list, shortly after Dimethicone, so it has more of this supposedly repairing ingredient than Olaplex No 8, yet still less than Olaplex No 3. (More info: How does Olaplex work?)
Would I repurchase?
No.
Now with the tiny amount needed, I am not sure if I will be able to ever finish this bottle during my lifespan or if it is something that I one day pass on half empty to my grandchildren, but if I did, I would probably not repurchase. Yes, I like how it makes my style last longer, but I am not one for mousses and stuff, and I guess the same goes for styling creams.
Which hair types do I recommend it to?
I think this is best suited for those with thicker hair or for those that want their styles to last for as long as possible.
More Olaplex product reviews
Olaplex No 3 Hair Perfector
Probably the most intense of the at home treatments in terms of repairing, but a little inconvenient in mode of application and without instant benefits
(You can read my full review here)
Olaplex No 4 Bond Maintenance Shampoo and No 5 Bond Maintenance Conditioner
I like them both a lot, but with my fine hair can only use them every other wash, otherwise they will weigh my hair down
(You can read my full review here)
Olaplex No 7 Bonding Oil
One of my favorite discoveries of 2021 as it does what any hair oil would do and as a bonus offers heat protection
(You can read my full review here)
Olaplex No 8 Bond Intense Moisture Mask
A nice hair mask, but nothing that did excite me enought to consider repurchasing
(You can read my full review here)
Shop my favorite hair care products here

If you want to get a vote in the next Ask Doctor Anne Topic, Ingredient Spotlight or product I review, don't forget you can head over to my Patreon account to get more involved!
(Visited 1.689 times, 1 visits today)