ADVERTISEMENT INFO:  MOST PRODUCTS MENTIONED IN THIS POST ARE PR (GIFTED) AND LINKS USED ARE AFFILIATE LINKS. I RECEIVED NO MONEY TO WRITE THE BLOGPOST. PLEASE READ DISCLAIMER
It has been a while, but I did acquire a lot of good stuff over the last three months that I wanted to share with you in this first haul of 2022. Mostly skincare, obviously, but I do have a few makeup purchases I will mention as well.
What I would like you to do is tell me in the comments which products you want to see reviewed first, so I can plan the next months accordingly.
New in from The Inkey List
I got two new releases from The Inkey List, the The Inkey List Hyaluronic Acid Cleanser (150 ml for 10,99 €, full review here), with Hyaluronic Acid and Inulin. It is aimed at dry and dehydrated skin, but as I am all for a gentle cleanse and usually love cleansers from the brand, I decided to give it a go. And then The Inkey List Omega Water Cream (50 ml for 10,99€), a lightweight oil-free and hydrating gel moisturizer – sounds just like what I need for late spring and summer.
Then I got The Inkey List Symbright Moisturizer (50 ml for 11,99 €), with fermented ingredients aiming to brighten the skin. I didn't get that one when it was released as this "Symbright complex" sounds a little, I don't know, vague? But I figured it could be a nice moisturizer anyway, so I will report back.
Both The Inkey List Oat Cleansing Balm (150 ml for 10,99 €, full review here) and The Inkey List Fulvic Acid Cleanser (150 ml for 11,99 €, full review here) are repurchases that already have an in-depth review up on this blog.
New in from Garnier
And because I love the Garnier Ambre Solaire Anti-Age Super UV Sun Cream SPF 50 with Hyaluronic Acid (50 ml for 9,95 €, full review here), I picked up the version with Glycerin (50 ml for 9.95€) and the corresponding Garnier Anti Age Super UV SPF 50 Fluid (40 ml for 9,95 €) as well. I need to use both for a little longer, but right now the fluid, despite having a much nicer and less shiny finish than the cream, also feels much more like sunscreen when applied and the cream with Glycerin is also pretty rich compared to the one with Hyaluronic Acid.
New in from Hylamide
From Deciem I received a wide selection of different products from their Hyalmide, their NIOD and their Hair is Fabric (HiF) lines.
The first one, the Hylamide High Efficiency Face Cleaner (120 ml for 18 €, full review here), already has a review up. The Hylamide SubQ Skin (30 ml for 21 €, full review here), a serum with Hyaluronic Acid, peptides and some kind of algae, which I have not tried yet, is from the Core range. The other two serums, the Hylamide Low Molecular HA (30 ml for 16 €) and the Hylamide C25 (30 ml for 25 €, full review here) are from the Booster range. I have been using the C25 for a bit already, it is more on the oily side and uses a Vitamin C derivative, Ethyl Ascorbic Acid, so while I need a little more time to make up my mind, first impressions aren't overwhelming.
New in from NIOD
From NIOD I got the Fractionated Eye Contour Concentrate (15 ml for 51 €, full review here), claiming to use 28 different clinical technologies including drone delivery mechanics – and no, at this moment I have no clue what they mean by that. I have already started using it though, it is a little oily for daytime use, and will report back with the details in a few weeks.
Then I got the NIOD Copper Amino Isolate Serum 3 1:1 (30 ml for 72 €, full review here), the follow up version of their famous copper peptide serum that needed to be mixed before application. I am a huge fan of The Ordinary Buffet + Copper Peptides, so I am excited to see how that one compares.
Next is the NIOD Modulating Glucosides (30 ml for 27 €), aiming to reduce redness, sensitivity and irritation. This one I have yet to try, as I have been testing the Zelens Power D Serum (full review here) for that purpose until recently, but will report back.
I also got one of their sunscreens, the NIOD Survival 30 (30 ml for 28 €), a mineral only sunscreen with added antioxidants to prevent UV damage. I am usually not a fan of mineral only sunscreens, but will give it a go and see if this one can convince me otherwise.
For the neck I got the NIOD Neck Elasticity Catalyst (50 ml for 60 €), a peptide cream to lift and firm the skin on the Décolleté and neck. While I usually just use my face moisturizers down to my boobs, I am at an age where I could use a little extra help in that area as well, so let's see how it goes.
The NIOD Lip Bio-Lipid Concentrate (15 ml for 45 €, full review here) is an interesting one, as it claims to help improve lip color, volume and texture. Texture isn't that important to me, but as we age we lose both color and volume, so I took some before pictures to see if the effect it gives is long term or only temporary as it is with these lip plumping glosses.
And the last one from the NIOD family is the Non-Acid Acid Precursor 15%. I admit I had to read the product description at least three times before I was able to get what this is and what it is supposed to do – NIOD isn't as straightforward here as The Ordinary is. From my understanding it is fermented skincare with amino acids created from the fermentation process that supposedly act as acid precursors for a more gentle acid exfoliation effect. Interesting concept that I need to look into more.
New in from Hair is Fabric
Their Hair is Fabric line, HiF in short, works from the assumption that hair is a special kind of fabric and should be treated like other delicate fabrics, silk for example, with a special detergent. The whole packaging picks up on this, with little symbols representing what to do and what not to do, and I think it is kind of fun.
Both the HiF Volume Support (180 ml for 35 €, full review here) and the Hydration Support (180 ml for 30 €, full review here) are so-called Cleansing Conditioners, claiming that just that one step is enough for your hair, similar to the no poo movement from a while ago. So far that has never worked for my hair, but I will report back.
New in from Alpha-H Skincare
A few weeks ago I was going through some of my older blog posts, from way before I started Youtube, to see if they needed an update. One of them was a review of the Alpha-H Liquid Gold Acid Exfoliant (which you can read here), my first acid exfoliant and a longstanding favorite of mine. And as if that triggered some magical carmic skincare flow, shortly after the brand Alpha-H reached out to me, offering to send their Alpha-H Liquid Gold Midnight Reboot Serum (50 ml for 125 $, full review here) with 14% Glycolic Acid and 1% Granactive Retinoid as well as peptides for a one step solution targeting multiple signs of premature aging. (More info: Everything you need to know about peptides in skincare)
Yes, this is eye wateringly expensive, but might be worth it for you if you want one serum that does it all rather than three different ones. I need to give it more time before I can give you my full review, but if you want to try it yourself, you can use the discount code DRANNE15  to get 15% off (valid until February 28th).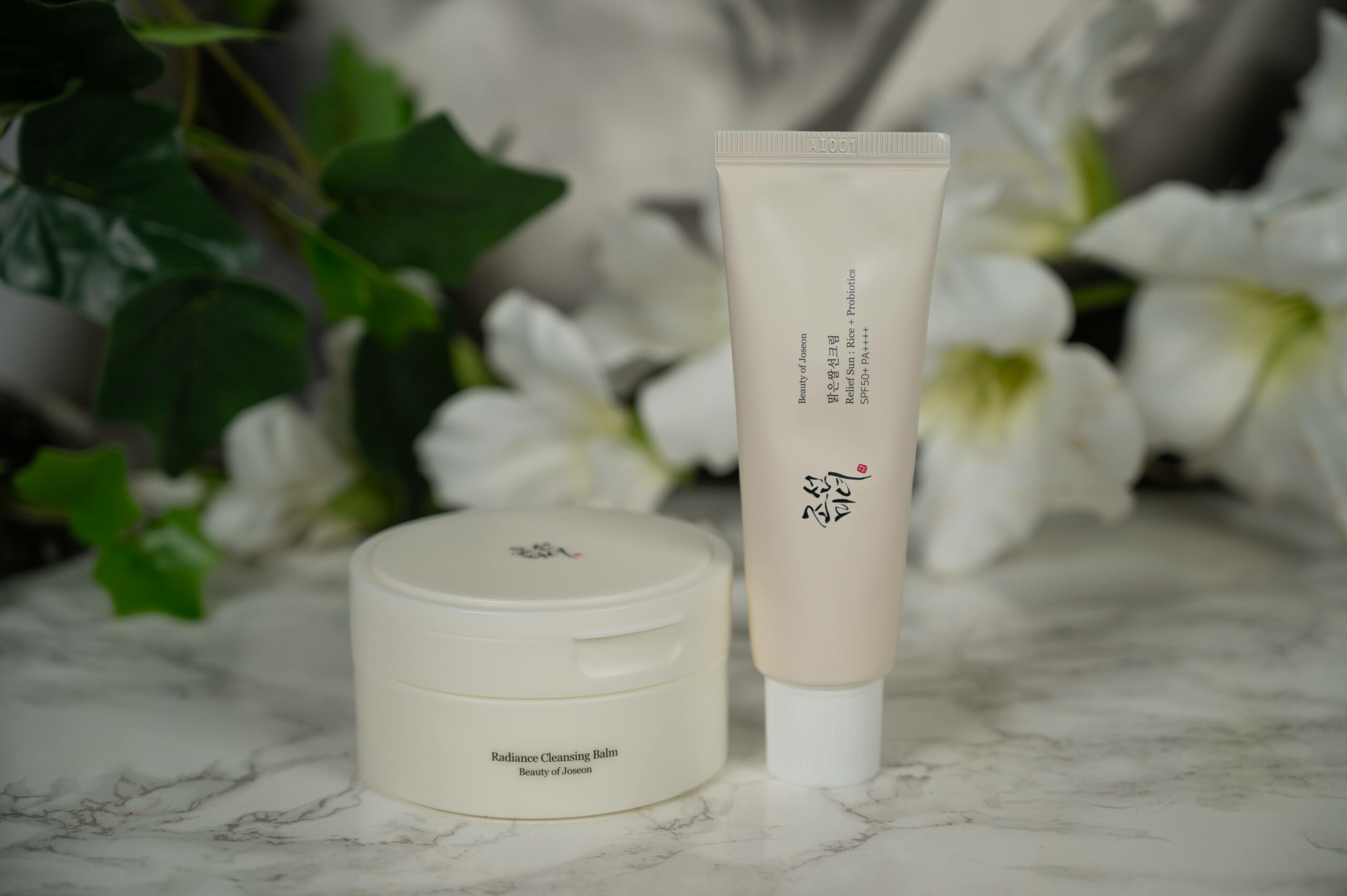 New in from Beauty of Joseon
Moving on to K-Beauty Stuff, the brand Beauty of Joseon sent me two of their products, the first being their Beauty of Joseon Radiance Cleansing Balm (100 ml for 12,95 €, full review here), a gentle and hydrating cleansing balm I really enjoy. The second one is their Beauty of Joseon Relief Sun : Rice + Probiotics SPF 50+ PA++++ (50 ml for 16,59 €, full review here), and it is so lovely that I reached out to the brand and requested to see the test results from the lab they tested the sunscreen at – it just feels like a luxurious moisturizer. They very kindly sent them over – my full review will be up soon, but so far I am very impressed!
New in from 107 Skincare
And lastly, I got a bunch of products from 107, a skincare brand that builds their products around the benefits of fermented skincare, namely aged vinegar, but in a purified and skin appropriate form – don't think I will suggest any apple cider vinegar DIY recipes on here! (More info: Prebiotics, probiotics and postbiotics in skincare)
I have the 107 Chaga Jelly Low pH Cleanser (120 ml for 22 $) containing green tea leaf powder, but in my opinion smelling like Earl Grey with a dash of milk, then the 107 Micro Drizzle Toner (180 ml for 35 $, full review here), which is one of those hydrating and lightweight K-Beauty Toners I have come to appreciate over the last two years. Their 107 Dewy Glow Serum Mist (50 ml for 58 $) puts the focus on fermented ingredients and glowing skin and apparently can be used to set makeup – I haven't tried that, as I don't think the mist is fine enough to be sprayed directly onto the face, but the glow you get from it is real. The last one is the 107 Everyday Plump Hydro Cream (50 ml for 48$) that is firmer than i had expected, but feels very lightweight on my skin.
New in makeup
For makeup, I repurchased the L'Oréal Volume Million Lashes So Couture Mascara (9,5 ml for 9,75 €) for the second time already, as I love the separation and length it gives to my lashes, and also the Manhattan Volcano Explosive Volume Mascara in black (10 ml for 3,65 €) to test it. And as I needed a new eyeliner, I picked up the Trend it up Dip In Eyeliner in Black (3 ml for 2,45 €), which despite the low price so far has convinced me.
Shop the post:

If you want to get a vote in the next Ask Doctor Anne Topic, Ingredient Spotlight or product I review, don't forget you can head over to my Patreon account to get more involved!
(Visited 812 times, 1 visits today)