ADVERTISEMENT INFO: SOME PRODUCTS MENTIONED IN THIS POST ARE PR (GIFTED) AND LINKS USED ARE AFFILIATE LINKS. I RECEIVED NO MONEY TO WRITE THE BLOGPOST. PLEASE READ DISCLAIMER
You know how I feel about the claim of products "detoxifying" anything (if somehow you don't: it is a scam, your body detoxifies via liver and kidneys, surely not with the help of skincare or supplements), so it took me a while to warm up to the pixi DetoxifEYE Serum.
It does contain caffeine though, just like my long standing favorite, The Inkey List Caffeine eye cream, so in the end curiosity got the better of me and I pulled it out of my stash. Curiosity and the fact that I already reviewed the pixi DetoxifEYE Undereye patches here – I like to complete things.
So how did it work out?
What the pixi DetoxifEYE Serum claims
This caffeine-infused serum helps de-puff, decongest and hydrate. Perfect for awakening and energising the delicate eye area.
Facts about the pixi DetoxifEYE Serum
Prize and size
One tube contains 25 ml and is available for 26 € on the website here. It has a small nozzle for product dispersion that pixi calls a precision applicator and that looks a little like the tip of a glass pipette (although it is obviously made of plastic, not glass).
Texture and smell
It is a clear gel with no noticeable scent that is easy to spread and, despite not being runny, turns into a watery texture once it comes in contact with the skin.
How to use the pixi DetoxifEYE Serum
Depuff and energize sounds a lot like claims for a product supposed to be used in the mornings, but the product could be used morning or night depending on your preferences. I prefer using retinol eye creams in the evenings, so for me it was a morning product. (More info: Are eye creams just a waste of money?)
While the "precision applicator" is helpful in getting the small amount of product actually needed for the eye area, I did not see any other use in it. I don't put any applicators directly on my face when it comes to skincare to avoid contamination, so I put some on my ring finger and dabbed it in from there.
It is extremely lightweight, feeling like water on the skin, but stays noticeably tacky for at least five minutes. That didn't bother me as I usually do my skincare and then get dressed before I apply my makeup, but if you do it back to back it might lead to pilling with concealer. I didn't find it to be particularly hydrating despite the texture change, but it didn't accentuate any fine lines. If anything, my skin felt a little firmer and tighter with it.
Ingredients of the pixi DetoxifEYE Serum
Anthemis Nobilis Flower Water
,
Glycerin

sii

|

h
0
0
,
Aqua/Water/Eau
solv
,
Propanediol
solv

|

h
,
1,2-Hexanediol
solv
,
Arginine

sii
,
Caffeine

aox

|

perf
,
Cucumis Sativus (Cucumber) Fruit Extract

so

|

emo
,
Glycyrrhiza Glabra (Licorice) Root Extract

so

|

sb
,
Adenosine

cci
,
Hyaluronic Acid

sii

|

h
,
Palmitoyl Tripeptide-5

cci
,
SH-Oligopeptide-1
cci
,
SH-Oligopeptide-2
cci
,
SH-Polypeptide-1
cci
,
Sh-Polypeptide-22
,
SH-Polypeptide-3
,
Acrylates/C10-30 Alkyl Acrylate Crosspolymer
vc
,
Polyglyceryl-10 Laurate
surf

|

emu
,
Ethylhexylglycerin
pres
,
Glyceryl Acrylate/Acrylic Acid Copolymer
h

|

vc
,
Hydroxyethylcellulose
vc
,
Pvm/Ma Copolymer
vc
,
Phenoxyethanol
pres
Hover the mouse over an ingredient for short explanation. Read more on INCIDecoder.
After taking a first look at the ingredient list, I was actually pleasantly surprised: There are quite a few peptides in the blend, more than I had anticipated. You will find Glycerin and Hyaluronic Acid for hydration (More info: The benefits of Hyaluronic Acid in skincare explained) as well as the Caffeine I mentioned in the introduction having antioxidant benefits as well as a depuffing and brightening effect through constriction of small blood vessels – although that is probably small with topical application (More info: Dark circles under the eyes – what really helps).
There is also Licorice Root Extract, an interesting choice as it is usually found in products aimed at hyperpigmentation. Of course it is possible to have hyperpigmentation around the eyes as well, but I admit I haven't seen it there much.
The peptides you will find are Palmitoyl Tripeptide-5 claiming to boost collagen production, SH-Oligopeptide-1, SH-Oligopeptide-2, SH-Polypeptide-22 and SH-Polypeptide-3 which belong to the group of Growth Factors whose job it is to initiate repair processes in the skin after injury. I don't have an in-depth look at their benefits and data in skincare yet, so let me know if that would be something you'd be interested in.
Overall more than I had expected, I initially thought it would be just a cooling eye product aimed at younger skin.
Does it live up to its claims?
Yes and no.
It is caffeine infused, feels like a serum and will help in makeing the eyes appear less puffy. I didn't find it very hydrating though and am not sure how it would decongest skin.
How does it compare to…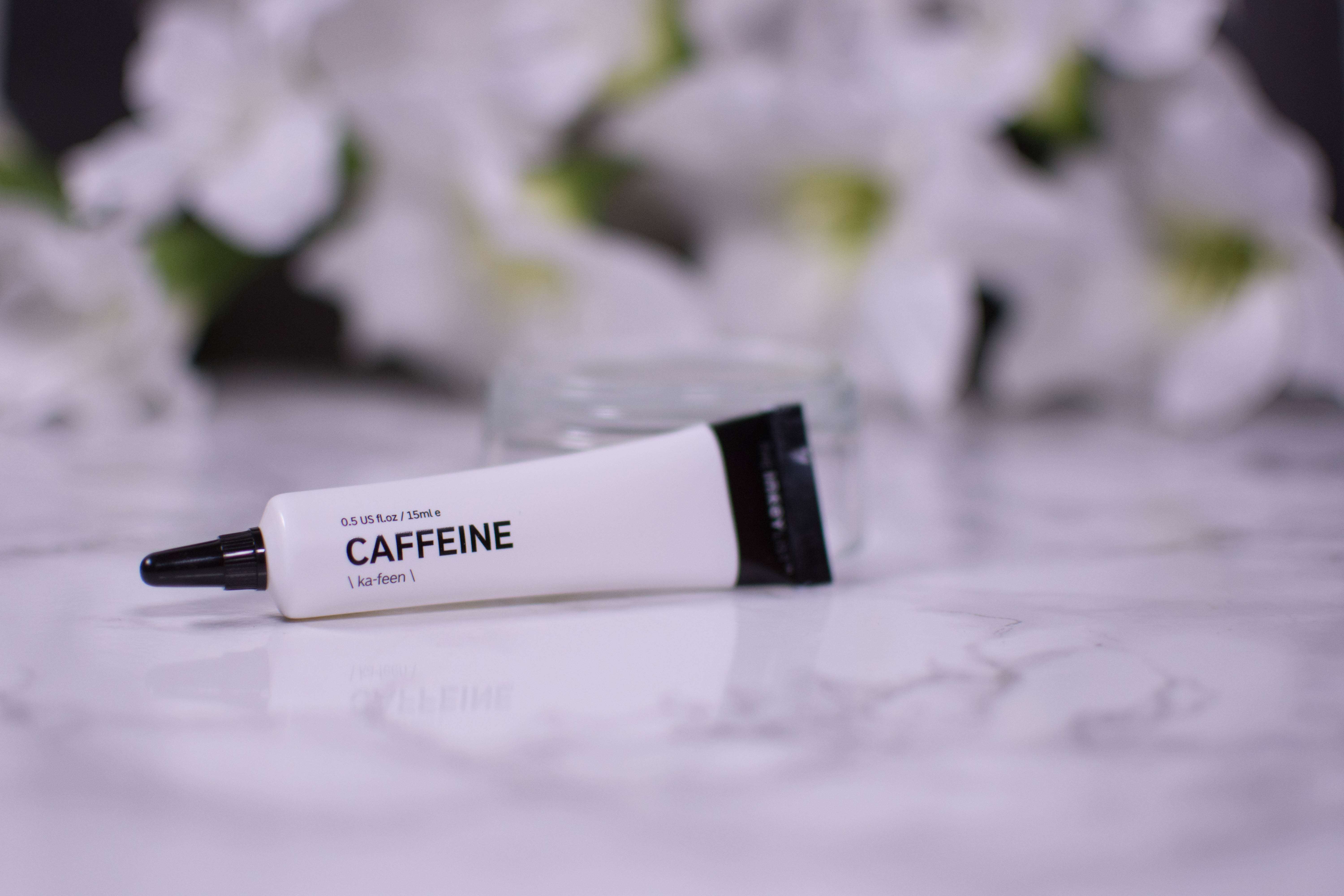 The Inkey List Caffeine Eye Cream
This eye cream from The Inkey List is probably my most repurchased eye product – which doesn't say much, you really don't need a lot so one tube lasts me forever. Still it is the best one I have found for depuffing – I don't suffer from puffy eyes in general, but when I apply the Caffeine Eye Cream after a good hormonal crying session in the evenings, I wake up with only mild swelling as opposed to barely being able to look out of my eyes.
The Inkey Lists version is slightly thicker, but still lightweight, and leaves no tackiness behind. It plays well with everything I put on top. Regarding the ingredients both share Caffeine, Humectants and contain in case of The Inkey List a peptide from the Matrixyl Complex aiming to boost collagen production. It does not contain any Growth Factors, so if that is what you are after, pixi is the better choice for you.
You can read my full review of The Inkey List Caffeine Eye Cream here.
Would I repurchase and which skin types do I recommend the pixi DetoxifEYE Serum to?
I am not particularly into eye creams with the exception of my retinol ones as I am not convinced I need them, so I probably wouldn't repurchase this one just for the Growth Factors, as it is not cheap. If puffy eyes are a concern for you in the mornings though and you want some extra help through peptides and Growth Factors, it certainly is a nice product with an instant tightening effect.
Shop pixi skincare
Don't forget to check out the Discount Code Page on top if you want to save some money on your next skincare purchase.
If you want to get a vote in the next Ask Doctor Anne Topic, Ingredient Spotlight or product I review, don't forget you can head over to my Patreon account to get more involved!
(Visited 67 times, 1 visits today)