This blog post uses affiliate links and thus qualifies as advertisement.  Please read disclaimer.
It is the basics that count. If you don´t have a solid foundation, you´ll never be able to build a lasting house.
Not that I know even the tiniest bit about building a house – I am hard pressed to even draw one that my kids recognize – but it is a subject that I have thought a lot about over the last few weeks.
Ahm, skincare basics, that is. Not building a house.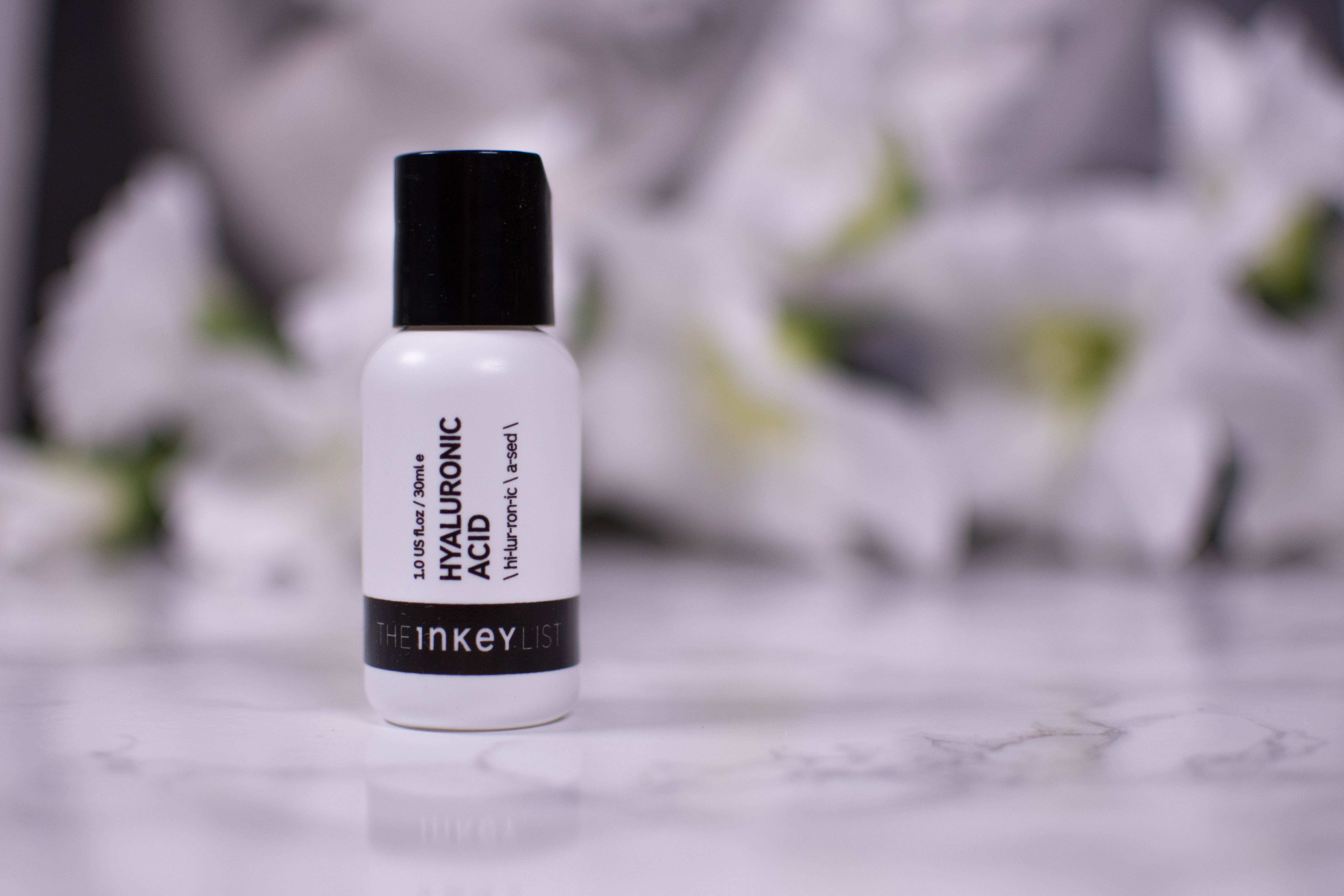 Ever since I posted this video, I pay much more attention to the ingredients I slather on my face, and while writing a review it suddenly dawned me that there was one that didn´t get the love it deserved.
And that is not only true for this blog here, it doesn´t get much love at all. We just assume that it is there, we take it´s appearance in a formula for granted, we just shrug when we see it on a label.
I am talking about Hyaluronic Acid, humectant and thus the key to plump and youthful looking skin. Yes, it is everywhere, yes, it can be sticky and hard to love sometimes, but in the right formula it is just OH SO GOOD.
So without further ado: THE INKEY LIST Hyaluronic Acid.
What THE INKEY LIST claims
Naturally found in our skin to maintain hydration levels, hyaluronic acid is a skin care superstar for a reason. Essentially a 'moisture magnet', it attracts moisture from the atmosphere and can hold up to 1000 times its weight in water. Over time, our hyaluronic acid levels decrease (sob) resulting in dullness, fine lines and uneven tone and texture. The perfect foil for this unfortunate state of affairs, THE INKEY LIST's gentle Hyaluronic Acid Serum stars the stuff at a pure, 2% concentration and in three molecular weights (high, medium and low) to ensure maximum absorption at every layer of your skin. Dehydrated skin affects most of us (even oily skin can be dehydrated) and, differing from dryness, results from a lack of water in the skin. Replenish this water with The Inkey List's high-quality, impressively affordable formula and you can expect plumper, healthier skin, with fewer visible fine lines and wrinkles and a more even tone and texture. It can even aid the efficacy of products applied after it – genius.
Facts
Prize and size
One bottle (plastic, flip-lid) contains 30 ml and retails for 4,99 £ at Cult Beauty.
Texture and smell
More on the runny side and without a noticeable smell.
Application and effects
Due to the runny texture it is easy to distribute, mixes with other skincare very well and, rare in a hyaluronic acid serum, does not leave a sticky feeling.
Ingredients
Favorable ingredients

Propanediol: Humectant, penetration enhancer
Glycerin: Humectant, draws moisture to the skin
Butylene Glycol: Humectant, penetration enhancer
Sodium Hyaluronate: Hydrating, smaller form of hyaluronic acid with deeper penetration
Hyaluronic Acid: Humectant
Palmitoyl Tripeptide-1/-7: Matrixyl complex, increases synthesis of collagen, elastin and glycosaminoglycans (no independent studies)
Other ingredients

Ammonium Acryloyldimethyltaurate/VP Copolymer: Viscosity control
Leucostonoc/Radish Root Ferment Filtrate: Preservative
Carbomer: Thickener
Polysorbate 20: Surfactant
Phenoxyethanol: Preservative
Humectants with a little bit of peptides sprinkled in – it is what you would expect from the product.
Does it live up to its claims?
Yes.
It is a humectant, attracting water to the skin and contains penetration enhancers. All claims fulfilled.
Would I repurchase?
Yes.
Hyaluronic Acid is a given in my routine, and this is one has a great price as well as an amazing texture.
Who do I recommend it to?
Anyone. Most people have dehydrated skin, yes, even the oily ones (find out if that is true for you too here), and a basic hyaluronic acid serum to layer and mix your other products with shouldn´t be missing in your stash.
THE INKEY LIST Hyaluronic Acid Serum impresses with the non-sticky texture, so I honestly can´t fault this product.
Shop the post
(Visited 1.968 times, 1 visits today)