ADVERTISEMENT INFO:  PRODUCTS MENTIONED IN THIS POST ARE PR (GIFTED) AND LINKS USED ARE AFFILIATE LINKS. I RECEIVED NO MONEY TO WRITE THE BLOGPOST. PLEASE READ DISCLAIMER 
There are no rules in skincare. Guidelines and suggestions, yes, but almost no hard rules. Except this one: If you don't apply enough product, you will not get the sun protection claimed on the bottle. (More info: How much sunscreen do you really need?)
And "enough product" is usually more than you would have thought. So it is handy that Dr Sam's Flawless Daily Sunscreen tells you the right amount on the packaging: 3 pumps.
And yes, that is a lot. How that worked for me and who I think this is a great sunscreen for is what we are going to talk about today.
What Dr Sam's Flawless Daily Sunscreen claims
A cosmetically elegant broad-spectrum dream that defies your preconceptions about sunscreen. Like a (silky) safety belt for your skin.
It calms and coddles blemish-prone skin, with a soft-focus primer-like finish, and makes your morning routine run smoothly.
Non-Comedogenic and Fragrance-Free.
Facts about Dr Sam's Flawless Daily Sunscreen
Prize and size
One bottle, in the signature packaging and with a pump, contains 50 ml of product and is available for 29 £ on the website here.
Texture and scent
The sunscreen feels like a firm moisturizer and very hydrating. While there is no real scent I do notice a white cast when applying the recommended three pumps, and that is despite me being pretty pale. If your skin tone is any deeper than this, this will most likely be an issue.
How to use Dr Sam's Flawless Daily Sunscreen
According to the packaging you need three pumps for the face alone and three additional pumps if you want to do your neck as well, and I can tell you: Three pumps is a lot of product for someone with an average sized head like me. The best way I found it to work is by dotting it all over my face and then spreading it, going over the areas repeatedly until there is an even film.
At that point there is still a noticeable white cast and the feeling of a layer of product on my face that I am not a fan of. This "layer" will get better with time, but the extra paleness never completely goes away and the finish is much dewier than I like it.
It does work really well underneath makeup though, which will also help with the white cast.
(More info: 5 ways to reapply sunscreen over makeup)
Ingredients of Dr Sam's Flawless Daily Sunscreen
Aqua (Water)
solv
,
Zinc Oxide (Nano)

sunsc
0
1
,
Octyldodecyl Neopentanoate
emo
,
Caprylic/Capric Triglyceride
emo
,
Ethylhexyl Methoxycinnamate
sunsc
0
0
,
Niacinamide

cci

|

sb

|

aacne

|

h
,
Glyceryl Stearate
emo

|

emu
0
1
–
2
,
PEG-100 Stearate
surf

|

emu
0
0
,
Cetearyl Alcohol
emo

|

vc

|

emu

|

surf
1
2
,
Butyrospermum Parkii (Shea) Butter

emo

|

vc
,
Hydroxyethyl Acrylate/Sodium Acryloyldimethyl Taurate Copolymer
vc
,
Phenoxyethanol
pres
,
Squalane

sii

|

emo
0
1
,
Polyhydroxystearic Acid
emu
,
Sodium Hyaluronate

sii

|

h
0
0
,
Sodium Stearoyl Glutamate
emu

|

surf
,
Tocopheryl Acetate
aox
0
0
,
Lactic Acid

exf

|

h

|

buff
,
Carbomer
vc
0
1
,
Sodium Hydroxymethylglycinate
pres
,
Polysorbate 60
emu

|

surf
,
1,2-Hexanediol
solv
,
Disodium EDTA
chel
,
Isostearic Acid
surf

|

emu
,
Ethylhexylglycerin
pres
,
Sorbitan Isostearate
emu
0
1
–
2
,
Biosaccharide Gum-4
,
Citric Acid
buff
Hover the mouse over an ingredient for short explanation. Read more on INCIDecoder.
A quick look at the ingredient list gioves a possible explanation for the added paleness: It is a mixed sunscreen, using both a chemical filter, Octinoxate, and a physical one, Zinc Oxide Nano, and the latter one is probably responsible for that. (More info: What is the difference between chemical and physical sunscreen?)
Why these two were chosen over a variety of other potential filters that we in Europe have access to is a good question, I assume it was for two reasons:
First because Dr Sam seems to prefer Zinc Oxide when it comes to treating skin that is easily irritated (something I personally don't agree on with her: More info: Physical or chemical, which sunscreen is better for you).
And second because this combination of filters is following American sunscreen guidelines, as the newer filters aren't allowed over there yet, making distribution easier.
Other than these two you will find Niacinamide, humectants, Shea Butter and Squalane, a base formula that isn't that different from what her moisturizer contains. (More info: Ingredient Spotlight Niacinamide and Full Review of the Dr Sam Flawless Moisturizer)
Does it live up to its claims?
I am not convinced.
I don't think it is able to defy preconceptions about sunscreen, at least not if you are used to formulas other than the standard American ones.
How does it compare to…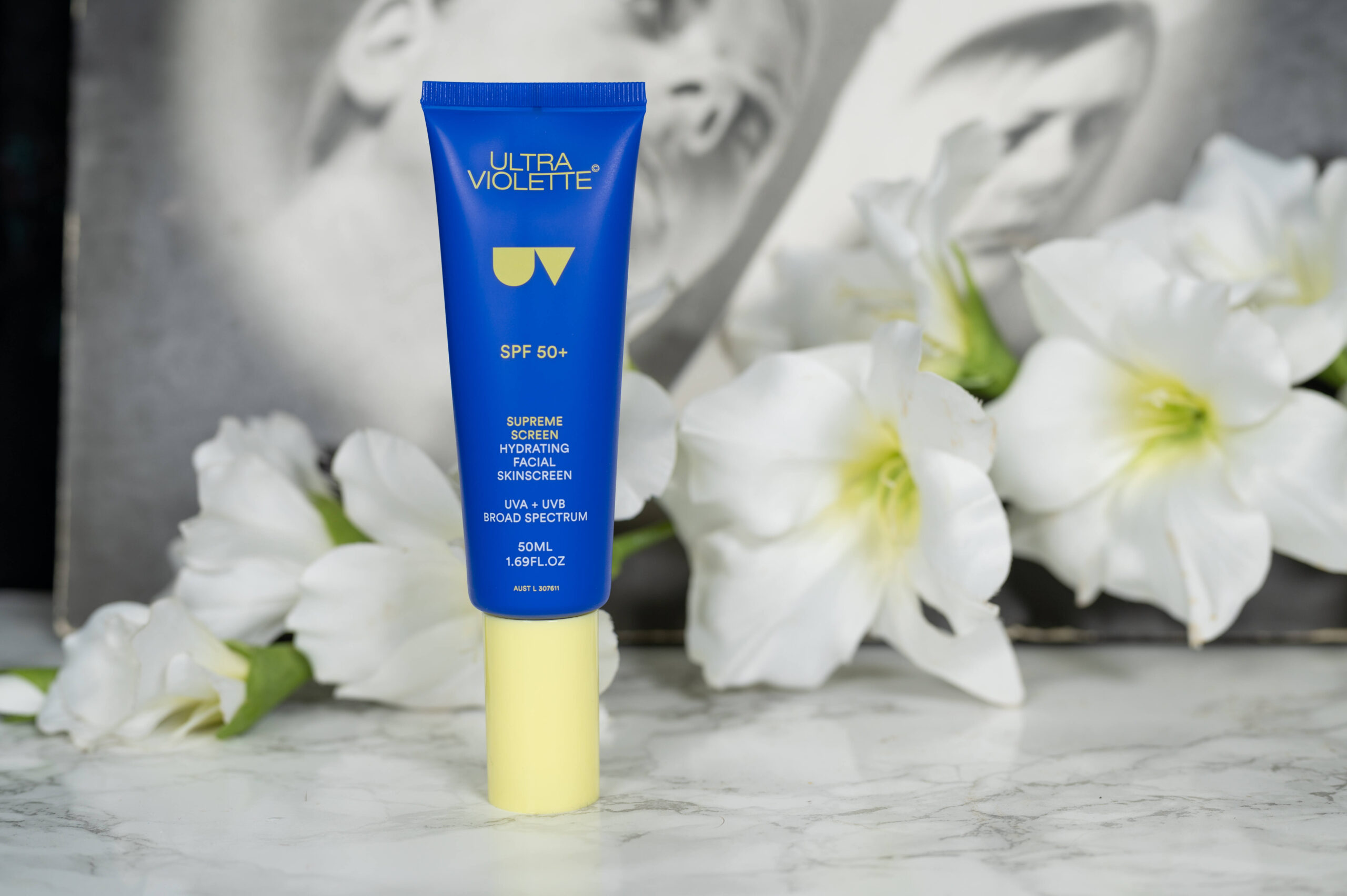 … the Ultra Violette Supreme Screen Hydrating Facial Sunscreen SPF 50+
This one is much more elegant, has no white cast and despite being pretty hydrating itself, feels much mor comfortable on the skin. It is a chemical filter only sunscreen from Australia.
You can read my full review of the Ultra Violette SPF here
… the Heliocare 360° Water Gel Sunscreen
Another all chemical one that feels much lighter on my face and that for me is easier to apply the correct amount of. It is also UK based and easier to access than the Ultra Violette version.
You can read my full review of the Heliocare 360° Water Gel Sunscreen here
… the Garnier Ambre Solaire Anti-Age Super UV SPF 50
And here is a third all chemical option, a little less elegant than the other two, but very, very affordable and one that I keep picking up. It is also more hydrating than the Heliocare version, so great if your skin is more mature.
You can read my full review of the Garnier Ambre Solaire Anti-Age Super UV SPF 50 here.
Would I repurchase and which skin types do I recommend Dr Sams Flawless Daily Sunscreen to?
Now you might have sensed it already, I am not a fan, at least not on my skin. While I think this might be nice if your skin is normal to dry, I really can't see how this would work for someone that is more on the oily side. My preferences are set by the access to more modern filters though, so if you live in the US, you might feel different about the texture, it gets very good reviews from content creators over there.
The only way for me to make it work though would be to apply less of it, like half of the recommended amount, and that way I wouldn't get a SPF 50, so don't feel tempted to do that.
I mean, a little protection is always better than none, and if you are indoors all day it might be enough, but as someone prone to pigmentation I try to err on the side of caution and reach for a product that I can slather myself in without feeling uncomfortable. (More info: Different types of hyperpigmentation explained)
More Dr Sam skincare?
You can read my review of the Flawless Cleanser here, of the Flawless Neutralizing Gel here and of the Flawless Moisturizer here.
If you want to get a vote in the next Ask Doctor Anne Topic, Ingredient Spotlight or product I review, don't forget you can head over to my Patreon account to get more involved!
Shop my favorite sunscreens here
(Visited 1.873 times, 3 visits today)