ADVERTISEMENT INFO: SOME PRODUCTS MENTIONED IN THIS POST ARE PR (GIFTED) AND LINKS USED ARE AFFILIATE LINKS. I RECEIVED NO MONEY TO WRITE THE BLOGPOST. PLEASE READ DISCLAIMER
I have found my favorite Vitamin C serum a while ago. It ticks all the boxes, is affordable, never failed me… still I feel the need to stray sometimes, just for the excitement of trying something new. And the latest one that led me astray? The Alpha-H Advocate Vitamin C Serum. You see, Vitamin C is a fickle ingredient, hard to formulate in a way that is stable, yet effective and pleasant to use, especially when you use the OG ingredient, L-Ascorbic Acid, which is quite the diva in terms of how quickly it goes off.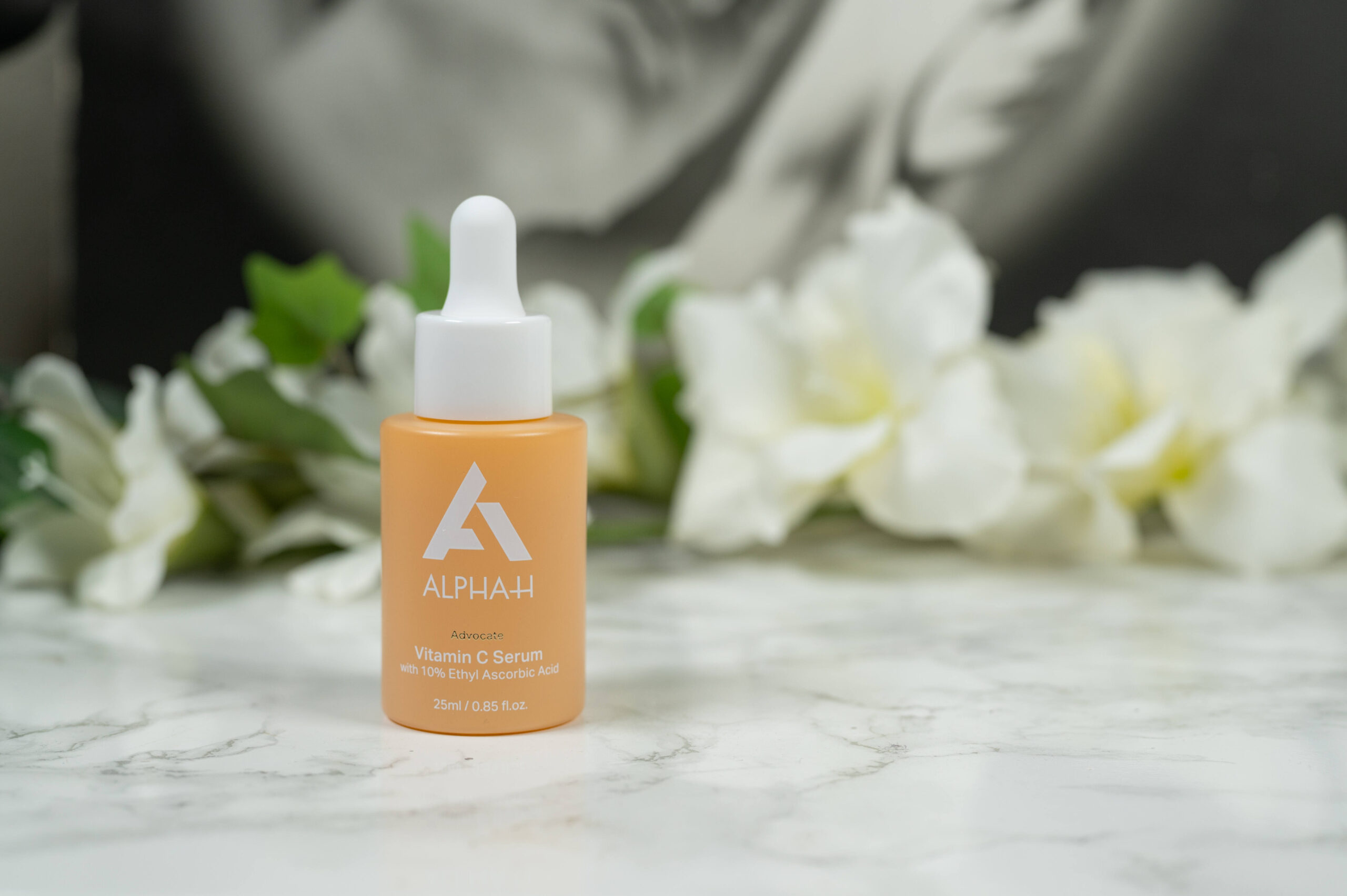 Many brands decide to go for derivatives instead, making it easier to create a product that will last, not irritate the skin due to low pH and still deliver the results the customer is looking for, which are brightening of the skin and increased collagen production, for both of which Vitamin C is essential. (More info: Everything you need to know about Vitamin C in skincare). Sometimes that works, in other cases… Not so much.
So let's take a look at Alpha-Hs offer and see if they got it right.
And if you want to learn more about the Alpha-H Advocate Serums, I have a video here:
What the Alpha-H Advocate Vitamin C Serum claims
A lightweight daily serum formulated with 10% Vitamin C (Ethyl Ascorbic Acid) alongside Hyaluronic Acid to give dull complexions a boost.
Facts about the Alpha-H Advocate Vitamin C Serum
Prize and size
One dropper bottle made from orange frosted glass contains 25 ml (which is less than your average serum) and is available for 56,95 € on the website here. It has a pH of 4.0 and is vegan.
Texture and smell
Like many Vitamin C products it is slightly yellow when you open it, but as it doesn't contain Ascorbic Acid, but a derivative instead,it is probably not a sign of the Vitamin C oxidizing. The texture is slightly oily when you put it on, but disappears into the skin quickly without any greasi- or tackiness. If you sniff very closely, you will get a faint citrus scent.
How to use the Alpha-H Advocate Vitamin C Serum
I usually use my Vitamin C in the morning, but it could be used at night as well if that fits your routine better. The slight oiliness made me wary at first, but as it dries down on the skin to an almost powdery finish, I had no issues with it interfering with other products like sunscreen put on top.
4 drops are enough to spread on your face and neck and I was able to take it right up to my eyes without issues. (More info: The best way to take care of the skin on your neck and decollete)
Ingredients of the Alpha-H Advocate Vitamin C Serum
Aqua (Water)
solv
,
3-O-Ethyl Ascorbic Acid

aox

|

sb
,
Methyl Gluceth-20

h
,
Propanediol
solv

|

h
,
Sodium Citrate
chel

|

buff
,
Glycerin

sii

|

h
0
0
,
Phenoxyethanol
pres
,
Citric Acid
buff
,
Sodium Hyaluronate

sii

|

h
0
0
,
Caprylyl Glycol
h

|

emo
,
Sodium Metabisulfite
aox

|

pres
,
Polysorbate 20
emu

|

surf
0
0
,
Vitis Vinifera (Grape) Seed Extract

aox

|

amic
,
Citrus Aurantium Dulcis (Orange) Peel Oil

perf
,
Glycyrrhiza Glabra (Licorice) Root Extract

so

|

sb
,
Tasmannia Lanceolata (Pepperberry) Fruit/Leaf Extract

aox

|

so
,
Sodium Benzoate
pres
,
Potassium Sorbate
pres
,
Limonene

perf

|

solv
,
Ci 75120 (Annatto)
col
Hover the mouse over an ingredient for short explanation. Read more on INCIDecoder.
There are Glycerin and Sodium Hyaluronate as humectants and then 10% Ethyl Ascorbic Acid, a Vitamin C derivative that is both water and oil soluble and that is one of the derivatives with promising data on its performance in skincare. (More info: The benefits of Hyaluronic Acid in skincare)
For additional brightening you will find Licorice Root Extract and then Grape Seed Extract as antioxidant and Pepperberry Extract claiming to be soothing. (More info: Everything you need to know about hyperpigmentation)
The added Orange Peel Oil and the Limonene may be a problem for those with sensitivities. (More info: Is fragrance in your skincare bad for you?)
Does it live up to its claims?
Yes.
It contains the claimed ingredients, is lightweight after the initial oiliness and will help brighten the skin over time, especially if you don't yet have a Vitamin C product in your routine.
How does it compare to…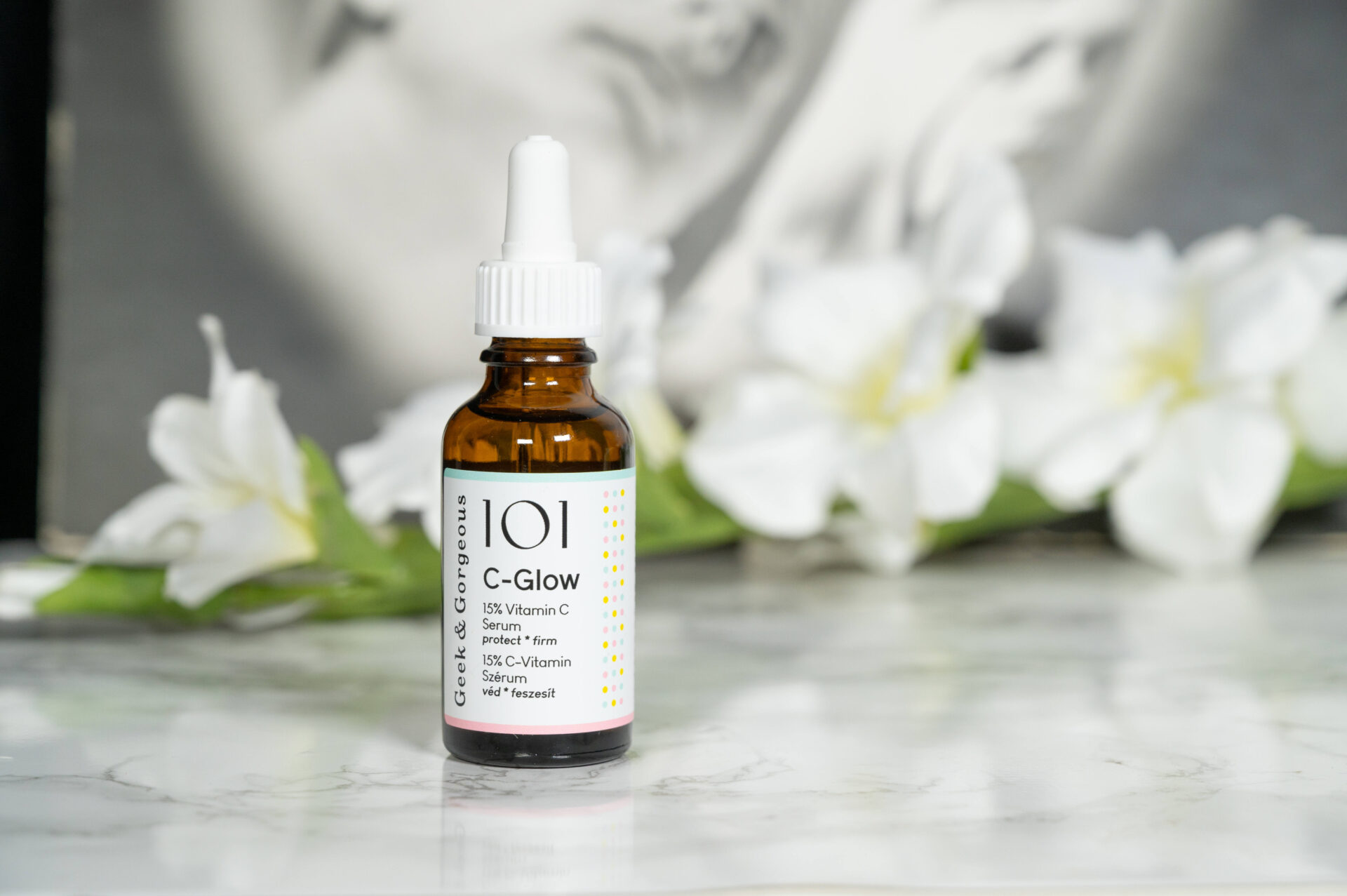 Geek and Gorgeous C-Glow Serum
You know I had to compare it to C-Glow, my favorite Vitamin C Serum to date, and still my favorite after testing the offer from Alpha-H. The main reason for that is that it uses L-Ascorbic Acid, the original one with the most data behind it, and that they are able to formulate it in a way that it stays stable with minimal oxidation for at least 4 months – kept in the fridge and in the dark. I also prefer the texture that is more watery and of course that it is way more affordable.
If you don't have means to keep it in a fridge, or if the low pH or Ascorbic Acid is a problem for your skin, the  3-O Ethyl Ascorbic Acid might be a good alternative for you.
You can read my full review of Geek and Gorgeous C-Glow here.
Omorovicza Daily Vitamin C Serum
Omoroviczas Daily Vitamin C Serum uses a different Vitamin C derivative, Sodium Ascorbyl Phosphate, which also is easier to formulate with and better suited at reactive skins. Like 3-O Ethyl Ascorbic Acid it has some data to show its effect on pigmentation and collagen, but not as much as Ascorbic Acid.
While the brand specifically markets it towards sensitive skins and a friend of mine that can't tolerate most Vitamin C products swears by it, be aware that it contains several plant extracts that might potentially be a problem if your skin is very reactive.
You can read my full review of Omoroviczas Daily Vitamin Serum here.
Would I repurchase and which skin types do I recommend it to?
Despite the added Hyaluronic Acid and Glycerin, I didn't find the product to be particularly hydrating, but liked the overall effect it has on my skin. While I will stick to using Ascorbic Acid in my personal routine, this might be a good alternative for those that can't tolerate Ascorbic Acid or that want something that is less likely to oxidize, for example for traveling. It should work on all skin types, but is probably aimed at more mature skin.
Shop Alpha-H skincare here

Don't forget to check out the Discount Code Page on top if you want to save some money on your next skincare purchase.
If you want to get a vote in the next Ask Doctor Anne Topic, Ingredient Spotlight or product I review, don't forget you can head over to my Patreon account to get more involved!
(Visited 153 times, 1 visits today)