ADVERTISEMENT INFO: PRODUCTS MENTIONED IN THIS POST ARE MOSTLY PR (GIFTED) AND LINKS USED ARE AFFILIATE LINKS. I RECEIVED NO MONEY TO WRITE THE BLOGPOST. PLEASE READ DISCLAIMER
A few days back temperatures reached 27 °C here in Germany, and while that didn't last, it did tell me it was about time to think about the skincare changes you need to make to your routine come summer. They obviously differ depending on the climate you live in – we have four seasons here, but none of them are extreme, if you live someplace like the Philippines though, it will basically always be a warm and humid summer climate.
So yes, basically the best skincare routine for summer or for all year round if you live somewhere hot and humid. Or hot and dry. Like, I don't know, Broken Hill in Australia. I was there once and wow, that was something.
So: 5 skincare routine changes to prepare for the summer heat, let's go with that.
With one extra bonus tip for those with oily skin, right at the end!
To keep the blogpost short, I won't go into detail with specific products, but link some suggestions below. As always though, go with the products you know and enjoy rather than buying what works for me, as every skin and preferences are different.
Cleanse thorough and often
The higher the temperatures are at night, the more likely we are to sweat, and the more sebum is produced on our skin, and the mixture of those two is the ideal breeding ground for bacteria, leading to clogged pores and breakouts. This is why, in the summer, I do recommend cleansing in the mornings with a dedicated cleanser instead of just water (unless your skin is really dry – always listen to your skin!).
I like multipurpose products that have a gel to foam texture like the Murad Environmental Shield Essential-C Cleanser (200 ml for 46 €, full review here) that contains Vitamin C inside little capsules, so you don't only cleanse, but also add some antioxidants into your routine. Yes, I know it is a wash-off product, and a rather pricey one, but I have been enjoying it for many years now, it just feels really refreshing and fun with these little beads inside.
These gel to foam cleansers aren't the best if your skin is dry, but are lovely fresh options in the humidity and heat. If you are in a dry heat climate, I would suggest opting for cleansers instead that focus on rehydrating the skin. One that comes to mind here is The Inkey List Hyaluronic Acid Cleanser (150 ml for 10,99 €, full review here). That way you can get rid of excess sweat while focussing on rehydrating your skin, very important in dry heat.
At night I actually recommend doing a Double Cleanse, as we, when following these tips, do wear more sunscreen than we do the rest of the year. Yes, I wear and recommend sunscreen all year round, but summer is the time for frequent reapplication and probably water resistant formulas, and that paired with sweat and excess sebum might be too much for just one cleanser. (More info: Is Double Cleansing always necessary?)
I prefer Cleansing Oils over Balms in summer, but in the end anything oil based will work fine – if it can dissolve waterproof mascara, it can handle your sunscreen. My current favorite for summer is still the SKIN1004 Madagascar Centella Light Cleansing Oil (200 ml for 24 €, full review here). As a second cleanse I again reach for one of the gel to foam cleansers I also use in the mornings.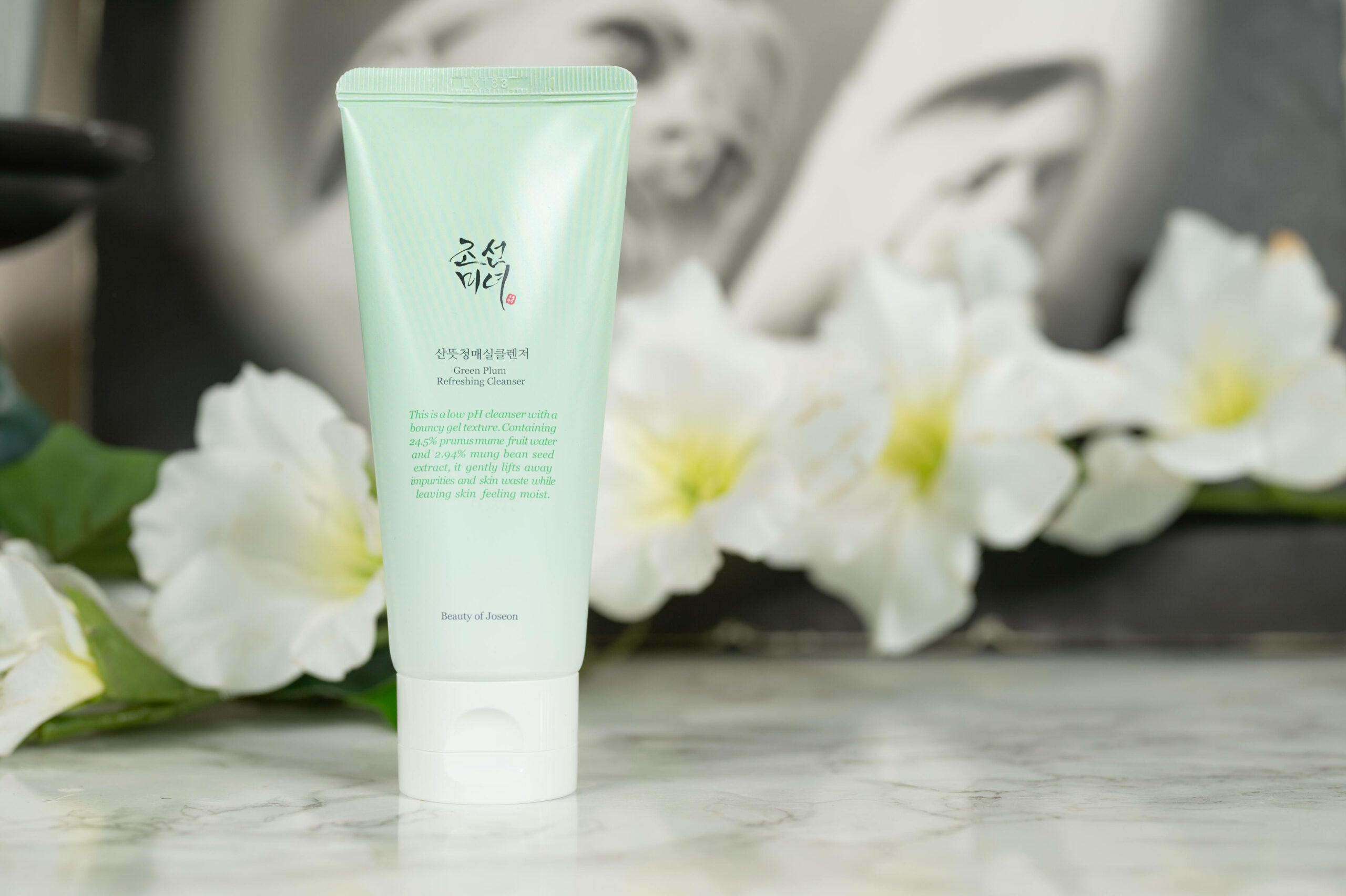 Ditch the layers
Just like I shed layers of clothing, I also shed layers of skincare steps once summer approaches. No multi step routines, but rather products that serve different purposes at once, so just one is needed and not several different serums combined.
That can be achieved both by using multitaskers or by stripping your routine back to the essentials. What is an essential will obviously vary from person to person, but the most common ones are antioxidants as in Vitamin C, Q10, Vitamin E – not only are they preventative when it comes to reducing damage from free radicals, but they also increase the protection from your SPF – and then an active targeting your main skin concern. (More info: Everything you need to know about Vitamin C)
For me those essentials are a Vitamin C serum in the mornings, my favorite of course being the Geek & Gorgeous C-Glow (30 ml for 10,50 €, full review here) and something with Niacinamide on the nights when I use Tretinoin (More info: Can you keep using your retinoids in summer?).
For my Tretinoin off-nights I want something with copper peptides to address premature aging, the NIOD Copper Amino Isolate Serum 3 1:1 (30 ml for 72 $, full review here) being my favorite, but depending on your age something soothing and hydrating might be a better choice for you.
Don't underestimate the potential for irritation that lies in the combination of heat, sun, chlorine or salt water and wind! (More info: 5 steps to repair your skin barrier)
Another thing I skip in the mornings is a dedicated moisturizer, as a well formulated sunscreen will offer enough hydration for most skin types. If I want extra hydration, I much rather do the Seven Skin Method I talked about here, as that gives me extra hydration without added heaviness. If you are in a dry heat, Transepidermal Waterloss will definitely be more of a problem, but again, a well formulated sunscreen should take care of that.
In the evenings I reach for light, gel type formulas to increase hydration, as the more occlusive creams feel suffocating in the heat. Murads Nutrient Charged Water Gel (50 ml for 69 €, full review here) is a longstanding favorite of mine, The Inkey List Omega Water Cream (50 ml for 9,90 $, full review here) is a more budget friendly alternative. Here your skin type will define whether gel, lotion or cream is best suitable for you.
Exfoliate wisely
The excess sweat and increased sebum production make your skin prone to breakouts, and the increased UV exposure due to longer days and more time spent outdoors can darken existing hyperpigmentation. Exfoliation can help with both of those, but I would still advise you to proceed with caution.
As mentioned before your skin is exposed to a lot of stressors already, so I personally tend to stick to Salicylic Acid only to battle congestion – I use the Paula's Choice 2% BHA Liquid Exfoliant (118 ml for 32 $, full review here) three times a week. If hyperpigmentation is your main concern, something like Mandelic Acid that due to its molecular size is more gentle and claims to be extra effective against hyperpigmentation might be a good option to target these concerns without irritating your skin. (More info: The different types of hyperpigmentation and how to treat them)
If you are in the dry heat, exfoliation might become more important, as the dryness and heat can lead to dull and flaky skin due to dead skin building up. In this case, Lactic Acid might be a good choice, as it is exfoliating and hydrating and so targets two things at once.
Sunscreen, sunscreen, sunscreen
Now that we mentioned hyperpigmentation, it is time to talk about sun protection, as it is always easier to prevent those dark spots than to treat them.
Very important: Sunscreen is only one part of sun protection and will never replace things like seeking shade, sun protective clothing and avoiding the midday sun, all conveniently combined under the term "sun smart behavior".
I love being at the beach as much as everyone else, but I am never there during the midday heat, I always wear a hat, sunglasses and sun protective clothing! (You can see my full beach outfit here)
You can't avoid sunscreen with these, but you should never rely on SPF alone either. I advocate sunscreen all year round, but tend to wear more heavy duty formulas in the summer, especially when I know I will be outdoors for a prolonged period of time, as opposed to the "office sunscreens" I wear for the rest of the year. You know which ones I mean, these lightweight Asian ones that feel like a moisturizer.
The reason why I switch is, again, the increased sweating. You want a sunscreen that is at least water resistant, so it doesn't rub off as easily, and you want to reapply that one throughout the day (another thing I skip in winter, but don't tell on me!). This is especially important if you suffer from melasma, as the areas that tend to affect, upper lip, temples and cheekbones, are the ones you rub your protection off first when you are sweating.
Sadly the way they are formulated means that they feel less lightweight and less cooling, so you need to find the balance between the one that offers the best protection and the one you will actually wear. No matter how incredible your SPF is at protecting your skin, if you don't wear it, it won't help.
I have a lot of posts dedicated to tips for sunscreen reapplication, the different filters and all the ones I have tried so far here on the blog. Just type sunscreen in the search bar to find them!
But in short: Apply enough, reapply often and be sun smart!
Don't forget the rest of your body – scalp, lips and limbs!
While awareness for sunscreen on the face has increased a lot since I was young, most of us are still way less diligent when it comes to taking care of the rest of the body, and I sure am guilty of that. I am pale, my legs are white, I have spider veins, old scars, cellulite, and I feel like all that looks way less obvious when my legs are tanned. I am also really, really bad at applying fake tan, so temptation is big to just stick my limbs out in the sun for a few days and let them darken naturally. Now, did you know that the lower legs are one of the places that melanoma frequently appears in in women? Anyone else see a connection here?
So when you take care of your face in the summer, don't forget about your limbs, your Décolleté, your hair and your lips – all these need sun protection as well! (More info: Sunscreen for the hair and Sunscreen for the lips)
Bonus tip for those with oily skin
I mentioned before that sebum production increases in the summer, but that is only part of the problem. Some of us produce more sebum that others, that is hormonal or genetic, whichever way to look at it you prefer, and that isn't linked to the weather. But when it is warm, sebum production increases in all of us, which is great for those with dry skin that usually don't have enough, but will turn many other faces into an oil slick, trust me, I have been there.
Rather than trying to combat the shine with powder, which will only increase the layer on your face, try blotting and using products that absorb some of that sebum. I found the pixi Clarity Face Mist (80 ml for 21 €, full review here) helpful for that as it soothes with Panthenol, Fermented Ingredients and Centella Extract, but also reduced shine and sebum with the added sea salt extract. (More info: Ingredient Spotlight Fermented Ingredients and Ingredient Spotlight Centella Asiatica)
Another ingredient that might help in reducing the amount of sebum you produce is Zinc, for example in The Ordinary Niacinamide + Zinc Serum (30 ml for 7 €, full review here).
All of that will only do so much though, so I guess embracing the glow is your best bet.
With all that said, don't stress too much – enjoy the sun, the sea, the ice cream and the time spend outdoors – you'll need those memories once the cold creeps back in!
Shop my suggestions
Don't forget to check out the Discount Code Page on top if you want to save some money on your next skincare purchase.
If you want to get a vote in the next Ask Doctor Anne Topic, Ingredient Spotlight or product I review, don't forget you can head over to my Patreon account to get more involved!
(Visited 551 times, 1 visits today)