ADVERTISEMENT INFO: SOME PRODUCTS MENTIONED IN THIS POST ARE PR (GIFTED) AND LINKS USED ARE AFFILIATE LINKS. I RECEIVED NO MONEY TO WRITE THE BLOGPOST. PLEASE READ DISCLAIMER
I keep putting off showing you what is new in my skincare stash because I have been meaning to combine it all in one huge haul video, but as there are so many videos to film and so little time, the pile just keeps growing and I am almost ready to share my reviews on the first ones. So I figured I'd at least put them up on the blog here for you guys to get an idea what I am currently testing and to tell me in the comments what you'd be most interested in seeing.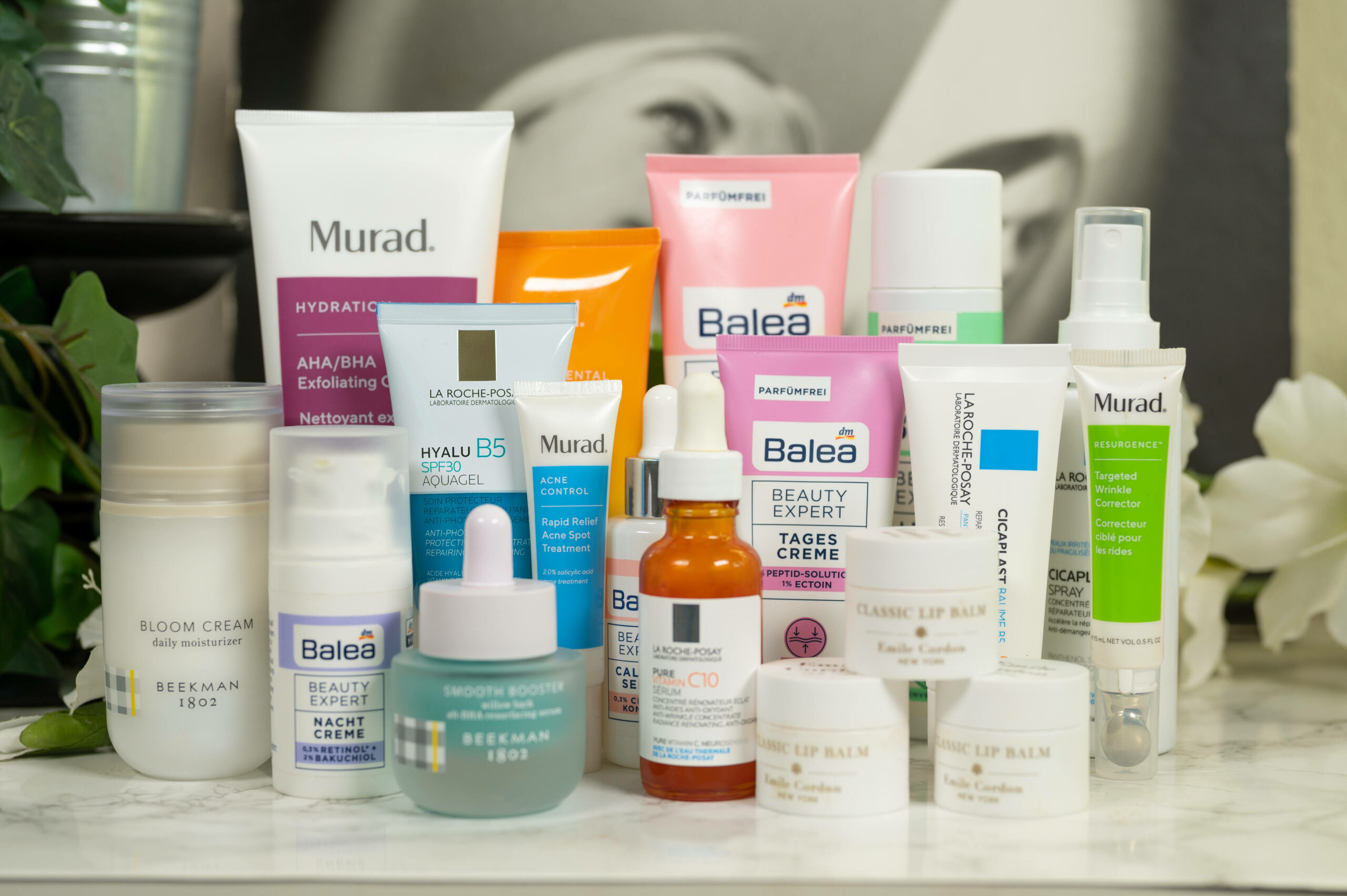 We have some French pharmacy skincare from La Roche Posay, an affordable German drugstore skincare line, lip balms that make me dream of an upcoming holiday and the supposedly latest and greatest skin care device out there. A mixed bag I would say and one that I am very much looking forward to testing. Somehow fall is the time of the year when I get the most experimental with my products anyway, my skin seems to be more forgiving then. (More info: How I am changing my skincare routine for fall).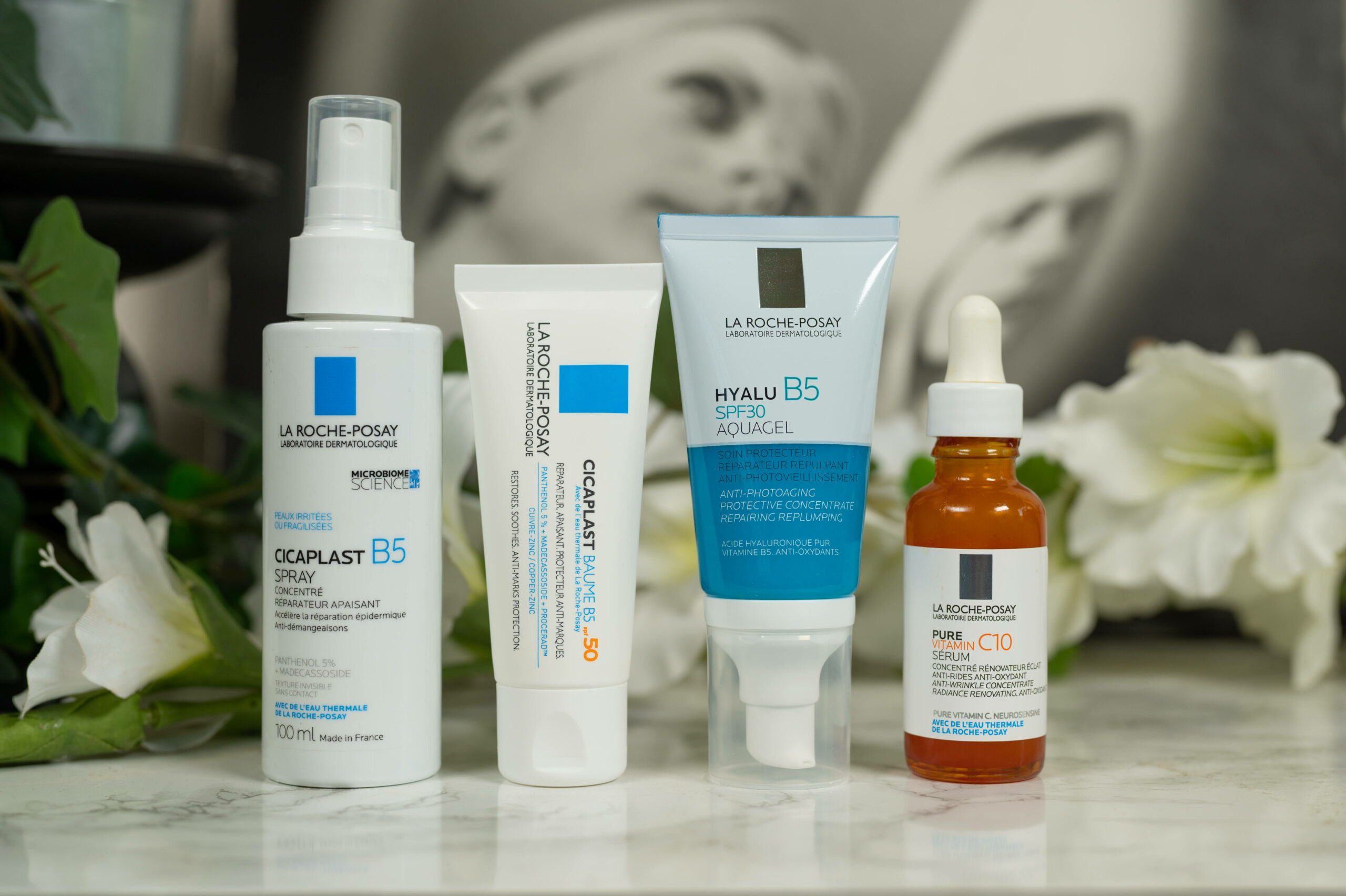 New in from La Roche Posay
I mean, you didn't expect me to go to France and not buy skincare, did you? Although I am not that invested in French brands there are a few things that I have been meaning to try for a while now, so I picked them up in the pharmacy right next to the beach. The first one is a cult favorite, recently reformulated, the La Roche Posay Cicaplast Baume B5 with SPF 50 (40 ml for 12,50 €, full review here), although I managed to somehow pick up the SPF 50 version. That wasn't intentional, I was actually planning to use this barrier repairing product that contains Zinc, Panthenol and Madecassoside for soothing at night in winter, but maybe we will see enough freezing cold and snow this time around that I can use it during the day as well. (More info: Everything you need to know about Centella Asiatica in skincare)
The second SPF I picked up, the La Roche Posay Hyalu B5 SPF 30 Aqua Gel (50 ml for 25 €), was intentional though. It is supposed to be a hydrating and cooling lightweight everyday sunscreen with Hyaluronic Acid and Panthenol, so I had hoped to use it as office sunscreen for warmer days in fall. (More info: Everything you need to know about Hyaluronic Acid in skincare) Sadly we went from sweltering heat and intense sun to rain and cold within 48 hours here in Germany, so I won't be able to cherish the cooling effects as much as I had hoped to. Still, it got a lot of love last spring, so I am excited to give it a go.
The La Roche Posay Cicaplast B5 Spray (100 ml for 15 €, full review here) had been on my list of things to try for a while now, as I love a good face mist and figured with winter right around the corner, the soothing formula (again with Panthenol and Madecassoside along the thermal water La Roche Posay is known for) would come in handy. While it hasn't the finest mist I have tried, first impression is that it is fine enough to mist directly, but I will report back.
The last one, the La Roche Posay Pure Vitamin C 10 Serum (30 ml for 40 €, full review here) is the only one I have already excessively tested – not to take too much away from my dedicated review, but it surely isn't my favorite Vitamin C serum, both due to the strong fragrance and the texture.
New in from Beekman 1802
No, I hadn't heard about the brand before their PR package appeared on my door step either, but their leaflet sure was interesting. Apparently the company started as a goat farm and developed through the neighborhood community discovering how amazing goat milk was for sensitive skin to the world's biggest goat-milk skincare company (their words, not mine). I admit I haven't looked into goat milk skincare yet, but will before I review the products they sent me: The Beekman 1802 Smooth Booster (30 ml for 28 $, full review here) featuring willow bark extract, caviar lime and lactic acid for gentle exfoliation and the Beekman 1802 Bloom Cream Daily Moisturizer (120 ml for 54 $) featuring goat milk pre- and postbiotics. (More info: Everything you need to know about pre-, pro- and postbiotics in skincare)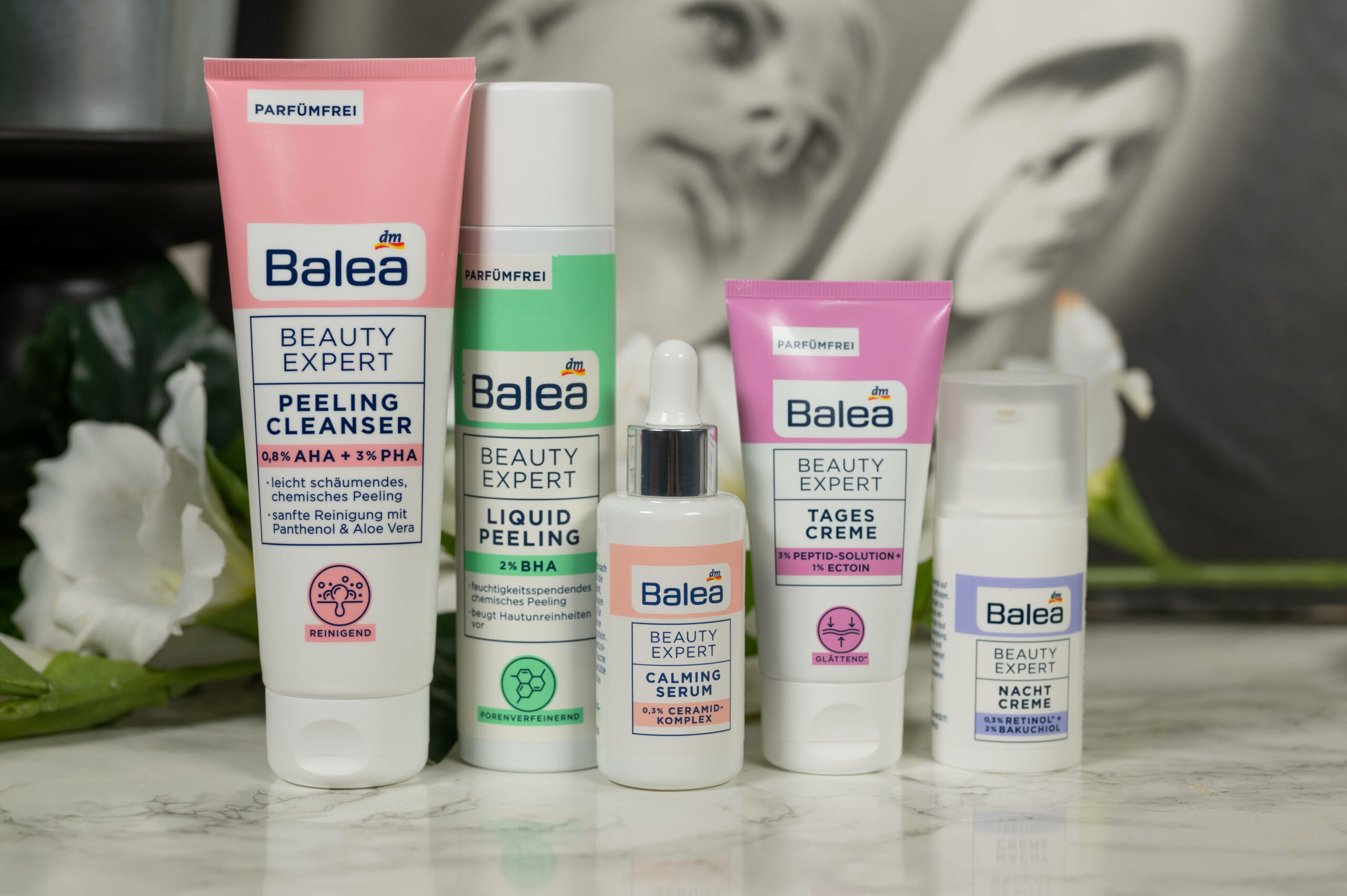 New in from Balea
Switching from niche goat milk products to affordable German drugstore skincare, I took advantage that the in house brand of one of Germanys biggest drugstores recently came out with a line called Balea Beauty Expert that promises to focus on ingredients that deliver in affordable and well-tolerated formulas. And affordable they are, I managed to pick up all face products (there are two body lotions that I didn't get) for less than 30 €. Included in the line are the Balea Beauty Expert Peeling Cleanser (125 ml for 3,95 €, full review here) that, a little spoiler here, isn't actually peeling, then the Balea Beauty Expert Liquid Peeling 2% BHA (125 ml for 5,95 €, full review here) with Salicylic Acid, a soothing serum called Balea Beauty Expert Calming Serum with 0,3% Ceramide Complex (30 ml for 5,95 €, full review here) and then two moisturizers, the Balea Beauty Expert Day Cream with 3% Peptide Solution + 1% Ectoin (30 ml for 5,95 €, full review here) and the Balea Beauty Expert Night Cream with 0,3% Retinol and 2% Bakuchiol (30 ml for 5,95 €, full review here).
I actually finished my review on all of these already, it will be up shortly, but for now: Two of the products really convinced me, while one of them really annoyed me. Can you guess which one is which?
New in from Murad
Murad is a brand I have been using ever since it was launched in Germany back in 2019, their Murad Retinol Youth Renewal Eye Serum is one of my favorites for night time (15 ml for 72,99 €, full review here) and they kindly sent some other products for me to try.
First the Murad Vita-C Triple Exfoliating Facial (80 ml for 90 €, full review here), claiming to deliver the results of microdermabrasion from the comfort of your home. It features gold-stabilized Vitamin C for brightening paired with physical, enzymatic and chemical (specifically Lactic, Glycolic and Salicylic Acid) exfoliation. Surely not something for every day, but more of a treatment before a special event maybe.
Then I got the Murad Rapid Relief Acne Spot Treatment (15 ml for 26 €). I don't have a lot of breakouts anymore, but occasionally get these cystic hormonal ones that are really inflamed, and for those I love a good spot treatment. The main active here is 2% Salicylic Acid, no surprises, but it is paired with Oat Kernel Extract and other soothing ingredients as well as Glycerin and Urea for hydration, so I am currently waiting for the next  spot to appear so I can see how it performs compared to the other ones I have at home.
The Murad Targeted Wrinkle Corrector (15 ml for 66 €, full review here) is more of a gimicky product, as it claims to have an immediate filling effect on wrinkles, like a smoothing primer, and a longterm effect due to the added peptides. To be honest, I am quite sceptical regarding long-term effects but my forehead wrinkles are at a depth where I wouldn't mind an even temporary smoothing effect.
Also pictured above is the Murad AHA/BHA Peeling Cleanser (200 ml for 48 €, full review here) that I already reviewed. It is too much for me to use as a face cleanser, so I will need to see what I will do with the big tube they added to the package.
New In from Emile Cordon
If you have been around a while already, you might remember my review of the Emile Cordon Miracle Lip Balms from March 2019. I loved them as layer of hydration with added color, especially as with each reapplication a stain was left behind that didn't quite survive a full meal, but didn't transfer to the face mask and looked quite flattering. In fact, I didn't only love them for that back then, but still keep one at my desk for easy color and hydration – yes, that is long over the recommended period after opening, thank you very much, I just noticed that as well.
Still, I was intrigued when Emile Cordon contacted me offering a set of their Classic Lip Balms to try, this time without color, but each one scented differently with scents created by their Scent Discovery Team. That not only sounds fancy, but also comes with a hefty price tag, as one of the Emile Cordon Classic Lip Balms contains 15 ml and costs around 60 $ per pot.
The trio I have (available as Nude Kissing Chic Set for 170 $ in a bag that says "This bag contains magic") are Lisa (soft strawberry scent), Rose Petal (soft rose scent, no surprises here) and Canele (with a warm cinnamon scent). I am well aware that this is an outrageous price for a trio of lip balm, but from first impressions the scents are lovely and the balms themselves very hydrating.
The full review of the Emile Cordon Classic Lip Balms can be found here. And the full review of the Emile Cordon Miracle Lip Balms can be found here.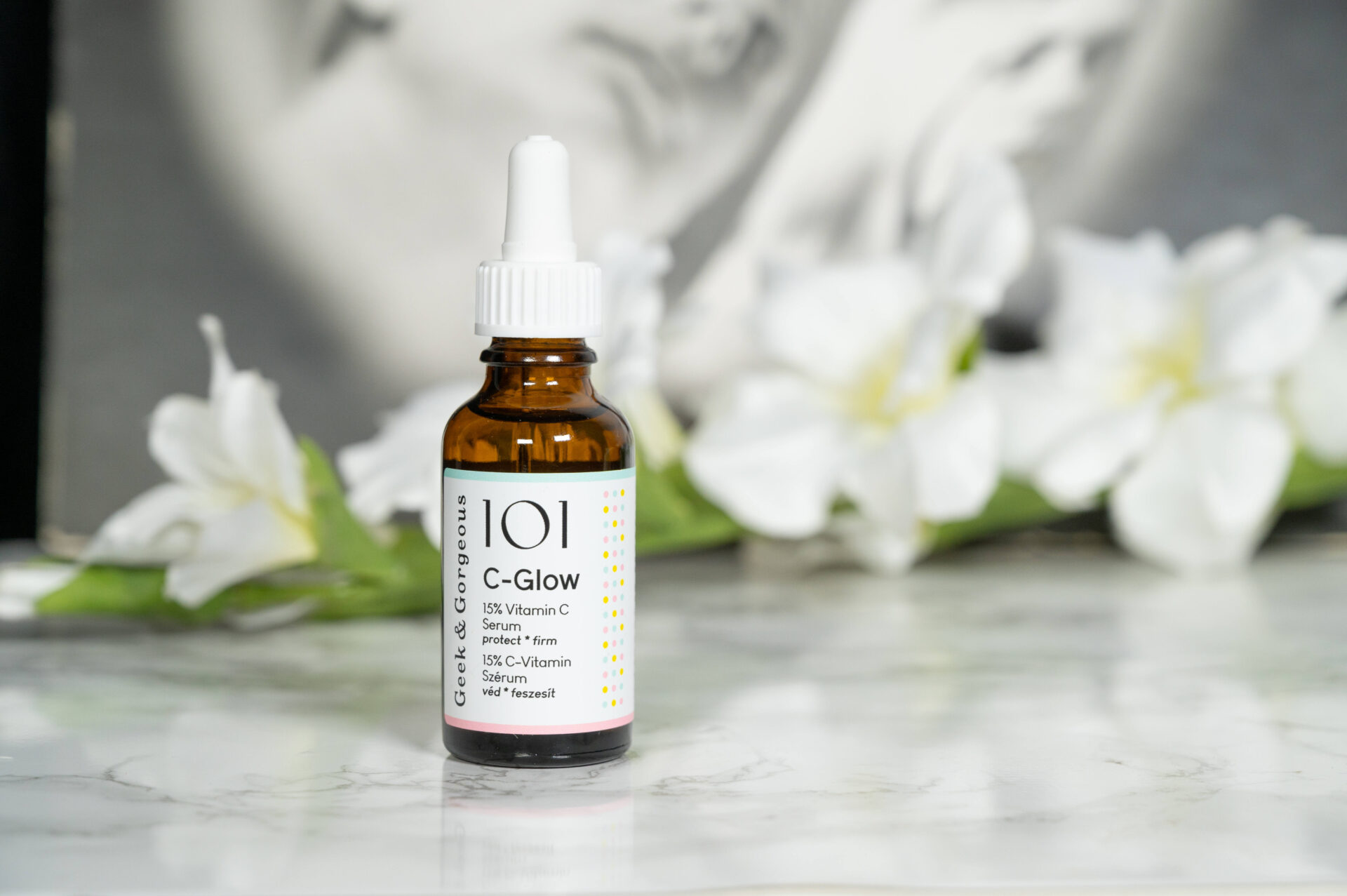 New in from Geek and Gorgeous
Have I done a haul in the last year that didn't feature this brand? I haven't checked, but I doubt it. This time around it isn't a new release I got, but my most repurchased product, the Geek and Gorgeous 101 C-Glow (30 ml for 12,50 €, full review here). In fact, I didn't purchase one, but four – one for me, one for my mother and one for each of my sisters. We usually run out of it at around the same time and four bottles are enough to qualify for free shipping – safe to say it is a family favorite.
New in from Medicube
And now for the extravagant part: Skincare, but make it device! I have been on a skincare device kick lately, talking about both LED Light Therapy as well as Microcurrent (More info: LED Light Therapy for at home use and Microcurrent for Facial Rejuvenation), so when I got asked if I wanted to test the Medicube Age-R User Deep Shot Device (Device with charger, Age-R Primer and Triple Collagen Serum for 384,95 €, full review here), I jumped at the chance.
This device uses Ultrasound and High Frequency to create heat in the tissue, which in turn should stimulate collagen production. I have been using it for quite a while already and am preparing a video on the data behind Ultrasound (I think after that we have covered the non-invasive treatments) before I will film the after to my before and give you my thoughts on this device specifically.
Alongside the Age-R came a selection of skincare, the Medicube Triple Collagen Serum (55 ml for 36,95 €) and a trio of the Medicube 13,5% Deep Vita C Ampoule (3x 10 g for 55,95 €) which I have yet to try.
Now tell me, what would you want to see reviewed first?
Shop the products mentioned here
Don't forget to check out the Discount Code Page on top if you want to save some money on your next skincare purchase.
If you want to get a vote in the next Ask Doctor Anne Topic, Ingredient Spotlight or product I review, don't forget you can head over to my Patreon account to get more involved!
(Visited 1.066 times, 1 visits today)